SSG Kim Seong-hyeon explodes for the second time in his career
9th place KIA grabs leader KT and runs for 6 consecutive wins
Jamsil and Gocheok matches canceled due to COVID-19 quarantine issues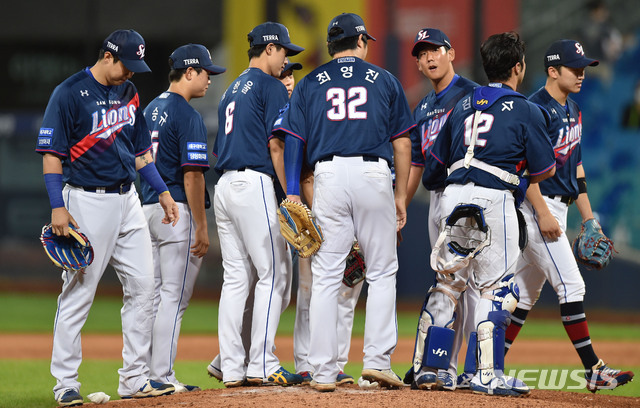 [대구=뉴시스] Reporter Lee Mu-yeol = Samsung Lions and Lotte Giants at the '2021 Shinhan Bank SOL KBO League' held at Samsung Lions Park in Suseong-gu, Daegu on the afternoon of the 11th, and Samsung players rejoice after winning 11-0. 2021.07.11. [email protected]
[서울=뉴시스] Reporter Seong-dae Moon, Joo-hee Kim = Samsung Lions defeated the Lotte Giants and ran for two consecutive wins.
In the home match against Lotte at the '2021 Shinhan Bank Sol KBO League' held at Samsung Lions Park in Daegu on the 11th, Samsung won 11-0 thanks to starting pitcher Baek Jeong-hyeon and a batting line with 14 hits.
Samsung (45 wins, 1 draw and 34 losses), which has won two consecutive wins, maintained its third place. Samsung took a step forward by eliminating the ride with the second-placed LG Twins (43 wins and 32 losses).
Samsung's starting pitcher Baek Jeong-hyun stood out. Baek Jeong-hyeon became the winning pitcher by pitching 5 hits and 5 strikeouts in 6⅔ innings.
Baek Jeong-hyeon, who has recently won five consecutive victories and four victories against Lotte, has harvested his eighth win (four losses) of the season and is looking forward to his first double-digit victory.
Kim Dong-yup swept the bat with 2 hits, 3 RBIs and 2 runs, including the final sacrifice fly and his first solo home run of the season, while Park Hae-min played an active part with 2 RBIs and 2 RBIs in 4 at-bats. Won-seok Lee and Seung-gyu Park hit a wedge by hitting home runs in the second half of the game.
Lotte (32 wins, 1 draw and 44 losses), who lost two in a row, was still in 8th place.
Lotte starter Dan Straley was sluggish with 8 hits, 4 strikeouts and 6 runs (4 earned runs) in 5⅓ innings, recording his 7th loss (5 wins) of the season.
Samsung took the lead in the second inning. Min-ho Kang's double and Kang-wool's left-handed hit gave him a chance to score, and then Kim Dong-yeop's sacrifice fly to score one point.
Samsung, who created a chance with a double by Lee Hak-joo, a lead hitter in the fifth inning, scored additional points with consecutive bunts of Ji-chan Kim and Hae-min Park. Then, he jumped on the opponent's battery and added one more point.
In the 6th inning, Samsung took a chance at first and second bases with Oh Jae-il and Kang Han-ul's hits, and then widened the score gap again with Kim Dong-yeop's one-run double. After that, Kim Ji-chan and Park Hae-min's just-in-time hit put a wedge by adding three points.
Samsung actually split the game with Kim Dong-yup's solo home run in the 7th, Lee Won-seok's two-run home run (season 7) in the 8th, and Park Seung-gyu's 1st solo home run of the season.
Lee Won-seok drew his second personal pinch hit home run, and Park Seung-gyu drew his first pinch hitter home run arch.
Samsung ended the game with bullpen pitchers Dae-woo Kim, Pil-jun Jang, and Sang-min Lee in turn.
Lotte hit six hits that day, but ended up scoreless.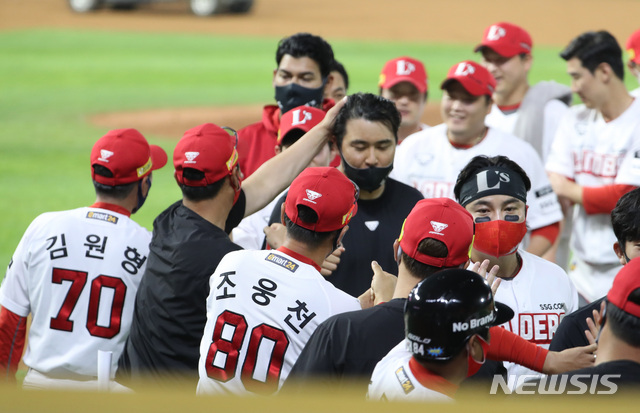 [인천=뉴시스]Reporter Jeon Jin-hwan = SSG players, who won the match between LG Twins and SSG Landers in Incheon SSG Landers Field 8-5 on the afternoon of the 24th, are high-fives with coach Kim Won-hyung and other coaches. 2021.06.24. [email protected]
In Incheon, SSG Landers took the lead in an 8-2 comeback victory over the Hanwha Eagles with Kim Seong-hyun's full-base home run.
4th place SSG, who had been losing 2 in a row to Hanwha, ended their losing streak with this win and took their 42nd win (36 losses) in the season.
Hanwha, the bottom of the league, who failed to wipe out three consecutive games, was the first in the league to lose 50 (29 wins).
SSG brought the game to a flip show.
At the end of the 6th inning, which was led 1-2, SSG filled the base with two hits and one walk.
Park Seong-han hit Hanwha relief pitcher Kim Beom-soo with a just-in-time hit to tie the score at the full base.
Although Lee Heung-ryun withdrew by striking out on a swing by Yoon Ho-sol, the new pitcher, SSG's chance to fill the bases continued.
Kim Seong-hyeon, who stood at the plate with one-man bases, attacked Yun Ho-Sol's first pitch and hit a full-run homer that went over the left fence. It is the fourth gun of the season and the second Grand Slam in his personal career.
In the 7th inning, SSG, which brought the atmosphere to the fore, hit Seong-han Park's bunt in the 7th inning, 1st and 3rd, and 3rd base runner Shin-su Choo jumped into the home and scored an additional point.
In the 8th inning, 2 outs, 1 and 2, leading 7-2, Kim Kang-min's just-in-time double added one more point to the victory.
SSG starter Wilmer Font took two hits (one homer) and two runs on eight strikeouts in seven innings to win his fourth win (two losses) of the season.
Hanwha took the lead in the second inning with Choi In-ho's two-run four (season 2), but failed to score additional goals and could not prevent defeat.
Following starter Dae-kyung Yoon (5 innings and 1 run), Kim Bum-soo, who started on the pitch, gave 4 runs without taking any outs and became a losing pitcher.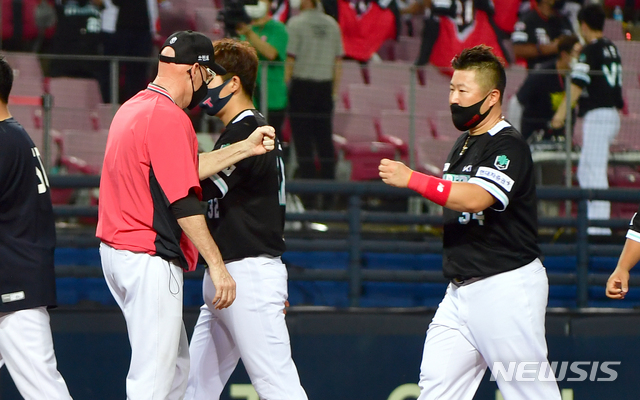 [광주=뉴시스] Reporter Hyeong-geun Ryu = Hyung-woo Choi, who hit a two-run homer with KIA Williams during the 2021 professional baseball game between the KIA Tigers and KT Wiz, held at the Gwangju-Kia Champions Field in Buk-gu, Gwangju on the afternoon of the 11th, high-fives. 2021.07.11. [email protected]
In Gwangju, the KIA Tigers rang the 'leading' KT Wiz 2-0.
9th-placed KIA (win rate 0.419), which ran on Pajuk's 6th winning streak, closely followed 8th-place Lotte (win rate 0.421) without a ride.
KT maintained the first place (45 wins and 30 losses), but lost two consecutive losses.
KIA brought the tense flow from 0-0 to one home run in the sixth inning.
Hyung-woo Choi, who had a chance to get a chance at first and second base, drew a mid-month two-run arch (season 6) against KT starting Audrey Samer Despaine.
A solid mound kept the tight lead until the end.
Starter Eui-ri Lee laid the foundation for victory with a scoreless run in 5 innings, 1 hit, 5 4 4, 2 strikeouts. Park Jin-tae (1 inning) – Jang Hyun-sik (2 innings) – Jung Hae-young (1 inning) stopped behind without conceding.
Park Jin-tae reported the victory, and Jung Hae-young harvested his 15th save of the season.
The KIA hastily replaced the catcher, who was included in the starting lineup just before the game, as he was classified as a close contact of a Doosan player who had tested positive for COVID-19. Due to this, the start time of the match was delayed by 30 minutes, and it suffered twists and turns, but it ended in victory.
KT starting Despaine took 11 strikeouts in 6 innings and held out with 2 runs, but was yoke of defeat because he could not get help from the other line. 6 losses (6 wins) of the season.
The KT line tied to the KIA mound had only two hits.
Meanwhile, games scheduled to be held in Jamsil (LG-Doosan) and Gocheok (NC Dinos-Kiwoom Heroes) on the same day were canceled due to COVID-19 quarantine. There were three confirmed cases in NC and two in Doosan, and as a result, three consecutive matches could not be held this weekend.
◎ Sympathy Press News [email protected], [email protected]
---
Source: 뉴시스 속보 by www.newsis.com.

*The article has been translated based on the content of 뉴시스 속보 by www.newsis.com. If there is any problem regarding the content, copyright, please leave a report below the article. We will try to process as quickly as possible to protect the rights of the author. Thank you very much!

*We just want readers to access information more quickly and easily with other multilingual content, instead of information only available in a certain language.

*We always respect the copyright of the content of the author and always include the original link of the source article.If the author disagrees, just leave the report below the article, the article will be edited or deleted at the request of the author. Thanks very much! Best regards!
---