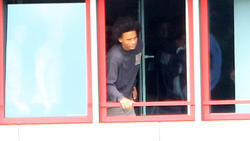 FC Bayern Munich finally ended months of negotiations with Leroy Sané on Friday and presented the international as the third new signing for the new season. According to board boss Karl-Heinz Rummenigge not an easy transfer, but not the trickiest. He also commented on the financial scope of the deal.
"No, that of Javi Martínez in 2012 was the most difficult. 40 million euros back then would be around 120 today. This sum was a milestone," recalls the 64-year-old in an interview with "Sport1":" The discussion about Martínez has been going on for months. "
The fact that the transfer from Leroy Sané ultimately also dragged on for a long time is mainly due to the current situation on the island. "The season in England is still going on, and the clubs are reluctant to make transfers in such a phase. That's why the lake is still largely on the transfer market." The market only really "picked up speed after the Champions League," said Rummenigge.
Leroy Sané is now moving to Munich for the comparatively small transfer fee of around 50 million euros. Considering the up to 120 million euros that were traded last summer, a bargain.
"After his cruciate ligament tear in the Supercup last year, he became much cheaper afterwards," reveals the Bayern boss, who also emphasized the negotiating skills of his sports director: "I have to say that Hasan Salihamidzic did a great job because he always did was hot for the player and always stayed on the ball. "
Not getting Sané "would have been a crime"
The Munich team also "intensified their efforts" because ManCity was interested "in a quick decision": "From our perspective, what has now been agreed is good and sensible."
However, Karl-Heinz Rummenigge does not believe that the multi-million dollar transfer of Leroy Sané, who signed a five-year contract with Bayern, will now spark new discussions about the salary structure within the squad. "You always have to see it in a certain relation. What would have come to us financially a year ago and what was done this year – that is a dramatic difference." Sané supposedly earns 17 million euros a year from Bayern.
Rummenigge does not want to rule out that the club will now "give up one or two players" to "make up for financial compensation". Not to sign Leroy Sané on "such terms", "would have been a crime anyway."