---
An image of a rainbow not propagating among children.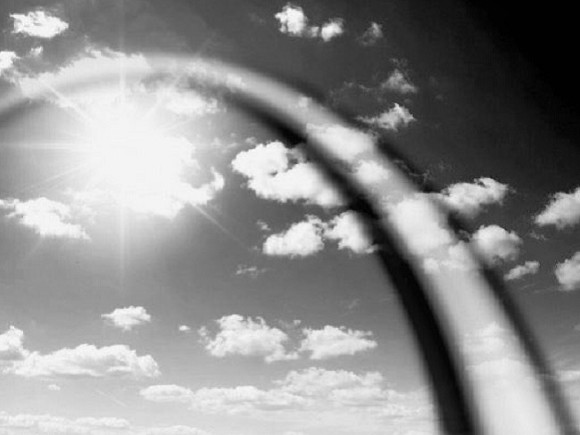 As already reported by Rosbalt, today the head of the Union of Women of Russia public organization, Yekaterina Lakhova, complained to Russian President Vladimir Putin about ice cream and billboards. More precisely, on the image of the rainbow in the advertisement and on the packaging of the Rainbow ice cream. Lakhova not only found "LGBT advertising" in this, but also asked to deal with it, "having given instructions to Roskomnadzor."
At a meeting between Putin and a working group to prepare proposals for amending the Constitution, Senator Alexei Pushkov expressed concern over the rainbow flag on the US Embassy in Moscow, a symbol of the LGBT community. Putin said in response that there are no and will not be restrictions on religious, national, and minority rights in Russia, and the law banning the promotion of homosexuality among minors has been passed in order to avoid pressure on children.
By the way, the second week has already begun, as this flag haunts the representatives of the authorities and their "talking heads" – propagandists …
It would seem that on Channel One there was everything and even this leader with a bucket of shit went. But no, it turns out there is a bottom that they have not yet broken pic.twitter.com/ts5hAtTwBX

– Stalingulag (@StalinGulag) July 2, 2020
A fragment of the air of the "First Channel" on June 26, 2020.
After some time, Lakhova spoke and developed Senator Pushkov's concern to unprecedented heights …
"… So you said that propaganda … Yes, we should not have propaganda, but today we have billboards, for example, hanging rainbow – beautiful colors … with beautiful words. Or advertise an ice cream called Rainbow. Therefore, it is indirect, but it makes our children get used to that … flag, which was hung out, including at this embassy. Therefore, I really wanted that, nevertheless, the values ​​that we tried to lay in our constitution, so that they were in control, had a commission. "
The fact that selected representatives of the current elite were gathered in this same amendment commission was noticeable from the very beginning of its work. But the fact that the very next day after the announcement of the official voting results will cease to restrain themselves and begin to "correct" common sense – this, of course, was expected, though not so soon and not so sharply.
This "breakthrough" was noticed in social networks. That's what people write …
There was an omission, 206 amendments to the constitution, but they forgot about the rainbow. Rewrite again now …

– Den (@ a5_den) July 3, 2020
Remove children's books with a rainbow, check cartoons and films. Prohibit looking at the rainbow in the sky. This is the only way to protect ourselves from sodomites and uranists.

– Maksim (@Maksim_Oko) July 3, 2020
It is also necessary to ban paints and plasticine. Anyway, why do children need to know all the colors? pic.twitter.com/4wz8oM10d8

– Leonid Shaft (@leonidschuft) July 3, 2020
And in a psychiatric hospital they keep Sanya Shaman#Freedom to the Shaman

– 🌈 We can nullify! 🌈🏴‍☠️ (@ antoxatoxa0608) July 3, 2020
I think this is correct. In general, a rainbow, as a natural phenomenon in Russia should be banned, the study of the decomposition of a light beam into a spectrum should be stopped and banned, and for "Every hunter wants to know …" planted as a propaganda of homosexuality. And everything will be fine in Russia …

— The Cheshire Cat (@GrinsenderKater) July 3, 2020
Rainbow (a natural phenomenon prohibited in Russia)

— Mr Mole (@rokoby) July 3, 2020
Rainbow: * appears in the sky *
Russians: pic.twitter.com/YZtTxdLnJk

– Лжегазовик (@Aksakalko) July 3, 2020
And I work at the Rainbow pharmacy. Will they shoot us or close us? 😰

– Ivanova Natalya (@ fatsia3) July 3, 2020
Russians elect them by universal suffrage. Flesh from flesh, blood from blood.

– Stupid gait (@SillyWalksMstry) July 3, 2020
Well, insanity is already …

– Eugene Roizman (@roizmangbn) July 3, 2020
Has Lakhova not yet complained about the fairy tale "Tsvetik Semitsvetik"?

— Black Sail (@BlackSail18) July 3, 2020
Forbidden photo of the rainbow. Watch without SMS. pic.twitter.com/fcI4tWcLLv

– Mentat 🏴‍☠️🦂 (@Mehtl_M) July 3, 2020
and the song Gay, Slavs.

— Lana Dewald (@DewaldLana) July 3, 2020
What can we say about the cartoon "blue puppy"

— Mike (@MishaZaretskiy) July 3, 2020
"A shirtless muscular man in camouflage pants raced through the mountains on a furious polar bear. The rider's face expressed inexorable determination.
FEAT No. 12
PUTIN TAKES THE RAINBOW FROM THE PIDARASES »
Pelevin's novel "iPhuck 10"

– OLukoje (@OLukoje) July 3, 2020
It's time to ban paint pic.twitter.com/bIWXaK0GlK

– Galka Galina (@galkagalinag) July 3, 2020
The amendments began to apply.

– Groice Huchem (@GroyseHuhem) July 3, 2020
Already in Rosnano and Roscosmos, a device is being invented that will dissipate a rainbow after a thunderstorm, 10 billion

— Check'ист (@black_light13) July 3, 2020
Rosraduganadzor

– Signöre Pantalöni (@Sign_Pantaloni) July 3, 2020
As a woman from Russia, I think that the next step should be the abolition of the Unified State Examination in geography in general and all maps with information about atmospheric pressure in particular, because this, nevertheless, makes our children get used to color, atmospheric pressure and generally no limits pic.twitter.com/UKXHWTKrHm

– Sequoias saw Jesus (@aleshakakogohua) July 3, 2020
What could Yekaterina Lakhova, the head of the Union of Women of Russia with Putin, talk about? Maybe about unequal salaries, a list of prohibited professions, about the problems of domestic violence?
No, there are other problems, for example: rainbow ice cream, which children can involuntarily associate with LGBT

– kotych 🐾 (@ZhenPkChu) July 3, 2020
I propose to fix the phrase "complained to the president about ice cream" as defining all of modern Russia.

— Leyawiin of Siberia (@LeyawiinSiberia) July 3, 2020
As soon as Putin is reset, he immediately solves global problems. Here is this hostile rainbow …
Probably, the Russians will not be able to look at the rainbow in the sky. And then they will see enough and become homosexuals.

– Old cholera (@Mariya_Ivanivna) July 3, 2020
Children should not be allowed to look at the blue sky so that they do not turn blue. The sky in Russia should be gray.

– Igor Vmyatin (@IgorRulev) July 3, 2020
No one has joked that the "union of women" is a so-called name for an organization opposing LGBT people?)))

— Alexandra Kalinina 🏳️‍🌈 (@alexandra_quail) July 3, 2020
This is now our homeland, son. (((

– Ilona (@Ilonalena) July 3, 2020
The funny thing (actually not) in this story is that the President of the Russian Federation seriously answered the head of the "Union of Women" and suggested "building public control" over the placement of the rainbow.

Screenshot of the transcript of the meeting with the working group to prepare proposals for amending the Constitution from the official site President of the Russian Federation.
Well, the procedure did not have time to cool down, and "public control" of the flowers was already beginning … as I understand it, what would be differentiated by the color of the pants? 😁

– Rush Corporation. (@ Miniuser7) July 3, 2020
Stories about how you tried to get help from the Russian state in the context of a coronacrisis and what came of it, send to the address [email protected]