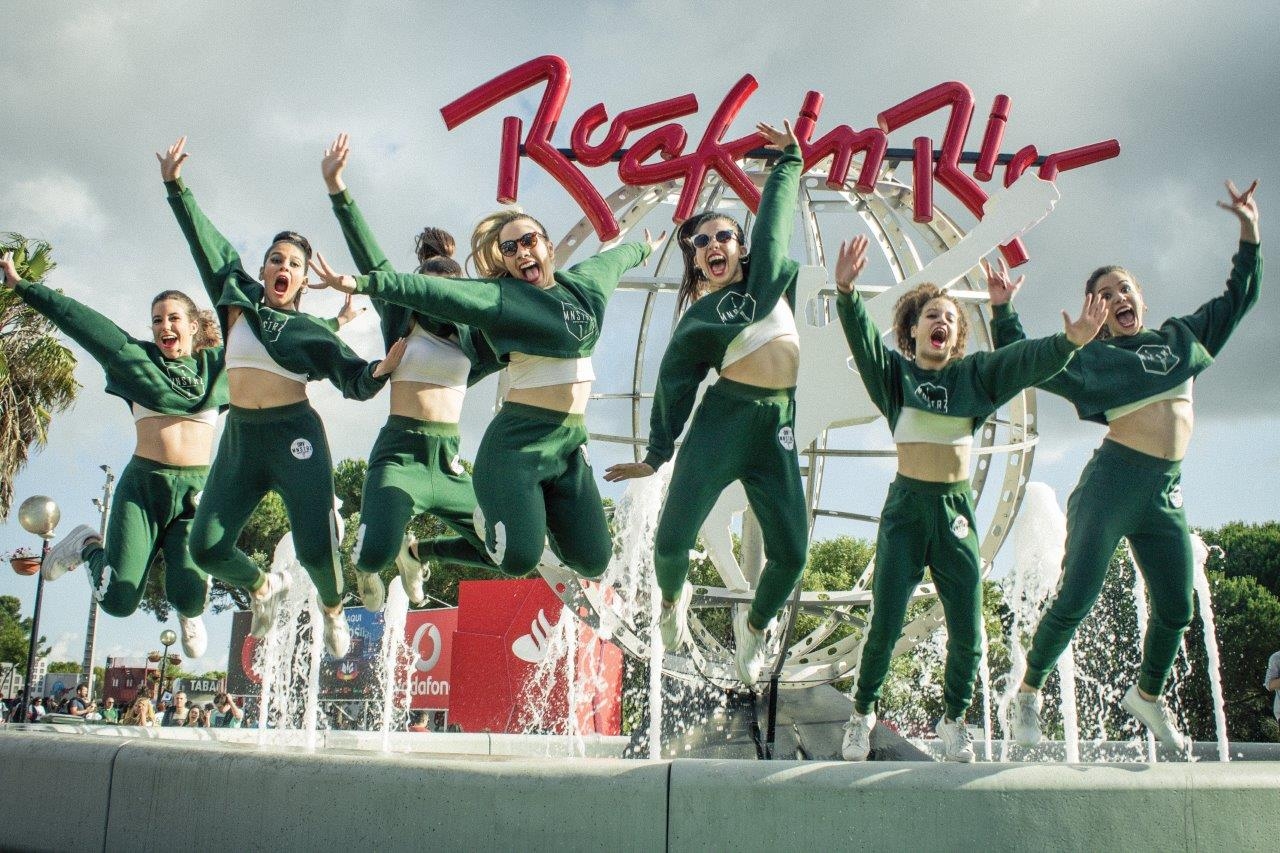 This year's Rock Your Street bets (even more) on plurality and diversity. And this is very evident in the names chosen to take the stage, but also in the street animation and in the published manifesto.
Rock Street (or Rock Your Street) has always been one of the busiest spots in Rock in Rio. Whether due to the attractiveness of the houses transformed into stores or points of interaction with festival-goers, or the street performances or the fact that, in each edition, there is a culture, a guest country.
But this was before. This year, with the new, more assertive positioning assumed by Rock in Rio (RiR), there is also a new Rock Your Street. Nothing extreme, just the diversity that was already a hallmark of the best-known street in Lisbon (at least during the event and every two years) was accentuated and gained even more prominence.
A plural world. A world without barriers of any kind – age, race, nationality, geographic….this is the vision that, this year, RiR and BNP Paribas, which, for the first time, sponsors the event, bring to Rock Your Street . As Joana Cardoso, PR Manager at Rock in Rio explains, it is no longer dedicated to a specific culture and starts to embrace them all. "To bring, precisely, this perspective of how we all become richer if, in fact, we embrace plurality as a whole", that is, "we embrace all cultures, embrace all religions, embrace all ages". Because this is something that tends to "escape" when thinking about plurality and, curiously, it is something very present in RiR: the interaction between different generations. It is not by chance that the organization decided to create the family pass (for the price of two tickets, it allows the entry of five people: two adults, two children and a senior). To get an idea, about 40% of the audience that watches RiR are families.
RiR "is a completely transversal festival", says Joana Cardoso, who adds that the same is reflected in the event's poster. And whether this happens "in general" is even more evident on the Rock Your Street poster. Joana Cardoso explains that, in order to materialize this vision of plurality, the organization took into account both scenography and street entertainment, as well as the choice of artists on stage. In the scenography this year, the organization bet (even more) on color. "What we bring are several houses – this part remains the same – each one with traces of different cultures, but all of them painted in colorful colors and with different neon words that push for this vision of plurality". An example? There will be a house saying "beauty diversity", which "draws on the beauty that exists in diversity and differences". There will be another one referring to love "in love", referring to harmony. Basically, the organization decided to use the scenography and give it another role, using expressions that intensify the vision of plurality.
In addition to the houses, where the brands will have their activations, every day there will be different street animations, which "reinforce plurality, by bringing different types of cultural shows to the Rock Your Street street", explains Joana Cardoso. . India, Brazil, Cape Verde… care was taken to select different geographies, different cultures, so that the plurality assumed by the organization for Street was also present in the musical line-up – both in the poster and in the street animations – alongside "world music". ".
On the stage itself, everything starts with Portugal. with the new generation of fadistas. Sara Correia will give voice to the new generations of fado and show that this is a musical style that has managed to reinvent and renew itself. An action that has the primacy of showing "the plurality in the tradition, in the age…" and, with that, "responds in a more complete way to what is plurality". Another example is the joining, on the same stage, of Paulo Flores & Prodígio, which brings together two generations of Angolan musicians and who take advantage of their presence at RiR to present their new project – Esperança.
Every day is interesting. Every day presents something new. Even so, there are names that stand out. This is the case of Omar Souleyman, who comes from Syria and who manages to masterfully combine the traditional music of his country with a musical genre totally distant from tradition: electronic music.
BNP Paribas – plurality, also in the organization
BNP Paribas is, for the first time, an official sponsor of Rock in Rio and more precisely of Rock Your Street. As a banking institution turned to the corporate world, its performance may end up being more unknown of the general public. However, as Joana Cardoso says, the company "arrived" at RiR precisely through a conversation about plurality and diversity and the team itself is an example of this, as it is quite plural and encompasses different nationalities (77 to be more precise).
In fact, there was a real "match" between the message that Rock Your Street intends to convey and the bank's values. Something that was noticed during the conference "Palco para Todos", where Luciana Peres, Director of Corporate Social Responsibility, Diversity and Inclusion at BNP Paribas Portugal, stated that "diversity and inclusion is a key issue for BNP Paribas and one of our core values. Our mission is to cultivate a positive environment that encourages collaboration and promotes an inclusive culture."
Plurality is part of the genesis, of DNA, of BNP. And this brought the two entities closer, since they have similar values ​​and principles. Something highlighted by Fabrice Segui, CEO of BNP Paribas in Portugal, who stated that for the bank the project is much more than a partnership. "It is part of the Group's global strategy that focuses on being with the Portuguese, reinforcing our deep relationship with the country. It represents the identification of common values, namely in the pillars of sustainability, social responsibility, inclusion and diversity. We also want to make a difference with our employees and, therefore, we invited our teams to be present and celebrate this moment of joy and relaxation with us, after two years of a global health context that raised many new challenges."
Diversity and inclusion are, for BNP, a key theme, notes Joana Cardoso, and the brand's values ​​allowed a "match" between the two organizations. "BNP and Rock in Rio foster what is a positive environment, encourage collaboration and promote a more inclusive culture", notes the PR Manager of RiR, who adds that it is a brand that plays a very active role and that, through its sponsorship of Rock in Rio, it has the opportunity to pass on to the general public the their values ​​and actions.
In addition to BNP Paribas, ibis also decided to join Rock Your Street. A partnership that follows on from the brand's position in relation to music, where the ibis Music program connects people, ideas and cultures and, at the same time, strengthens the signature of the ibis brand "We are open". About the partnership with RiR Laura Alves, Brand Marketing Manager of the Eco and Super-Eco brands in Portugal and Spain, says that "at ibis, we believe that travel, hospitality and music are inseparable, due to the power they have to connect and to mobilize people and to promote an attitude of union, openness and inclusion. This year, we celebrate these core values ​​of the brand with Rock in Rio Lisboa, promoting and inspiring musical discovery".
Manifesto Rock Your Street
We've traveled a lot. We have already brought to the City of Rock rhythms and cultures from different parts of the world.
We walked through Africa, parts of Europe, Asia and regions of the Americas.
We have already colored ourselves in a thousand and one colors. We've painted ourselves from different ethnicities.
We have already danced to the sound of atabaques, brass and bagpipes.
Today, we are richer because of these differences.
No matter the age, gender, race, creed, origin.
The world we want is not labeled as white or black. Nor does it run out of rainbow colors.
The world we want is more. Because it's made up of the sum of everything we are.
Now, it's time for us to open our arms to embrace the whole world.
A plural, diverse world that goes beyond borders.
A world that is born from the essence, passion, vision and action of each one of us.
A world for everyone and for everyone.
Respect. reception. Empathy. Compassion. choices. Courage. Attitude.
Welcome to this real world, without filters, without mask, that recognizes the beauty that exists in differences, that goes hand in hand with all colors and that is made of all dreams.
This is the world we want. Is that you?
Rock Your Street.
* Rock in Rio content
---
Source: Meios & Publicidade by www.meiosepublicidade.pt.

*The article has been translated based on the content of Meios & Publicidade by www.meiosepublicidade.pt. If there is any problem regarding the content, copyright, please leave a report below the article. We will try to process as quickly as possible to protect the rights of the author. Thank you very much!

*We just want readers to access information more quickly and easily with other multilingual content, instead of information only available in a certain language.

*We always respect the copyright of the content of the author and always include the original link of the source article.If the author disagrees, just leave the report below the article, the article will be edited or deleted at the request of the author. Thanks very much! Best regards!
---