This time, the creation of the character is left in the CD Projekt RED in our hands. Unlike some other games (eg Fallout 4), however, Cyberpunk 2077 does not offer such a sophisticated system, but rather only a few basic options, which we can only combine in various ways. However, most of the game still takes place from the first person, so you won't even miss it more. Plus we can attribute it to a few futuristic possibilities, but unlike a plethora of other characters in the game, the main character will always look ordinary.
We also have a choice of three factions, in which we will play an introduction and which will then open up some other possibilities in the rest of the game, mostly in interviews. Whether we choose a nomad, a street child or a corporate, we will only feel the fundamental difference in less than the first hour of playing; the mentioned introduction is completely different for each faction, which just blends at the end so that the rest of the game can be identical.
An open city full of activities
After the introduction, it is advisable to follow the story missions for a while before you decide to wander aimlessly on the huge map, but after a certain milestone, Cyberpunk throws us into the water and lets us swim. At that moment, a huge Night City spreads in front of us with an endless dose of question marks and exclamation marks, which increase and increase with each completion of the mission, increasing the reputation or even driving through the unexplored area.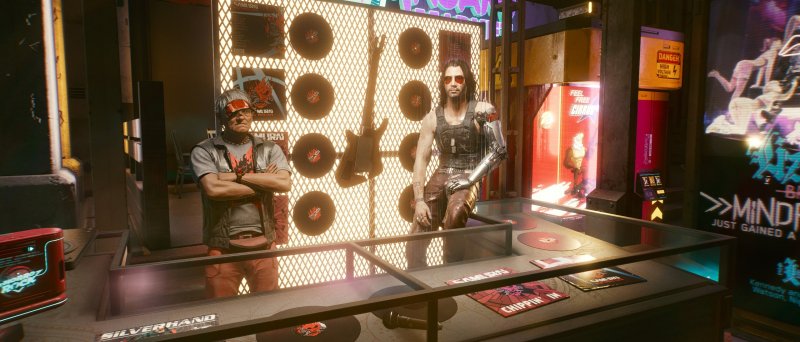 The main problem is that there are too many of them. And to tell if it's going to be boring fetch the mission or a distinctive story side quest deepening relationships with well-written side characters is often a nice nut. We have the opportunity to avoid them completely, continue on the main line and have the whole game behind them within twenty hours, but that would deprive us of the most fun and interesting missions in the whole game. On the other hand, in the story, we are faced with a rather urgent matter that does not seem to wait, and so it may seem inappropriate to deal with rental work and suspicious business.
However, their (un) fulfillment has almost no effect on the (un) luck on the main story, except for two major lines that unlock other possible endings of the game. In fact, they are what the side missions should be exactly – above-standard and optional content deepening the experience of the game and knowledge of its world. As a bonus, there are also relationship options that differ according to the selected gender V (however, we always have a choice of only one heterosexual and one homosexual option). But quests are also the only fun activity you can do in Night City – which is basically logical, because Cyberpunk is definitely not a sandbox, but an action RPG.
Work of all kinds
Let's take a closer look at that "action" part. Although various presentations have shown that gunplay will play a minor role in the game and shooting will take place only if something goes wrong, in the end this is not entirely true – it depends very much on each player. If we decide to feed enemies with lead, chop them to pieces with katanas, make their lives uncomfortable by hacking through cameras from a safe distance, or unobtrusively sneak through the base to the target, it's entirely up to us in most missions. Rather than playing for Ferda the ants, it pays to stick to one or two styles of playing, otherwise we are often surprised by the closed path leading to faster completion of the task.
Improving the character here works quite complicated and it will take a while to become familiar in all possible directions. For example, we have levels of three types. First, we have classic levels increased by gathering experience, which always add one attribute point and one perk. Alongside them, however, there is still a reputation, increasing mainly by fulfilling business, and by increasing it, new missions are mainly opened up for us.
The third type is the sub-levels of attributes always related to some game activity, by which we increase them (eg we increase athletic skills by running, jumping and close combat), but their level cannot exceed the value of the respective attribute. These again open up various mostly passive bonuses. But that's not the end of it – cyberware, which we buy for various ripperdocs for considerable money (each of us will entertain us with a slightly different offer), also serves to increase our capabilities; in addition to other passive bonuses, it will bring us a few interesting abilities – such as a double jump or slowing down time when revealed by enemies.
And as the icing on the cake, there is the equipment itself. Although the subjects play at different levels of rarity here, in reality the higher levels bring almost nothing extra. And so it doesn't pay to constantly invest countless raw materials in them in order to keep up with the collected newer (albeit more ordinary) loot, which is piling up everywhere.
That's why you often end up dressed like complete clowns, simply because those ugly pieces have the best statistics (and next level will probably be replaced by others) and there is simply no way to change their appearance. In this case, the fact that we see the whole game from a first-person perspective comes in handy, so it hurts us to the maximum when creating breathtaking shots in photo mode.
In addition, there are too many objects to deal with at all. Every few minutes, the crowded inventory is reminded of, which we have to constantly dig through. When such a situation is repeated several times, one is no longer happy with the number of objects and combinations, but rather annoys them. However, money is so scarce that grabbed objects cannot be missed.
"Do androids dream of electric sheep"?
Not to mention the sad technical condition of the game (both on consoles and on PC). You just can't avoid bugs (especially graphics ones) and here and there you will be forced to restart from the last clue (therefore it is advisable not to skimp on saving). Although the worst ones (eg the destruction of stored positions larger than 8 MB) have already been removed by the largest patches, the experience can ruin your smaller steps as well (many of them are also part of the main story). And although CDPR is working hard on them, the whole process will take months.
Nevertheless, we must praise them for not only removing technical bugs, but also improving the behavior of the game itself – they also adjust the currently very stupid AI and overall behavior of NPCs and game items (cars, weapons, grenades, etc.), but of course the question is obvious , whether it should not have been included there since the beginning of the game. Surely you have already met some funny videos. They most often point to the ubiquitous police officers who can appear from second to second even right in front of the player's eyes; or the stupid behavior of passers-by who behave like sheep in exactly the same way (they get out of the car or crouch in the same second), thus spoiling their immersion.
When we close our eyes
However, if we omit these ailments and release the console versions for now, Night City looks really nice. Even with its huge size, the city is really impressive and believable, and the NPCs we interact with in our quests look really top notch. The characters in the interviews not only do not stand bluntly, but gesture, march and use facial expressions. Perhaps it is overly realistic to have to march one of them to another place in every second task, and of course at a snail's pace.
We must also pause on the fine musical background, which is dominated by compositions by Marcin Przybyłowicz (the main composer of the soundtrack to the third The Sorcerer) and his two colleagues – Paul Leonard-Morgan (creator of many films) and PT Adamczyk. However, the songs playing in the car radio are much more interesting, which were compiled in such a way as to evoke a futuristic atmosphere as much as possible – we can hear, for example, two songs from Grimes (who even edited the role of fictional famous singer Lizzy Wizzy) and many other alternative authors. who create music with a futuristic touch.
Finally, we must not forget the quality Czech subtitles, full of new creations and puns, which was created under the baton of the famous Filip Ženíšek (he also translated, for example, the third Sorcerer). Although the translation still has a few flies, as it could not be tested well in the Warsaw studio due to the pandemic, but they are still being worked on (and with each new patch there are fewer of them).
After all, most ailments can be forgiven by Cyberpunk over time, or hoped that they will not be there in a few weeks. The basis of the game is definitely solid, and if it weren't for the hurried release along with the unfortunate port on the last generation of consoles, it might also look different. Despite all this, it is not a problem at all to get through a slower and more confusing start, a stupid artificial intelligence, a few graphic bugs and a lot of loot and enjoy the dystopian Cyberpunk 2077 in full sips for tens and tens of hours.

Conclusion
Cyberpunk 2077 definitely has its flaws – and it doesn't have many of them – but after a few hours, the player will slowly forget about a lot of them. The vast and rotten Night City can be flown in a few hours, or lost in it for long days – there are many possibilities and if you wait a few more weeks for the game, you will certainly experience a sufficiently high-quality gaming experience that we are used to from CD Project RED.
| | |
| --- | --- |
| + True depiction of the big city | – Too many side activities |
| + Credible and deep characters | – Short main line |
| + Story-rich side quests | – Excessive amount of loot |
| + Support for different playing styles | – Low interaction with the world |
| + Sophisticated original soundtrack | – Very numerous (not only graphic) bugs |
| + Quality Czech translation | |
---
*The article has been translated based on the content of Diit.cz by cdr.cz. If there is any problem regarding the content, copyright, please leave a report below the article. We will try to process as quickly as possible to protect the rights of the author. Thank you very much!
*We just want readers to access information more quickly and easily with other multilingual content, instead of information only available in a certain language.
*We always respect the copyright of the content of the author and always include the original link of the source article.If the author disagrees, just leave the report below the article, the article will be edited or deleted at the request of the author. Thanks very much! Best regards!
---