Table of Contents
What is the idea
In the first week of September, I made an experiment: along with the main smartphone, I used the new compact realme Pad Mini tablet.
Once upon a time, I actively used the "smartphone + tablet" combination. But since then, the diagonal of smartphones has almost doubled (from 3.5 to 6.5-6.7 inches), and it seems that the need for a tablet has disappeared by itself. However, my experience has shown that this combination makes sense. There are some compelling scenarios behind! However, there are also negative points. Let's figure it out.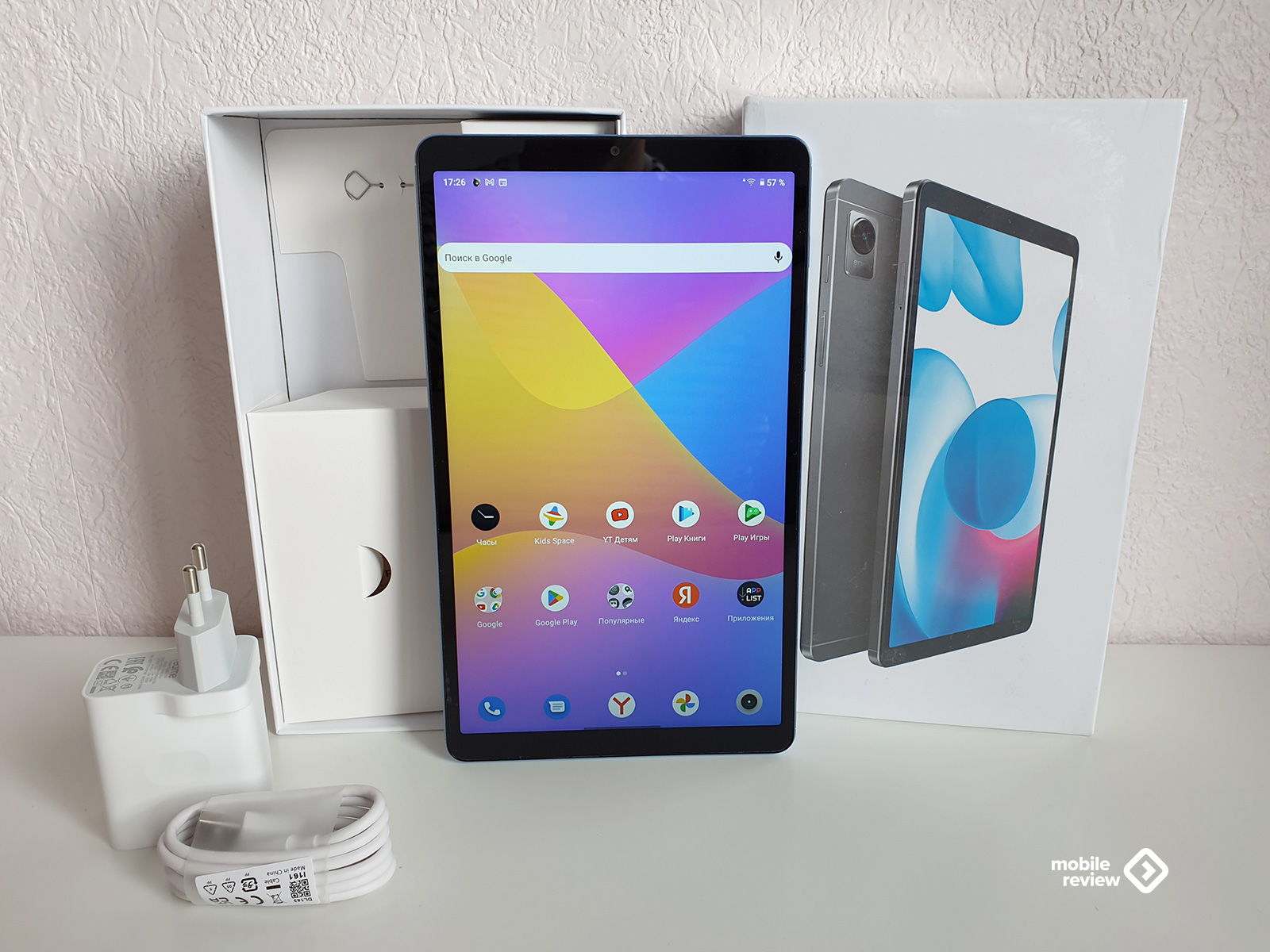 Why realme Pad Mini
The choice of compact tablets is small. And there are only a few good solutions for an adequate price. The conditional ideal in this category is the Apple iPad mini. But for him they ask for 60 thousand rubles.
If we talk about tablets up to 20 thousand rubles, then there is the Korean A7 Lite. There is nothing to beat around the bush. This is the main opponent for realme Pad Mini. So realme engineers tried to make their tablet in such a way that it would bypass the competitor in all respects.
So, A7 runs on the MediaTek Helio P22T chipset (100 thousand points in AnTuTu). This is a 2018 chipset, which is exactly 2 times less productive than the Unisoc Tiger T616 chipset (207k points in AnTuTu) used in realme Pad Mini. Plus realme Pad Mini has a larger battery (6400 vs 5100 mAh) and fast charging. Better front camera (5 MP vs 2 MP).
Other benefits of realme Pad Mini include the following:
The presence of not only Wi-Fi, but also 4G LTE
Large battery size (6400 mAh) and fast charging
8 MP main camera and 5 MP front camera
Brushed metal body
Slim bezels and large 8.7″ screen
According to the promotion, the price of the tablet is 15,990 rubles for a 4/64 GB configuration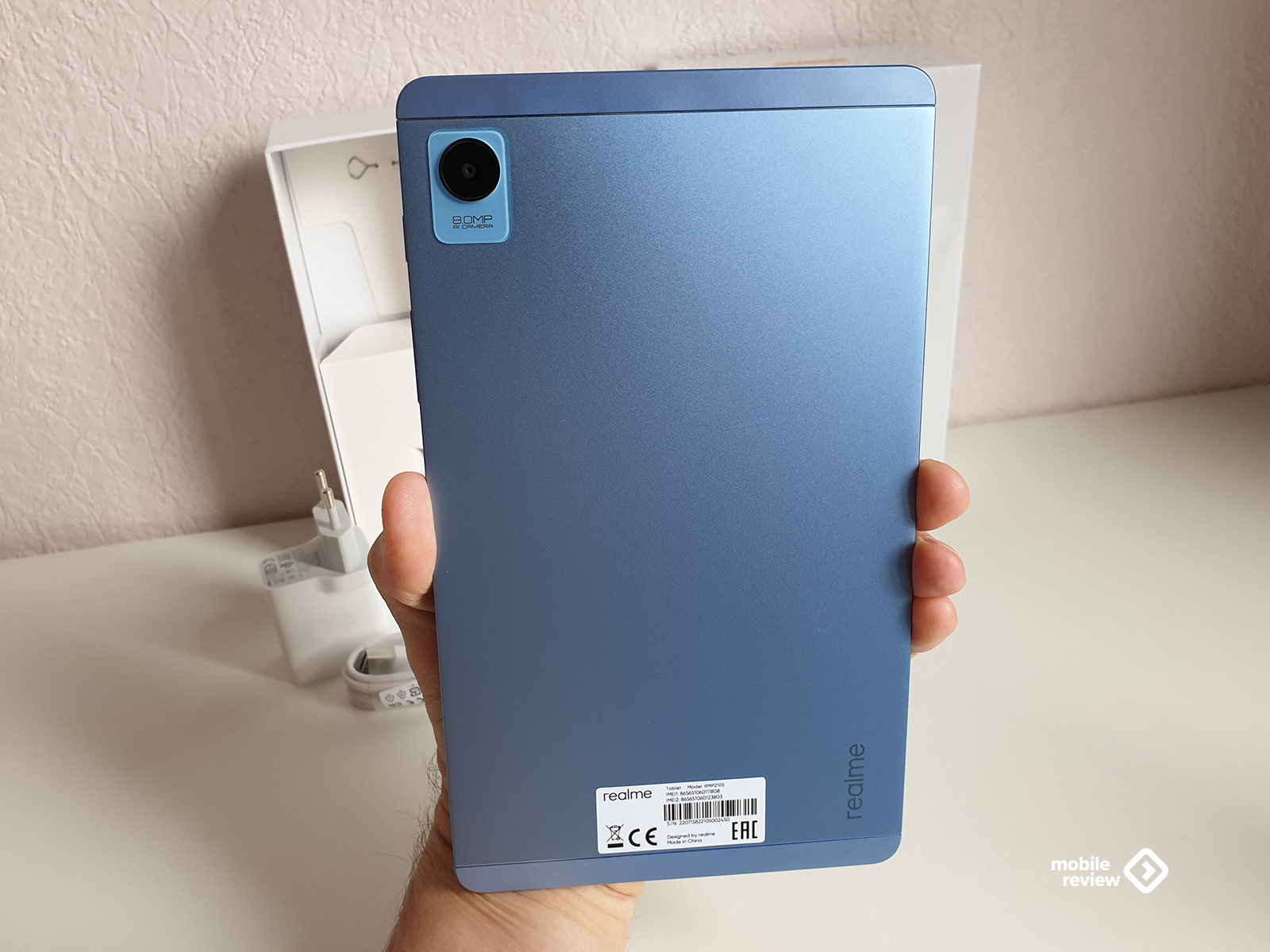 Accordingly, for September 2022 realme Pad Mini is, in my opinion, the best compact tablet available.
Large or small: choose the diagonal
In general, realme, which sponsored the experiment, has two diagonals to choose from: 10.5 inches (the realme Pad model is a classic!) and 8.7 inches (the Realme Pad Mini model).
Despite the fact that the diagonals differ from each other by only a couple of inches, the difference in the perception of dimensions is enormous. Suffice it to say that realme Pad Mini can be held with one hand (tablet width is only 124.5mm).
So, flattered by the size and low weight, I decided to choose the mini version. Thanks to its compact size, the tablet can easily fit even in the inner breast pocket of an autumn jacket or the back pocket of jeans. The weight of the tablet is also small (372 g). The pocket does not pull.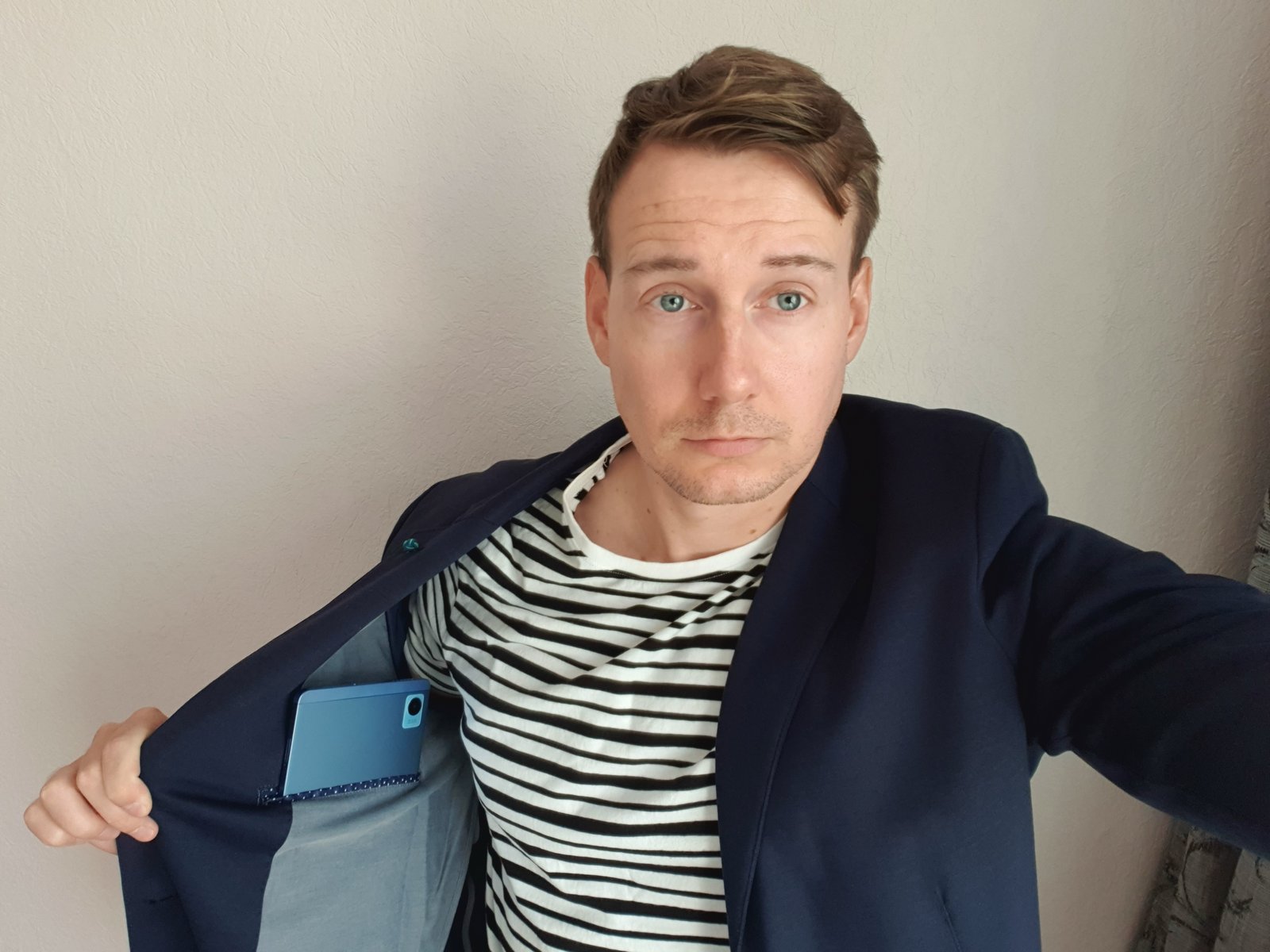 Prices for both diagonals are, in principle, comparable. And this is where many people make a common mistake. They set their sights on a compact tablet, but in the end they still get a tablet with a large diagonal, because subconsciously it seems that this is a better purchase. You don't have to do that!
The compact size and light weight are, perhaps, almost the main advantage of the realme Pad Mini. Often, going somewhere, you refuse additional devices, because it's corny to be too lazy to drag them. There is no such problem with realme Pad Mini. A tablet is not much larger than a smartphone. At the same time, the 8.7-inch screen allows you to watch TV shows, play games or read books with much greater pleasure.
Design
Since we're talking about size, let's talk about design in general. To be honest, I don't know if there are covers for the tablet (I suspect that yes), but I didn't want to use them in principle. Any cover is an increase in size.
It is likely that realme guessed about such logic among consumers. So they gave the compact tablet an aluminum case. The case does not play, does not bend. During the week of the test, there were no micro-scratches left.
In accordance with the trends, the tablet has flat edges. I thought it would cut my hands, but no. Firstly, a tablet with flat edges is more comfortable to hold with one hand. Secondly, the tablet can stand on a flat surface both horizontally and vertically. Yes, and leaning the tablet is more convenient: it slips less.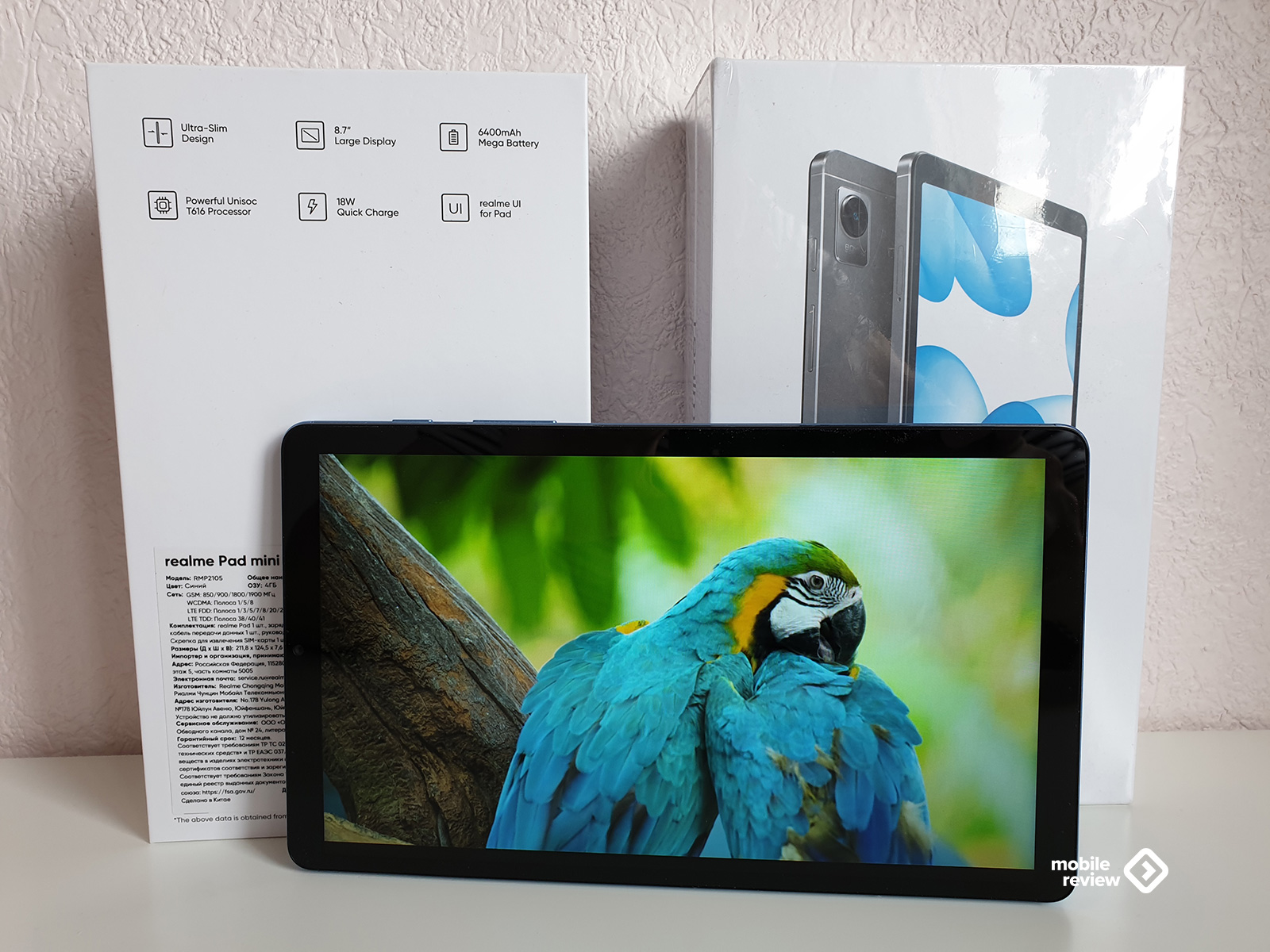 Otherwise, there is nothing remarkable in the appearance of realme Pad Mini: laconic design, soothing colors.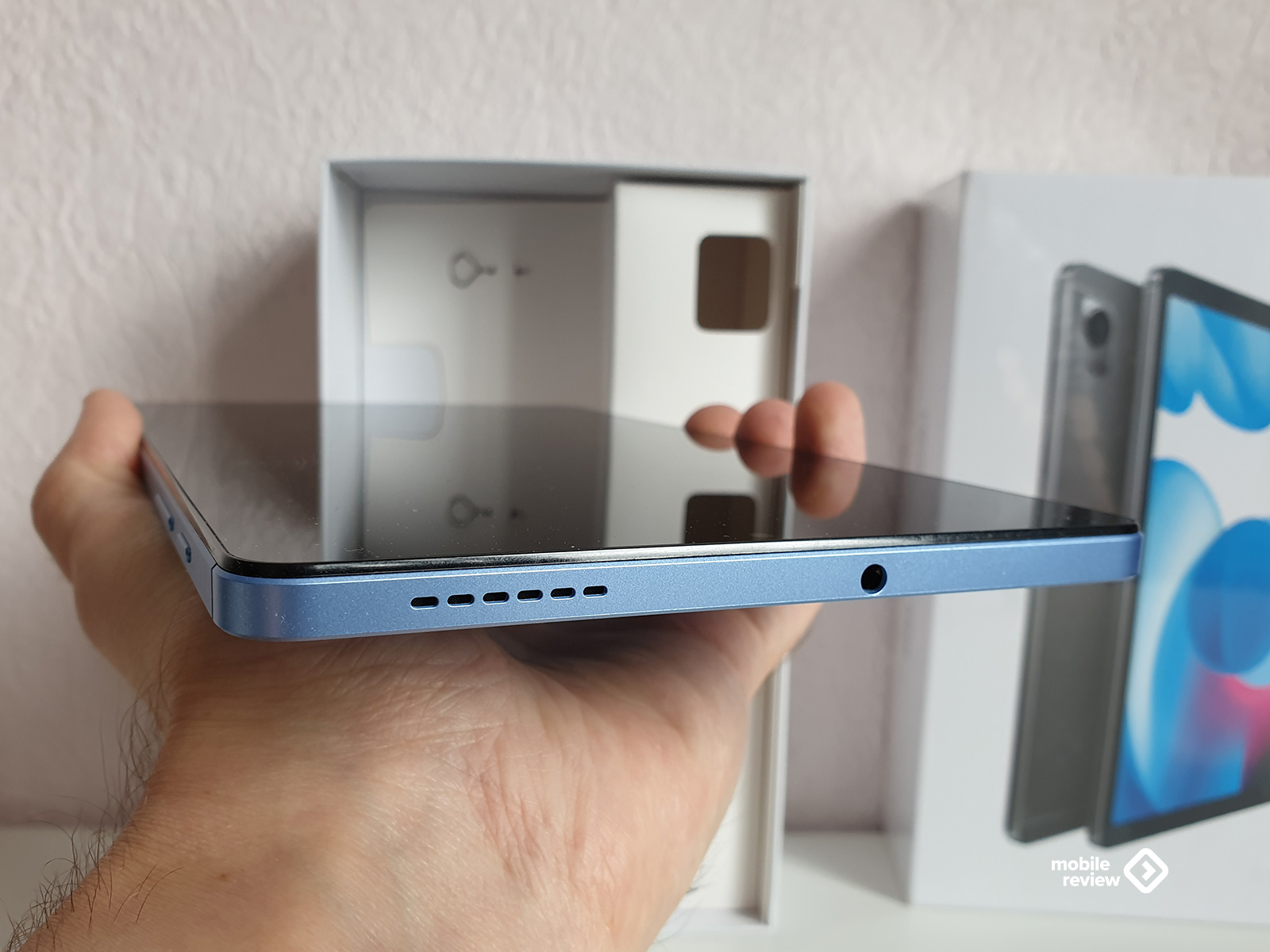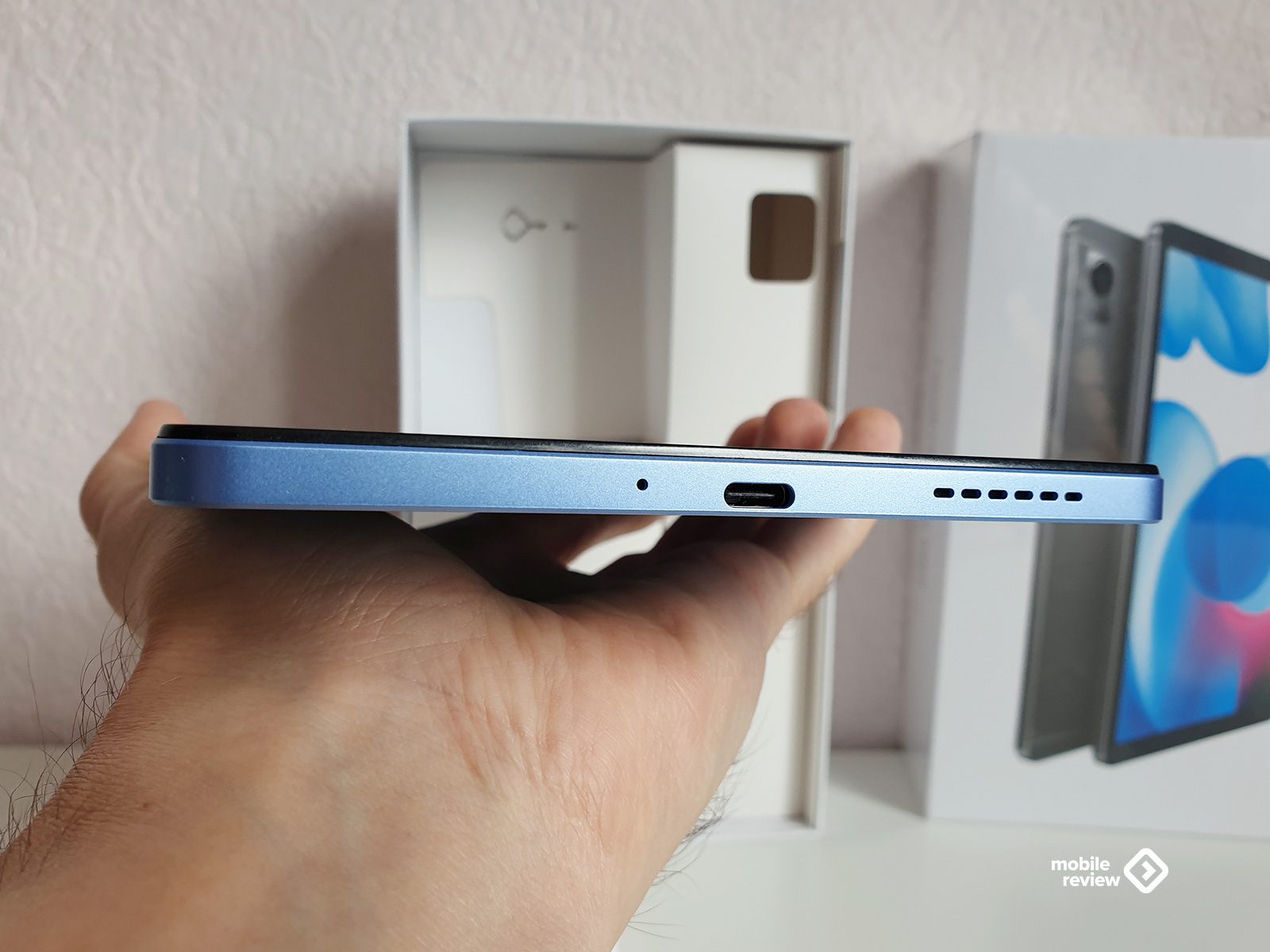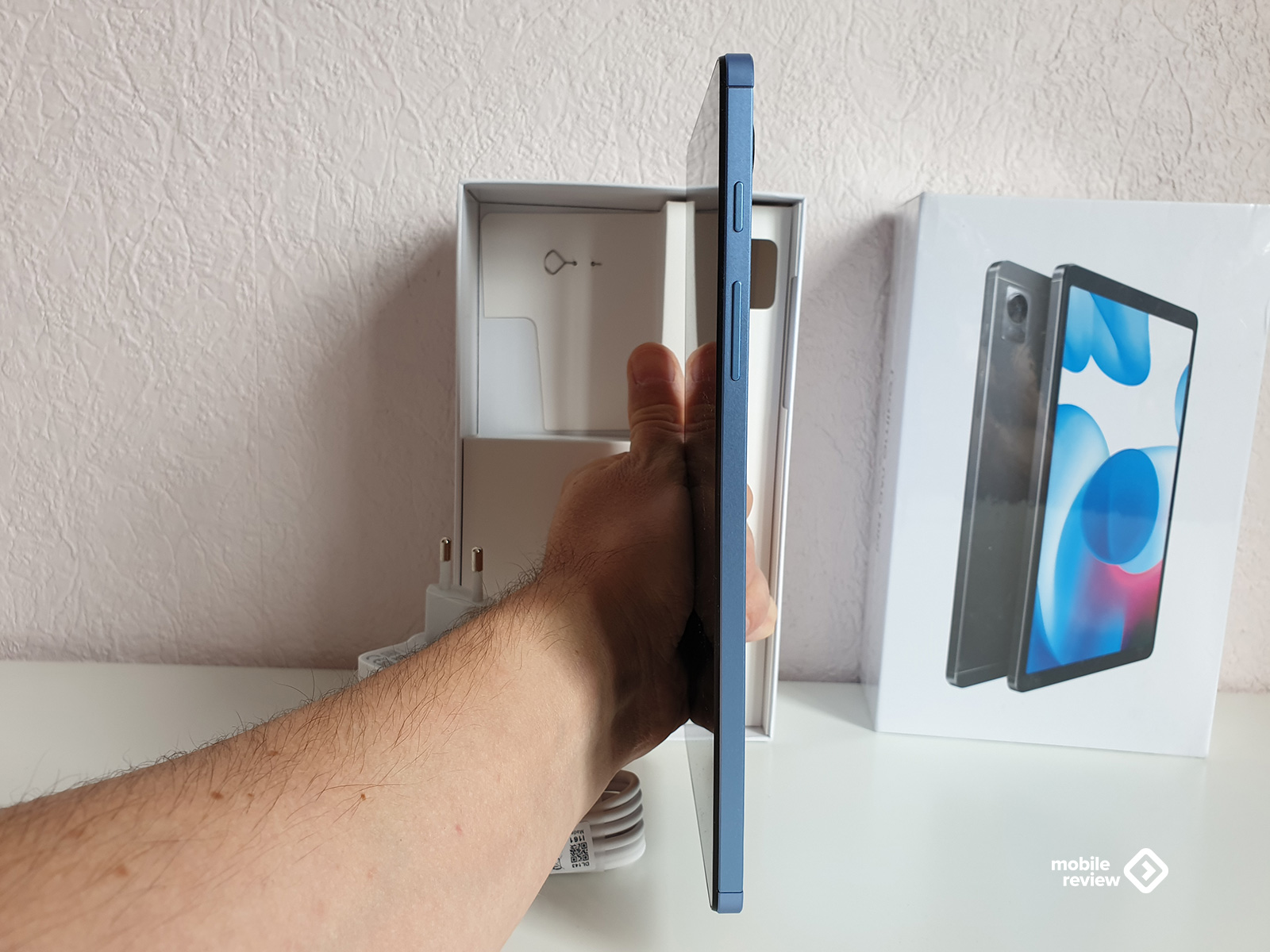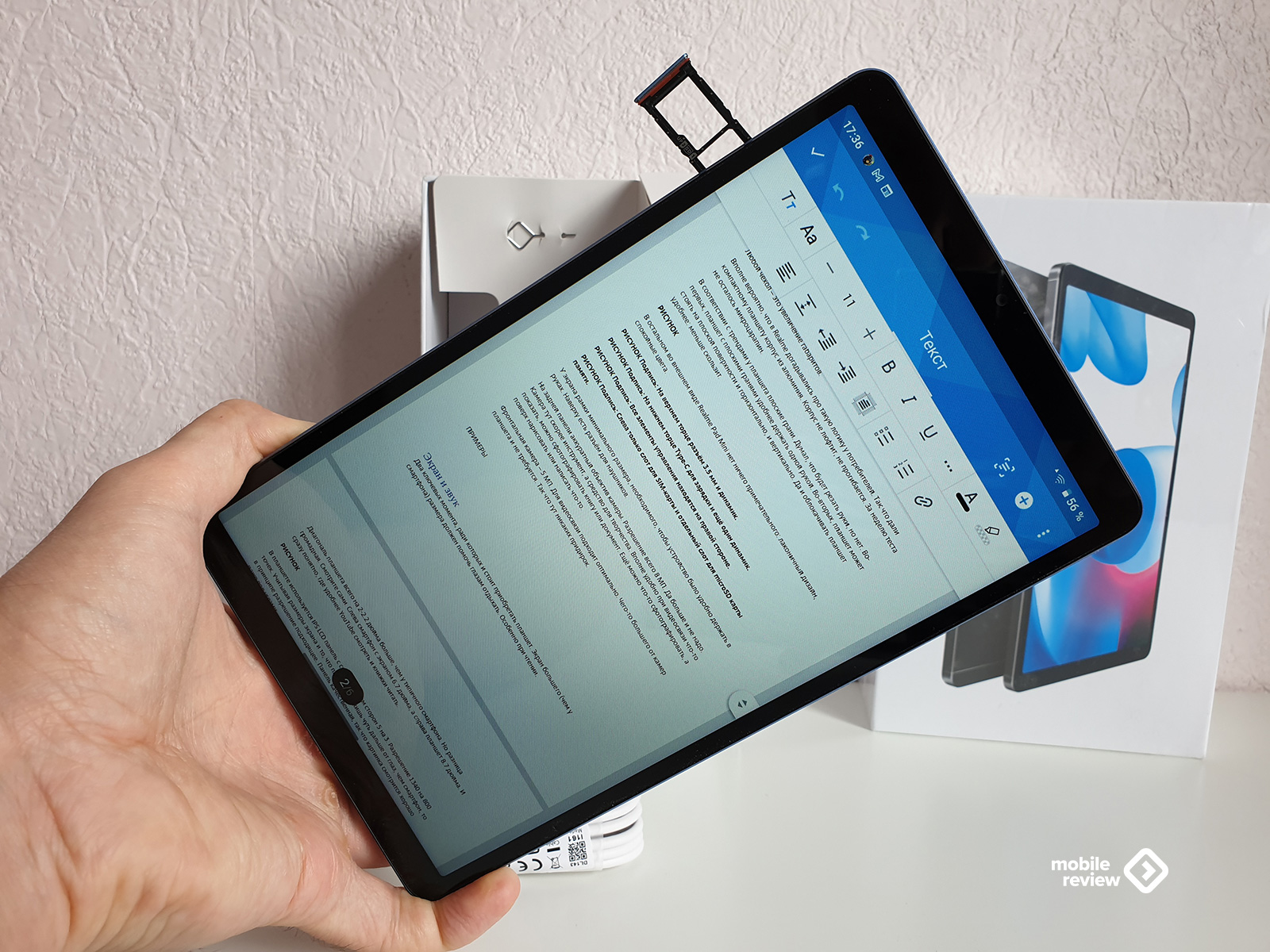 The bezel screen has the minimum required size to make the device comfortable to hold. There is a headphone jack on the top.
On the back is a neat camera lens. The resolution is only 8 MP. Yes, no more is needed. The camera here is more of a tool, not a means for creativity. It is quite convenient to show something during video communication, you can take a picture of a book or a document. You can also take a picture of something, and draw or write something on top.
Front camera – 5 MP. Ideal for video conferencing. Something more from the tablet's cameras is not required. So no quibbles here.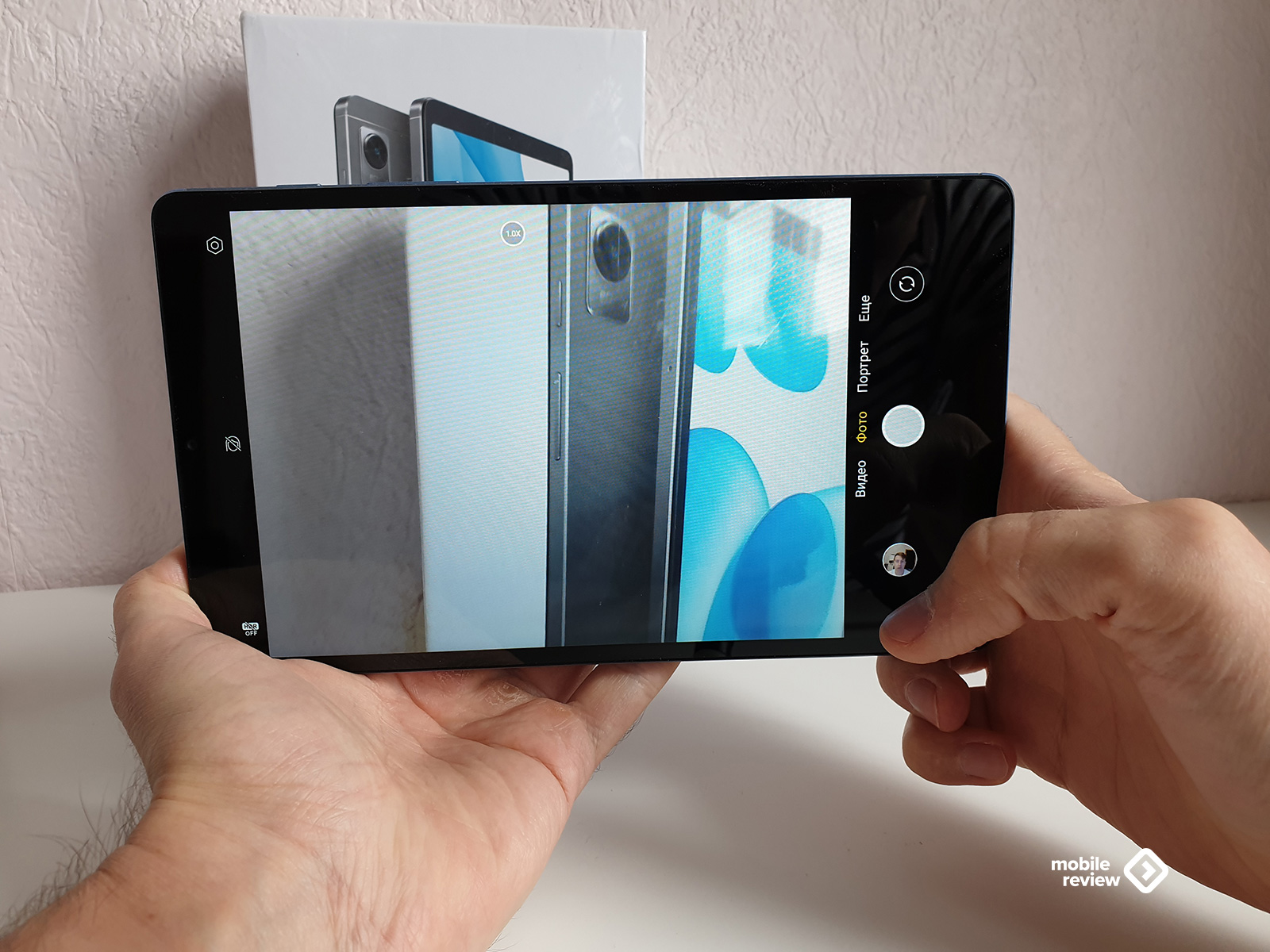 Screen and sound
Two key points for which it is worth buying a tablet. A larger (than a smartphone) screen should help rest your eyes. Especially when reading.
The tablet is only 2-2.2 inches larger than a typical smartphone. But the difference is huge. See for yourself. On the left is a smartphone with a 6.7-inch screen, and on the right is an 8.7-inch tablet. And it is immediately clear where it is more convenient to watch YouTube and read books.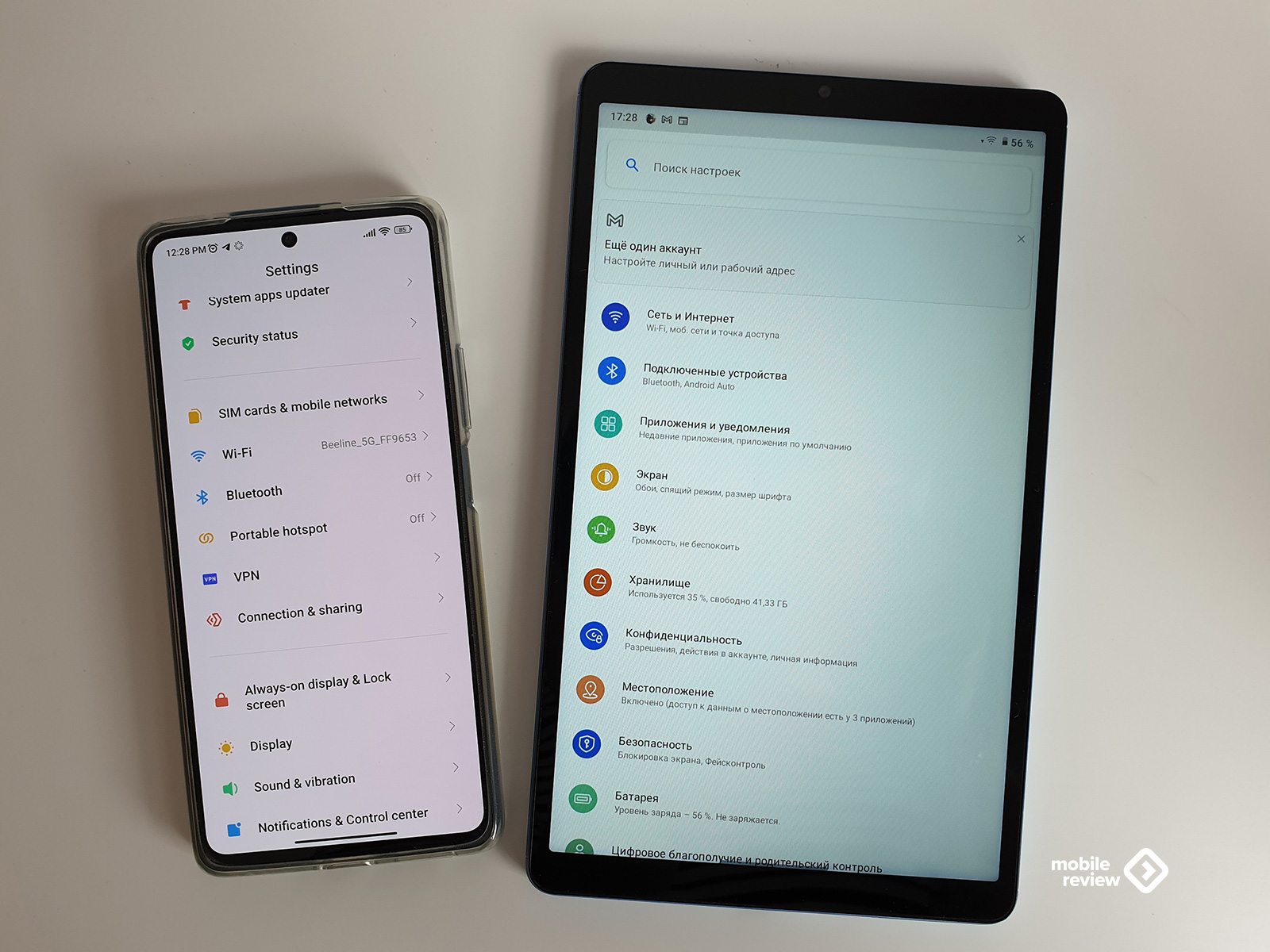 The tablet uses an IPS LCD panel with an aspect ratio of 5 to 3. The resolution is 1340 by 800 pixels. Considering the size of the screen and the fact that you hold a tablet a little further from your eyes than a smartphone, in principle, the resolution is suitable. The panel is of high quality, so the picture looks good even at an angle.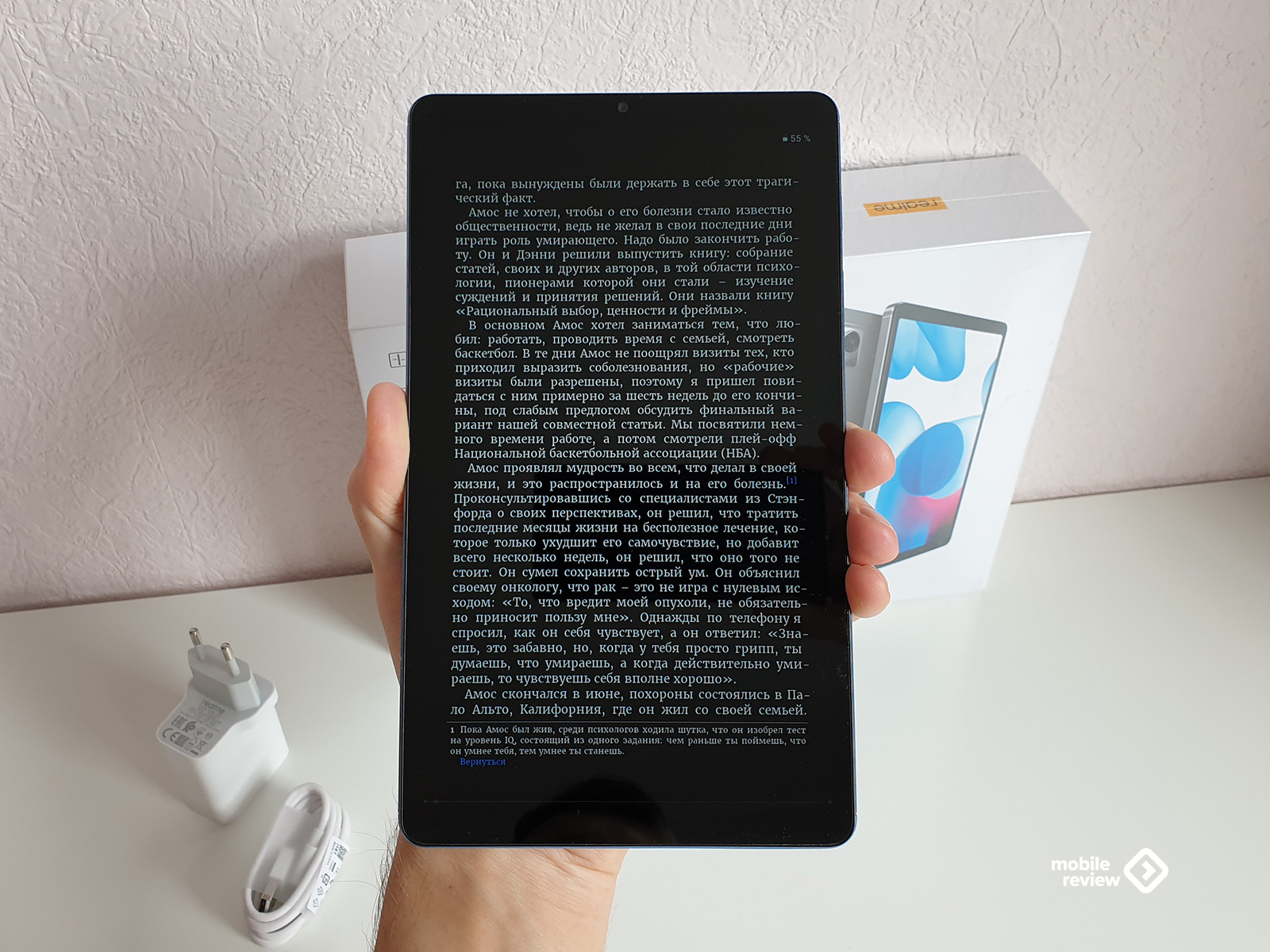 Initially, by the way, I did not like the picture. It seemed that the white color is yellowish. This issue is resolved in the settings in the "Color mode and temperature" item. The tablet offers a choice of three options – standard, warm and cold. I chose a cold one, but now the white color was with an overly blue tint. It's good that there is a palette and you can adjust everything manually. It turned out that to the ideal, you just need to slightly move the slider towards blue.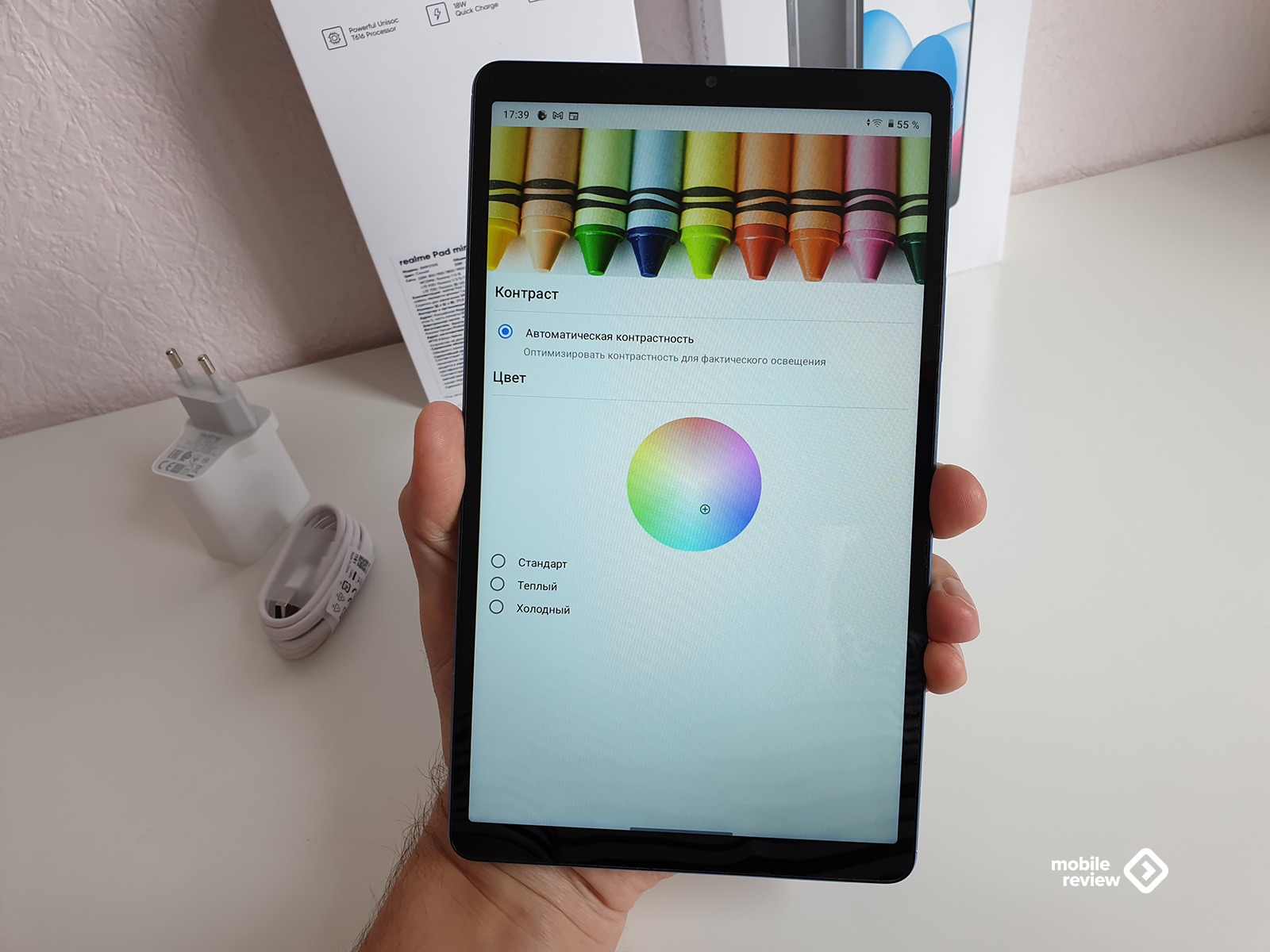 An important point – the screen has an excellent supply of brightness. The tablet is comfortable to use both at home and on the street. In the settings, by the way, there are all the required attributes – blue light reduction, a separate reading mode that changes the screen texture. I was most pleased with the lack of flicker at minimum brightness. At night, reading on the tablet is a real pleasure. My favorite ReadEra app looks perfect on it.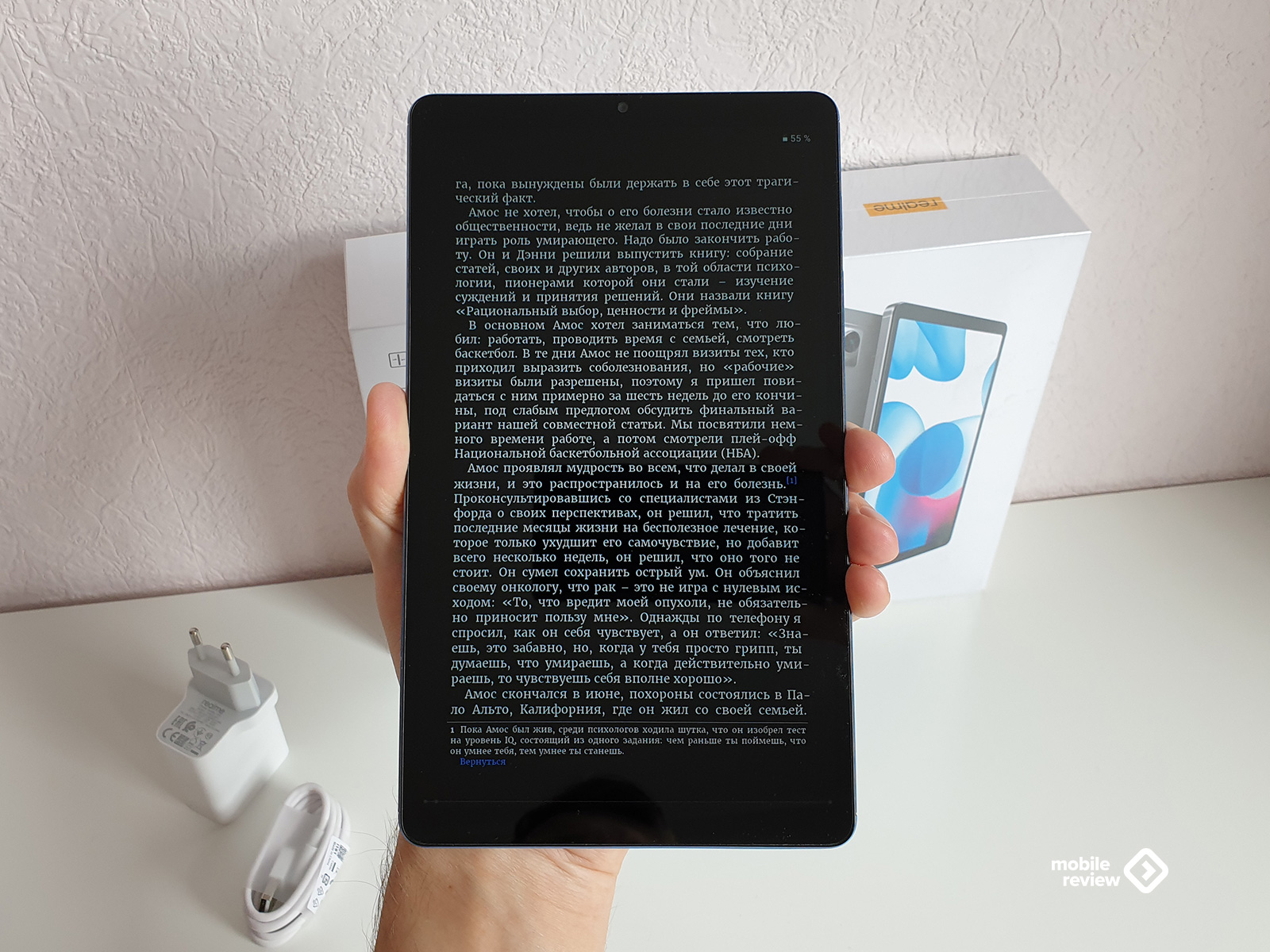 Obviously, tablets are needed to watch videos on them. So there is nothing surprising that realme did not save on speakers. The tablet has stereo speakers with a good volume margin. The sound is reproduced clearly.
Perhaps, if you find fault, then only to the fact that the bass here is minimal. However, it could not be otherwise. There are no good basses on smartphones, tablets and laptops.
Performance
Considering the low price and positioning, I did not initially expect any achievements in the field of gaming from the tablet. Surprisingly, the combination of the Unisoc T616 chipset and 4 GB of RAM is very competitive. The same PUBG works with a stable frame rate without lags and drawdowns.
Here I would like to add about another point. Usually tablets are not very suitable for mobile games. Still, the tablet is too big to be conveniently managed with on-screen controls. Add a lot of weight here. Hands get tired pretty quickly holding the tablet on weight. However, realme Pad Mini is a completely different story!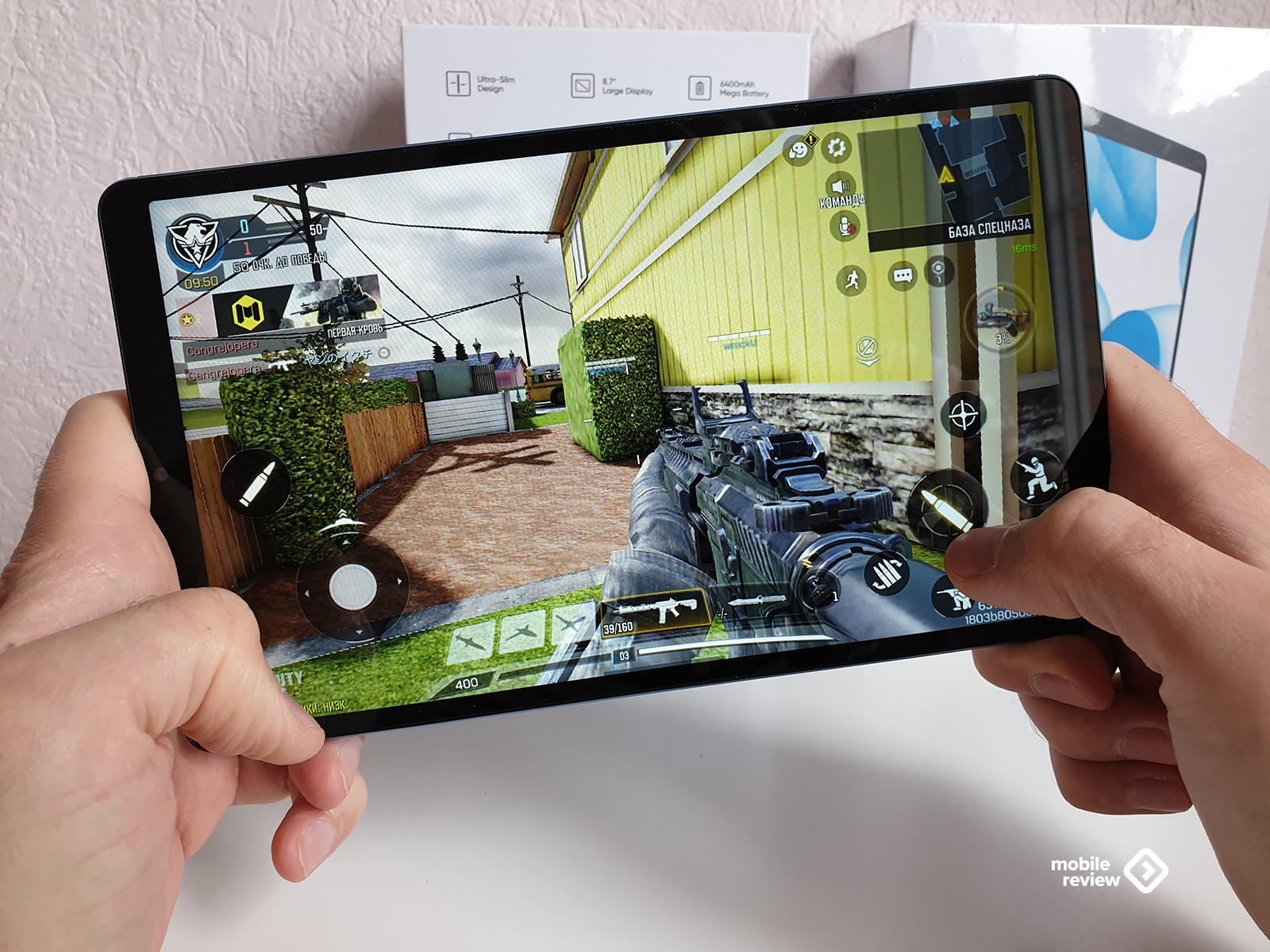 The compact dimensions of the tablet allow you to comfortably work with on-screen controls, and the weight of the tablet is slightly more than that of smartphones (smartphones with a flexible screen weigh under 300 grams). I was even slightly upset that realme does not have a compact tablet on flagship hardware.
By the way, if you still want to, then it's easy to connect a gamepad to the tablet via Bluetooth. With so many streaming gaming services out there, the tablet can easily be used for gaming sessions outside the home. The same Sberbank has a per-minute rate that is ideal for a tablet.
If we talk about simple games such as quests, arcade games or "balls-three-in-a-row", then their realme Pad Mini clicks like nuts. I play chess even more wonderfully on a tablet.
This is not entirely related to performance, but while playing Call of Duty Mobile, I complained that the screen is not 90 Hz here. It is clear that the device was created with an eye on video and reading (that is, tasks where a high screen refresh rate is not needed), but if realme Pad Mini and games are good, then I would like the screen to match.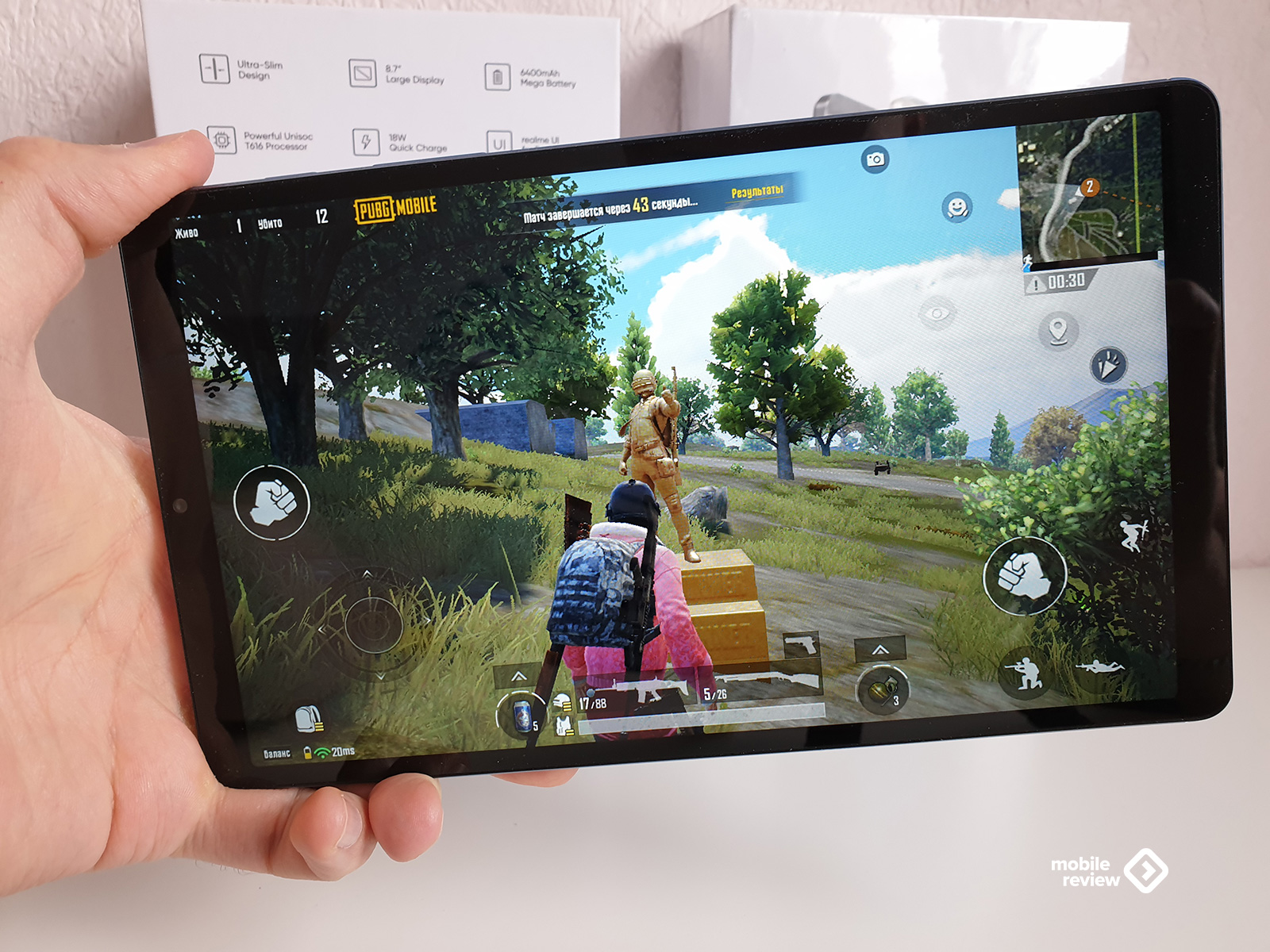 Battery life
Unfortunately, as the years go by, fast chargers are invented, but smartphones still drain quite quickly. And according to my idea, the tablet was supposed to unload the smartphone, that is, I was going to give video, games and reading at the mercy of realme Pad Mini. A smartphone to use on the go or in other situations where it is inconvenient to get the tablet.
Let me just say that my idea was a success. The tablet has a 6400 mAh battery. Add here a modest screen resolution and an energy-efficient processor. I transferred all non-core business to the tablet – the Internet, games, videos. The smartphone was left only for important tasks – work tasks, music streaming and a camera.
In PCMark's battery life test, which simulates everyday workloads (documents, videos, photo and video editing), the tablet lasted more than 15 hours (screen brightness 60%, Wi-Fi on). This is an excellent result.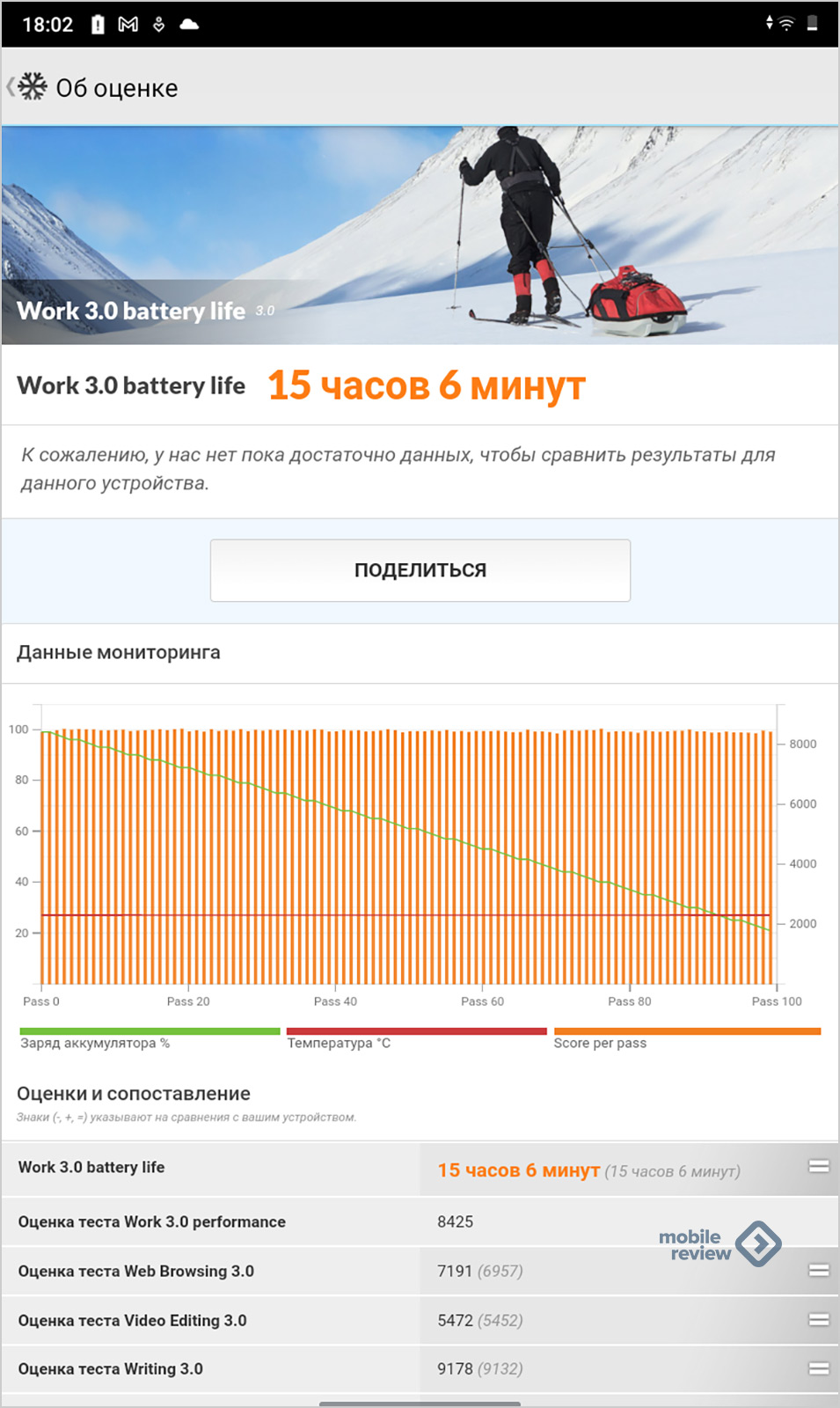 It comes with 18W fast charging. A full charge takes about 2.5 hours. That's quite a lot. Considering that most of their realme smartphones are equipped with good 33W chargers, of course, they could not save here either.
But in general, everything is not so sad. I never discharged the tablet to zero, but put it on charge when the battery was around 30-35%. Accordingly, in an hour the tablet was charged up to 85%, which was enough for a couple of days of work.
Summarizing
Main technical characteristics
Screen: 8.7 inches, IPS LCD, 1340 x 800 dots, 5 x 3 aspect ratio
Sound: stereo speakers
Battery: 6400 mAh, 15 hours of PCMark video playback
Connection: 4G LTE, Wi-Fi 5, Bluetooth 5.0
Charger: fast charging 18W, Type-C power connector
Frame: aluminum
Dimensions: 211.8 x 124.5 x 7.6mm, weight 372g
Processor: UNISOC Tiger T616
Memory: 4/64 GB, dedicated microSD card slot
Navigation: A-GPS, GLONASS, BDS
Other: there is a 3.5 mm jack, a separate microSD slot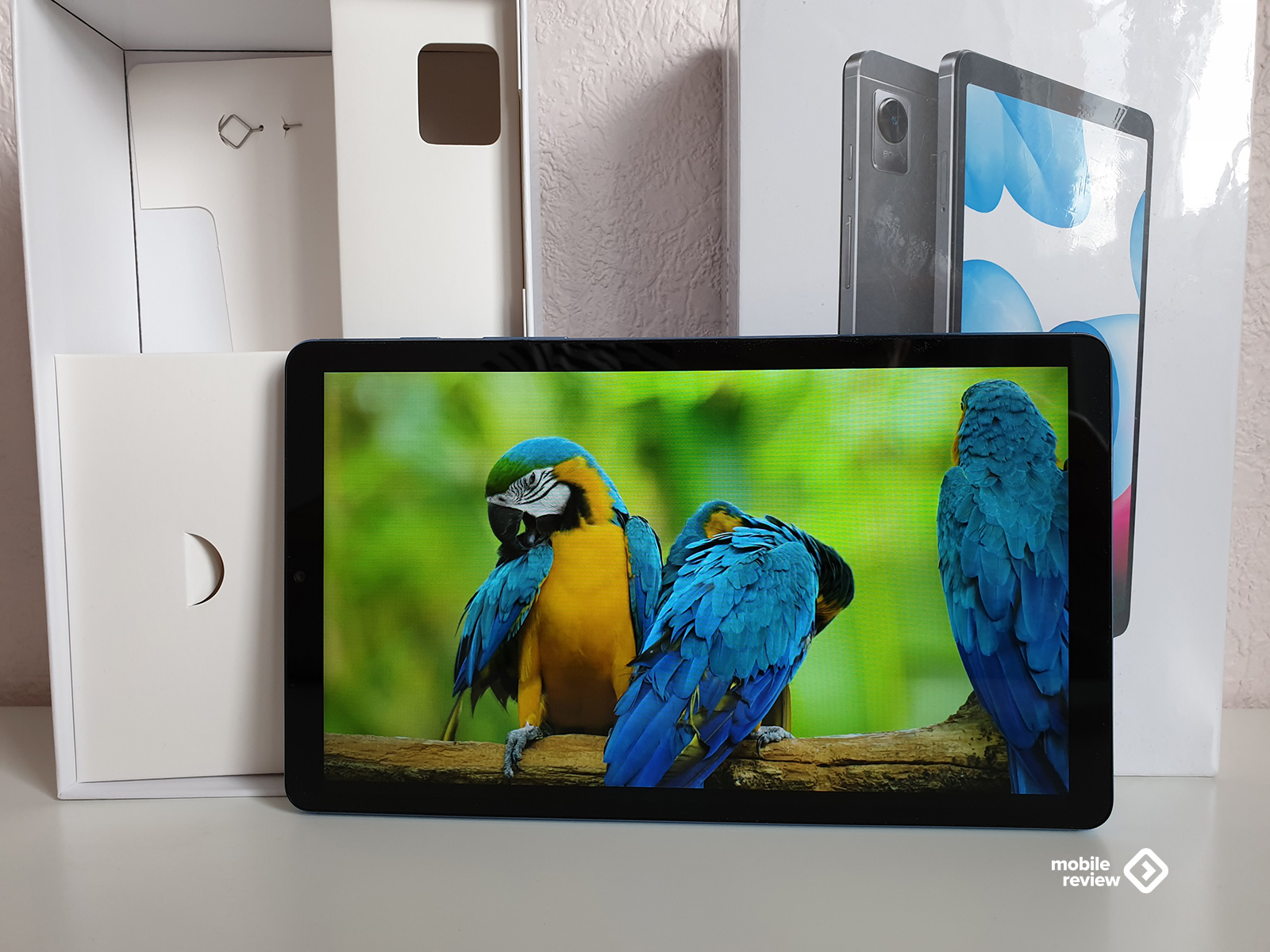 An important point that should not be forgotten is the presence of a module for connecting to a mobile network. Given the excellent battery life, the tablet is great for sharing Wi-Fi from it to a laptop.
Summing up, we can say that it is worth giving a chance to the category of compact tablets. The same realme Pad Mini is a fairly inexpensive, but productive option that is suitable not only for reading or movies, but also for games.
The durable metal body and good battery life make the tablet a great option for kids to keep their parent's smartphone charged.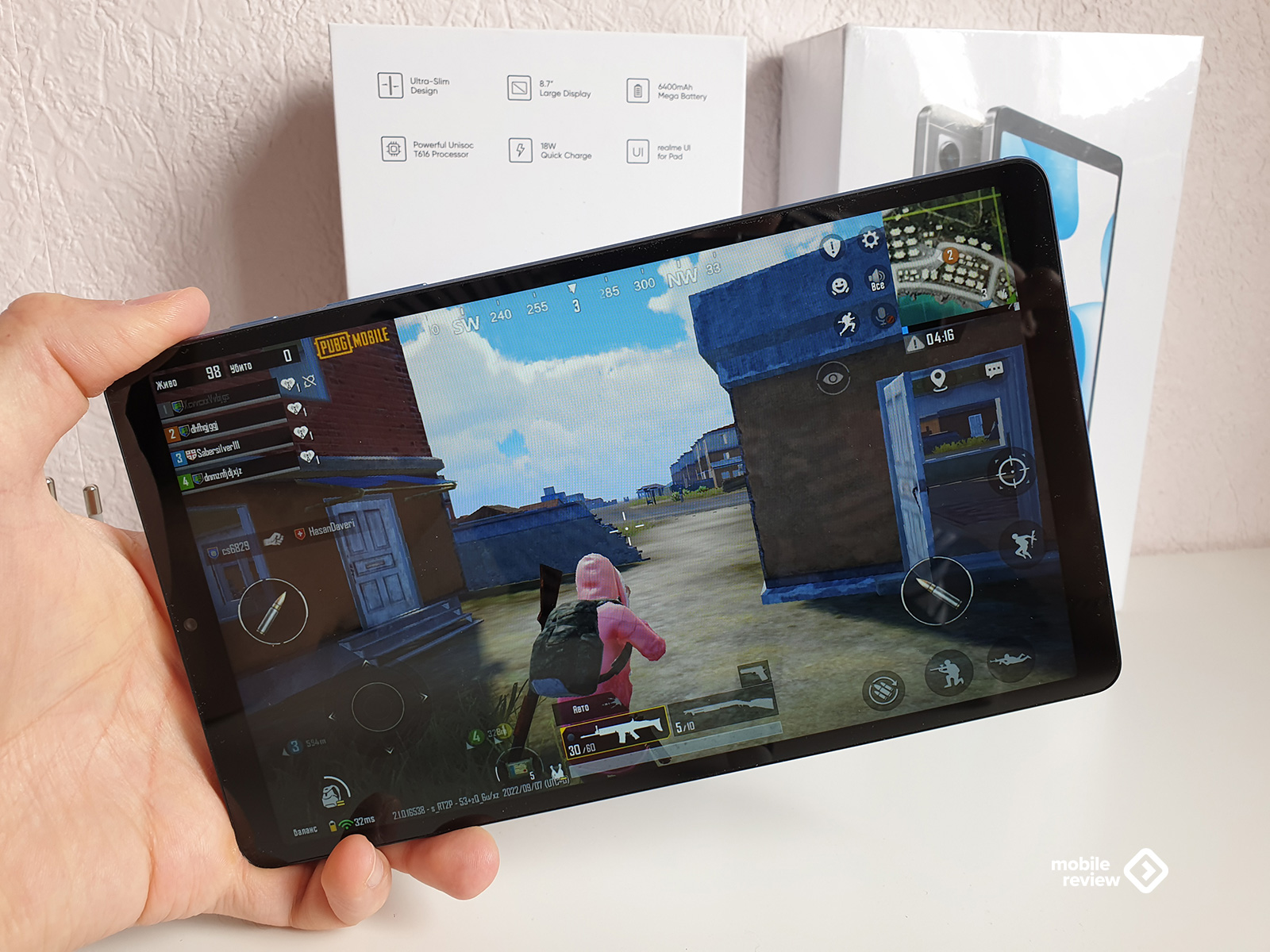 For the price, realme has a good product. And it all depends on the scenarios for which you will use the tablet. As an addition to a smartphone, a tablet for children, an additional home screen, the device fits perfectly. If you are looking for a tablet as a replacement for a laptop, then you should pay attention to the specialized category of business tablets. They are 3-4 times more expensive, but they come with a keyboard case and other business accessories.
---
Source: Mobile-review.com — Все о мобильной технике и технологиях by mobile-review.com.

*The article has been translated based on the content of Mobile-review.com — Все о мобильной технике и технологиях by mobile-review.com. If there is any problem regarding the content, copyright, please leave a report below the article. We will try to process as quickly as possible to protect the rights of the author. Thank you very much!

*We just want readers to access information more quickly and easily with other multilingual content, instead of information only available in a certain language.

*We always respect the copyright of the content of the author and always include the original link of the source article.If the author disagrees, just leave the report below the article, the article will be edited or deleted at the request of the author. Thanks very much! Best regards!
---