Introduction
A gaming chair, we've seen it before: The same frame with a different shell in the same type of quality that you would otherwise find on the discount shelf at Lidl. Here, Razer has reshaped the same type of frame that you see in other gaming chairs, but instead of plastic and creaks, we get metal and quality. Come along and we'll take a look at Razer's fresh Enki.
Specifications
| Type | Razer Enki | Razer Enki X |
| --- | --- | --- |
| Minimum seat height | 44 cm | 44 cm |
| Maximum seat height | 54 cm | 54 cm |
| Seat adjustment | Height-adjustable, 0-15 ° inclination lockable in five positions | Height-adjustable |
| Backrest | Adjustable steplessly 90-152 ° | Adjustable steplessly 90-152 ° |
| Material stol | Double-textured EPU | Double-textured EPU |
| Material extrakudde | Memory foam with light velvet | Not included |
| Adjustment of armrests | Metal-reinforced armrest with 4D adjustment options | Armrests with 2D adjustment options |
| Weight | About 25 kg | About 25 kg |
| Seat size | 54 cm wide, 50 cm long | 54 cm wide, 50 cm long |
| Wheel size | 60 mm i diameter | 60 mm i diameter |
| Recommended price | 449 euro | 329 euro |
Razer Enki (X) only comes in a color combination, which is black with green elements. Of course, this is what you can expect when it comes to a product from Razer. Fortunately, the green elements are a bit withdrawn, so to be a gaming chair, it is at least not super screaming.
Assembly
To do a deep dive in the assembly is actually quite unnecessary as you can get this chair together with the help of an old toothbrush and a worn house key. In total, it takes six screws and 10 minutes of your time, so you have also put together your very own Razer Enki. Of course, Razer still sends with a manual in the box, a comically large manual.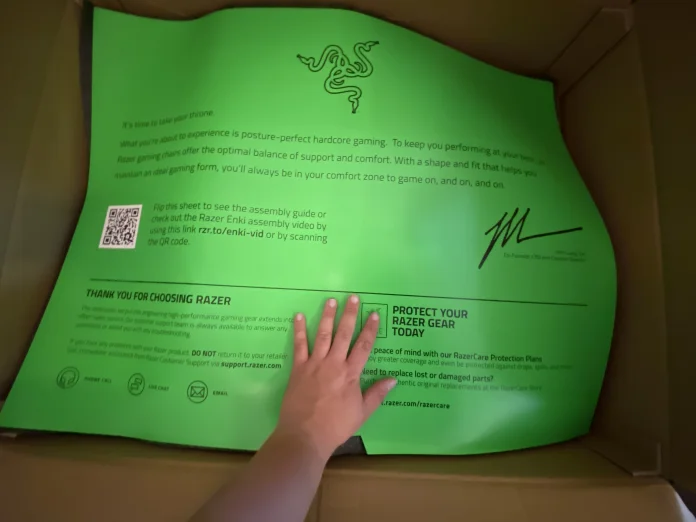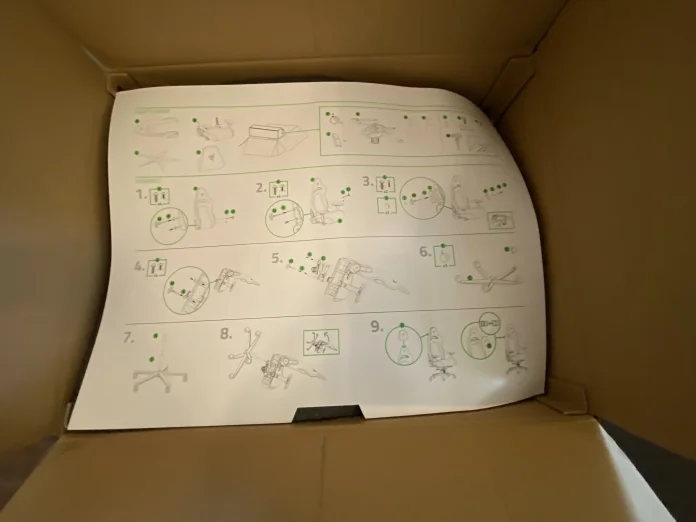 Funny enough, Razer also makes sure to spread the knowledge that you are not allowed to surf in the chair, put weapons and bombs in it, and that it is apparently also forbidden to beware of bullets while sitting in Razer Enki in true Matrix style. It is of course good that they are careful to point this out, we do not want there to be any misunderstanding.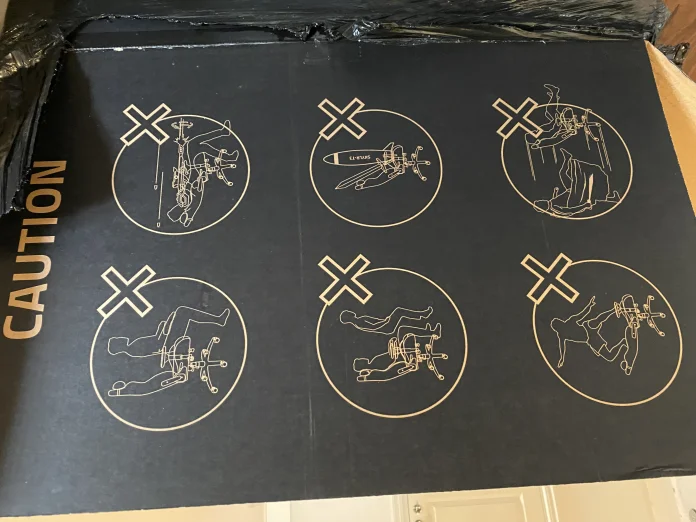 A word from the pilot
With the assembly completed, we can probably instead move on to what matters: How is the chair to sit in? Now I do not think of the store test where you are just relieved to be able to sit down somewhere, but any real reflection on how comfortable it actually is. I'm talking about the long, sweaty game sessions where the chair feels more like a source of warmth over comfort, where you repeatedly swear by the opposition's ability to bang headshots across the map, where the fleet of chips clearly spreads across the game corner during the evening and the sweet the stench from the energy drink fills the air.
If you recognize yourself here, this is the perspective you should stick to. Because in this way, I have fought to be able to perform this test pilot, my last test pilot, to its ultimate peak. Bag on bag with Gårdschips has been consumed together with liters of energy drink, all to get the most honest test for a gamingstol.
Comfort
To begin with, it should be mentioned that I am 180 centimeters tall and weigh as much as 100 milk packages from your local Ica. With that said, we go straight to the upholstery in the chair. Here we have a magnificent copy from Razer where they thought of and used different hardness on the foam rubber in the back and in the seat. While you have a lot of support in the back with good lumbar support, which does not work just because you have a neat back, the seat is soft enough to relieve your seat legs in a good way.
In other words, it is a comfortable chair, in fact one of the more comfortable chairs I have tried, as I now lead into the next part of the comfort: the heat. Sitting in a leather chair may be comfortable at first, and of course it's luxurious – but pull me backwards how hot it gets. Here I thank you for the material that Razer has chosen, namely some kind of fabric-like leather, which I could describe as perforated but at the same time tight.
What exactly it is for something is not so important, the important thing is that it breathes well and does not stick to naked skin (What, do not you spend Saturday mornings wearing only underwear in front of the computer?) Which this attire does not. The material feels like leather but acts as a fabric when used. The material is superb and is a real upgrade in my opinion when it comes to the comfort of Razers Enki.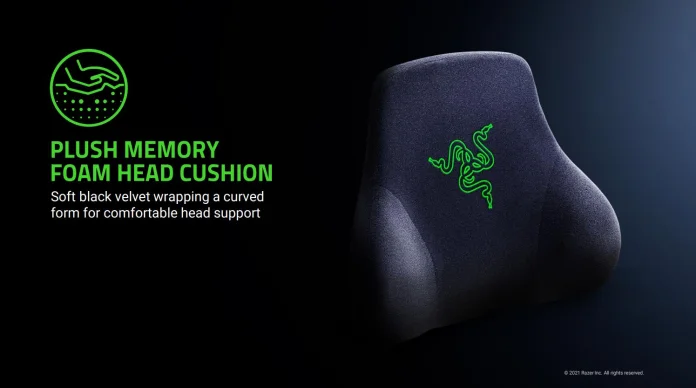 The included neck pillow is for me rather a requirement that you use, more than that it is just a supplement. With the neck pillow, I can very easily just sit back and be really comfortable and relaxed. Without the pillow, it will instead be my bald head that directly touches the back of the chair, which for me causes a lot of tension in the neck and which is in no way comfortable when playing back. If, on the other hand, you sit straight in the back when you play, this is of course not a factor to consider.
The seat height is good and is perfect for a table height from 65 to 80 centimeters. In other words, it includes the majority of computer desks, with the possibility that your feet also comfortably reach down to the floor. This is in my opinion an important part in determining how comfortable a chair is.
Features
A look at the specification list gives us the most common features that can be expected from a modern gaming chair. With the option to tilt the chair or backrest, in addition to all the ways you can adjust the armrest, you will not have to look very long before you find a good position.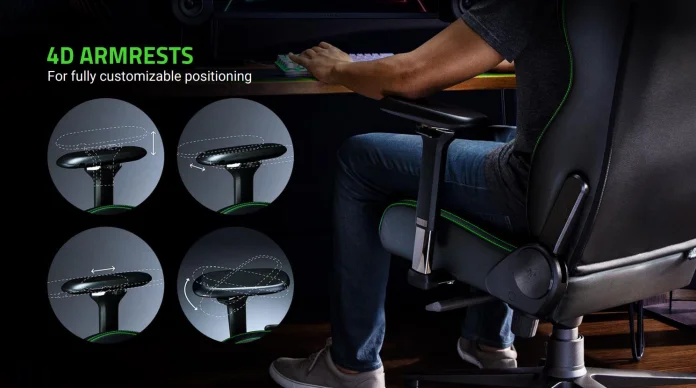 When we are still in the armrests, I must take the opportunity to point out the incredible satisfaction of being able to adjust the metal-reinforced armrest up and down. If you've driven a Japanese sports car with a manual transmission, you know what I'm talking about. The "sound" from when the armrest changes position should not be underestimated. The precision together with the metallic sound is absolutely divine and gives me pleasure everywhere. This alone raises the quality feeling of the chair a few steps. It is worth mentioning that the metal-reinforced armrest only comes with the Razer Enki, not the cheaper Razer Enki X.
If we look at other functions of the chair, there are some things I am missing, or rather something I am missing in the majority of computer chairs:
Why are there no lockable wheels? Two lockable wheels would have been enough to make it easier to play racing games without rolling across the room with the chair when you have to brake before the first curve.

Why are the wheels made of hard plastic? I, like many others, have wooden floors at home and getting a scratched floor with these plastic wheels is easy happened without protective plastic on the floor.

Why is the chair designed in such a way that the neck pillow is almost a requirement to have a comfortable half-lying game session? If this is to be the case, Razer should make sure that both Enki models get the neck pillow. Right now, however, the neck pillow as mentioned is only included with the more expensive variant.
Quality
If I repeat myself a little, it is an incredible feeling of quality on the chair, where I actually have nothing to point out. Of course, it may not be the latest from Herman Miller, but to be a game-oriented chair with a price tag that does not touch the very highest levels, we have an excellent copy. The price of 449 euros will be translated to around 4799 kronor.
Razer Enki has no creaking no matter how you load it and the armrests are very stable and stay still even with my monkey weight hanging on them. In addition, the backrest is equipped with a large number of positions from 90 to 152 °. Once you have locked the adjustment, the backrest does not move a single millimeter from its set position.
The feeling of quality is really, really good and in my experience the best you can get in the south of 10,000 kronor.
Summary
The Razer Enki is not quite there when it comes to the perfect gaming chair, but it is at least the closest I have tested so far. Little things are missing for me to give it a real full pot and call it a dream chair, but it is probably among the best you can get with a "gaming chair" stamp.
If you, like me, are getting old and can no longer spend 16 hours at a time sitting in a plastic garden chair in front of the computer without having a damaged back, the Razer Enki may be the solution for you. It is noticeable that Razer has thought a bit before this launch. Instead of taking the same foundation as the rest of the manufacturers and refining it with the logo with a green snake, Razer has gone its own way where they actually put some energy and development into producing a good chair.
I wholeheartedly recommend this product and my butt will miss it when it is sent back after this test pilot is completed. If you have any questions about the product, I will keep it for a while. Take care now before it's too late!
Positively
Fairly comfortable

Excellent sense of quality

The armrest is incredibly satisfactory to adjust

Cool fabric / artificial leather – no problem to bank headshots naked

Rocking-friendly chair

Good adjustment options

No RGB
Negative
---
Source: SweClockers by www.sweclockers.com.

*The article has been translated based on the content of SweClockers by www.sweclockers.com. If there is any problem regarding the content, copyright, please leave a report below the article. We will try to process as quickly as possible to protect the rights of the author. Thank you very much!

*We just want readers to access information more quickly and easily with other multilingual content, instead of information only available in a certain language.

*We always respect the copyright of the content of the author and always include the original link of the source article.If the author disagrees, just leave the report below the article, the article will be edited or deleted at the request of the author. Thanks very much! Best regards!
---