RADAR Kids and Lidl Romania launch a unique competition for children, within the New Media Art Library project for children. They are called to become the co-authors of a 40-second animation that will be presented at the RADAR festival, in the form of an immersive experience.
The New Media Art Library for Children invites the little ones in an educational and fun virtual adventure, which takes them through all the stages of creating a super animation, helping them to understand, step by step, how they can become themselves , from cartoon viewers, creators.
The content of the Library is made by the new media artists Vână Animation Studio and Aural Eye, offering children a series of tutorials and information that open their doors behind the scenes of cartoons. The little ones learn how an animation studio is organized, what roles it could play, find out what a storyboard is, how many types of animation there are, how an animated character and a story are born and are familiar with the technologies used in animation.
So far, Vână Animation Studio and Aural Eye, together with children from Step by Step School, have also developed an animated story called The Flyer. Through the contest "Be a co-author mini-animator" RADAR kids aims to find the end of the story by involving several children. To participate in the contest, children must follow how this story is born and contribute with their own ideas or drawings to enrich it.
The jury represented by VÂNĂ and Aural Eye will choose 5 winners who will find their ideas at the end of a 40-second animation, presented in the form of an immersive show that can be experienced in RADAR, RADAR Kids section.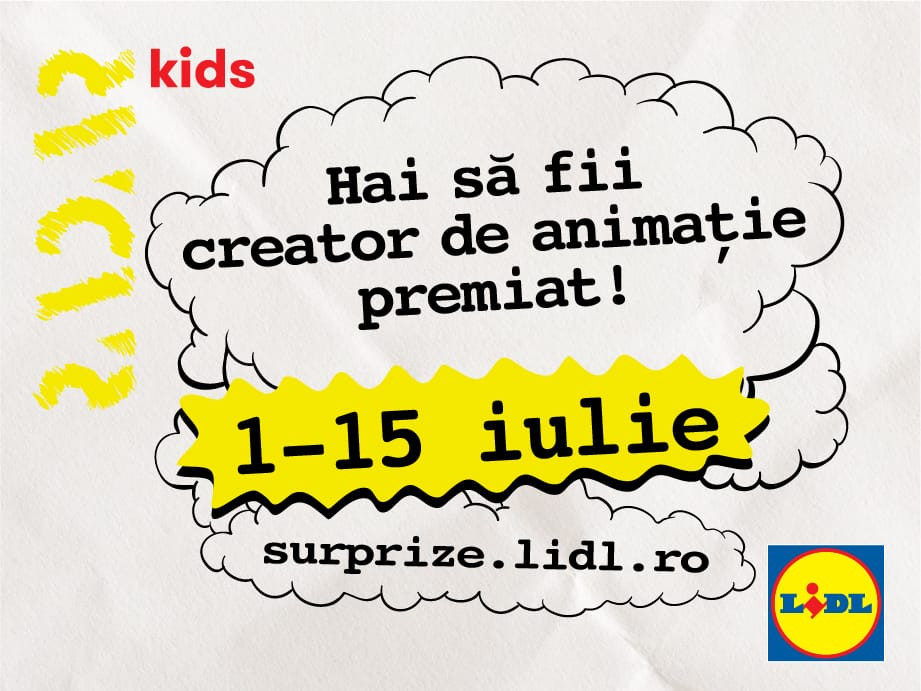 In addition, they also receive a bicycle and a sweatshirt with their own design printed on it, and the next 5 receive a Lidl card worth 100 lei.
Part of a larger project, RADAR – Romanian Artists Developing Alternative Realities – RADAR Kids is an art & tech playground. Here the little ones have the opportunity to interact with creative technologies that are surprising and truly fascinating to them, such as virtual or augmented reality, artificial intelligence or video-mapping, in an immersive and interactive space.