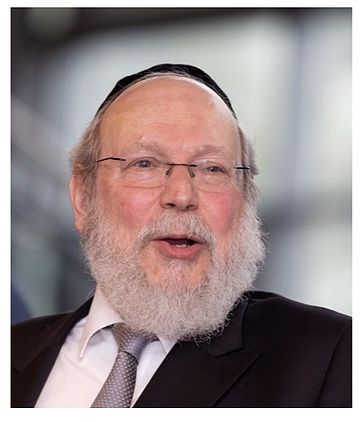 Can we genetically modify pigs to grow human organs in them to save human lives? The Jewish Orthodox rabbi Raphael Evers does not hesitate for a moment: "The answer is yes. Transplanting animal organs into a human body is absolutely allowed. There is no rabbi who forbids that. If you can save a human life with it, then we are even obliged to do it."
We speak to each other late at night via Zoom, it is already after 22:00. The rabbi has already had a long day at work in Germany, the country where he served as chief rabbi for many years. He recently moved to Israel with his wife. He likes to make time for the conversation with NEMO Kennislink, because the subject is close to his heart and Judaism has quite a progressive view on this, he says.
"The Talmud, written 1,500 years ago, already says that pig organs are most similar to human organs," he says. "I don't know if there is any other religion that has established that so early." But the Talmud says nothing about transplanting, but it does say that it is forbidden to cross species. For example, as a Jew you are not allowed to cross a horse with a donkey, says Evers. "But that's about living animals. There is no mention in Jewish literature that it is forbidden to mix cells on a genetic level."
Can you take the sacred texts as a guideline in this case? This technique did not exist when they were written.
"We believe that God both wrote the Bible and created the world. God knew exactly what He was doing when He wrote the Bible. He deliberately did not prohibit a number of things. All the techniques we find now were always hidden in Creation, which He created Himself."
Is the mixing of animal and human DNA not an infringement of the Creator's work?
"People who manipulate genes and work with cells have no intention of changing the order of creation. The main goal is just to heal people. If that is the main goal, then a lot is allowed."
Jews are not allowed to eat pork. Can you take pig organs to survive?
"Eating pork – and therefore also transplanting pig hearts – is allowed in emergencies. And in this case there is an emergency, because there is a life-threatening situation or something that leads to a life-threatening situation."
The end justifies the means.
"That ruling implies that it is actually prohibited, but in the case of life-threatening situations, it was never prohibited. It is even a duty to sacrifice a pig if it saves a human life. No one should let a child die because you don't want to kill a pig. Healing is an absolute duty according to the Bible. If you are ill, you are obliged to see a doctor. The doctor is obliged to help."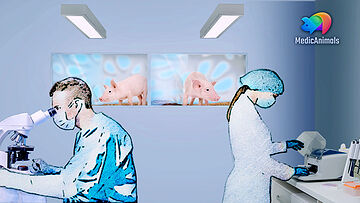 Rabbi Evers: "No one should let a child die because he doesn't want to kill a pig."
Sverre Frederiksen
What about the animal's self-esteem? Don't we also have a duty to protect an animal life?
"We certainly have. In all these trials and experiments, we must try to keep animal suffering to an absolute minimum. That is our mission according to the Torah. But if it is necessary to save human lives, you can sacrifice animal lives."
We don't know if it will ever be possible to make successful donor animals, so the question is whether we will save human lives with it. Meanwhile, pigs are being sacrificed for genetic experiments.
"The mere chance of being able to save a human being is enough to justify this."
Isn't that a license to accept any animal research because it could 'possibly' save a human life?
"The investigation has to be serious, of course. And usually these kinds of studies are serious, otherwise scientists won't get subsidies to carry them out."
Henk Jochemsen represents a Christian-Protestant perspective for this series of articles. He is less enthusiastic about donor animals, because he fears that our symbolic order will be disrupted. People are uncomfortable with the idea of ​​mixing humans and animals together.
"I understand it's uncomfortable for people, but if someone in your family dies because they couldn't develop an organ for them, you'll beep differently. You know what's really uncomfortable? Lack of medical resources to cure a disease. In the Jewish tradition, we constantly emphasize the importance of life."
The importance of human life, because that is above that of animals.
"Animal life is also important. But if you have to make a trade-off between humans and animals, then humans win. Why? Because we are not an animal. Our bodies are made up of the same biochemical substances, but our souls are completely different. This is very difficult to explain to modern people. They think that man is a kind of glorified animal. As a religious person I can't get my head around that. I don't understand how people can identify with an animal as if they were an animal themselves."
From science we know more and more about the suffering of animals. Maybe that makes us identify with them more?
"Nobody says animals don't suffer. Of course they suffer. People suffer too. And people eat, drink and reproduce like animals. But what does that say?"
Isn't it normal to identify with another being who is suffering?
"Why do I have to identify with a dog who is suffering, when I can identify with a human who is suffering? Man by nature identifies most with those beings that are most like him. That is a psychological fact. An average person just wants to be saved, even if it is at the expense of an animal. That's how almost all people think when push comes to shove."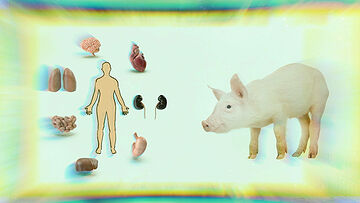 Rabbi Evers: "In the future you may receive an important organ transplant every twenty years."
Sverre Frederiksen
If God had wanted us not to die, couldn't He have just given us better organs?
"This question has been debated for two thousand years: If God wants you to be sick, do you have the right to oppose it? The answer is yes, because the Torah says you should. If you ask any random person on the street, 'Can you heal?', he will say, 'Of course!' In the future, you might get a major organ transplant every 20 years. The future will tell us what our extended life will look like then."
Suppose we do indeed get a new organ every twenty years, perhaps from a pig. Is that a future to look forward to?
"If that becomes possible, we will do it. I don't know if it's fun, but I don't think it should be banned. If you can save lives with it, it's even a commandment. In Judaism, human life is absolutely the most important."
Donor Animal Dialogue
On November 7, 2021, the Donor Animal Dialogue will take place in NEMO Science Museum Amsterdam, where questions and ideas can be shared. In addition to the dialogue, various speakers are also guests. Here you will find the program and you can register.
---
Source: Kennislink by www.nemokennislink.nl.

*The article has been translated based on the content of Kennislink by www.nemokennislink.nl. If there is any problem regarding the content, copyright, please leave a report below the article. We will try to process as quickly as possible to protect the rights of the author. Thank you very much!

*We just want readers to access information more quickly and easily with other multilingual content, instead of information only available in a certain language.

*We always respect the copyright of the content of the author and always include the original link of the source article.If the author disagrees, just leave the report below the article, the article will be edited or deleted at the request of the author. Thanks very much! Best regards!
---