The psilocybe coprophilus has as its essential habitat the feces of various animals. This fungus is rarely found and cannot be eaten.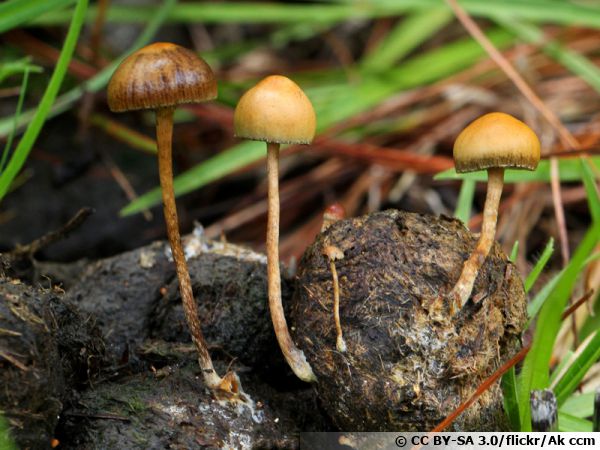 Botanical
Scientific N. Psilocybe coprophila
Synonyms Deconica coprophila, Agaricus coprophilus, Geophila coprophila
Family Strophariaces
Hat hemispherical then convex-tal, brown-reddish brown-ochrac, D. 0.5 2.5 cm
Hymenium lames bruntres
Spores dark blackish wine-brown spore
Ring absent
Pied brownish, covered with a whitish bloom, h 0.5 4 cm
Chair fine and fragile, whitish brown-ochrac
Come back absent
Odour insignificant
Habitat and uses
Division France, Europe
Periodfrom spring to the end of autumn
Habitatopen, especially in meadows, on cow, horse, sheep, rabbit, etc.
Possible confusionPsilocybe subcoprophila, Psilocybe fimetaria, Psilocybe merdaria, Psilocybe moelleri
Toxicityinedible
Culinary interestwithout interest or indigestible
Usesnon rfrencs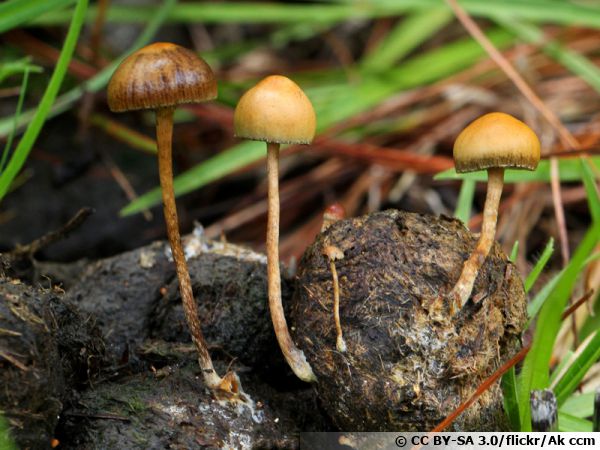 The coprophilic Psilocybe, Psylocibe coprophila, a for critical habitat the droppings of various animals. This Basidiomycète from family of Strophariaceae is rarely found and cannot be eaten.
Description of Psilocybe coprophilus
The hat of the Psilocybe coprophile is initially hemispherical but will then adopt a more spread out shape, while retaining a certain convexity. Not very imposing, its dimensions are between 0.5 and 2.5 cm in diameter. In the youngest individuals the colors turn to reddish-brown then as they age the colors are more ochraceous brown then grayish-brown as they dry. The ridged cuticle is viscous and easily separable. The remains of white veils at the ends of the hat give the margin a finely pruinose edge, especially in young subjects. The blades are brownish and sometimes slightly decurrent. The hollow, brownish stalk is enveloped in flakes or a whitish bloom when young. More or less slender, it measures between 0.5 and 4 cm high and its base is often wider. The whitish to ochraceous-brown flesh is very fine and fragile, it does not present any particular flavor or smell.
Determination of Psilocybe coprophila
Some species of Psilocybes also grow on feces and can lead to confusion. This is the case of Psilocybe subcoprophila more common but which does not present any apparent differences with the Psilocybe coprophila, only a determination of the spores under a microscope will make it possible to differentiate them.
The following three species can also be confusing, Psilocybe fimetaria, Psilocybe merdaria and Psilocybe moelleri. The first with the nipple hat is toxic, the second has a ringed foot and finally the last, more robust, has a more or less ring. persistent.
Living environment of the coprophilic Psilocybe
The Psilocybe coprophile likes open habitats frequented by animals such as amended meadows. Saprophytic, it grows on various excrements, those of cow, horse, sheep, rabbit, and many others. His mycelium colonizes excrement for food, thus participating in their decomposition. Found in small colonies, this species rare can be seen from spring to autumn.
Toxicity or culinary interest
Inedible. This Psilocybe is not consumed, mainly due to the fact that it is of no culinary interest and that this rare species thrives in poorly palatable environments.
Species and varieties of
Psilocybe
Several species of the Strophariaceae family thrive on plots very rich in organic matter, such as excrement:
Psilocybe fimetaria : dark brown to beige hat, grows on manure and other droppings
Psilocybe luteonitens : reddish-brown hat then cream, grows on manure or in amended meadows
Psilocybe moelleri : brownish then yellowish cap, grows on dung or dung
Stropharia semiglobata : Hemispherical Strophair, yellow ochraceous to cream cap, grows on manure or in amended meadows
Psilocybe subcoprophila : reddish-brown to ocher hat, found on various excrements
Caution : The information, photos and indications on this site are published for informational purposes only and should in no case replace the advice of a professional mycologist for the identification of fungi. Only with proper training or confirmation by a knowledgeable mycologist can you reliably identify a fungus. If in doubt, refrain from consuming a mushroom! The site cannot therefore be held responsible in the event of poisoning by the fungi present.
---
Source: Au Jardin, conseils en jardinage by www.aujardin.info.

*The article has been translated based on the content of Au Jardin, conseils en jardinage by www.aujardin.info. If there is any problem regarding the content, copyright, please leave a report below the article. We will try to process as quickly as possible to protect the rights of the author. Thank you very much!

*We just want readers to access information more quickly and easily with other multilingual content, instead of information only available in a certain language.

*We always respect the copyright of the content of the author and always include the original link of the source article.If the author disagrees, just leave the report below the article, the article will be edited or deleted at the request of the author. Thanks very much! Best regards!
---