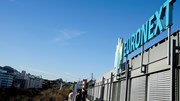 The national exchange is trading higher this Friday, July 3rd, for the second consecutive session, with the PSI-20 rising slightly 0.06% to 4,431.90 points. Of the 18 companies that form the main national index, 10 are up, four are falling and four are unchanged.
In Europe, stock markets rise for the fifth session, heading for the best week in a month, buoyed by progress on the development of a vaccine against covid-19 and the positive economic data that were revealed yesterday in the United States.
In the world's largest economy, job creation in June was 50% higher than expected by economists, which is fueling hopes for a faster recovery from the crisis than expected.
Over here, BCP and EDP Renováveis ​​are the quotes that most boost the PSI-20. The bank led by Miguel Maya advances 1.38% to 10.99 cents, while EDP Renováveis ​​rises 0.47% to 12.78 euros.
Still in energy, EDP remains unchanged while Galp Energia slips 0.24% to 10.50 euros, following the decline in oil in international markets.
Contributing to the gains of the PSI-20 are still Navigator, with an increase of 1.01% to 2.198 euros, and CTT, which increased 0.71% to 2.12 euros.