Proper maintenance for garden furniture
With the arrival of the summer season the awakening of ours begins outdoor spaces, where we love to lie down to enjoy the sun, spend relaxing afternoons or organize evenings in the company of friends and family.
I garden furniture they are not only practical and functional, but also decorative and help us to give the external environment a natural and welcoming atmosphere. To take care of them and prepare them in the best of the summer heat, you need small but important precautions.

First of all, it is necessary to verify the real conditions of the furniture that, often, during the winter season are left outside at the mercy of bad weather due to the absence of adequate spaces to store them.
L'garden furniture, despite being conceived and designed for the outdoors, it still needs one ongoing maintenance to be protected from sultry heat and atmospheric agents.
Protect outdoor furniture based on the type of material
So let's see what to do to better preserve i garden furniture and to prevent them from deteriorating over time, losing the new and shiny appearance that characterizes them at the time of purchase.
It is important to specify that the operations of maintenance they vary according to the materials of which ours is made outdoor furniture.
L'outdoor furniture metal, steel, plastic, wicker and rattan is among the cheapest and requires no particular maintenance. In fact, simply remove the dust and dirt with plenty of water and then use a solution of mildly concentrated soap and water. Finally, you must rinse and dry with a cotton cloth.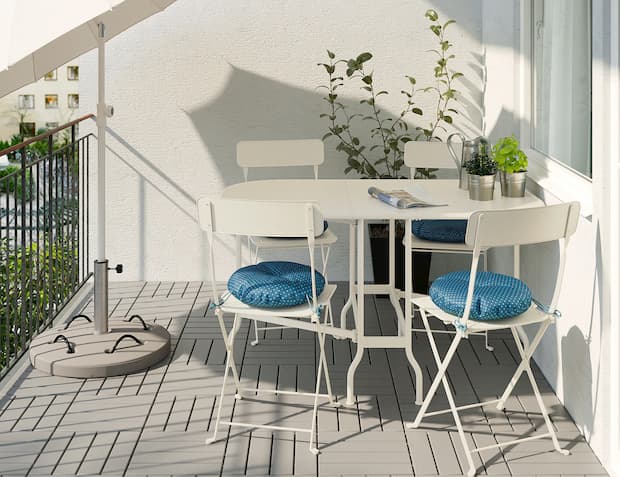 The most common problems of the metal furniture, or aluminum, wrought iron and cast iron are the formation of the rust and the consequent oxidation.
To eliminate rust it is necessary sand down the damaged parts; in this way, however, the painting will also be removed. Before repainting with a paint suitable for the material, it is necessary to passturpentine, previously placed on a cloth, on the treated part to remove paint and metal residues. Next you need to apply a anti-rust primer.
To remove, however, small imperfections such as scratches, simply use one polishing paste for metals.
In particular, the furniture in wicker and in rattan, which are light but resistant, present a particular problem, namely the accumulation of dust in the weaves, to be solved before carrying out the actual cleaning. To remove the dust just use a dry brush or a vacuum cleaner, after which you can go to real cleaning by rubbing the surfaces with a brush and a solution of water and ammonia. Finally, rinse with water and leave to air dry.
In addition to cleaning, it is good to remember to periodically treat the surfaces with special ones was, as the natural fibers that make up this furniture tend to discolour over time.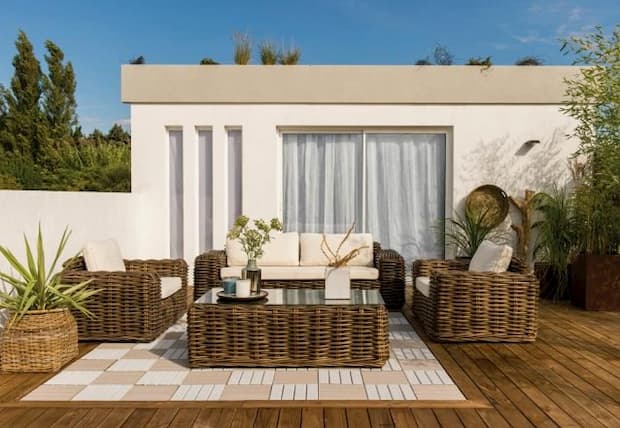 The outdoor furniture made in wood instead, they require more accurate maintenance. In fact, it is advisable to start with careful and deep cleaning, then proceed with a treatment with was and specific products for the outdoors, once or twice a year.
In this way, the wood will maintain its beauty for a long time and recover its shine.
To make a correct cleaning and remove surface dirt just follow a few simple steps:
use a neutral detergent, so as not to alter the characteristics and appearance of the wood;
let the furniture dry in the sun;
apply thepolishing finish oil e impregnating for outdoors as protection from humidity
If ours outdoor furniture instead, it presents damages caused by atmospheric agents, which have ruined and faded the wood, an even deeper cleaning is needed.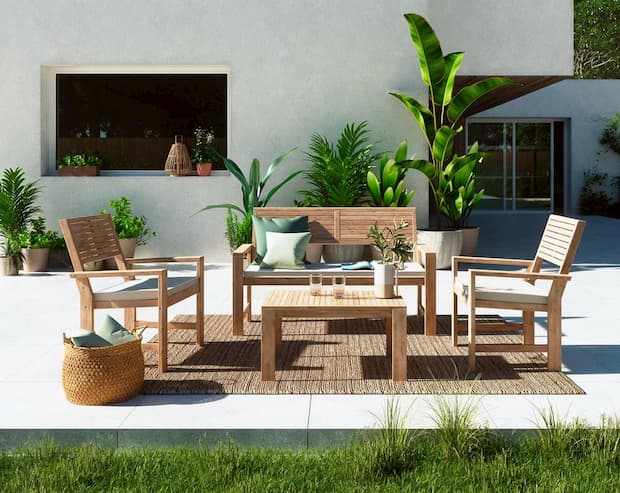 To eliminate the damaged surface part of ours outdoor furniture, you need:
smooth it using sandpaper;
apply with a brush a protective oil and subsequently a polishing oil;
dry our furniture by exposing it to the sun.
In addition to was which help to revive the color of the wood, making its wonderful veins stand out, it is also advisable to use ask, in particular, the cera d'api, which do not allow dirt to penetrate inside the wood fibers.
If the wood is extremely deteriorated, then it is the case of a repainting to be carried out with special paints for wood.
The treatments described so far make the wood waterproof and also avoid the formation of stains, such as mold and humidity.
Maintenance of other garden furniture elements

To extend the life of the various elements of theoutdoor furniture you have to clean them regularly and avoid leaving them outdoors more than necessary without any kind of protection. They are part of theoutdoor furniture also umbrellas, gazebos and cushions.
Usually the umbrellas they should be cleaned at least once a year and instructions for proper washing are indicated on their label.
There are also other tips to follow to better protect them and to ensure a longer life.
When we know that we do not have to use the umbrella, it is good to keep it closed, in order to obtain better wind resistance. To better protect it from dirt, dust and atmospheric agents, such as frequent rains, we recommend covering it with one waterproof case after making sure it is completely dry.
Speaking of protective cases, those of the line are recommended NATERIAL of Leroy Merlin. Some are made of polyester, others of polyethylene and various can be found both to cover outdoor furniture, both to cover umbrellas and armchairs.
Finally, it is important to remember to keep the umbrella in a preferably closed, cool and dry place.
Also gazebo they need small, but important precautions for their maintenance.
First of all, it is a good rule to remove the roof of the gazebo in case of strong wind or rain and clean it regularly both inside and outside, always following the washing instructions on the label.
A distinction should be made between gazebos with a wooden structure and those with a steel structure. The wooden structure must be treated with wood stain, to avoid deterioration over time. The steel structure, on the other hand, requires one maintenance easier; in fact, just clean it regularly with a solution of mildly concentrated soap and water.
For a correct conservation of the gazebo it is recommended to wash all its parts in fabric, in order to find it ready and clean for the following summer season, and to cover it with a custody, placing it in a dry and cool place.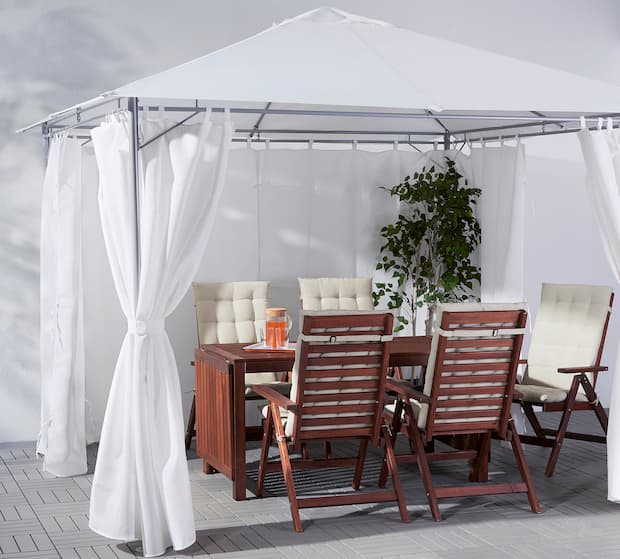 I outdoor cushions, in addition to providing a certain comfort, they are important for the aesthetics of ours garden The terrace. In fact, thanks to the multiple combinations of shapes and colors, they allow us to make the rooms warm, welcoming, fresh and lively for the entire summer season.
To protect them and make sure they last as long as possible, it is advisable to remove them and wash the linings correctly, always following the washing instructions on the individual labels. When you decide not to use them, or to change them, it is better to keep them in a dry and cool place, perhaps covering them with a protective case.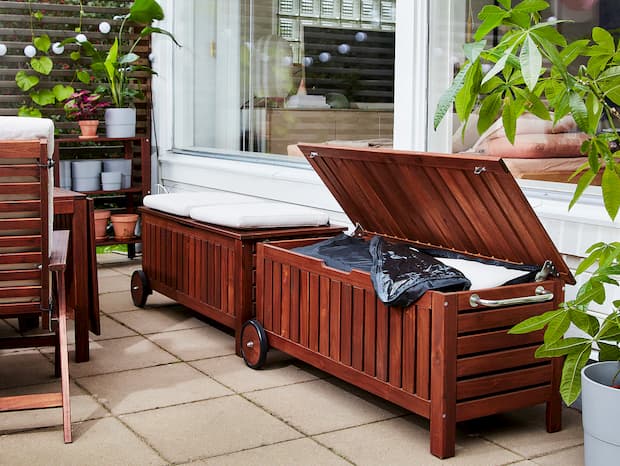 Between protective cases e impermeable on the market, the line is also recommended testosterone, a line that you can find from IKEA.
These are polyester recyclable enclosures of various sizes designed not only to protect furniture, but also for barbecues, cushions, umbrellas, sunbeds and container furniture.