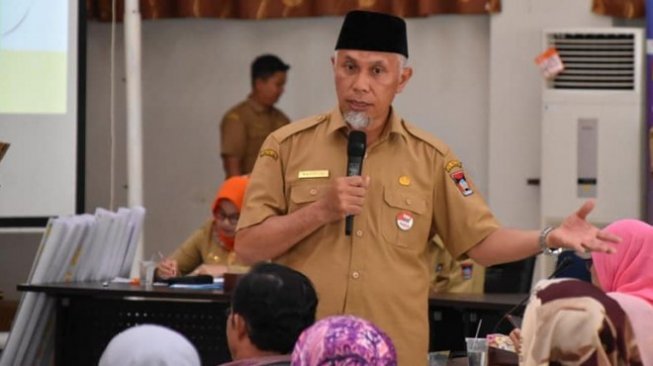 Suara.com – The Regional Representative Council of the Prosperous Justice Party (DPW PKS) of West Sumatra (West Sumatra) ensured giving recommendations to the couple Mahyeldi Ansharullah-Audi Joinaldy in the provincial elections on 9 December.
Deputy Chairman of the West Sumatra Prosperous Justice Party (PKS) Nurfirman Wansyah said the party's recommendation in the West Sumatra Pilkada which will be held on December 9, 2020 for Mahyeldi Ansharullah who will be paired with Audi Joinaldy.
"Physically the letter of recommendation has not yet arrived, but I have seen the letter and we'll wait," he said in Padang, Saturday (07/07/2020).
He said Mahyeldi Ansharullah, who is currently the Mayor of Padang, will be carried along with Audy Joinaldy with the PKS and PPP coalition. According to him, if the recommendation letter has been received, his party will hold the declaration of this pair.
Previously the West Sumatra PKS DPW proposed two names to the Party DPP that would be promoted to become candidates for governor in the 2020 elections. There were names of Padang Mayor Mahyeldi Ansharullah and Payakumbuh Mayor Riza Pahlepi.
Over time and the COVID-19 pandemic that attacked Indonesia and especially West Sumatra, Riza Pahlepi resigned.
"Now the name Mahyeldi is left and I have seen the DPP's recommendation letter for him," he said.
PKS itself has 10 seats in the West Sumatra DPRD and the number is still less than the minimum requirement to carry a candidate pair in the West Sumatra Regional Election, which is 20 percent of the total of 65 West Sumatra DPRD seats, namely 13 seats.
PKS must form a coalition with a party that has three seats to meet the requirements of carrying the pair of candidates for governor and deputy governor in the regional head elections.
Previously, the West Sumatra PPP had issued a recommendation carrying Mahyeldi with Audy Joinaldi in the West Sumatra Pilkada.
PPP itself has three seats in the West Sumatra DPRD and the combination of these two parties has fulfilled the requirements of carrying a pair of candidates in the West Sumatra Pilkada.
Chairperson of West Sumatra PPP Hariadi BE said that this pair had long been designed by us to fight in the West Sumatra Pilgub. He said he did not dispute a recommendation letter from the PKS DPP, which has not yet come out. Because verbally, PKS has stated its availability to carry Mahyeldi Ansharullah.
"Each party certainly has its own dynamics and verbally we have been given certainty and of course we hold on to it. Verbally there are recommendations that only letters will follow," he said. (Among)