Philodendron Birkin is a beautifully variegated little philodendron. Low and non-climbing, well stocked, it makes a perfect houseplant, gorgeous, of moderate height, a bit slow to grow, but very easygoing.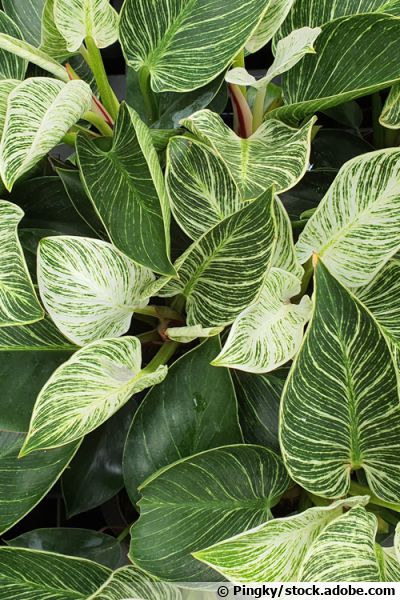 Botanical
Scientific N. Philodendron 'Birkin'
Origin horticultural
Flowering t
Flowers hardly ever blooms
Typehouseplant, tropical plant
Vegetationlively
Foliage persistent
Height40 80cm
Plant and cultivate
Hardiness not hardy, 12C
Exposition luminous shadow, hailing sun
Solrich and light potting soil
Acidity neutral acid
Humidity normal
Useplant d'intrieur
Plantationspring
Multiplicationdivision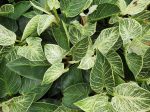 Philodendron 'Birkin', White Wave 'or even' White Measure 'is a plant lively belonging to the rich family Araceae (as les arums Where the spathiphyllums). This genre is native to South America, but the Birkin philodendron is not a wild plant, it is a "sport", a mutation that appeared in culture, in a philodendron enthusiast. Its specific origin is not known exactly, but it is believed to be related to the famous 'Rojo Congo' philodendron, a variety very vigorous red. Indeed, it shares with it its port and its ease of cultivation.
Be that as it may, the Birkin philodendron in addition to being compact shows a very marked foliage variegation and absolutely admirable.
The philodendron grower who 'invented' the 'Birkin', propagated by cuttings to benefit other amateurs, without patenting it, which explains why he different varietal appellations. For years, this philodendron was highly sought after, rare since the multiplication by cuttings of a fairly slow growing plant is limited. For several years, Birkin has been multiplied by in vitro culture and finally becomes accessible (in price) and less rare. With luck, you can admire the beautiful pattern of its leaves in the sales areas.
Description du philodendron Birkin
The Birkin philodendron is a upright, non-climbing plant. Compact in stature, it is carried by a 2 to 3 cm thick stalk, short and solid, hidden by the sheathing leaves. This plant does not need a stake to stand well. It produces a few aerial roots which can take root in the soil.
Its leaves are shiny, with a smooth and firm blade, which spreads well, cordate at the base, oval, ending in a point, 8 to 13 cm wide and about 15 cm long. Their petiole rigid is of a fairly regular length, about 15 cm.
But what characterizes it the most is its color: a extravagant variegation and all in finesse: multiple and very fine lines which follow the design of the veins, creamy white on a dark green background.
In addition, this mix is capable of variability, sometimes a few leaves becoming almost all white, except for a few dark green lines, or even the reverse. Occasionally, the plant may turn pink, or momentarily sets out again in dark green.
Birkin, quite low and compact shows a very regular and well supplied foliage. Its shape is remarkable, far from climbing philodendrons which can become lanky and which must be carefully staked. Its height growth is slow. It measures approximately 40 to 80 cm in height. On the other hand, it can make several low ramifications: a beautiful specimen of Brikin will often be wider than it is high.
It is well rare to get an inflorescence So cultivar.
How to grow and use the Birkin philodendron?
With its low and wide shape, the White Wave philodendron is well put in value placed on the ground while it is admired a little from above. It is then so beautiful that it seems made on purpose to decorate a living room.
Philodendron Birkin is a tolerant and easy to grow houseplant.
Brightness
She asks for a exposition clear, but without direct sunlight, unless it's only a little bit in the morning. Therefore, it is placed not far from a window, and behind a curtain if it receives direct sunlight. The more light the birkin philodendron receives, the more impressive its variegation will be. Conversely, it can turn almost all green again if it is too shaded.
Temperature
This philodendron is found very well between 15 and 30 ° C. As much as possible, it avoids sudden changes in temperature, and therefore drafts.
Substrate
Philodendron Birkin enjoys a soil rich in organic matter, draining, which does not dry out too quickly.
Often bought in a jar of substrate peaty, it can wait a bit before being repotted in a potting soil of good quality, rich and light. The latter may possibly still be lightened perlite or gravel. Watering in potting soil is easier to manage than in peat.
It will then be repotted preferably in spring, every 2 or 3 years. This repotting is useful when its roots are overflowing, but also this renewed soil is a useful supply of food.
After repotting, take care to moisten the entire substrate by soaking the pot for an hour or 2 in water.
Watering
In fact, the substrate must always remain a little cool: the Birkin philodendron is watered when the first 3 centimeters of soil on the surface are dry (feel with your finger). This corresponds to approximately once a week during spring and summer and once every 2/3 weeks in winter.
It is preferable avoid using tap water if it is too chalky.
Atmospheric humidity
The Birkin philodendron enjoys a 60% atmospheric humidity, but still supports 50% very well. If the atmosphere is too dry in your house (tips and edges of the leaves drying), several solutions are available to you:
mist lightly in the morning with rain water.
bringing together several houseplants, which creates a more humid "microclimate".
put Brkin in a "too large" planter, with a space between the edge of the pot and the edge of the pot: its flared silhouette lends itself well to this. Then install a layer of clay balls in the bottom to level it. Then ensure that water remains in the clay balls without the bottom of the pot soaking.
Fertilizer
This beautiful foliage must be nourished, especially during its growing season. The contributions offertilizer are done twice a month from April to September, with green plant fertilizer. Avoid overdoses.
Comment multiplier le philodendron Birkin ?
We can multiply by head cuttings or from ramification : the cutting is preferably cut with at least one aerial root. Then the cutting is soaked in a glass of water. If she already has an aerial root, she is able to make beautiful roots in a week. We must then already repot.
Species and varieties of
Philodendron
The genus includes more than 500 species
Philodendron xanadu, le xanadu
Philodendron bipinnatifidum, a rather rustic philosophy
Philodendron undulatum, another rather rustic philodendron
Philodendron hastata, with arrow leaves
Philodendron plauwmanii, very beautiful uncommon species
Philodendron 'Rojo Congo', an excellent red and non-climbing variety
Philodendron brandtianum, with silvery leaves
Philodendron Dean MacDowell, an amazing and rare cultivar with giant leaves
Plants of the same genus
---
Source: Au Jardin, conseils en jardinage by www.aujardin.info.

*The article has been translated based on the content of Au Jardin, conseils en jardinage by www.aujardin.info. If there is any problem regarding the content, copyright, please leave a report below the article. We will try to process as quickly as possible to protect the rights of the author. Thank you very much!

*We just want readers to access information more quickly and easily with other multilingual content, instead of information only available in a certain language.

*We always respect the copyright of the content of the author and always include the original link of the source article.If the author disagrees, just leave the report below the article, the article will be edited or deleted at the request of the author. Thanks very much! Best regards!
---