At the beginning of this year, it was with great pleasure that I told you about the portable speakers of the legendary Russian brand Ural. You can find links to materials below.
In the first review, I talked about the large and powerful column TT M-5, and in the second – about the M1, M3 and M4 series. The devices had optimal technical parameters and cost. Against the backdrop of the departure of many foreign manufacturers, the proposal from Ural looked quite appropriate. And I have a clear opinion: now it is better to support our producer with the ruble than to give money abroad. As for production, in the last article I wrote: "Ural" is not about "sticking a nameplate with Cyrillic letters".
This summer, the Ural company added new items to its portfolio: TT M Avoska, TT M-3 mini Kubishka and TT M-3 maxi Sonata.
The first two are compact wireless speakers that are convenient to take with you. Of the obvious positive aspects – protection from water.
The third is a kind of intermediate option between the TT M-3 and M-4. Let me remind you that the M-3 is a light and small column, and the M-4 is powerful, bulky and weighty.
But the most important thing here is a completely redesigned chassis, so to speak. That is, the devices have become more reliable, high-quality, the design has become less like JBL and other analogues. It feels like a good job has been done to improve the gadgets. Of course, this is noticeable only in a direct comparison of old and new devices.
The cost of the column "Ural" TT M is 1,250 rubles, TT M-3 mini – 4,700 rubles, and TT M-3 maxi – about 6,500 rubles.
Table of Contents
Specifications
| | TT M | TT M-3 mini | TT M-3 maxi |
| --- | --- | --- | --- |
| Dimensions, mm | 98 x 48 x 82 | 95 x 84 x 84 | 220 x 88 x 88 |
| Weight, g | 200 | 320 | 680 |
| Speakers, mm | 45 | 2×40 | 91 x 52 53 x 37 |
| Power, W | 5 | 8+8 | 25+10 |
| Battery, mAh | 1200 | 2500 | 2500 |
| Frequency range, Hz | 80 – 20 000 | 75 – 20 000 | 65 – 20 000 |
| Bluetooth version | 5.0 | 5.0 | 5.0 |
Delivery set
Column
Instruction
Warranty card
USB cable
AUX cable (for TT M not included)
Ural TT M
As far as I understand, the manufacturer decided to leave the previous generation of M-1 speakers. In my opinion, the decision is correct, because the model is unusual and original in terms of design.
New TT M is a more modern look and comfortable design. It is sold in four colors: black, red, green and khaki red.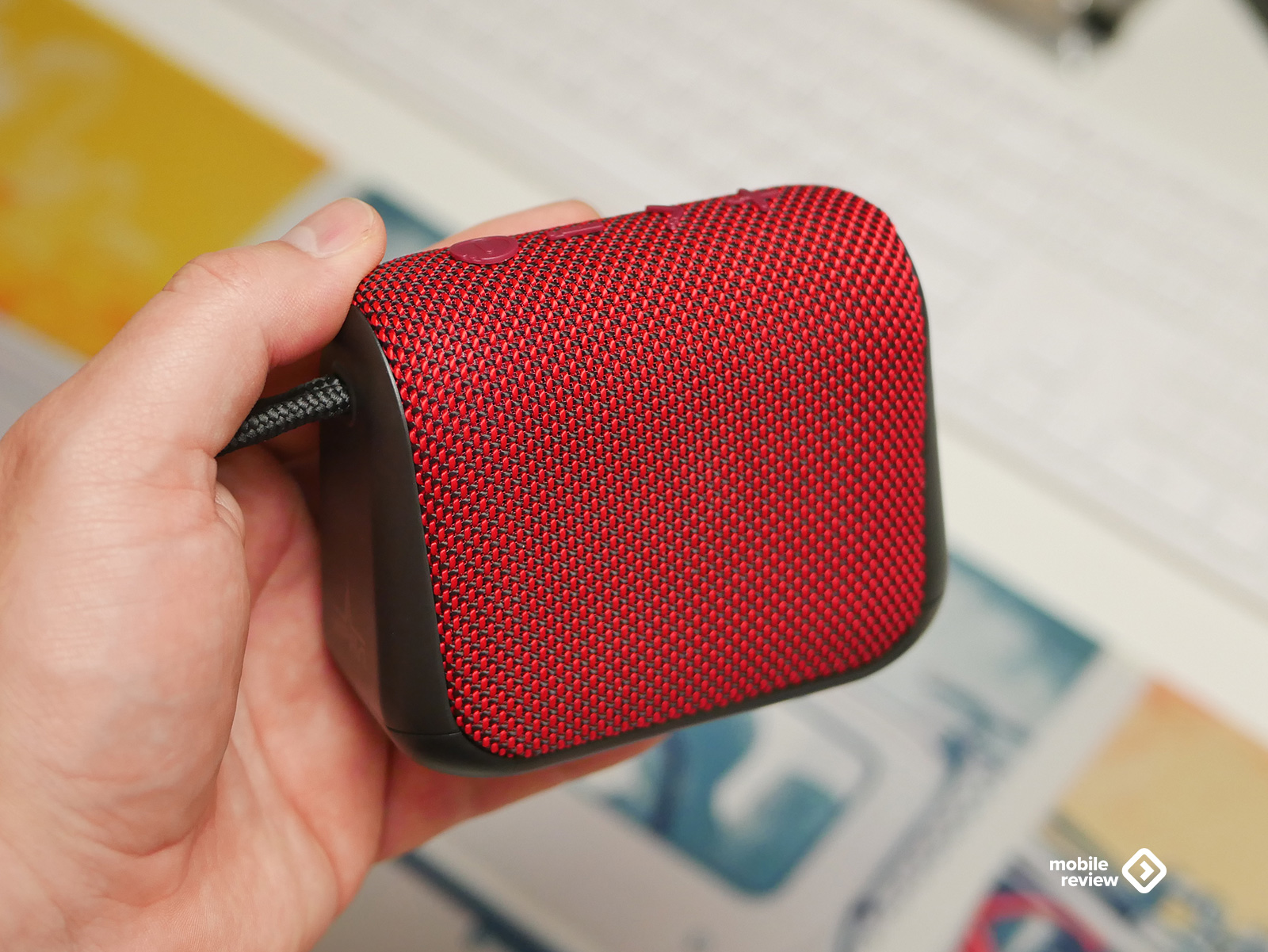 It was called "Avoska" because of the shape of the case, which resembles the legendary Soviet bag. But this is according to marketers, because the real string bag is a perforated mesh bag woven from harsh threads. The TT M column is more like a clutch. In any case, it's nice that the manufacturer mentions our words in the name of the devices.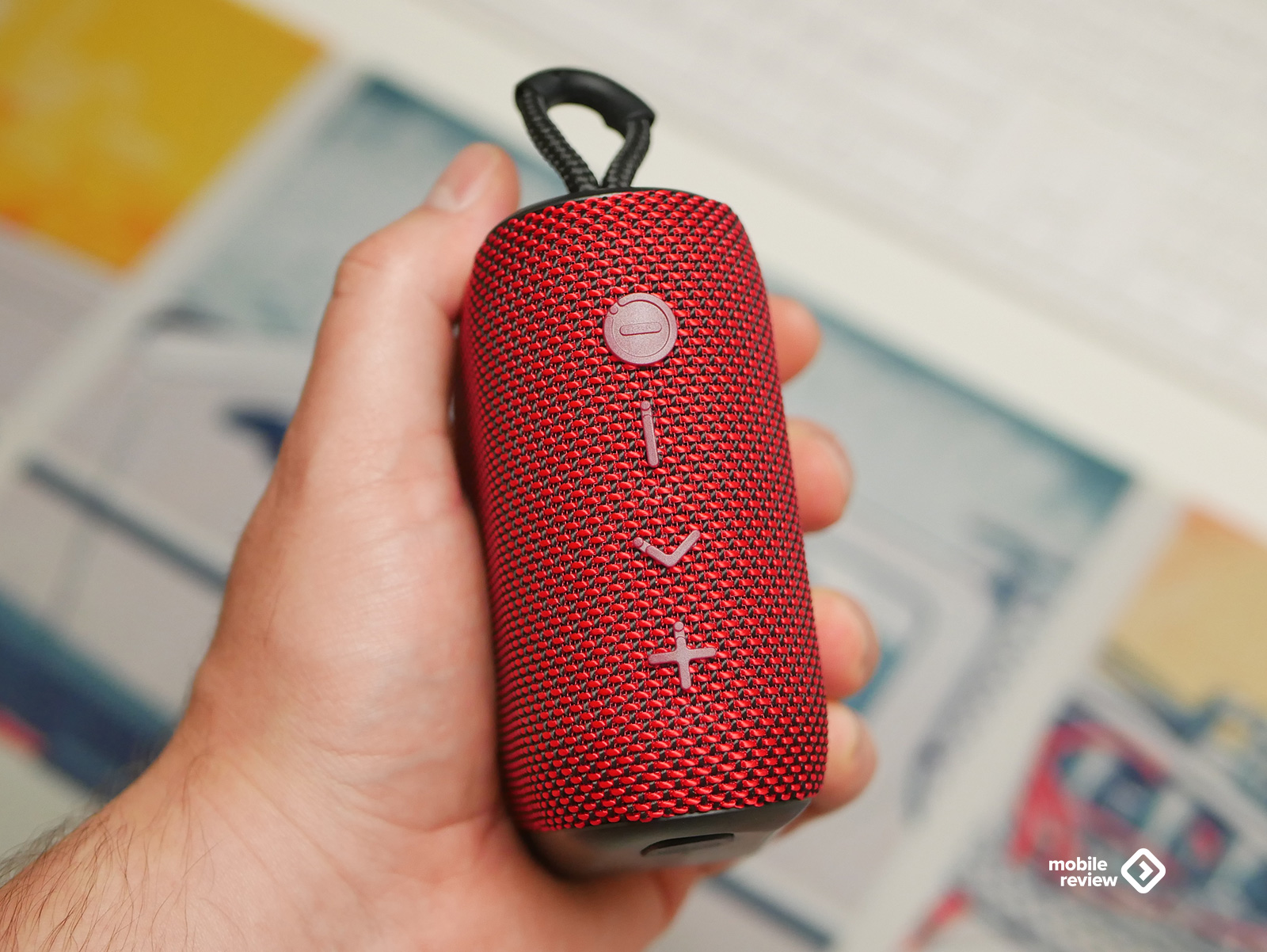 The body shape of the TT M is a truncated cone. A significant part is covered with a red braid. But if you look closely, you can see the threads of red and black, but from afar they merge, and therefore the color seems somewhat "muted". The other part is black semi-gloss plastic.
Once again, I want to note separately that the manufacturer uses plastic and other materials in new products of a different quality. They are better, look more expensive, more useful little things have appeared.
Avoska has a handle in the form of a loop, reinforced with a rubber insert. The column can be hung or placed somewhere, since rubber feet are provided on the bottom of the device. Moreover, they are not solid, but with grooves and are equipped with protrusions at the ends. I'm talking about the little things.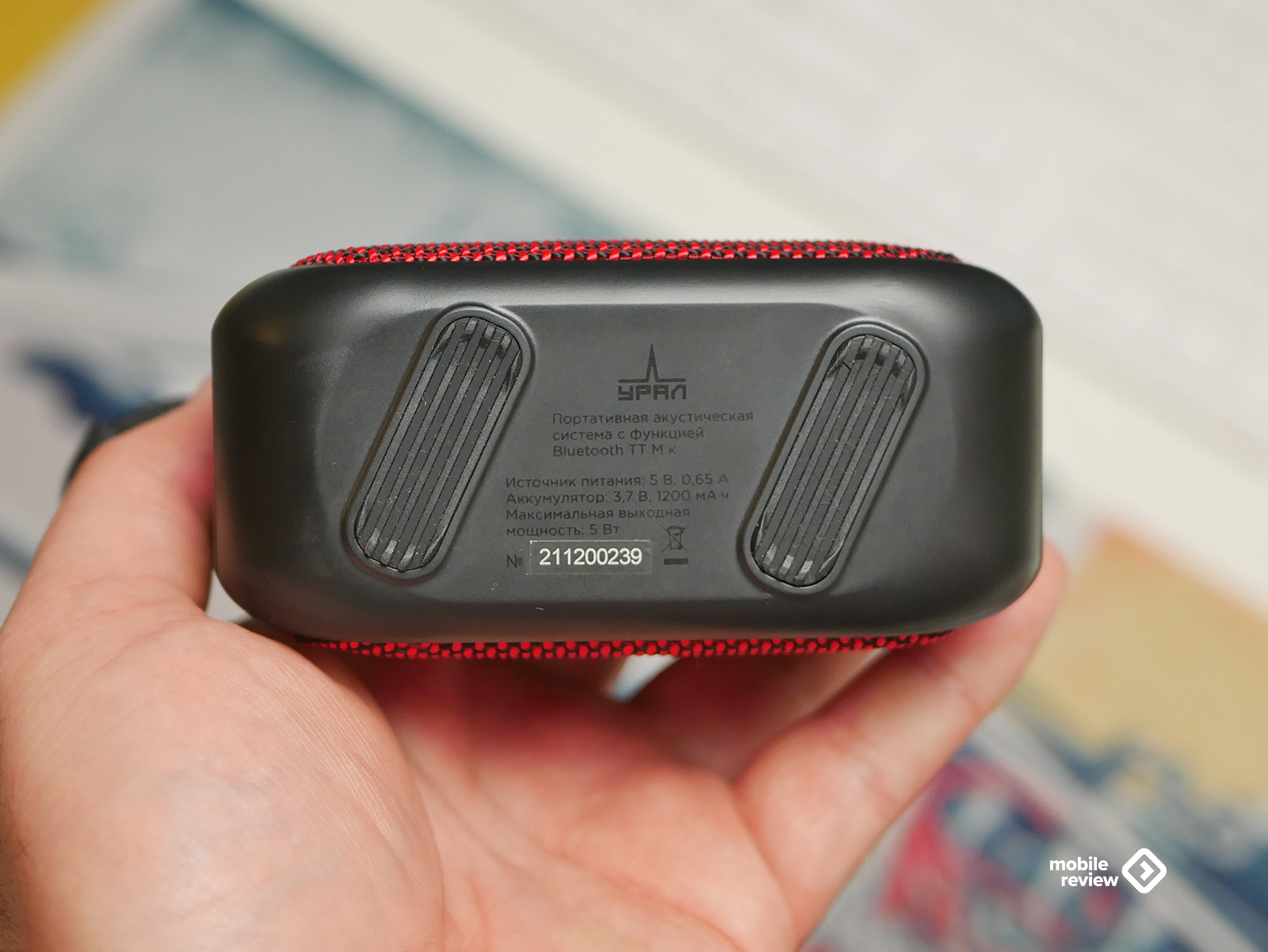 The gadget is protected according to the IP67 standard. It easily withstands rain, splashes, and even immersion in water up to a depth of one meter. A useful thing, especially if you buy such a thing for a child.
Above you can see large plastic buttons: power, volume up or down, play / pause. Pressing is as firm as possible, the stroke is minimal, there is a loud click sound.
On the right – a pen and the inscription "URAL" with a logo. On the left is the inscription TT and USB Type-C for charging (covered with a thick plug).
Dimensions "Ural" TT M – 98x48x82 mm, weight – 196 grams.
Inside, there is one speaker measuring 45 mm, with a power of 5 W, with a frequency range of 80 Hz – 20 kHz.
To my surprise, the sound of the speaker is extremely pleasant, especially the mids and highs bribed. She played as cleanly as possible. I liked the way TT M conveys the voice: lively, loudly, naturally.
The volume struck even more – at the level of older speakers like JBL Flip. The acoustics have little bass. In this regard, it loses a little, for example, JBL GO. But the last midrange / treble is not so open.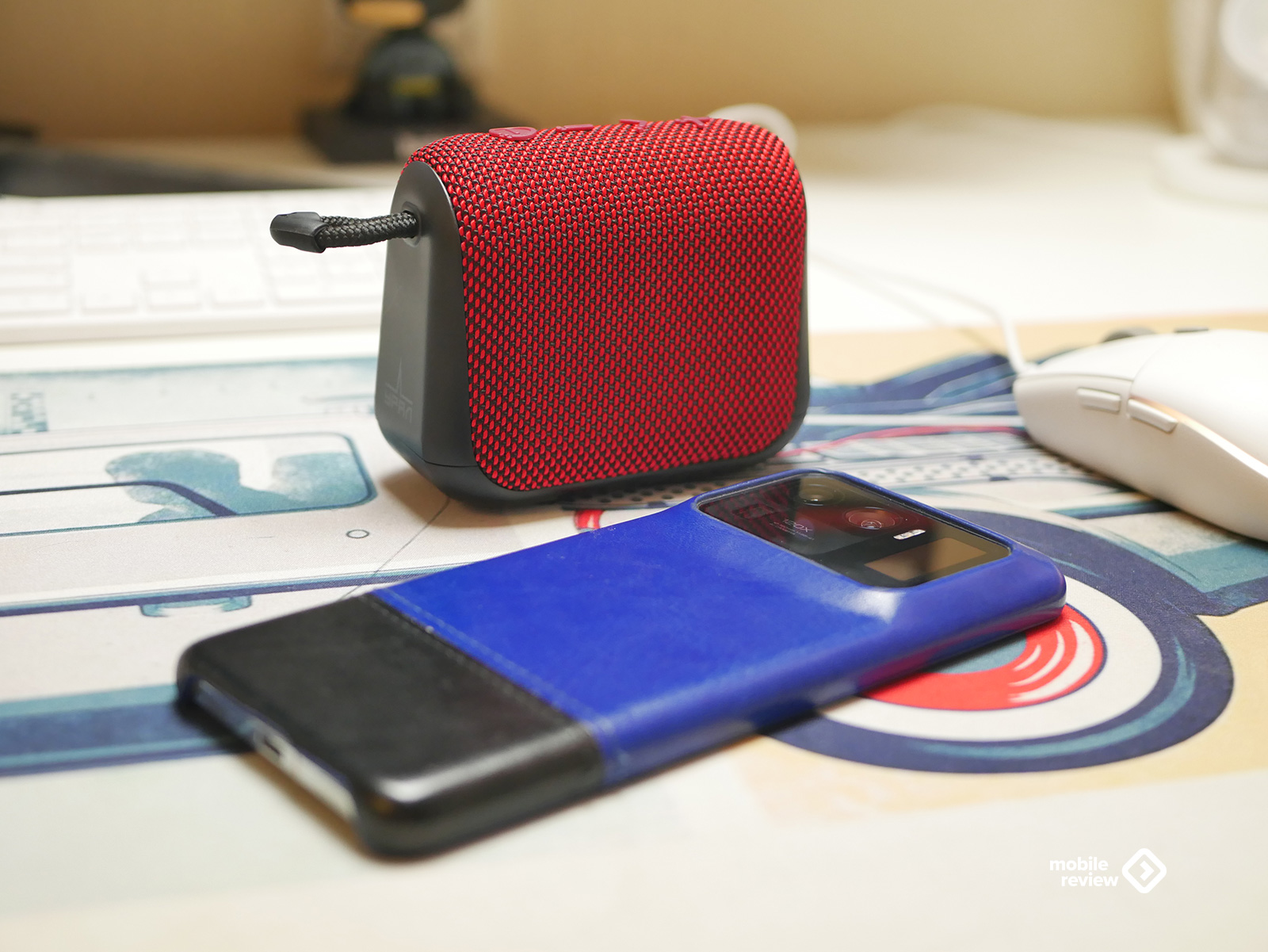 In general, the TT M sounds quite interesting, and most importantly, very loud and without overload: 10-15 m2 will pump easily.
The battery here is 1200 mAh (3.6V). Charges in about an hour and a half. Works for about 8 hours at a volume of 40-60%. Which is quite good. You can always connect an external battery and extend the battery life.
Ural TT M3 mini
"Kubyshka" (as the novelty was called because of the shape of the case) is sold in four colors: black, red, green-yellow and black-red-gray. I had a classic black color on the review. Looks strictly.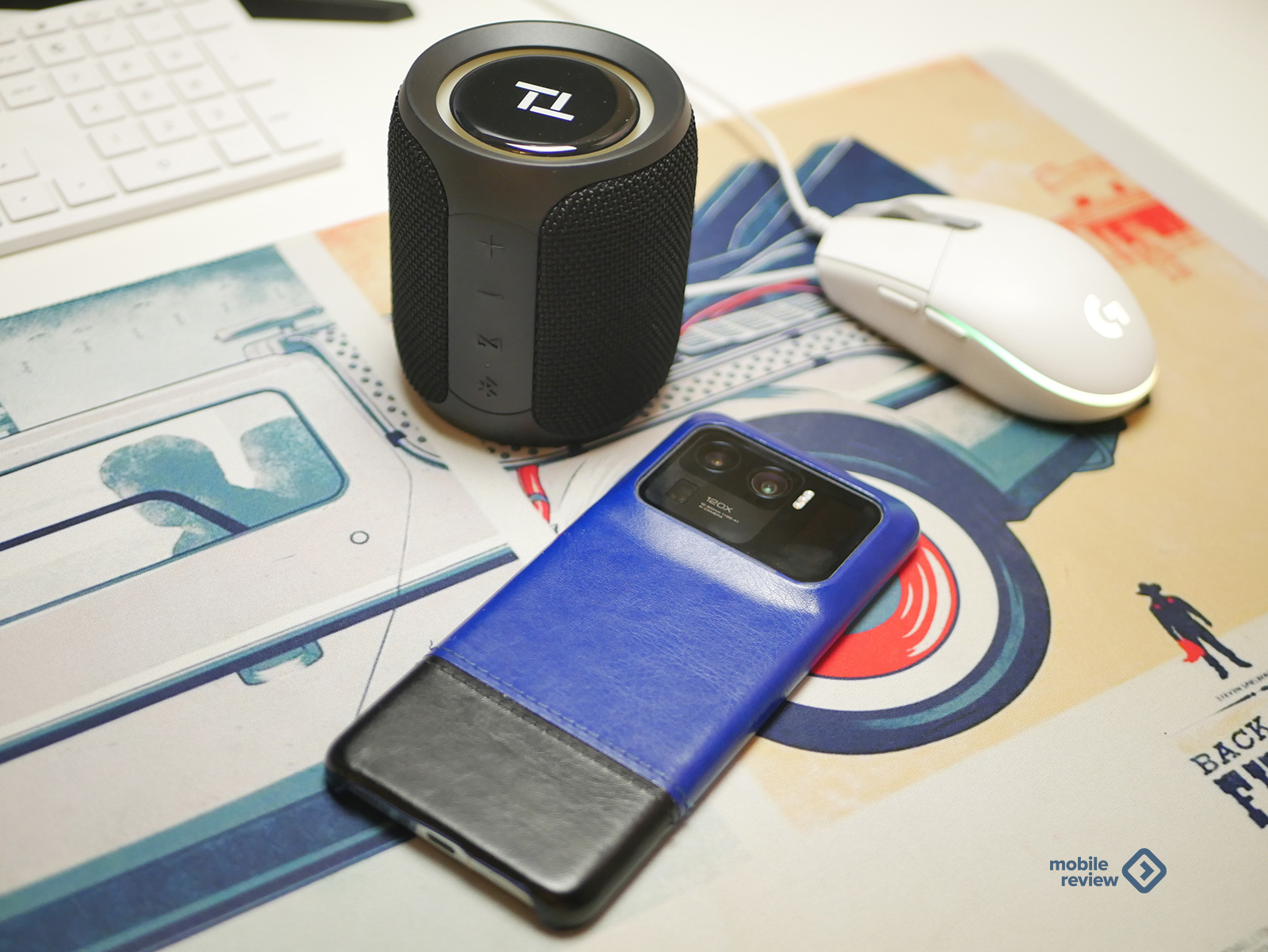 For those who are not in the know: a capsule is an East Slavic wide earthen vessel with a short or missing neck.
And the column could also be called a "barrel". But the "pod" is somehow nicer and more pleasant to the ear.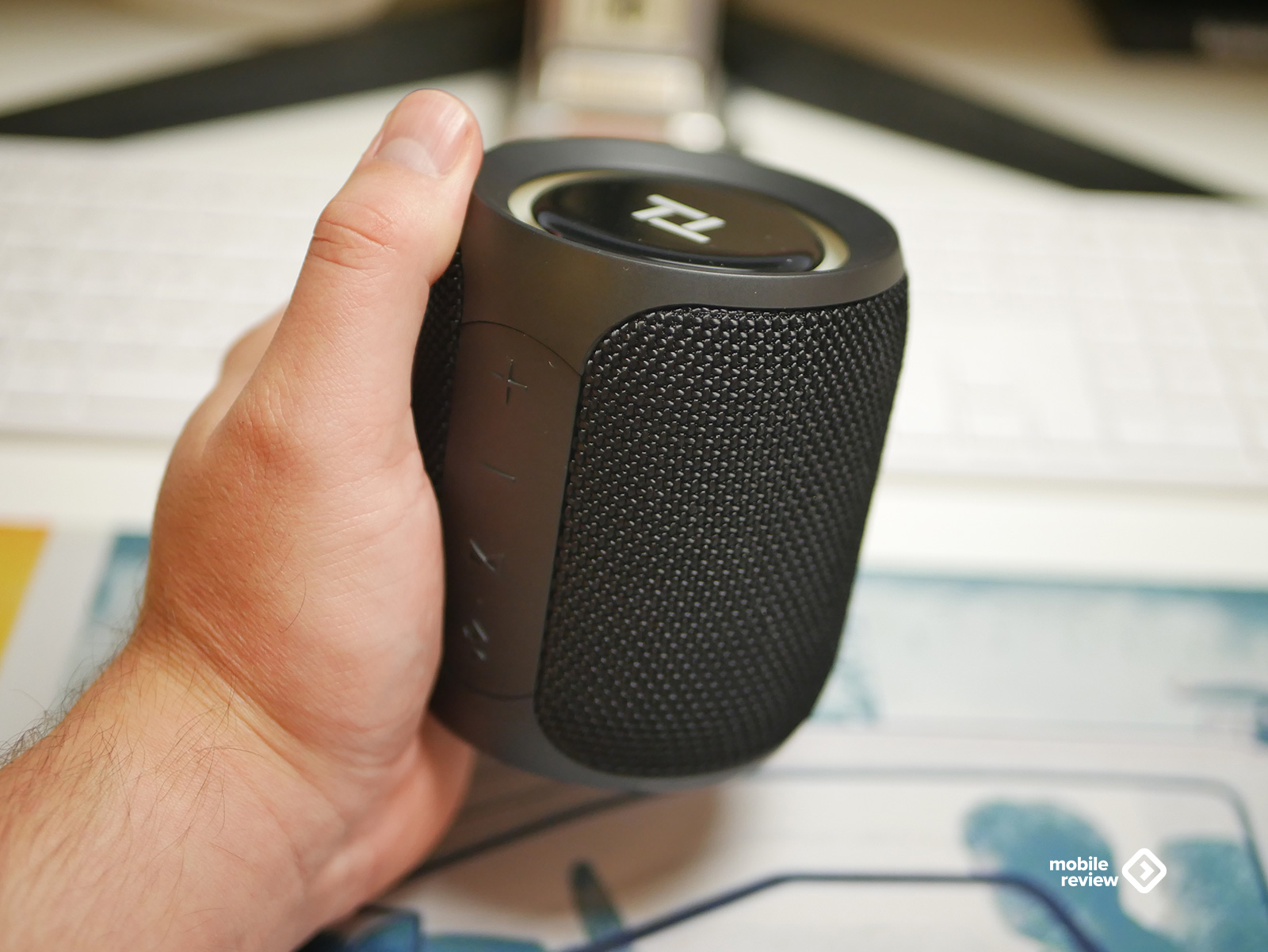 Here, rubberized black plastic is already used in combination with wickerwork on both sides.
On top is a passive radiator 50 mm in diameter. Made of glossy black plastic, there are two inverted "T" letters.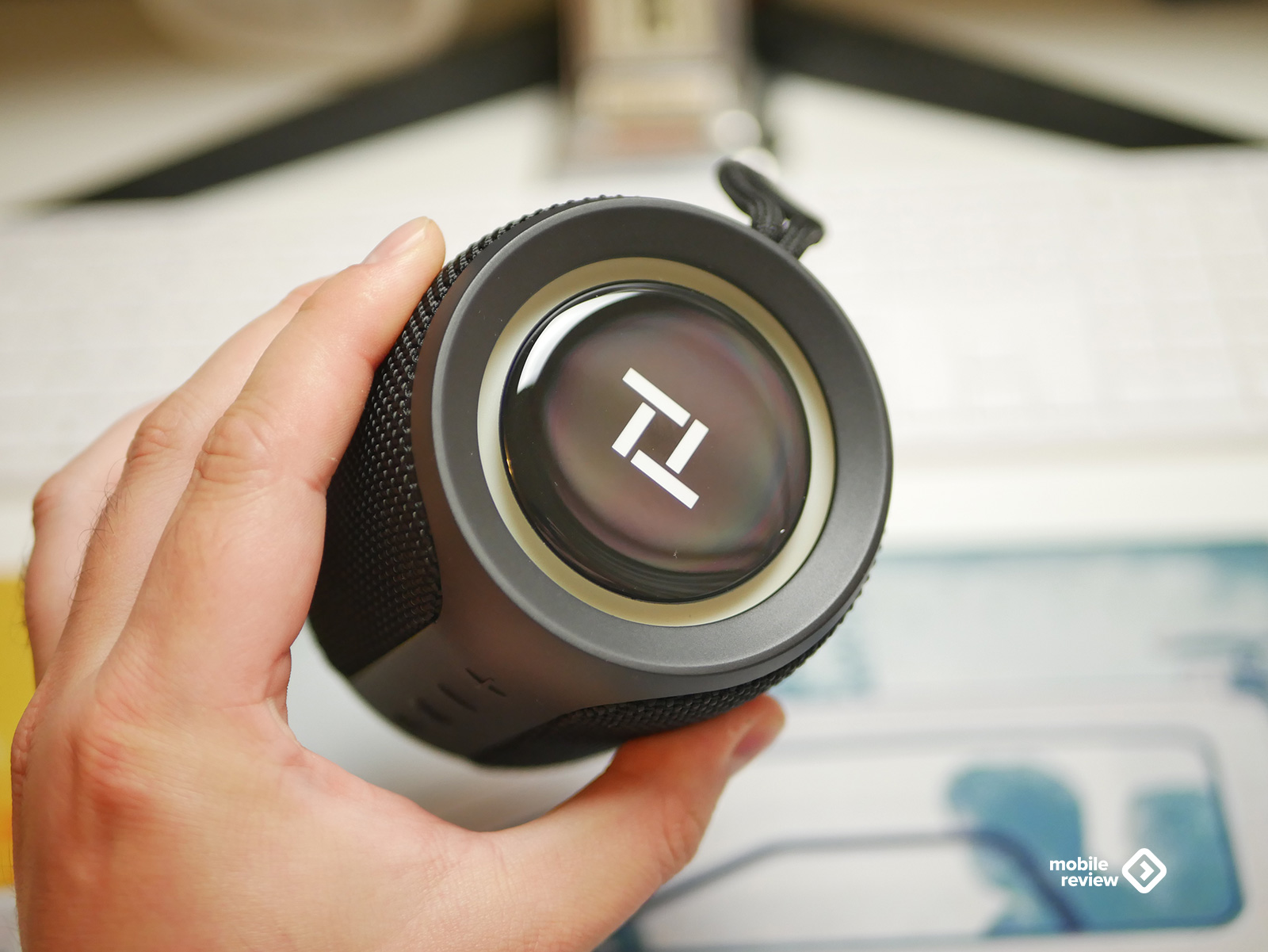 It also has RGB lighting around the perimeter of the passive speaker. Pretty bright and effective. It does not work like color music to the beat of a melody – it just shimmers smoothly in different colors.
Purely visually, the TT M-3 mini makes a good impression. It is felt that this is not a "China-cellar", assembled from what was.
A handle was again provided for carrying the device. True, here it was not reinforced with a rubber insert.
On one side:
Round concave power button
3.5mm AUX, USB Type-C for charging. Under a powerful dense rubber plug
Battery charge indicator.
On the other side:
Volume up
Volume down
TWS button for connecting another of the same speaker in a pair
Bluetooth pairing
Operating mode indicator.
Below there are four pointed legs made of rubber. The column staggers a little on them, but this does not affect stability. Reminds me of jelly))
Dimensions – 95x84x84 mm, weight – 326 grams.
In this case, we are dealing with two 40 mm speakers on each side. They are stereo, the power is about 8 W, the frequency range is from 75 Hz to 20 kHz.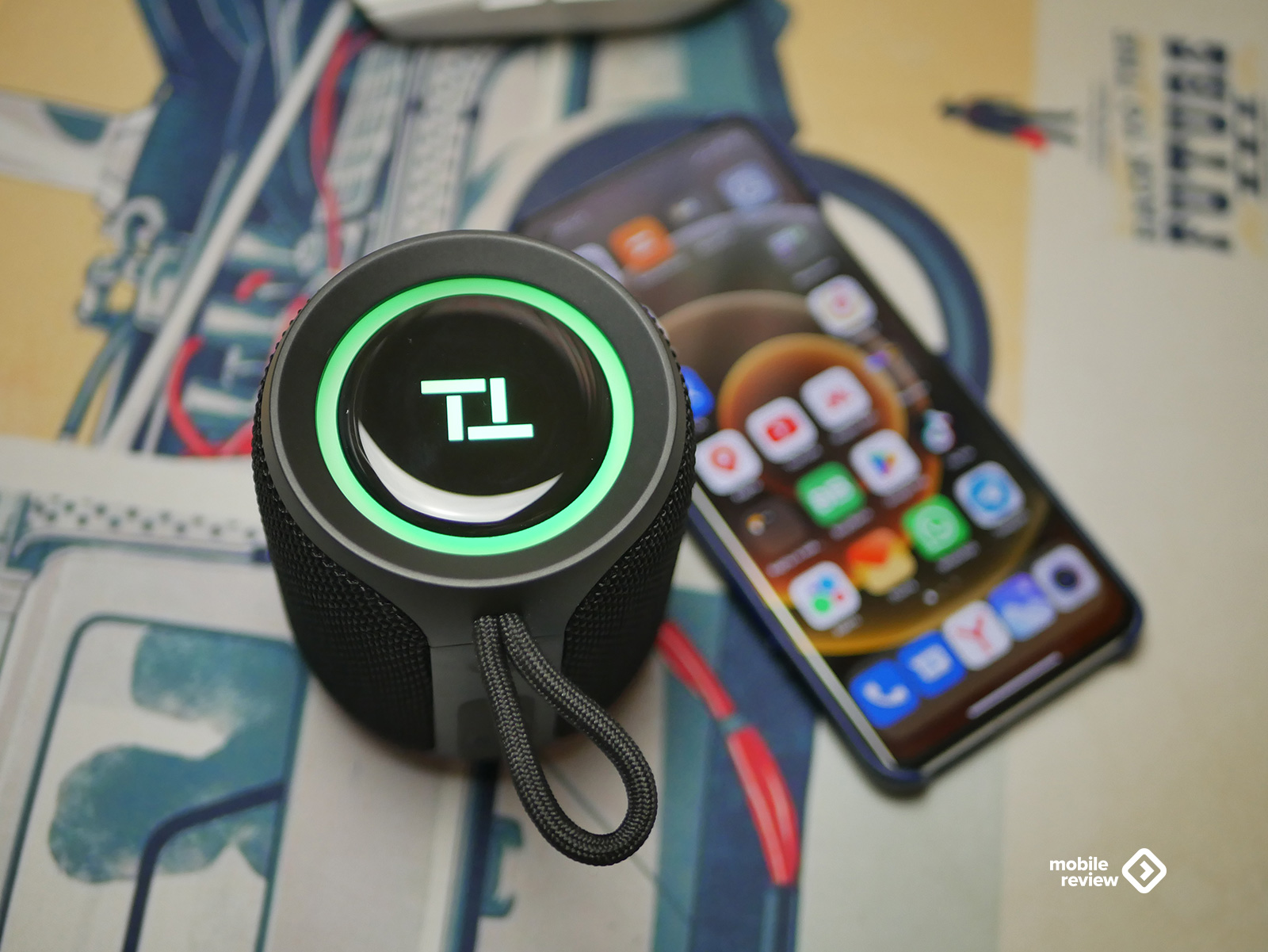 The presence of two speakers had a positive effect on the perception of music. It sounds voluminous, there is a "sound around".
Unlike TT M, in TT M-3 mini you can already hear bass notes that "open" at a volume level of 20%. The overall volume is very high: it seems to me that it is two times louder than the TT M, and at the level of the TT M-3.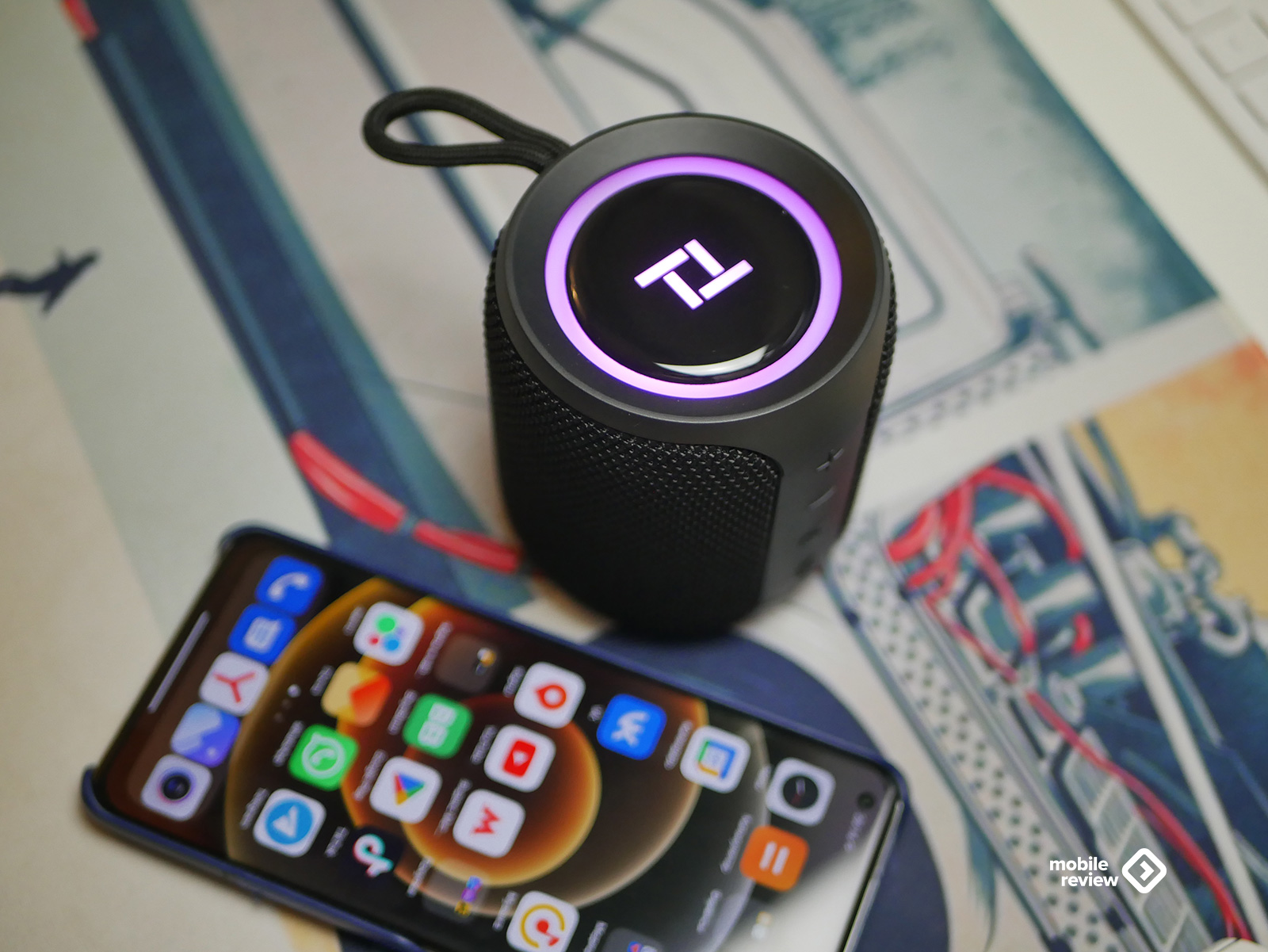 Again, emphasis on mids and highs. Excellent voice transmission. A passive speaker helps to reveal low frequencies. They are much better than the TT M, and a little simpler than the M-4. Even the TT M-3 LF is a little simpler.
There is no overload at maximum volume, but in order to prevent "squishing", the software reduces the "bottoms", pushing the treble forward.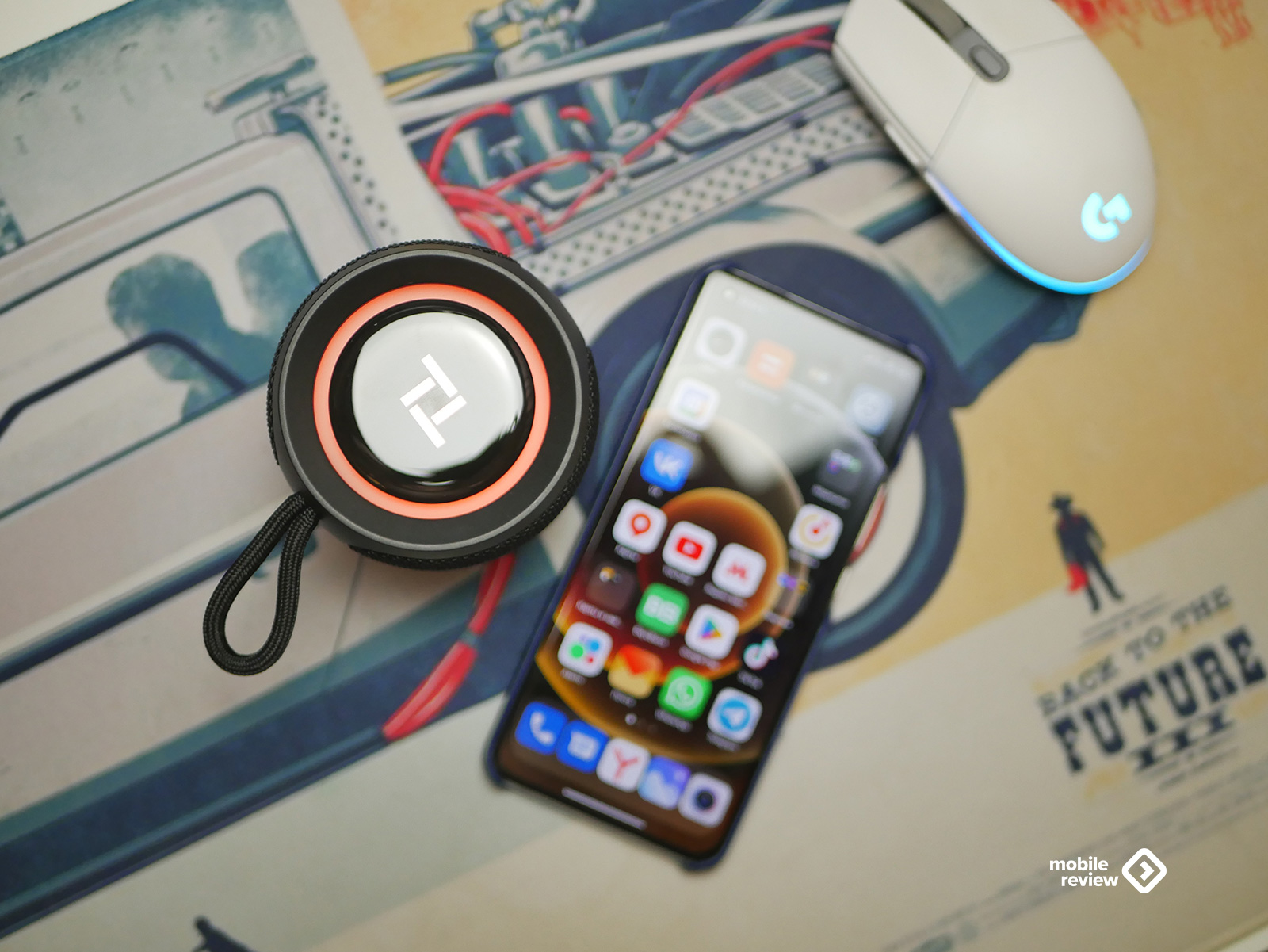 All in all, a great speaker for listening to music in a small room. Ideally on a desktop in front of you to hear how the "sound around" spreads. By the way, it is also protected from water according to the IP67 standard.
The battery here is 2500 mAh (3.6V). This is logical, because you need to pump two speakers. A full charge is enough plus or minus for the same amount as the TT M column works – 7-8 hours at a volume of 40-60%. But it takes a long time to charge – about 3.5 hours.
Ural TT M-3 maxi
But this column was decided to simply increase in size relative to the previous TT M-3. That is, the appearance has not changed much. Dimensions – 220x88x88 mm, weight – only 700 grams. And "only" – due to the fact that it is quite large, it seems that it should weigh exactly at least 900-1000 grams. Feels like it's empty.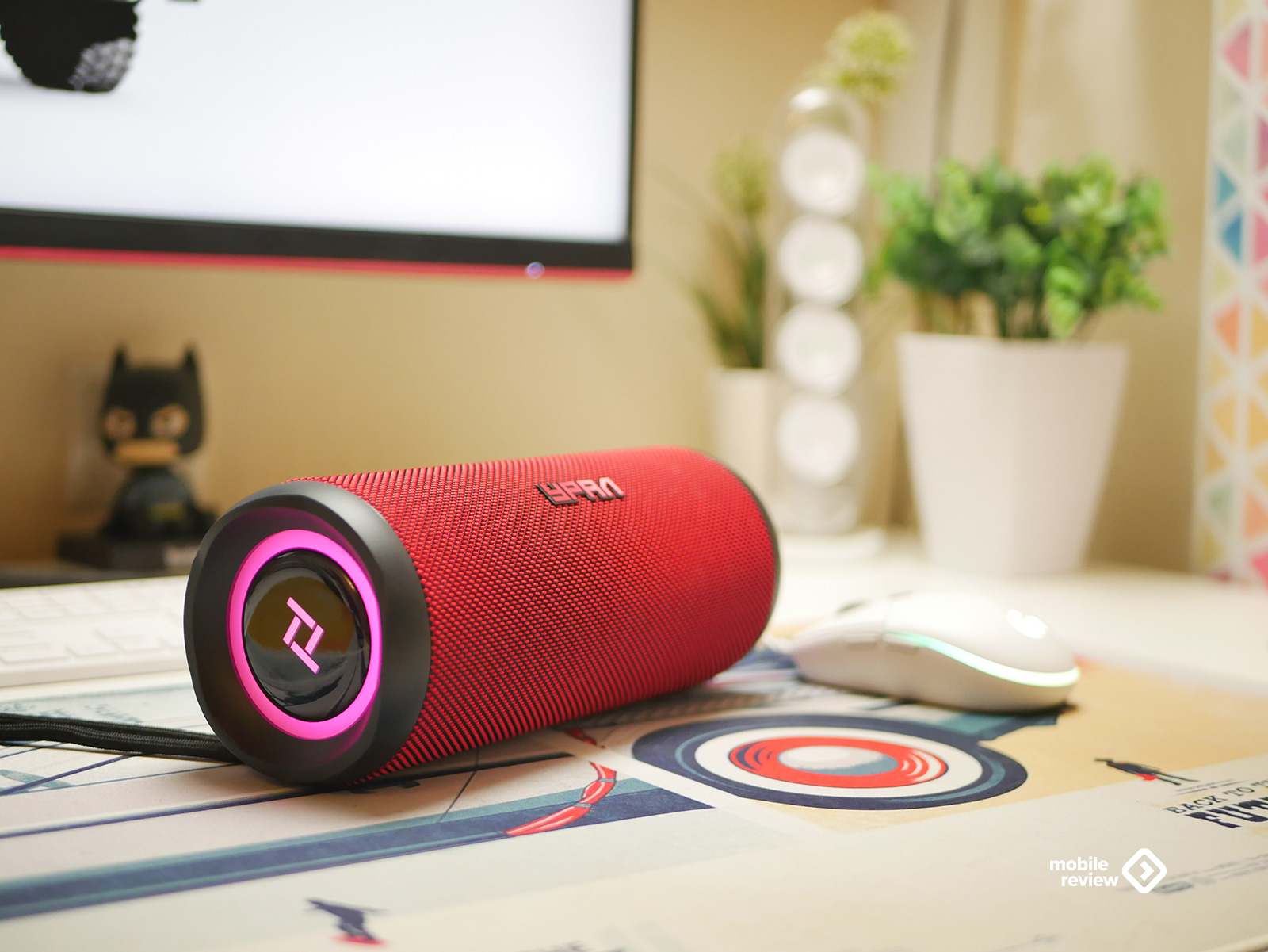 As for the materials, they are better, as I have already written more than once. Somehow it's done neater.
On the body there are elements:
Power button
Battery indicator (four LEDs)
Volume up button
Volume down button
TWS mode for pairing with the same speaker model
Operating mode indicator
Bluetooth pairing
Under a large rubber plug about 10 mm thick:
TO
USB Type-C for speaker battery charging
USB Type-A for charging other gadgets, PowerBank mode (5V/1A). By the way, the instructions say nothing about this.
The Sonata has two speakers: 25 W + 10 W, dimensions – 91×52 mm and 53×37 mm. One is responsible for low and medium frequencies, the other for high frequencies.
From the point of view of sound, there is something between the TT M-3 and TT-M-4. The latter plays a little more powerful and assertive. Very similar to the TT M-5.
Again, the emphasis is on SR and HF. The bass doesn't bulge out. On the one hand, it's bad, because you want "bumkalok", on the other hand, it's good, because the frequency response does not deteriorate with increasing volume. A typical problem with most portable speakers: we start to increase the volume – the bass decreases.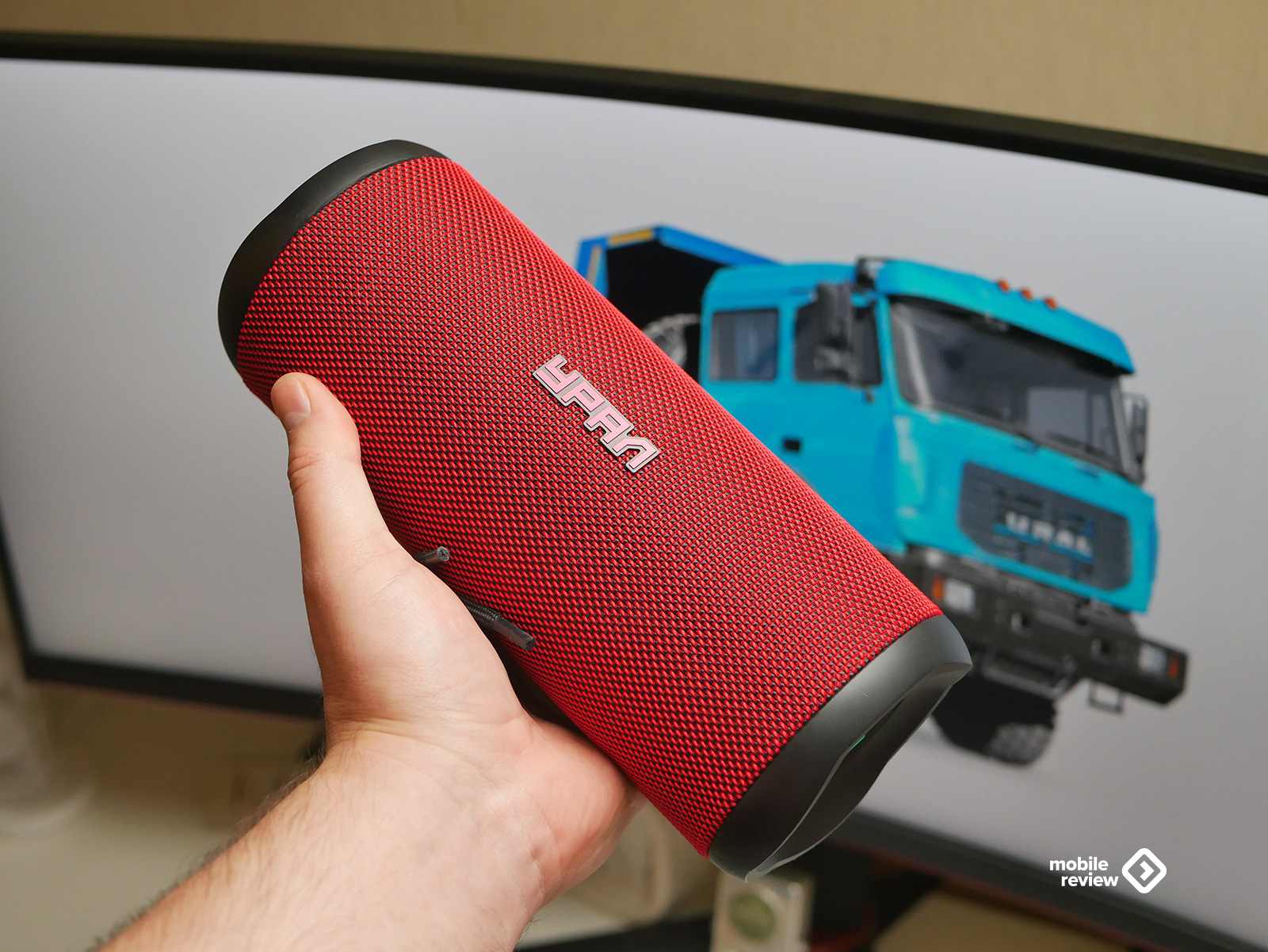 The TT M-3 maxi speaker is suitable for playing music outdoors or in a large room. Its potential is revealed when the volume is increased from 30%.
True, the manufacturer has now made a somewhat strange move: he put up the TT M-4 for 5,700 rubles (Spetsnaz, Taiga), and the TT M-3 maxi for 6,500 rubles. Although it is clear that the M-4 plays a little better, but now for less money.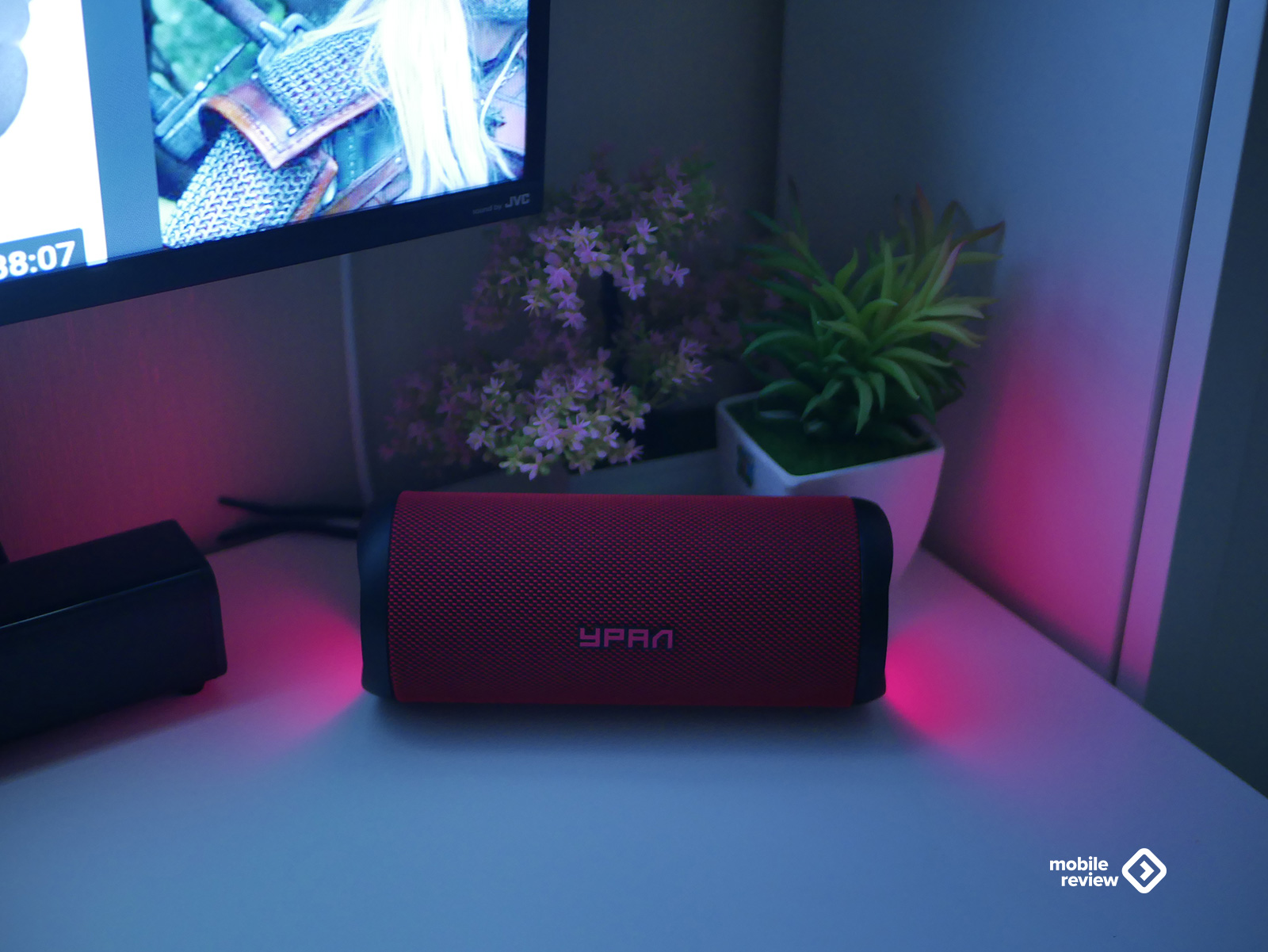 Built-in battery "Ural" TT M-3 maxi – 2500 mAh (7.2V). This column was tested at a volume of no more than 40%. In this mode, she worked for about 8 hours, which is quite a long time. Officially: 3 hours at maximum, 12 hours at 50% volume. Charges in about 4 hours from a USB computer.
Impression
In my opinion, the Ural company managed to make a good update-addition to the model range. Now she has a budget and vociferous TT M for 1,250 rubles, a stereo and powerful TT M-3 mini for 4,700 rubles, a powerful and loud TT M-3 maxi.
It also remains in the M-4 lineup – even more powerful and bassy, ​​unusual M-5. Of the inexpensive ones – M-3, M-2 and M1.
If I took it for a child, then the Ural column TT M. It costs a penny, the sound is cool, it plays for a long time, it is protected from water.
For myself, I would look after the Ural TT M-3 mini. I liked the surround sound, and in general it looks nice.
What device do you like? Write in the comments about your acoustic gadgets-finds this summer!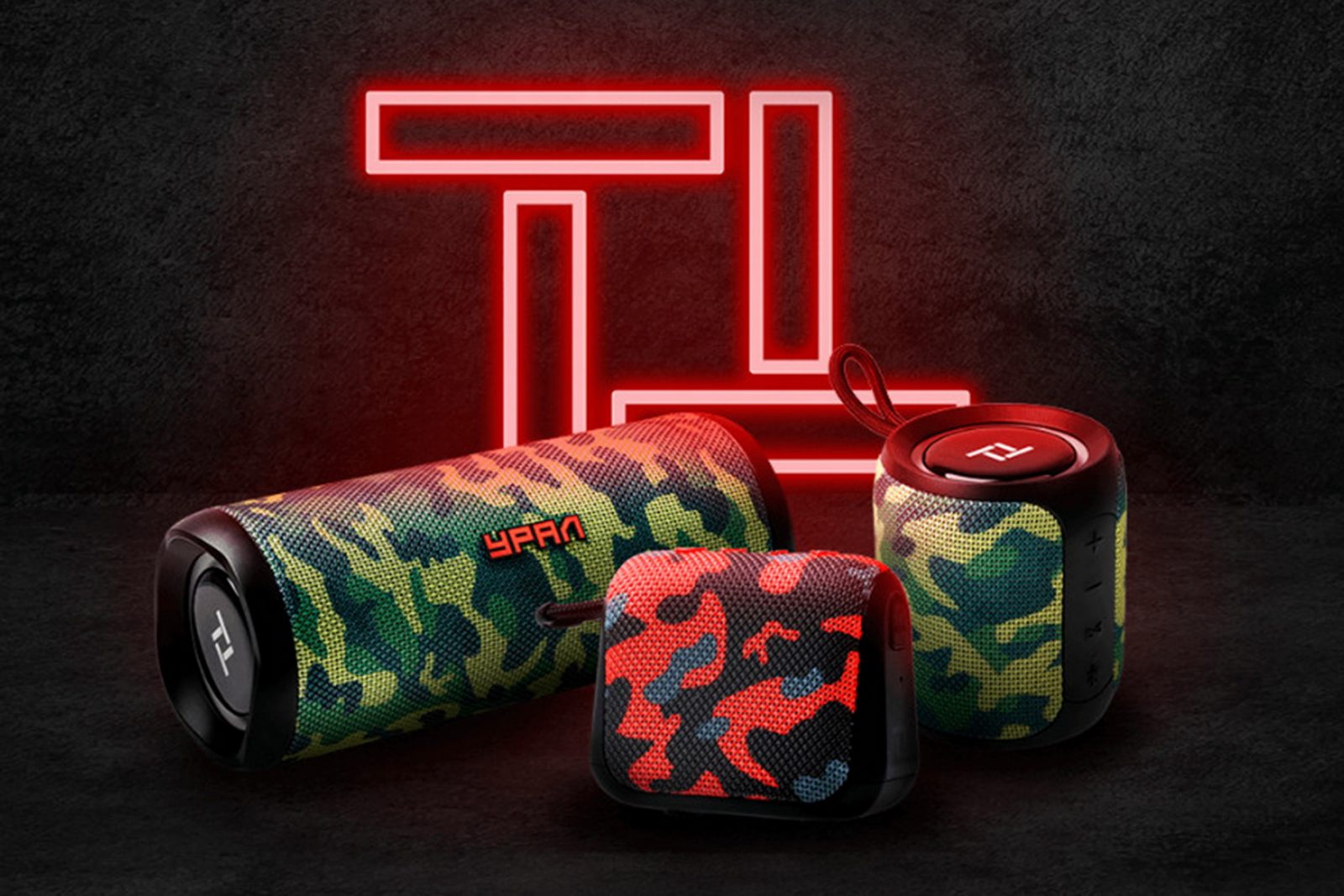 The author thanks the company "Ural" for the acoustic systems provided for review.
---
Source: Mobile-review.com — Все о мобильной технике и технологиях by mobile-review.com.

*The article has been translated based on the content of Mobile-review.com — Все о мобильной технике и технологиях by mobile-review.com. If there is any problem regarding the content, copyright, please leave a report below the article. We will try to process as quickly as possible to protect the rights of the author. Thank you very much!

*We just want readers to access information more quickly and easily with other multilingual content, instead of information only available in a certain language.

*We always respect the copyright of the content of the author and always include the original link of the source article.If the author disagrees, just leave the report below the article, the article will be edited or deleted at the request of the author. Thanks very much! Best regards!
---