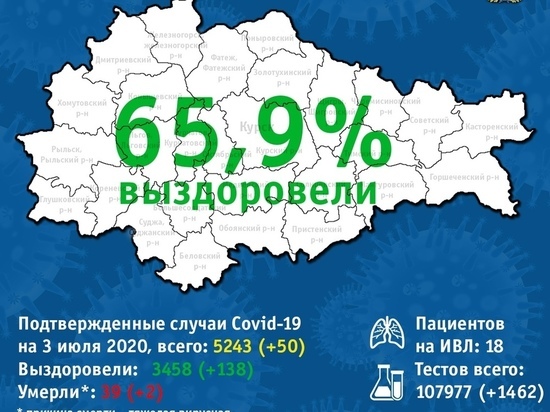 According to the operational headquarters on July 3, 5,243 official cases of coronavirus infection were registered in the Kursk region. 50 of them on the last day, July 2.
Of these, 1746 patients are under medical supervision:
350 people receive treatment in inpatient facilities
1396 smokers are at home under the supervision of doctors.
18 patients are connected to ventilators.
3458 patients recovered and were discharged. 138 of them yesterday, July 2.
39 people in the region died of severe viral pneumonia caused by COVID-19.
On July 3, 107,977 studies were conducted on COVID-19, including 1,462 studies conducted on July 2. And 7043 studies on antibodies to COVID-19, tailored to private laboratories.