Eight years ago, the Mi-Clos studio made an indelible mark on video game history, releasing only the mobile space adventure Out There at the time – a game about space exploration, spaceship management and the general quest to survive in inhospitable conditions. It became a hit, later published on computers and liked perhaps everyone who is not offended by small indie titles tending to simulation elements.
Now, after several other projects, Mi-Clos is returning to its roots with the sequel Out There: Oceans of Time, which has been intended as a purely computer title from the beginning. Therefore, it does not have to obey the hardware of mobile phones and adapt its interface to touch control. And you know it.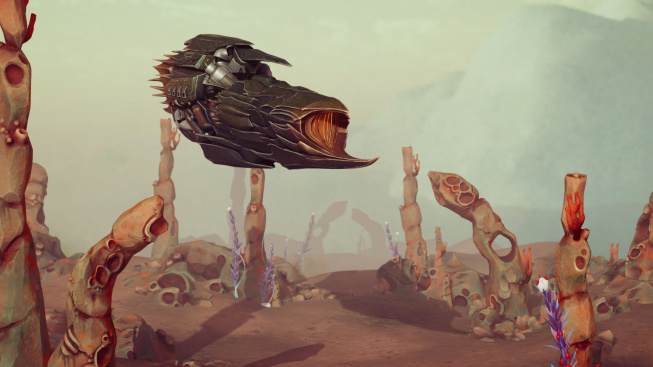 The universe has a new face
Production qualities Out There: Oceans of Time are miles away from the original game. On the one hand, it's a pity that the cartoon magic has disappeared, on the other hand, the 3D graphics will draw you much more into the atmosphere of the various planets you will visit on your journey.
We're still in the indie games segment, so don't expect anything as spectacular as Star Citizen, but the short films capturing your ship heading for your chosen planet and its subsequent placement in the green grass or hot sand really have something in them. Not to mention a whole new exploration of the planets. But not so fast, we haven't even jumped out of the dock yet!
Out There: From the very beginning, Oceans of Time has been even more story-oriented, in which, as Captain Nyx, you are carrying a powerful being – the demigod Archon, who threatens all existence. Not surprisingly, not everything goes according to plan, Archon escapes and you find yourself not only at the other end of the universe, but also at another time.
The task is clear, but not simple – to correct your mistake and save the galaxy. But of the entire crew, only you and your faithful mechanic Sergei are left, and worst of all, your beloved ship is gone. This achieves a classic beginning, where you have nothing and gradually you will have something.
Modest beginnings full of opportunities
Your first ship, more like a dilapidated cat, won't do much, it won't carry much and it won't go far. But don't worry, that will change over time. The whole game, like its predecessor, is dedicated to managing the ship's inventory, improving it and providing for basic needs.
Visiting the myriad of solar systems – and you can really go wherever you like – you'll come across arid planets, worlds full of life, gas giants, shipwrecks and stations, all of which provide an opportunity to extend your journey.
You will benefit from the gas giants hydrogen and helium that power your ship. From the arid planets you will extract iron and other solid elements with which you will repair the hull. You will replenish life-dwelling planets. Space stations allow you to trade, and wrecks have something for everyone.
Wrecks are also an opportunity to improve significantly. You can take any discovered ship as your own, repair it, equip it with various modules and leave the old kocáb far behind. Of course, you will do so if the new ship is bigger, has better defense systems, is faster and so on.
It is one of the systems supporting the feeling of very welcome improvement, which otherwise stems from finding or buying drawings of new modules and their installation in the ship. While in the beginning you can fly to the nearest solar system and extract a little from the red dwarf, later you will jump from one system to another, jumping over the five nearest ones, learning to "teleport" through black holes at great distances, you will mine many times more resources and in last but not least, you will be able to accommodate ten other adventurers on board.
In most cases, you will recruit a variety of aliens to help you not only explore the planets, but in the meantime you can have them work on improving one of your modules to travel even further and get even better.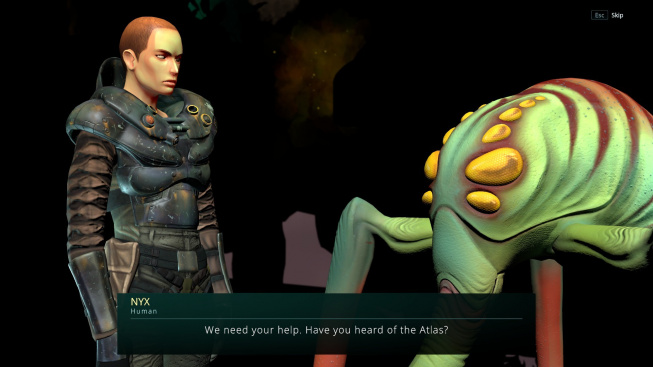 Where's that?
But none of this is free. And now I don't mean money that doesn't exist here, and barter is practiced instead. I mean the constantly limiting space of your ship. Its X boxes are used to store absolutely everything – materials needed to repair and power the ship, which are stacked in only 20 pieces, but the same positions are occupied by individual ship systems, quarters, relaxation rooms and anything else you intend to mount on your ship.
Each additional module will take the place of twenty units of anything you may need along the way, such as building these modules. Out There: Oceans of Time is primarily a game about inventory management and constant thinking about what you need the least on board, so you can give it up. Do you want the truth? You will not want to give up anything and that is the pleasant uncertainty that accompanies the first half of the game.
The vacuum cannot be erased with anyone
I haven't told you how easy it is to die in Out There: Oceans of Time. Are you running out of fuel? Final. You have nothing to breathe? Final. Have the hull repair resources run out? Final. Did one of the main characters die? Final. Is the ship's morale at freezing? Wonder the world, final.
And the ultimate in this game is to either restart the entire game or, if you find a clue, return to it. The world is full of mysterious boxes that serve as anchors for your progress in the game, so that every subsequent loss does not make you so tired.
But the beginning of your journey can be really painful, the game is quite uncompromising, you have to figure out a lot of things yourself and it is very demotivating when you don't get bogged down in a storage box for a few hours and you lose quite a lot of your life.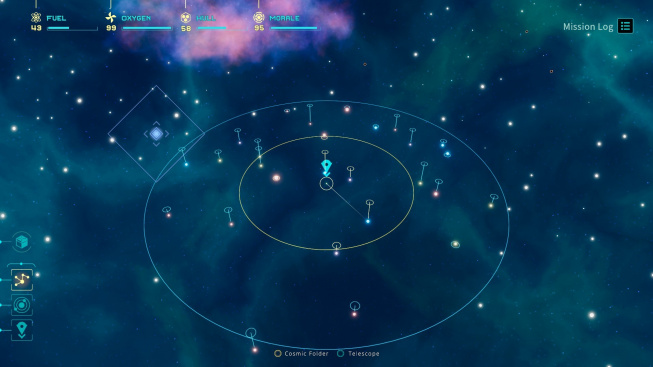 But when you overcome it, a very nice game opens up masking the survival elements and limited inventory for absolute freedom in space flying. Perhaps on every other journey between systems, one of the inexhaustible number of events depicting mini-stories on your journey will pop up to you, to which you can usually respond in several different ways. Sometimes you are rewarded for your choice, other times you are punished, but you are always interested in what else the universe has prepared for you.
Of course, it's not just about mindless wandering. The motivation will be the main story, completely vague at first, and the more fun it is to discover it. The story takes you on a few separate tasks, and although it's not the pinnacle of storytelling and a groundbreaking approach to science fiction, the pull of the whole game works more than well, and I enjoyed every other moment when our couple Nyx and Sergei find something again that no one before them.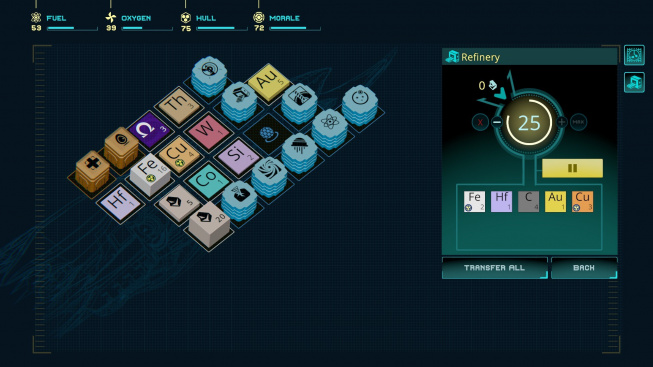 From here we have to go our own way
Such discoveries often occur on planetary surfaces. This time you will definitely run after them. Exploring the planets on its own with selected crew members is one of the biggest innovations in the series, in addition to the entire transition to 3D, and the space journey is enriched by a slightly strategic component.
Here and there you will have the opportunity to scan the surface of the planet and identify potentially interesting places. Sometimes it is a precious metal deposit, other times shipwrecks or the ruins of ancient civilization, but you will also come across inhabited planets with villages where life thrives.
In any case, you will have to explore the hexes of a chopped map in a drawing spirit in one of the many graphically completely different biomes. Although no enemies will ever go against you, running through a cloud of poisonous gas, sharp rocks or aggressive flora can cause you to lose the precious lives of an affected crew member once every few turns.
Exploring the planets encourages the search for alternative paths and avoids danger, while working with the abilities of individual characters and action points. With the help of abilities, you can heal, help with surface navigation and search for additional materials.
You will then use the action points at various meetings on the planet, when you are first introduced to the text and then you have several options to respond to the problem, while sometimes you need action points, which have a very limited number of characters and which are also conditioned by one of the three archetypes. astronauts. The choice of four crew members to embark on an expedition is therefore absolutely crucial and can decide not only whether the whole expedition will succeed, but whether you will survive and continue the game at all.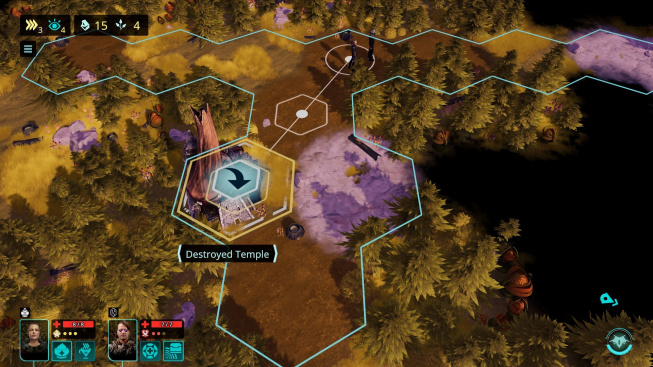 I don't speak the language of your tribe
At the same time, the creators have retained one of the great ideas of the original game – learning an alien language. At first you are loaded, you have no idea what another representative is telling you and what you are answering him. But on various occasions, you will begin to learn key words such as "man," "god," and "war," to help you choose the right answers and to climb in a foreign race instead of antagonizing the natives and having worse trading conditions.
At the same time, the game needs to be highlighted in terms of soundtrack, which perfectly illustrates the overall atmosphere, especially during the turn-based exploration of the planets, and its ostentatious to epic melodies are a real pleasure to listen to.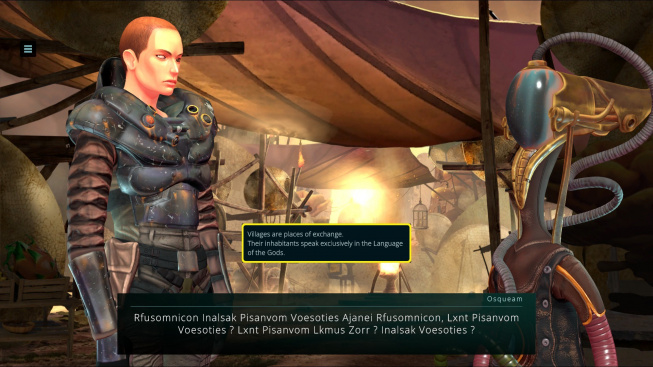 I really enjoyed my 13 hours with Out There: Oceans of Time. That is, only after the initial deterrent rigor of the game, when its unusual storage system grafted onto the roguelike genre seems like a very bad idea. But the essence of the game allows you to finish it a bit faster than me (we'll write something about a specific number in a moment), but also in double time.
It depends not only on how much you voluntarily get out of the way and explore dozens of solar systems, but also on how luckily you come across a larger ship that allows you to breathe more and alleviate the ever-threatening danger of depletion of fuel, oxygen, hull or morale.
Road lined with routine
Now to the specific numbers. I don't want your whole expedition to last much longer than my 13 hours. Out There: Oceans of Time is a very repetitive game. As soon as you get to a proper ship and improve it considerably, the threat of defeat will disappear and the main task will be jumping from system to system with occasional use of resources and exploration of another planet.
This has happened to me in the last two hours, when I no longer had to worry about anything, the traders didn't offer anything that would move me anywhere, and I visited the planets just out of curiosity about whether the game would offer me another nice mini-story. But she has to let it happen that random events were so rare in the area of ​​13 hours that it is not even worth talking about.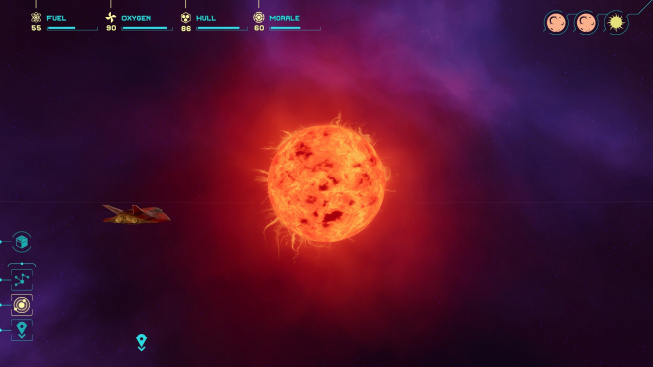 Out There: Oceans of Time was created for a very specific audience. Hard for a player who enjoys constantly managing limited inventory, looking for something a little different, hard to compare. Players who don't mind spending hours mining raw materials, transforming them into new ship modules, and delaying a failure that is constantly around the corner, at least for the first few hours.
The core is repetitive, yes, but the constant pursuit of improvement, the mini-stories and the main storyline make it somehow a natural duty that needs to be kept in mind, to which everything is subject, but at the same time it does not take the impression of everything else.
The sequel is bigger, better and nicer in all respects than its predecessor, so if you enjoyed the first Out There, I don't see a single reason why Out There: Oceans of Time should disappoint you in any way. The rest of you can already sense from the text whether this managerial survival with a new roguelike system is or is not for you. I know it hit me.
---
Source: Games by games.tiscali.cz.

*The article has been translated based on the content of Games by games.tiscali.cz. If there is any problem regarding the content, copyright, please leave a report below the article. We will try to process as quickly as possible to protect the rights of the author. Thank you very much!

*We just want readers to access information more quickly and easily with other multilingual content, instead of information only available in a certain language.

*We always respect the copyright of the content of the author and always include the original link of the source article.If the author disagrees, just leave the report below the article, the article will be edited or deleted at the request of the author. Thanks very much! Best regards!
---