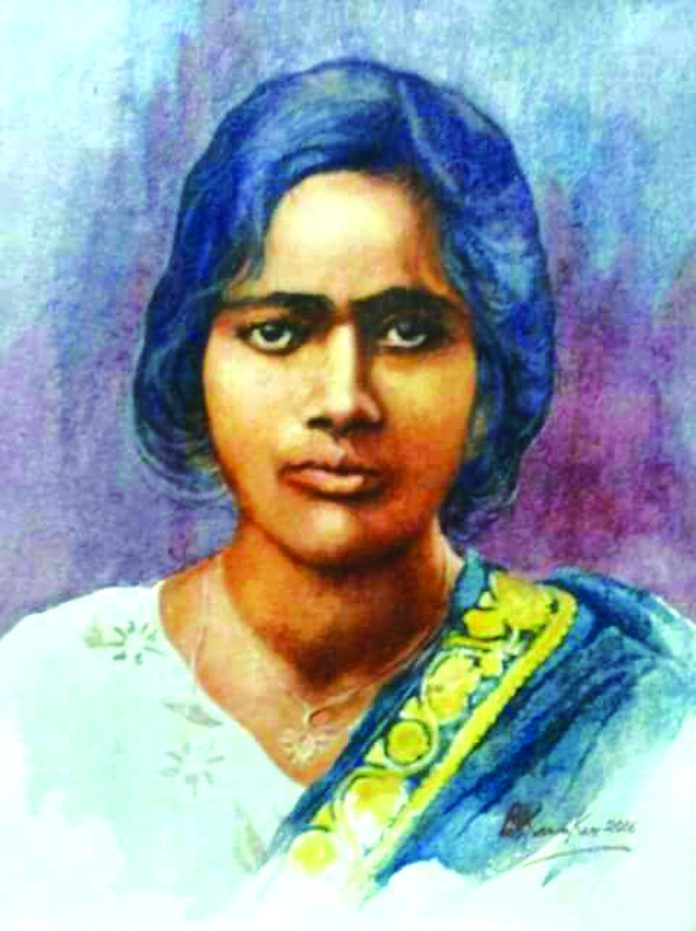 Through the continuous struggle for freedom from the chains of slavery, we got the dear independent sovereign Bangladesh in exchange for ages of bloodshed and sacrifices. Chittagong's heroic daughter Pritilata Waddedar is one of the immortal children of the motherland who sacrificed themselves with a smile on the face of the brave revolutionary freedom fighters for centuries while creating the foundation of freedom. One of the women freedom fighters of the anti-British freedom movement whose heroism reminds us of 'Joan of Arc'. Born in the then East Bengal, this Bengali heroic daughter actively participated and sacrificed her life in the then anti-British armed movement under the leadership of the revolutionary Surya Sen. During the colonial period, multi-dimensional rebellion of Bengalis against the British took place in different parts of this continent. The signboard at the European Club in Pahartali, Chittagong, read 'Dogs and Indians not allowed'. The new revolution that started with the attack on the European Club led by Pritilal was a bright chapter in our freedom struggle.
Pritilata Waddedar was born on Tuesday 5th May 1911 in Dhalghat village of Patiar in Chittagong. Pritilata was the second of six children born to Jagabandhu Waddeda and Pratibha Devi. Chittagong Municipality Head Clerk Jagbandhu built a two-storied mud house on the south-west bank of Askar Dighi in Waddedar Nagar. He spent his youth there. Everyone called her Rani.
Among the six siblings, Pritilata was a very introverted, shy and shy girl. As a child, he used to help his mother from sweeping the house to washing the dishes. There was no extravagance or pomp in his growing up. Being possessed of keen talent, father Jagadbandhu, in spite of a hundred difficulties, gave this introverted daughter to Dr. Chittagong in 1918. Khastgir admitted the girls in a government school. His classmate there was another revolutionary Kalpana Dutta. Preetila became the favorite of all the teachers in a very short time by getting good results in every class, one of those teachers was Uhasadi of history. He regularly told Pritilata the story of Jhansi's queen Lakshibaai's fight with the English soldiers in the guise of a man, and later read books on Lakshibaai; After reading this, a storm of revolutionary spirit flowed inside him.
He came to know about the hanging of revolutionary Khudiram while studying in school. Many incidents of the struggling life of Masterda Suryasen, the hero of the revolutionaries of Chittagong, were etched in his teenage mind. In 1924, the anti-British movement spread throughout the Indian subcontinent. In view of this, the British government passed an urgent law named Bengal Ordinance No. 1 in the Bengal Provincial Council. The purpose of this law was to detain people suspected of political activity without trial. Because of this Kalakanun, revolutionaries were afraid to keep books at home. Purnendu Dastidar, a member of Masterda Surya Sen's revolutionary party Indian Republican Army, kept these banned books with his sister Pritilata for safety. Pritilata secretly read books named 'Desh Katha', 'Bagha Jatin', 'Khudiram' and 'Kanailal' to satisfy her curiosity. The most incendiary book was 'Desh Katha'. Non-Bengali Marathi Brahmin Sakharam Ganesh Deuskar learned Bengali language and wrote this book. By going through many official documents, he showed how the British rulers were plundering India by establishing colonies.
In 1928, after getting letter marks in several subjects and passing matriculation in the first division, Pritilata went to study IA at Eden College in Dhaka. There was a fire burning inside reading various books like the words of the country. So he joined an organization called 'Deepali Sangh' to do something against the British rule. Led by Leela Nag (after marriage Leela Roy), this organization carried out clandestine activities for independence under the guise of promoting women's education. He later wrote about this, 'During my two years in Dhaka to study IA, I tried to make myself a worthy comrade of the great Master.' It can be understood that Surya Sen's desire to join the revolutionary party was gradually growing in Pritilit. He also appeared with Kalpana Dutta during the conference of the Indian Congress in Chittagong in May 1929 for that purpose. But they have to go back because of the failure of the service. On the night of April 18, 1930, the revolutionaries' long-planned attack on Chittagong destroyed the armory, police lines, telephone offices and railway lines. Bombs brought by Pramila Chakra were used in these attacks. In history it is known as 'Chittagong Youth Rebellion'. The rise of the revolutionary party on the soil of Chittagong stimulated the entire student society of Bengal. On April 19, 1930, Pritilta returned from Dhaka to Chittagong after passing the IA examination.
In 1930 she stood first in the IA examination among girls and fifth in the combined merit list. For this result, he received a monthly scholarship of 20 rupees and got an opportunity to study BA at Bethune College, Calcutta. While Pritilata was studying at Bethune College, Calcutta, along with her close friend Kalpana Dutta, formed 'Pramila Chakra' with a few other students of the Chittagong Revolutionary Party. This 'Pramila Chakra' used to regularly collect money and send revolutionaries. Suddenly one day a secret order from the revolutionary party came to Pramila Chakra. Bomb shells made in Kolkata's secret factory should be brought to Chittagong. As ordered, so done. Since then, whenever there was an opportunity, the girls would secretly bring bomb shells to Chittagong. They brought the largest number of bomb shells during the Puja holidays. Pritilata, Kalpana Dutta, Sarojini Pal, Nalini Pal, Kumudini Rakshit; Four each for a total of twenty.
Ramakrishna Biswas is a soldier of Chittagong Revolutionary Party. Surya Sen's fellow revolutionary Ramakrishna Biswas was counting days to be hanged in Kolkata's Alipore Jail. He and Kalipada Chakraborty mistakenly killed Chandpur SDO Tarini Mukherjee in an attack intended to kill Inspector General of Police TJ Craig. Both were arrested after this incident. Kalipada Chakraborty was exiled and Ramakrishna Biswas was sentenced to death.
Pritilata went to Alipur Jail and met Ramakrishna Biswas, a total stranger, posing as her sister. He observed with amazement that Ramakrishna was waiting for death with an impossible calmness. They met 40 times before the hanging of Ramakrishna Biswas on August 4, 1931. As a result a new faith was born in Pritilita. The companionship of this dying patriot brought Pretilita's life to fullness. After this incident Pritilata seemed to be running towards a single fixed goal. And that goal is self-sacrifice for the country. He graduated with honors from Bethune College in 1932, but his and his companion Veena Dasgupta's examination results were withheld due to their involvement in the anti-British movement. Due to the needs of the family, Aparnacharan also took a job as the head teacher of the school. Society and family have all disappeared from the mind. Only Ramakrishna's bright face seemed real to him.
Many revolutionaries died in Chittagong Youth Rebellion that day. Many are in jail. And the British government has also announced the price on the heads of some people, including Surya Sen, who is in hiding. Even in such cornered conditions, the revolutionaries continued to fight. At this time Pritilata met Nirmal Sen who was in hiding and told her about her long wait. Nirmal Sen understood that this girl could not be swayed. On June 12, 1932, a man sent by Masterdar brought Pritilata to a house in Chittagong during a heavy rainstorm. Apart from Masterda and Nirmal Sen, young revolutionary Apoorva Sen (Bhola) lived in the house of a woman named Savitri Devi. But Pritilata did not know what awaited her at the beginning of her revolutionary life.
On the evening of June 13, the police led by Captain Cameron raided the house after learning about the location of the revolutionaries. Captain Cameron was shot dead by Nirmal Sen in the raid but he himself was killed in the retaliatory fire. Revolutionary Apurba Sen also died. But Pritilata and Surya Sen managed to escape.
After this incident, pictures of Pritilat were found in the house at different times during several searches. He also faced police questioning at his house in Chittagong. Understand that he is being surrounded by nets. He went into hiding to avoid arrest in July. After the deaths of Nirmal Sen and Apoorva Sen, a counter-strike was necessary. And Surya Sen does that. On September 24, he planned to attack the European Club in Pahartali. He wanted Kalpana Dutt to be responsible for the attack. But when Kalpana Dutt was arrested a week before the incident, the responsibility fell on Pritilal's shoulders.
On the day of the attack, Surya Sen had personally dressed Pritilata in military uniform. It was a Saturday, about 40 people were staying in the clubhouse. Divided into three groups, the revolutionaries with firearms started attacking the club around 10 pm. Pritilal was wearing a khaki shirt, dhoti, a turban on his head and a revolver in a leather sheath around his waist. At the end of the campaign, Pritilata was suddenly shot by a military officer's revolver. But continue to attack with allies. After that, when the attack was over on Pritilal's order, he came forward with the party. But at the end of the attack Pritilata premeditatedly poured potassium cyanide into their mouths and ordered those revolutionaries who were not injured to evacuate quickly. All the revolutionaries left the place paying respect to Preetila who fell on the ground after consuming potassium cyanide. Suryasen has always regretted giving Preeti the cyanide capsule. He later told Kalpana, "Preeti chose death just to prove to the countrymen that girls as well as boys can fight and give their lives for the country. But I am sure that he could have done more if he had lived." According to police reports, an English woman named Mrs. Sullivan was killed and four men and seven women were injured in the attack that day.
On that day, her self-signed pamphlet and photo of Ramakrishna Biswas were recovered from Pritilata. Some of the lines in the pamphlet were, "Girls are still behind because they are being held back. Women are now vowing that they will no longer be left behind and will actively participate alongside their brothers, no matter how hard and dangerous the struggle may be. I sincerely hope my sisters don't think themselves weak anymore. It is with this hope that I proceed to self-sacrifice today." The sisters of my country will no longer feel weak.' Not only freedom-seeking people, but women of all classes today, loveliness is a bright motivation.
Purnendu Dastidar writes in the book Veerakanya Pritilata, 'The "death-dream" of a young woman from Chittagong to free her motherland from the grip of imperialism has undoubtedly been abandoned with the passage of time. But his patriotism is unquestionable, his unwavering idealism still inspiring today. In Vietnam, Algeria, Arab countries and many imperialist-feudal countries in the world, many girls sacrificed themselves in the war of liberation and wrote and are making a new history of women's fighting status and skills. They are the flag bearers of love.' Today, when the infinite bravery of Bengali women is introduced, patriotism, ideals and revolution are written about, Pritilat's name comes first. Pritilata is the name of a comet. People will always remember Pritilat's patriotism, ideals, infinite sacrifice for freedom. The day of death of Pritilata was September 24, 1932. As the first Bengali woman for India's independence, she sacrificed herself for the country at the age of 21 years 4 months 19 days. On this day, we humbly remember him.
Author: Newly Appointed VC of Rangamati University of Science and Technology; President of Chittagong University Teachers Association.
---
Source: দৈনিক আজাদী by dainikazadi.net.

*The article has been translated based on the content of দৈনিক আজাদী by dainikazadi.net. If there is any problem regarding the content, copyright, please leave a report below the article. We will try to process as quickly as possible to protect the rights of the author. Thank you very much!

*We just want readers to access information more quickly and easily with other multilingual content, instead of information only available in a certain language.

*We always respect the copyright of the content of the author and always include the original link of the source article.If the author disagrees, just leave the report below the article, the article will be edited or deleted at the request of the author. Thanks very much! Best regards!
---