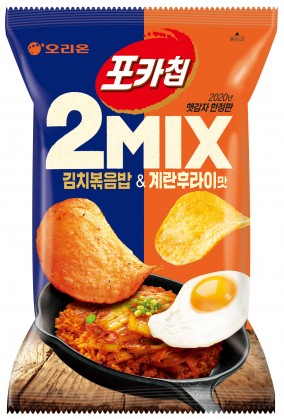 <오리온 '포카칩 2MIX 김치볶음밥&계란후라이맛' 제품 이미지&gt
Orion announced on the 3rd that it will release a limited edition'Pokachip 2MIX Kimchi Fried Rice & Egg Fried Flavor' that combines two flavors using summer potatoes.
This limited edition is based on the concept of "two harmonious tastes in one bag," and features a red seasoned kimchi fried rice and a white seasoned fried egg flavored foca chip in one bag. You can enjoy the kimchi fried rice flavor and fried egg flavor separately, or you can eat them on top and enjoy them in harmony with the fruit (sweets + beer).
In particular, this new product is distinguished by the use of domestic potatoes harvested from Boseong, Jeollanam-do, Dangjin, Chungcheongnam-do, and Yanggu, Gangwon-do, which are famous for potato specialties from June to November every year. The harvested fresh potatoes are immediately transferred to the Cheongju plant and potato storage and put into production. You can enjoy the limited edition Poka Chips of Sun Potato, which contains the taste, nutrition, and freshness of the original seasonal potato.
Pocachip has been established as Orion's signature snack since its first release in 1988. Last year, it added a freshness to the brand through new attempts such as introducing a limited edition'Korean's Table' series. After releasing a complete version of the'Foca Chip Sun Potato Limited Edition 3′, which was introduced in 2019, two kinds of'Grilled Garlic Flavor' and'Dangcho Soy Sauce Sauce Flavor' are on sale.
An official from Orion said, "In the season summer of Pokachip, we have introduced a new Pokachip that provides different tastes and fun with existing products." "I expect it will give you different pleasures."
Reporter Hee-won Seo [email protected]