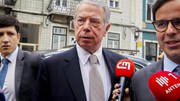 According to lawyer Francisco Proença de Carvalho, in the prosecution of the Public Ministry (MP) "there are not, nor could they be, facts and evidence that would make Ricardo Salgado incriminating, there are only many general assumptions, presumptions and conclusions", affirming that he has the deep conviction of absolution of the banker. Despite not having asked for the opening of an investigation, the defense presented its conclusions and, like the other lawyers, was very critical of the prosecution's performance, saying that in this case, whose first defendant is the former prime minister José Sócrates, it was intended "to do popular justice and not in court", through leaks of surgical information, with the defendants "being crushed by public opinion".
For the lawyer, "Ricardo Salgado is accused in this process just for being who he is and for what he represents".
"It is clearly more likely to be acquitted than Ricardo Salgado's conviction. The counter-proof is overwhelming in the sense that there could have been no corruption, not a listen or a document to prove it."
As for the statements by the Portuguese-Angolan Helder Bataglia, (defendant) that the MP used to attribute the crime of corruption to the former president of GES, the lawyer considered that it is "evidence without any value", recognizing, however, that this kind of prized offense will have allowed the businessman not to be accused of corruption.
"Helder Bataglia was never employed, nor subordinate, nor did he ship freight to Ricardo Salgado, he was a business partner," he said.
Francisco Proença de Carvalho also countered the prosecution's thesis around PT, which involves Ricardo Salgado, saying that "it is pure speculation and the accusation is undermined".
In his speech several times the lawyer referred to the future saying: "As for BES, we will still have a lot of cloth for sleeves, we will still know what happened".
"Ricardo Salgado has not corrupted anyone, the accusation is dead. I am deeply convinced that he will be acquitted in this process," he concluded.
In Operation Marquês, Ricardo Salgado is accused of 21 crimes of an economic and financial nature, namely active corruption of the holder of political office, active corruption, money laundering, abuse of trust, forgery of documents and qualified tax fraud.
After Ricardo Salgado's defense, it was up to lawyer Raul Soares da Veiga to plead in defense of the architect Luís Marques and Ferreira dos Santos, accused in co-authorship of several crimes of passive corruption and money laundering.
The MP maintains in the accusation that José Sócrates received around 34 million euros, between 2006 and 2015, in exchange for favoring the interests of the former banker in the Espírito Santos Group and Portugal Telecom, as well as for guaranteeing the granting of financing from Caixa General Deposits to Vale do Lobo, in the Algarve, and for favoring Lena Group business.