On Twitter, many LGBTI activists are complaining about the censorship of some of their tweets that use the terms "dyke" or "queer". Used in a reappropriation of stigma by those concerned for decades, these words have yet earned several activist accounts to be suspended today. The "dykes" and the "queers" would no longer have the right of citizenship on the social network? Investigation.
« Hey dykes, how did you meet your girlfriend? This is the seemingly innocuous question posed by the lesbian account @pastadaronne on Twitter on December 23, 2020. Two days later, its publication no longer appeared. " Your tweet has been hidden in France due to local laws "Could be read instead. On December 28, his account was " locked due to violation of Twitter rules ". In question: a call for "lesbian-queer solidarity", which is obviously not passed with the social network. It was only after deleting this tweet that the internet user was able to recover their account.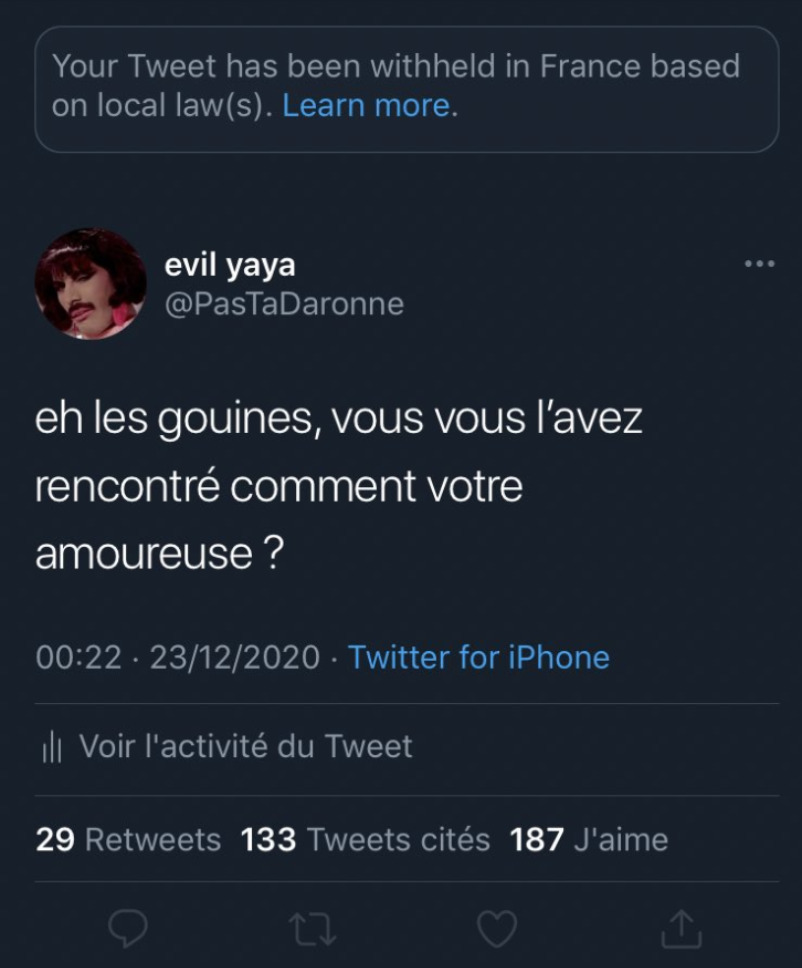 Paradox: the word "dyke" appears in many of his past tweets, without it ever causing him the slightest concern.
"Prevent dykes from qualifying as they wish"
Like this account, many LGBTI activists have been surprised in recent months to see their tweets or accounts suspended for the same reasons. On December 26, lesbian activist Gwen Fauchois denounces the actions of the social network: " No Twitter France, preventing dykes from qualifying as they wish is not based on local legislation, it's only your interpretation that is locally located: in capitalist lesbophobia @damienviel », she writes, mentioning the general manager of the company.
It is surprisingly not this tweet, still online, that has been criticized, but others, older, some dating back to 2017. " It was always wrestling tweets, attacking homophobia and lesbophobia », Describes the activist, captures in support.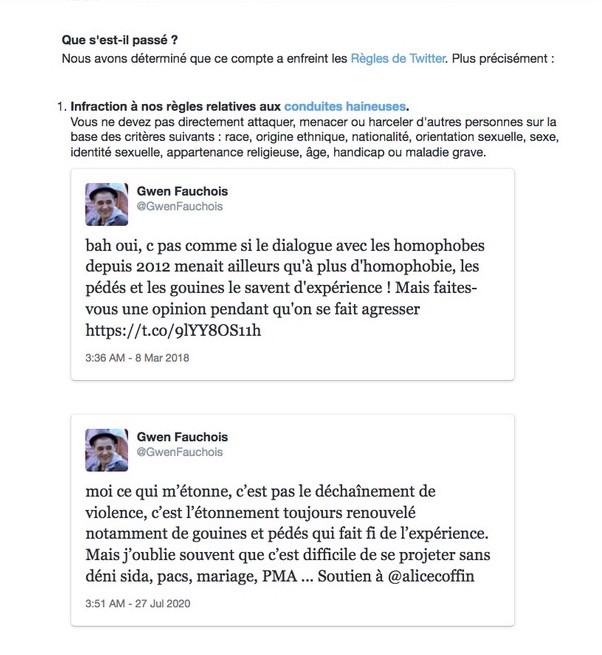 Like many LGBTI activists, she defends the possibility of reappropriating homophobic terms, that is, the fact of using insults such as "dyke" or "queer" to define oneself in order to remove the stigma. But this subtlety does not seem to be taken into account by the social network: Gwen Fauchois had to delete two tweets questioned to be able to recover her Twitter account, which had in the meantime been locked and threatened to be deleted. " Welcome to a space forbidden to p * and g * », she concludes on Twitter.
Those who did not comply with the demands of the social network paid the costs: the account holder @lckmcgr, who describes herself as "lesbian nrv" has thus seen her previous account jump for using the terms "Dyke" and "fagot". Same goes for LGBT activist @ ceddan1973, suspended for using the word "queer", " on the tone of the joke, between queers and more », He reports.
"LGBTphobic censorship"
In all, nearly 20 LGBTI people complained to Numerama that they had seen some of their tweets deleted, or their accounts suspended, for the same reasons. Some associations have also paid the price for the network's opaque moderation policy. This is for example the case of the @ArchivesLGBTQI account, suspended since the beginning of the year for no apparent reason, the last tweets of the account not including the term "queer" or "dyke", according to Marin, member of the LGBTQI Archives . In the absence of a return from Twitter, the collective had to recreate an account. « We see it as LGBTphobic censorship and that can penalize our actions in a concrete way, since we had a big communication to come. », Deplores Marin.
« This makes it possible to avoid structural criticisms of the system by now choosing who to speak and to say what. "
If Gwen Fauchois is not her first setbacks with Twitter, she is worried about what, according to her, is a " real political censorship ". Already in May 2020, many activists, including her, had seen their tweets deleted for having used the terms "queer" or "dyke", as Numerama said at the time. Censures then interpreted as a possible foretaste of the Avia law. However, this one having been rebutted by the Constitutional Council in June 2020, it is difficult to be able to attribute to it these new attacks of LGBTI accounts. But the process is the same for Gwen Fauchois: " We are witnessing the establishment of new placarding standards », She denounces. " It is a question of policing the discourse, under the pretext of protection. This makes it possible to avoid structural criticisms of the system by now choosing who to speak and to say what. This says something about the reality of political power struggles, both internal and external to our community constellation. »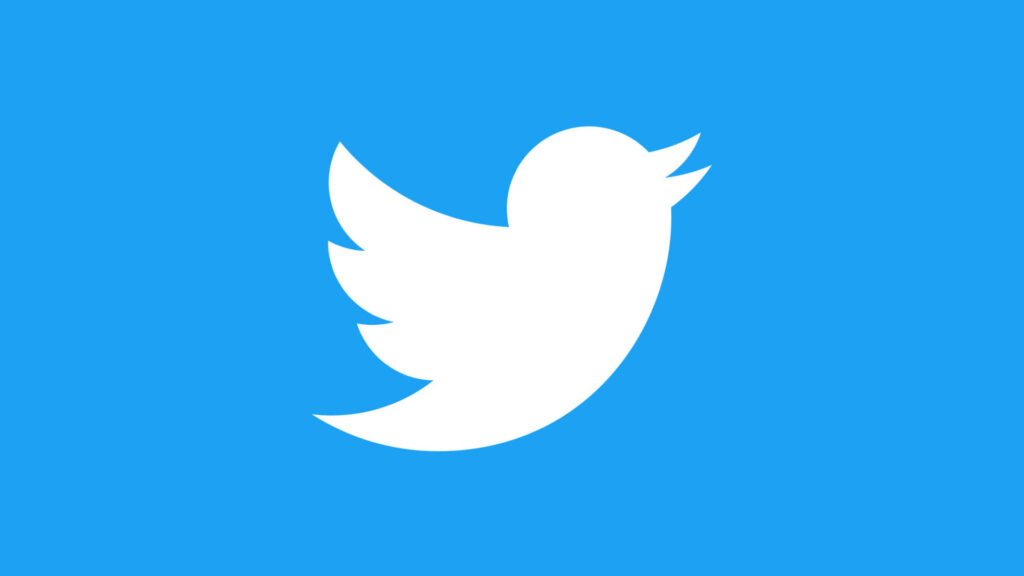 Reports from a private group
Not everyone in the LGBTI community seems to take a positive view of this reappropriation of the insult, believing that the terms "queer" or "dyke" have nothing to do on Twitter, no matter who. employs them or the context of their use.
Among the dozens of testimonies we have received, several claim to have been the subject of reports by private groups led by a man, himself gay, and his twin brother. In these groups, called "Front Commun # 1", or "FCLGBT #PPLCyberhaine", and of which we have been able to consult the captures, an account named @CristaFumar would call for reporting profiles that use homophobic terms. But this laudable goal gradually drifted, according to some: " Mickaël * put me in a group where there were about 30 of us chasing homophobic accounts that were being reported en masse, then he called for people to be reported that he didn't like », Reports the holder of the @pascal_vivien account. " I decided to quit the group, and from there all of my tweets containing "queer" were reported ».
Another Internet user, behind the @ChamanAthee account, abounds: " I was approached a year and a half ago. But when I saw that he was attacking everyone indistinctly, I left the group. He would 'link' tweets from LGBT people and ask the group to report them. This Internet user would also have been the victim of reports which earned him suspensions.
"I have occasionally pointed out the terms queer of gay people. "
When contacted, Mickaël claims to also manage the @ LGBTFrance75 and @ Jumo3 accounts. In the Twitter bios of these three accounts there is also the link to the reporting platform of the Ministry of the Interior. But their owner claims to no longer own Twitter groups: " I closed everything 7 months ago. "Himself homosexual, he confirms to have reported many homophobic remarks on Twitter:" I created these groups with my twin brother. For two years that I have been doing this, I am quite proud of my work, I have nothing to be ashamed of », He puts forward. He announced that he had closed about 2,000 homophobic accounts and reported " 5,000 or 6,000 queer terms ". Not the word "dyke", on the other hand: " I never use this term, I don't report it ", He assures. What about LGBTI accounts that themselves use these slurs? "I am against the reappropriation of the stigma. But when I point out the term "queer", I try to see if the account is not LGBT "," he defends, while acknowledging: " I may have pointed out the terms queer of gay people. »
During our discussion, Mickaël ended up confiding that he still owns a group today called 'Cyberhaine': " We must be 7 or 8. I have three deputies with me (which he refuses to quote, editor's note), Flag, Stop Homophobie… ". He also claims to be the victim of harassment from accounts that denounce his actions, and to have filed three complaints against them.
Terrence, secretary general of the Stop Homophobie association, refutes any attachment to this group: " There are groups that have been created and that tag us and add us systematically, but we do not particularly support them. "On the reappropriation of the insult, he adds:" We sell tshirt with 'queer' on it, so I'm definitely not going to report it, we only report the insults. »Same story for the association Flag (which brings together LGBTI people who are police officers, the Interior Ministry or even firefighters): " We were tagged several times in the debates, but we did not take sides », Says its president Johan Cavirot.
On January 19, activist @MaximeHaes also disassociated himself from these groups in a thread. " It is OUT OF THE QUESTION that I or @Stop_Homophobia be used as an approval bond to report tweets containing the word "p * dé" if it is not vindictive or explicitly homophobic and therefore suspend LGBT + accounts ", He wrote in particular.
Me.

There is one group that systematically reports all tweets with the word "p * dé", including when it is used by LGBT + people without it having a vindictive connotation. https://t.co/q8DaS68UyM

— Max. (@MaximeHaes) January 19, 2021
Twitter moderation questioned
Fanchon, cyberactivist behind the creation of the #SEOlesbienne movement, for a fairer representation of lesbians online, confides that she herself has already been added to one of the @Cristafumar groups. But the latter are far from the only ones to indulge in reports of homophobic remarks. Above all, it is the moderation of Twitter which, at the end of the line, decides whether or not to suspend or even completely delete accounts. " I very much doubt that this is due to the reports. We are more on a beam than a single cause. I think there is still an algorithm She thinks. To be able to support her intuitions, she engages, with other members of her collective, in tests to understand this censorship of the term "dyke".
« Individual accounts were found to be more targeted than association accounts », She reports. She adds : " What is interesting is the perspective. I think Twitter is a medium and does its editorial cleaning. It is possible that there is a list of keywords, and no context analysis. »
This context, Twitter is however supposed to take it into account, if we stick to its " Hateful Conduct Policy », To which the company sent us in a very general email, without specific answers to our questions. This policy mentions in particular: " Some tweets might sound hateful out of context, but not necessarily in the conversation they were pulled from. Thus, members of a protected category can use terms generally considered insulting among themselves. When this use is consented, the intention is not inappropriate. It is therefore a means of recovering terms historically used to belittle individuals ". It is then stipulated that, in order to better understand this context, the teams of the social network contact the targeted person directly " before taking sanctions. »
In practice, however, these sanctions continue to fall without request for prior explanation, according to the numerous testimonies received. One of the most recent: that of art critic Elisabeth Lebovici. One of his tweets, posted on January 16, was also, " hidden in France due to local laws ". His subject ? "No lesbian on Facebook, no dyke on Twitter: double the penalty for activists. " Is a quote from an article by Mediapart… About the censorship of LGBTI activist accounts on Twitter.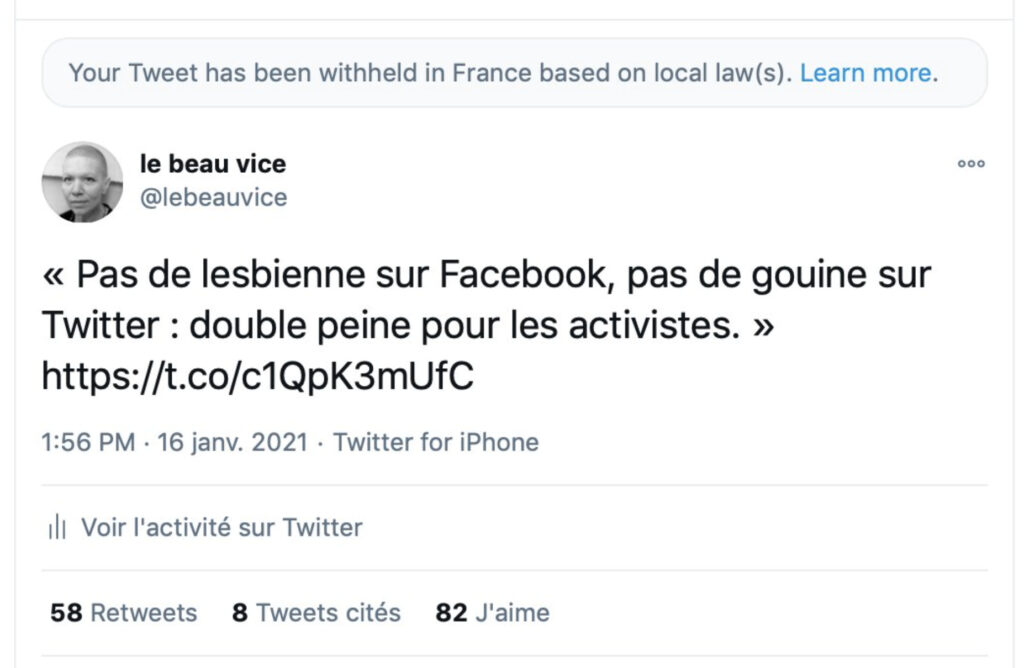 * His first name has been changed.
---
Source: Numerama by www.numerama.com.

*The article has been translated based on the content of Numerama by www.numerama.com. If there is any problem regarding the content, copyright, please leave a report below the article. We will try to process as quickly as possible to protect the rights of the author. Thank you very much!

*We just want readers to access information more quickly and easily with other multilingual content, instead of information only available in a certain language.

*We always respect the copyright of the content of the author and always include the original link of the source article.If the author disagrees, just leave the report below the article, the article will be edited or deleted at the request of the author. Thanks very much! Best regards!
---