Sponsored ads, which lead directly to attempted scams, have appeared on TikTok in recent months. A practice that is proving to be more and more common on social networks, and which shows how platforms are struggling to moderate their advertisers.
« Want a new phone? It's easy ! ". The voice is artificial, to the point of being funny: far from a Siri, or a classic voice assistant, the voice seems to come from the Google Translate application. She continues, choppy: " You can get special offers from Amazon and this social network. Become an apple phone tester, just answer a few questions and you will get a new phone ". While the voice speaks, images scroll: we can see on the screen the " unboxing "(The live opening of a product, editor's note) of a last generation iPhone. Someone removes the plastic film covering the screen, and turns it all over the place to prove to us that it is indeed a real one, and not a counterfeit.
These videos are quite common on TikTok. Numerama, over the course of several weeks, found several dozen, still very similar and using the same techniques to catch the eye of users. They highlight latest-generation tech products, iPhone 12 or PS5, enticing images, and the promise of being able to win them, for free. However, these advertisements are not real: they actually hide attempted scams.
While attempted social media scams aren't new, there are several things that are worrying about this story. First, the ads that Numerama has seen are sponsored by the platform, which means that TikTok makes money from their distribution. And second, some of these videos impersonated real brands, which the social network did not realize. What happened to make TikTok validate these videos, and why nothing was done for months?
"Win an iPhone 12, it's easy! "
On Tiktok, we see them very often: the ads have the same format as the videos posted on the platform by users. Tight editing, close-up iPhone shots, someone particularly happy to unbox, upbeat music, and voila. Apart from the very artificial voice present in some videos, the fraudulent advertisements that Numerama may have seen can very easily blend into the background and pass for simple TikTok. Several of them also collect hundreds of likes, indicating their popularity with users.
Above all, these ads can be ubiquitous: After researching the hashtag #iPhones (24.6 billion views), we came across several of these ads while spending only ten minutes on Tiktok.
1300 likes on a sponsored scam, when will it stop? @tiktok_France there is an emergency, hundreds of people must be scammed @Interieur_Gouv pic.twitter.com/QhPIJdIU8X

– 🛴 (@ ml_s91) January 8, 2021
Numerama let himself be trapped on purpose, and clicked on several of these ads, a " contest for the chance to win an iPhone 12 », Or, depending on the ads, a Playstation 5. It is then always the same story, available in several versions:
In some cases, the page on which we find ourselves looks exactly like the Amazon site, and uses the logo of the multinational.
In other cases, we have been greeted with confetti and an announcement: we have been " randomly selected "To participate in" a survey developed to improve the service to our users (sic) ", And our participation will be" rewarded ».
Comments are posted on the page extolling the merits of this initiative: several people write that they did not believe it at the beginning, but that they have indeed received their award.
Below, invariably, a countdown is displayed, which already ticks off the seconds: we have, depending on the pages, only between 4 and 1 minute to participate in this " investigation ».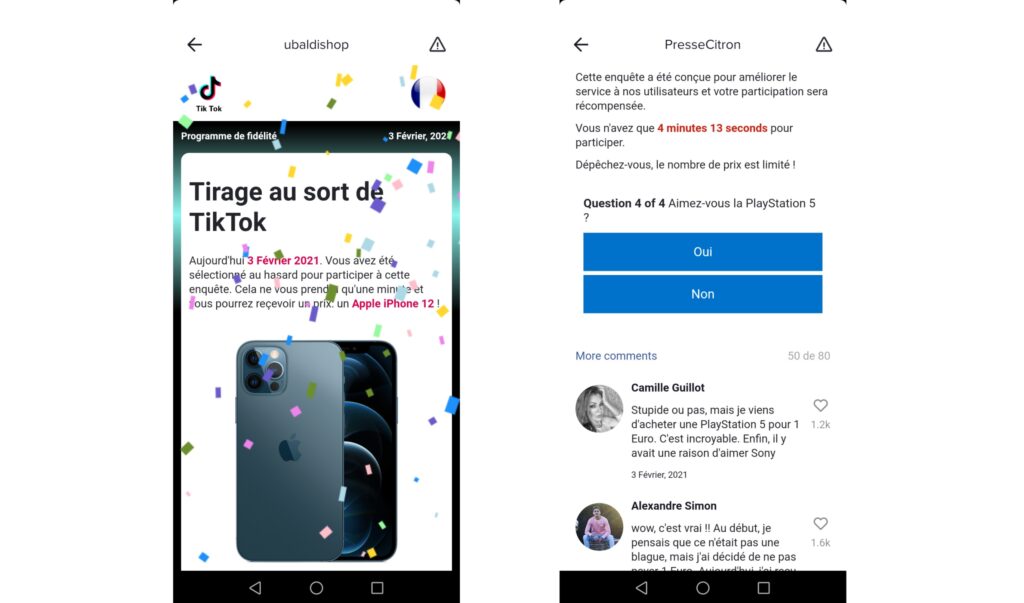 Never enter your bank card in these kinds of sites
In order to win the iPhones or PS5s in-game, we then have to answer four questions (regardless of the answers given), and an insert appears to inform us that " our answers were accepted », And that we now only have to play a game (it is a matter of clicking on the right gift package among 9 to win) in order to finally be entitled to our iPhone / PS5. As luck would have it, each time we clicked on the right one. And it is at this moment that victory seems so close that the site asks us to enter our credit card number.
Officially, it's just a matter of paying the shipping costs for our brand new PS5. The amount displayed is also never very expensive: between 1.5 and 3 euros. It is only by reading in small lines that one realizes that the site allows itself to take, in addition, nearly thirty euros every two weeks.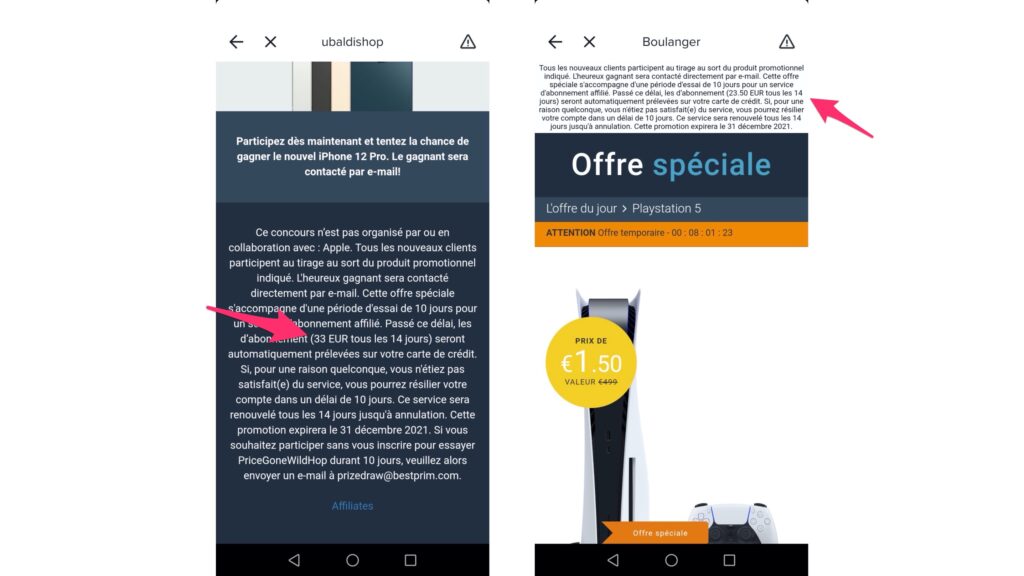 Identity theft on TikTok
Scams are not new to social media, they are very common to find. Numerama had also noted the same problem of fraudulent sponsored advertising on Instagram on several occasions, for supposed banking services and for obtaining a driver's license.
There are however several things about these fraudulent advertisements which, in particular, pose new problems: some impersonate famous people or brands.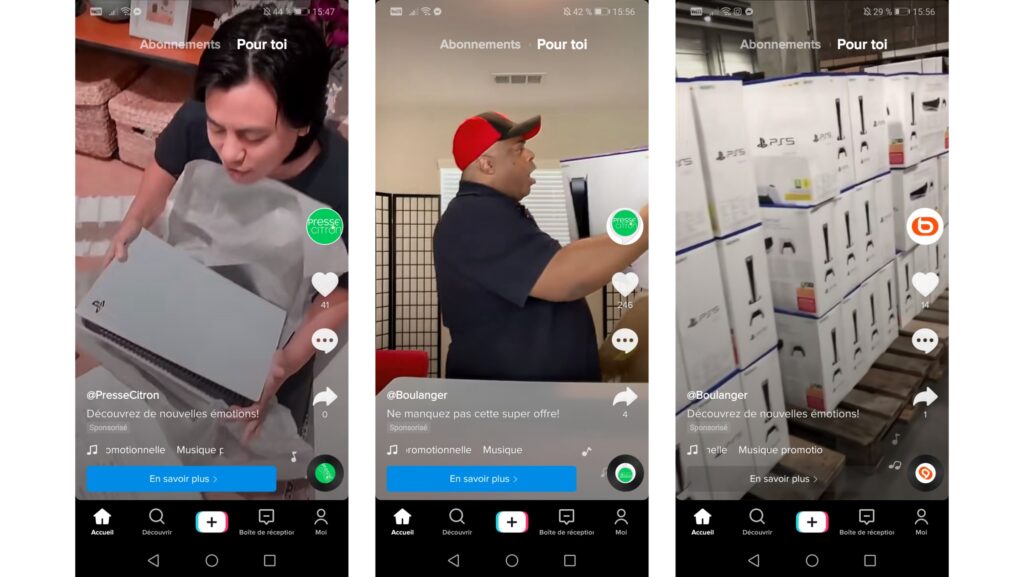 Some fraudulent advertisements that Numerama saw used the names and logos of real companies, such as the appliance chain Boulanger or the media Presse Citron. We contacted Boulanger and Presse Citron, who confirmed to us that they were not the source of these "advertisements". If the chain of household appliances was already aware, this was not the case for the teams of Presse Citron. Other videos that a Tiktok user spotted, usurped the identity of the YouTuber Seb la Frite (4.7 million subscribers), and by Decathlon. In addition to being illegal (digital identity theft is an offense punishable by one year's imprisonment and a fine of 15,000 euros), pretending to be a brand is all the more dangerous as it confers real legitimacy on advertisements.
This is all the more worrying on Tiktok, where the vast majority of users are very young, even minors. The fact that the crooks behind these ads are trying to gain the trust of users, while also pressing them with countdowns, is therefore all the more disturbing.
Barriers that are easy to overcome?
Not everyone can run ad campaigns the way they want on Tiktok. To achieve this, you need to fill out administrative forms and be accepted by the platform. Tiktok Ads is also prohibited for autoentrepreneurs.
You must be a declared company, and you must be able to prove it: the platform asks to enter the identification number in the trade register (RCS number) and the VAT registration number, numbers obtained after official requests from of several organizations. Tiktok will only accept new advertisers once this information is specified. The verification seems to be done manually by the platform.

Even so, it is evident that the protective measures taken by Tiktok are not sufficient to protect its users from fraudulent advertising, nor to protect companies from identity theft. How, despite the checks, could this have happened? A first hypothesis would be that advertisers use the name of a company to be accepted by the platform before publishing their ads under the name of other companies. This would also mean that once a company is accepted on the platform, there is little or no moderation on the advertising videos.
The second option would be for the crooks to trick Tiktok's surveillance by using RCS numbers that are not theirs. These numbers are indeed indicated on the Kbis of companies, documents which are publicly available and very simply. However, it is much more difficult to usurp a VAT registration number: " There is no European database to find the VAT number of a company from its name or corporate name. », Is it explained on the Public Service website.
Regardless of the method used by scammers, they have repeatedly managed to bypass the protections put in place by Tiktok. Asked by Numerama, the social network simply reminded us that " advertisers must also comply with all TikTok community rules and terms of service », And that the videos which do not respect the rules are deleted. " These rules [sont appliquées] proactively, using both technology and human moderation, even before any content is reported to us. »
Tiktok cleaned up
The accounts impersonating Presse Citron and Boulanger have since been deleted, Tiktok assured us, which we have been able to verify. It seems that the platform has also cracked down on the other accounts: for several days, they seem to have disappeared from Tiktok. While this change is welcome, you have to remain vigilant, however, as new scam attempts always appear.
Tiktok also informed us that they have deleted " over 100 million videos in the first half of 2020 »Thanks to its moderation tools. The social network did not specify how many of these were advertising videos from advertisers accepted on the platform. Tiktok also did not add whether new measures would be put in place to better moderate the videos posted by advertisers.
Above all, the platform took several months to react, despite user reports. The slowness of their reaction also shows that in the end, regardless of the number of users and the popularity, all social networks suffer from the same problem and must answer the same question: how to better moderate content?
---
Source: Numerama by www.numerama.com.

*The article has been translated based on the content of Numerama by www.numerama.com. If there is any problem regarding the content, copyright, please leave a report below the article. We will try to process as quickly as possible to protect the rights of the author. Thank you very much!

*We just want readers to access information more quickly and easily with other multilingual content, instead of information only available in a certain language.

*We always respect the copyright of the content of the author and always include the original link of the source article.If the author disagrees, just leave the report below the article, the article will be edited or deleted at the request of the author. Thanks very much! Best regards!
---