If Estonians may have had the impression that Nordea no longer operates on the Estonian market, it actually does and very successfully! Almost a thousand people work in the Estonian organization of the largest banking group in the Nordic countries. Nordic customers are served in two major areas – preventing financial crime and providing everyday banking support services. In addition, Nordea Eesti's offices in Ülemiste City provide various financial specialists and classic support services such as personnel management, accounting, creating a good working environment and IT.
Operations have continued here for more than 20 years, and in the light of the current active labor market, it is interesting to note that people at Nordea are happy to work for a long time. Cases where there is a part of the company that has been around for twenty years are not rare. There are several reasons for this, including, for example, a supportive work environment and the opportunity to develop in the direction that someone is currently interested in.
Estonian HR manager Jaana Pedras and transaction monitoring development team leader Marit Mardi are both excellent examples here. The years keep flying by, but Nordea still offers exciting jobs and activities. According to Pedras, Mart's example is one of the best to point out.
"In my opinion, Marit's career path is the truest and best proof of what we promise to our people and also to new joiners – when you come to Nordea and stay with us, you can grow professionally and develop in the direction that interests you," explains Pedras. "You can come and start as a specialist or manager. At the same time, you can develop continuously in both directions later on."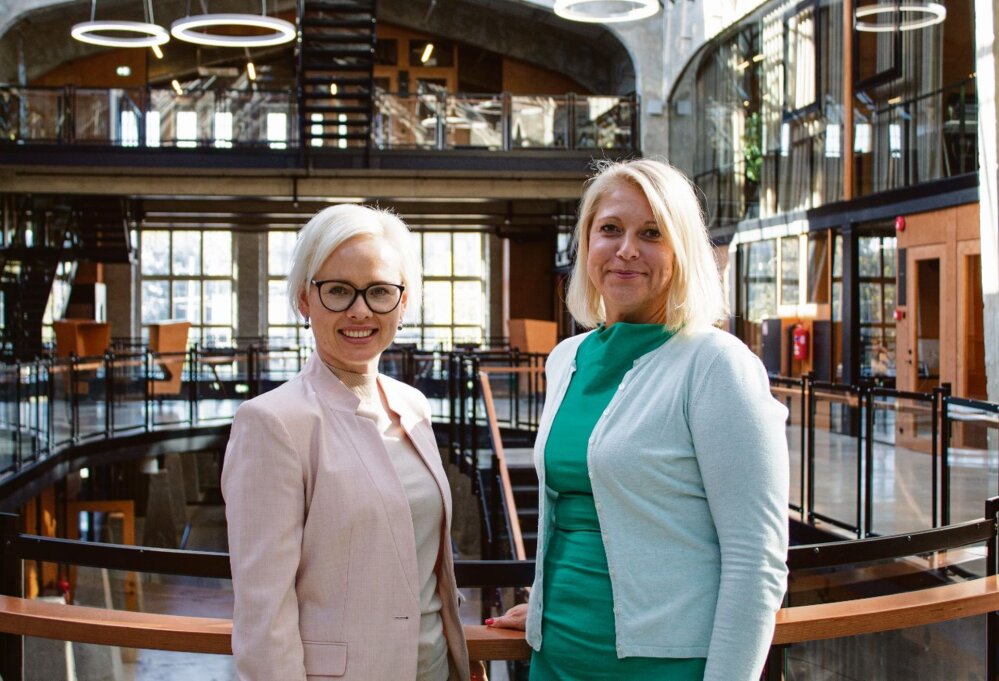 In the picture (from the left) Jaana Pedras, HR manager of Nordea Estonia, and Marit Mardi, head of the transaction monitoring development team. Photo: Kadrin Kahu
Nordea has almost 28,000 employees in the group and is very closely connected with the Nordic countries, which means that the company is large and international and there are many opportunities to do interesting work. "It is very clearly our focus that a person does not have to leave Nordea if he wants to work in banking. If he feels that there are no more challenges for him in the role of manager or specialist, he can move on to the next career path," Pedras gives an example.
"You can move on to take on more responsibility, but you can also start in a completely new field and start developing as a specialist there. Continuous development is what we can certainly promise, and this also means that the work is always exciting. There is always something new happening, something changing. Our work is definitely meaningful and valuable," affirms Jaana Pedras.
"True!" Marit agrees with Mart's colleague and reveals his background. "I have been at Nordea for 20 years. At one time, I started with Estonian sales work on the side of the office network, I was a loan consultant, I dealt with private clients. Many people have found homes with my help and are now making their own way there," the woman rejoices. "In addition, I have been the head of the office, the product manager of various products and the development manager of the customer segment."
Later, Mardi moved towards IT development and was employed in the Nordic countries. "I became the owner of Nordea Bank's customer management system, which is one of the bank's applications with the largest number of users. Three and a half years ago, I rejoined the Nordea Estonian organization and the team in the field of financial crime prevention, where I am now."
Also in the current team, Marit Mardi is now acting in her third role, so she has really had a lot of jobs in the same company. "Our goal is to be a good, safe and reliable partner for the client. We perform all activities on behalf of our clients. Also on the financial crime prevention side, there is a desire to create confidence for our customers so that they can go about their daily lives knowing that they are somehow not associating with or accidentally collaborating with the bad guys. Those who do it knowingly, we deal with catching them," he describes his daily work.
In addition to the fact that newcomers often stay at Nordea for years, there is also an interesting wave of returnees going on at the moment. In some cases, they are away for a few years, in others, they realize in a few months that the grass of another organization is not greener. Jaana Pedras herself is a good example of this. "After a four-year break, I am one of those people who joined Nordea again this year."
Our people, who in the meantime went looking for happiness and experiences elsewhere, are always expected to return, but mostly the movement is rather internal. The company is growing rapidly at the moment and this is positive in many ways. They are looking for fresh blood in their ranks as well as creating jobs that can offer new exciting development opportunities and challenges to old players.
"When I started 20 plus years ago, I left another bank a few months before with the knowledge that I never wanted to work in a bank again. It didn't take long, 2 months later I started at Nordea knowing and thinking that I can stay until I find something better. Friends and family here smile that, well, they haven't found it, right? What's there to hide – I haven't even looked for it!" the woman smiles at the gentle reminder.
Strong expertise at Nordea – prevention of financial crime
As mentioned, Marit Mardi and her capable team work every day to prevent financial crime and thereby create a safer and more secure environment for Nordea's customers. In turn, the field is divided into several major directions – the field of "know your customer", detection of financial fraud, sanctions and monitoring of transactions. The last of them is the domain of Mart and basically means that all transactions in various forms that are made in banks go through the monitoring systems.
The exact criteria cannot be revealed very much, as it is a really sensitive area, but the key word that they are trying to track down is, according to Mart, any unusual behavior. Attempts are made to catch different patterns and behaviors to know what should be investigated further.
"There is a lot of analytics in this process. It takes a lot of good and smart people to come up with different controls and then make them work in such a way that suspicious transactions remain on the screen," Mardi describes. "It is important that the daily life of our customers is not disrupted. We only deal with the investigation of those transactions that have something suspicious in them."
"Financial crime transactions may not be in the millions or billions," he adds. "These are often simple transactions, not with arms suppliers or traders, or payments to terrorist organizations. The challenge is that the bad guys are always trying to stay several steps ahead, which means that we at financial companies have to be significantly smarter than them. Better checks must be made to catch these suspicious transactions and not let them take place."
It's hard to find a good employee
As you can tell, the work is extremely exciting. At the same time, not everyone can handle it, and so the HR department of Nordea struggles every day to find good performers in its teams. Currently, when the job market is active and there is a lot of movement, this is not an easy task for any company.
"Yes, our challenges are quite similar to many other companies that are looking for employees today," says HR manager Jaana Pedras. "There are many nice companies and few people in Estonia, and the labor market is very active. In addition, young people are moving around a lot."
According to the personnel manager of Nordea, the Scandinavian work culture is the basis of everything. "In other words, a culture and an organization that really cares and considers its people. People's well-being and opportunities for development are crucial. And making a good result is equally important. People are our culture, without them we would do nothing. Everyone who wants to work for us is welcome at Nordea!"
In six years, we have reached a thousand employees, the growth has been consistent. More than 40 nationalities are represented in Nordea Estonia and the work environment is really exciting! "Our recruiters are always busy and communicating with new candidates. We are still looking for people to join the field of financial crime prevention. We have continued growth plans there," says Jaana Pedras.
In the same way, the field of banking services support units and the finance department are waiting for new people. There are really many positions. If you are interested, you can find it on the Nordea website
www.nordea.com
more information.
To use My Business Day log in or to fifty.
---
Source: https://www.aripaev.ee/ by www.aripaev.ee.

*The article has been translated based on the content of https://www.aripaev.ee/ by www.aripaev.ee. If there is any problem regarding the content, copyright, please leave a report below the article. We will try to process as quickly as possible to protect the rights of the author. Thank you very much!

*We just want readers to access information more quickly and easily with other multilingual content, instead of information only available in a certain language.

*We always respect the copyright of the content of the author and always include the original link of the source article.If the author disagrees, just leave the report below the article, the article will be edited or deleted at the request of the author. Thanks very much! Best regards!
---