When the XC40 was launched as a pure electric car, it was a paradigm shift for Volvo. The manufacturer had this year struggled to get started and in 2019 the step was finally taken into the electric car segment.
But it was with a little hope of technology. The driveline had been bought in from various sources, which was already known to be a temporary solution. Or as former development manager Henrik Green put it to Ny Teknik:
– The forecast three or four years ago was that you could buy an "off the shelf" solution, but 1.5-2 years ago we came to the conclusion that the electric machine is a key factor in the electric car.
In 2023, we have reached the breaking point when Volvo finally comes with its own electric machines, and in addition to those that take place in the new flagship EX90, they have also replaced the Siemens Valeo units that are in the XC40/C40.
So do they make a big difference? Ny Teknik went to Gothenburg to find out.
Design

With the 2024 model year coming after the summer, there are no major changes to the XC40 and C40 from before. The few cosmetic differences consist of two new exterior colors and a new rim option.
Having said that, the strengths of the cars are maintained with a clear Volvo design and fine quality in the interior. Personally, I think the wool upholstery that the manufacturer uses is an impressively fine balance between feeling premium and fresh.
What feels subdued is the screen. Both the size and the way it is incorporated into the dashboard feel "last generation", especially if you compare it to the rotatable racks that, for example, BYD and Fisker now have in their cars.
Technique
Duel: Volvo XC40 vs BMW IX1 – which one is victorious?
So what is the technical change in this year's car compared to before? Yes, it is completely in the drivetrain. Both models are offered in three versions: rear-wheel drive with a small battery, rear-wheel drive with a large battery and four-wheel drive with a large battery.
Both rear-wheel drive models use a new engine developed by Volvo themselves that offers 175 kW or the equivalent of 238 horsepower. The battery options are 69 or 82 kWh, which in the former case is enough for 461 km (XC40) 477 km (C40).
With a little more energy on board, the range figures are rewritten to 573 km (XC40) and 581 km (C40) respectively, and in these cases the electric motor has also received a power boost to 185 kW.
In the top variant with dual engines, a unit from Chinese Hasco Automotive has been picked up, which sorts into the SAIC group. The power in this AWD variant is the same 300 kW/408 horsepower as before, but now they have re-distributed how these are picked out with greater emphasis on the rear engine getting to work.
What is also new is that the large battery has received new cell chemistry, which should provide better fast charging capacity of 205 kW at the most.
– The reason why we ended up at around 200 kW is due to the charging standard we have in Europe. At 400 V with 500 A it becomes 200 kW – then there are no major gains to aim higher, says Klas Olsson, from Volvo's battery development department, to Ny Teknik.
However, not everyone gets this. Those who buy the entry-level variant have to make do with "the old" where the maximum charging power is only 135 kW. However, both variants have been optimized to provide the best range, as well as consistent calculation of how far you can drive.
– We have put a lot of focus on software control and in our own systems we can therefore predict energy content well. Paired with the data we get from Google, we can give a very precise estimate of reach. And this, getting one percent more out with software is very much cheaper than having to push in one percent more batteries, says Klas Olsson.
On the road
There is a lot of talk about what improvements the shift in the drive has brought – but how is it in reality?
We start the drive by jumping behind the wheel of a twin-engine XC40. And it must be said that I experience a "Pepsi challenge feeling". Is it a difference I feel, or am I imagining that the new year model feels different just because I know it's new engines?
Regardless, the 300 kW is more than enough to make the XC40 a really lively crab. The effect is almost too much and the car feels really snappy and sharp – even though it is a small crossover. Just like when I drove the model for the first time three years ago – I am struck by its competence in a wide register.
But is it really that different from before? At lunch I put the question to Håkan Lennström at Volvo's engine development department.
– If we've done our job well, you shouldn't feel the difference, is his answer to the direct question about what, in terms of experience, differs between last year's car and the new dual-engine version.
After lunch we take a seat in a C40, and this time it's only Volvo power under the hood (actually it's under the trunk floor) – and then rear-wheel drive.
And here you feel the differences quite immediately. The weight and power distribution is noticeable in the form of better grip and the torque has also been significantly increased from before.
Not having a drive on the steering shaft means that the steering is not affected despite vicious full throttle thrusts.
But after driving with the dual-motor model – it feels easier, a little tired. There is a big difference in the willingness to accelerate and the power, not least in the important "overtaking register" 80-110 km/h. Something that we also experienced was that the engine "squealed" badly at low load when driving. A bit like when you can't bear to downshift in a petrol car and the engine almost dies.
Then the consumption has landed at 1.7 kWh/mile – despite a lot of idiot driving and the motorway.

Apart from this, the car is otherwise extremely pleasant to drive. Volvo has clearly stated that it should not be the sporty alternative, but the confidence-inspiring and safe one. Which you deliver on.
If you have to say something, it is that it has a slightly sportier feel when you steer into the curves and that this is also maintained during the turn when you push out more and keep the grip better.
One thing that differs from before is that the manufacturer has changed its suspension and damping settings. The former have been made softer and the latter are somewhat firmer than before. The result is a somewhat more comfortable normal gait, but without it being wobbly or losing the feeling of control.
After touring Gothenburg, we return to Volvo-land. Then the consumption has landed at 1.7 kWh/mile – despite a lot of idiot driving and the motorway. Today's drive was perhaps too short to give a fair picture of what the powertrain performs – but it can give an indication of what to expect.
Summarized
Volvo's 40 line was already really sharp before the update. With new engines and a longer range, the manufacturer further polishes the attractiveness of the models. What has been abret has been in the price.
Initially, this can be avoided as Volvo has chosen to have a special offer at launch. An XC40 with the small battery and rear-wheel drive has a list price of SEK 581,000… but the "right now price" for a special edition with a large battery and RWD costs only SEK 559,900. It's money that makes Kia's Niro EV seem overpriced.
Fact
Volvo XC40 Recharge Twin Motor Extended Range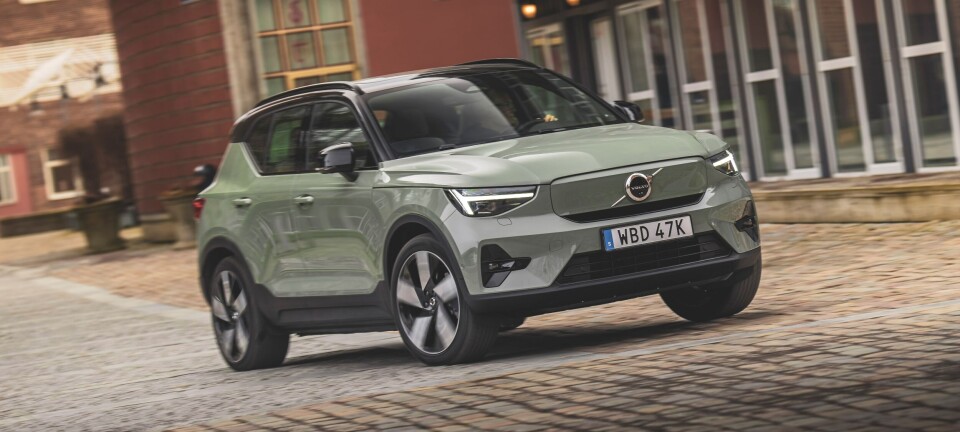 Taken: from SEK 715,900
Driveline: Dual electric motors, one per axle
Max power electric motor: 110 kW / 150 horsepower (front) + 190 kW / 258 horsepower rear
System effect: 300 kW / 408 horsepower Max torque: 620 Nm
Acceleration: 0-100 km/h: 4.3 seconds
Top speed: 180 km/h
Battery Capacity: 82 kWh
Fast charging capacity: 205 kW
Range of electricity: 573 km
Official consumption: Not official Consumption under test: 2.0 kWh/mile
Annual tax: 360 kr
Luggage compartment: 414 liters + 31 liters of fruit
Max trailer weight: 1 500 kg
Fact
Volvo C40 Recharge Single Motor Extended Range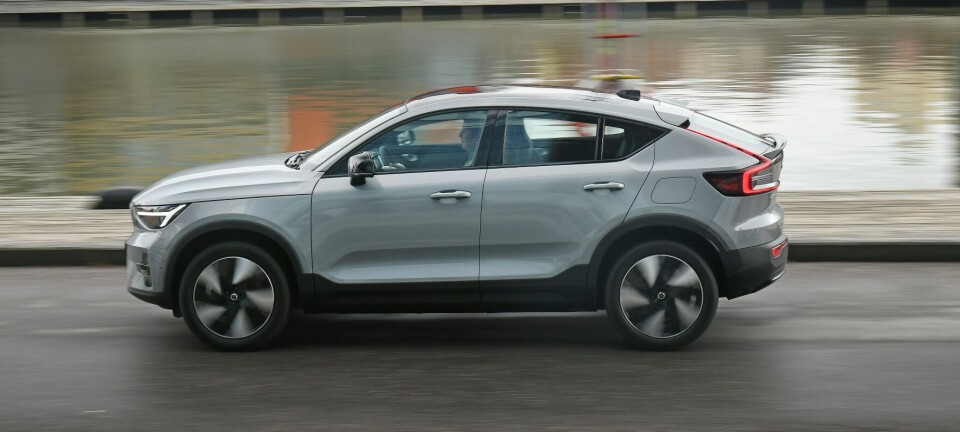 Taken: from SEK 559,900
Driveline: Electric motor, rear wheel drive
Max power electric motor: 185 kW /252 horsepower
Max torque: 420 Nm
Acceleration 0-100 km/h: 7.3 seconds
Top speed: 180 km/h
Battery Capacity: 82 kWh
Fast charging capacity: 205 kW
Range of electricity: 581 km
Official consumption: Not official
Consumption during test: 1.7 kWh/mile
Annual tax: 360 kr
Luggage compartment: 413 liter + frunk 31 liter
Max trailer weight: 1 500 kg
Read more test drives from Ny Teknik
---
Source: Ny Teknik – nyheter inom teknik och innovation by www.nyteknik.se.

*The article has been translated based on the content of Ny Teknik – nyheter inom teknik och innovation by www.nyteknik.se. If there is any problem regarding the content, copyright, please leave a report below the article. We will try to process as quickly as possible to protect the rights of the author. Thank you very much!

*We just want readers to access information more quickly and easily with other multilingual content, instead of information only available in a certain language.

*We always respect the copyright of the content of the author and always include the original link of the source article.If the author disagrees, just leave the report below the article, the article will be edited or deleted at the request of the author. Thanks very much! Best regards!
---