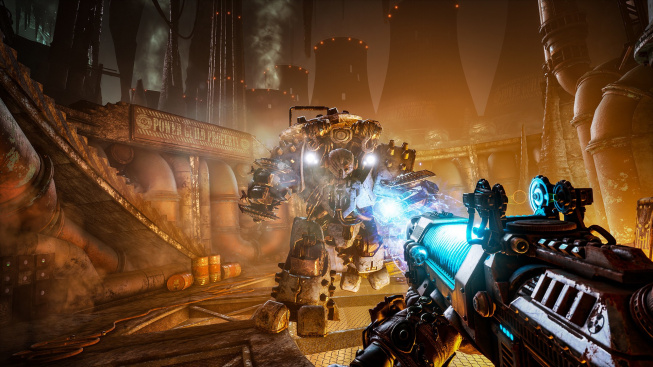 The 41st millennium is written, and humanity rules the stars, or at least tries to do so. But you do nothing. You are a zamindraked mercenary with a dark past on the planet Necromunda, accompanied by his faithful mastiff and many bionic limbs or implants. Thus begins the frenetic first-person shooter Necromunda: Hired Gun from the French studio Streum On, which once again visited the dark world of Warhammer 40,000.
Dancing with bangs
I do not use the word "frenetic" in vain. Double jumps, dodges and slides, running on the wall or even a shooting hook will make you an unloaded dancer on the battlefield, who can reach his weakened opponents at close range with a knife or a pistol. Although it is often very busy on the dance floor and you will sail through all sorts of explosions, electric shocks and dogs, this combat confusion is the most important component of the atmosphere that the game constantly pumps into you.
A generous collection of various weapons and their individual improvements contribute to the general chaos. You will find everything from pistols, light submachine guns, grenades, shotguns, assault rifles, snipers, energy weapons to weapons of heavier calibers. You will be able to adjust all this arsenal to your image, whether it is a color design or an exchange of optics.
It's a little weird with such weapon throws, but the pistol you get as your first weapon will inevitably stay with you until the end. It is an integral part of opening locked chests or skulls of enemies during takedowns. And if you take a slightly larger "macho bag", you will have a covered view when recharging with a detailed view of the magazine shift. Problems from life.
Of course, your death dance also includes improving implants along with passive and active abilities to help you eradicate enemies even more effectively. Do you want to slow down time so that you can go around the annoying giants and send sharp greetings up close to them? Possible! Are you waiting too long for the shields to be restored? Pay and don't wait! Do you want to jump more effectively? Not a problem! Do enemies with shields turn you on? Give your launch hook a little love and you can use it to pull any protective equipment out of your hands!
In addition to a plethora of weapons and abilities, you also have a dog at your disposal, which helps you find hiding enemies or suffocate random passers-by. Like yourself, you can improve the mastiff with various implants and bionic improvements, so that a cute hairy man can become a scary metal tearer in a moment. However, it will not change anything for you, and you will be able to cuddle with him at any time between missions.
Combining all of these aspects, which you will get to within the first few hours, the gameplay may seem a little repetitive at the end of the game. But the movement and shooting itself are so much fun that you'll be looking forward to every "kill everyone in this room" task.
Head to the hive
Players who come to Necromunda: Hired Gun not kissed by the dirty and harsh world of Warhammer 40,000 will be at least very confused by the story from the beginning of the game. The introductory video will explain to you what the Necromunda is, that there is dirt everywhere and everywhere he fights. But that's all. The game wastes no time introducing races or factions, throws headings and names headlong at you, and you just stare without being able to appreciate the legendary Necromunda characters.
Above all, don't be afraid of the remnants of human torsos connected to computers that seem to breathe and perceive. And in the first minutes of the game, will you give them an unscrupulously fist into the head funnel without scruples? At first glance, the game "Forty" Warhammer is not so reminiscent, but the second aesthetic with a pile of skulls and pure despair accompanying the distant future will catch your eye on the second one.
Your base will be the settlement of Martyr's End, where you will hang out at the bar like a mercenary between the missions, listen to gossip, buy new weapons or let yourself be poked around while improving your implants. For toys, there is also a gladiator, where you can try newly acquired (and loaded) weapons and abilities that you brought from missions or from local merchants.
There is also an old well-known funnel master with screens, which offers not only the opportunity to repeat story missions, but also has side missions on offer. Thanks to them, you can get additional equipment, currency and new experiences with stabbing enemies in the head. However, by skipping them, you will not lose anything fundamental.
However, the initial confusion of ignorance of the story background quickly subsides and after a few missions you begin to orientate which enemies are which. It doesn't matter if they are mastiffs, Eschers, Orlocks or giants tossing lightning. The main thing is how to cut them as quickly as possible, twitch between the ribs or pierce their skull. The story may not lift you out of your chair, but this game is not about heartbreaking storytelling, but about quality action.
A comparison with modern Doom parts is offered, but in reality it is not so out of place. Not only was the game developed by a smaller team, but the creators took an emotional step aside. Although the Hired Gun's list of mechanics really resembles a reborn icon of shooters, the feeling of the battle is different. Faster. More frantic. Dirtier. Bestial.
Music you want
Even with music, evil linguists can claim to be inspired by the new Dooms. It's quite possible, but then every game with a metal soundtrack would have to wear a "Made in Doom" sticker. In Necromunda, moreover, the concept of the hard genre is much more classic.
Composer Olivier Zuccaro is not trying to make a sound revolution, but an honest soundtrack. For quieter passages, it relies on ambient surfaces or an undistorted guitar. During these action bets, he relies on established synthesizer sounds guaranteeing epicness, simple subdued guitar riffs, powerful percussions and a traditional-sounding drum set, where you don't skimp on a double pedal and where you can also come across hellish blast beats. With frantic action sequences, goosebumps are guaranteed and the appetite for cooking grows.
A shot into the brain implant
Unfortunately, even in this well-oiled murderous machine, it makes a few joints. In most cases, the user interface evokes control for the console, for example, for some reason you have to press the Escape key to confirm. Another patience test can occur when upgrading weapons or at a dealer when buying or selling. Unfortunately, even on a powerful machine, loading times remain relatively long, and textures flash here and there on you, even though they are by no means a source of light. However, these details do not fundamentally spoil the gaming experience and can leave a maximum of a few raised eyebrows.
Unlike modern Doom, to which this game is often compared, you do not play as a muscular Marine, but as a bionic shrimp, which compensates for muscle mass with its agility and agility. And that's what causes Necromunda: Hired Gun to have an even faster tempo, and sometimes when you play, you find yourself shooting in a mess of explosions somewhere and praying to hit something. Which is actually a compliment!
Despite small technical ailments, this game is an honest shooter that will pump your adrenaline to the limit values. She is helped by a brutal soundtrack, which is worth listening to on your own. The game can also be enjoyed by absolute novices in the world of Warhammer 40,000, although from the beginning they will feel that they have been thrown into too deep water.
---
Source: Games by games.tiscali.cz.

*The article has been translated based on the content of Games by games.tiscali.cz. If there is any problem regarding the content, copyright, please leave a report below the article. We will try to process as quickly as possible to protect the rights of the author. Thank you very much!

*We just want readers to access information more quickly and easily with other multilingual content, instead of information only available in a certain language.

*We always respect the copyright of the content of the author and always include the original link of the source article.If the author disagrees, just leave the report below the article, the article will be edited or deleted at the request of the author. Thanks very much! Best regards!
---