"Life is big, it fits a lot of things inside and nothing lasts forever, so let's inflate the good moments, keep them taking up space and let's fight bravely, Greek, with our feet down whatever bad happens to us."
Read the full transcript of the interview
– (Α.Σ) Welcome to another show of the Alternative Action Book for thought. My name is Athanasios Stergiou and as always, Ioanna Nassou is with me.
– (I.N) Hello and welcome to our show.
– (AS) So today we have with us the author, coach and founder of Life Clinic Group, Dr. Nancy Malerou.
– (I.N) Well, this time we will not have a book but a diary, the diary "Better done! Calendar 2022 ", which is published by Pedio.
– (AS) Nancy, welcome to our show.
– (NM) Welcome, I'm glad to be here.
– (I.N) Nancy, why and how did you choose your profession?
– (NM) At some point I found myself not having the profession I wanted because I suffered a burnout and had to restore myself. This is the cold truth, you know, I was there because I was looking to find out what my next step would be and I realized it was something very interesting. Also, in business I thought it was a good idea, I thought something that in the future will have enough people who will be interested. That was back in 2004, so I didn't fall far enough out, thank God, and I've been here ever since.
– (AS) So your motto is "Better done". Do you want to tell us briefly how this came about and what it means?
– (NM) Yes, "Better done" for me is always an encouragement that "Let's go, go Nancy, you can do better" and it is also a consolation, when things are very dark and very bad, because there are many such moments , I obviously have not solved them all. There is this phrase, he says to me "Okay, this will pass, it gets better, do not worry". So this started in 2008, when I was writing my second book called "Better done" and I was looking for a title that expresses me. And because I went through this difficult period of burnout and I always had in mind this "Re Nancy calm down, it gets better, it will go better", this is how this book title came about, which later became my motto, seminars – what I do every year non-profit, open to the world and they say "Better done" – and all this characterizes me. It always gets better.
– (I.N) Nancy, do you think that lack of money is one of the reasons that many people can not realize their dreams?
– (NM) I believe that lack of money is something that can deprive you of sleep, deprive you even of your dignity sometimes, because when you can not feed, protect or provide for the people you love, this is a big blow. So I never joke about the lack of money. But business at this time and generally in the years we live in, in the years of magic weird, I think the lack of money is not what will stop someone from starting their own business or building a new job or all that. Lack of money, I repeat, is a lack of freedom in my opinion but it is not an obstacle to go to claim this freedom or build it from scratch or do what I want.
– (Α.Σ) Very nice. Nancy, you have been in the field for many years, you have met, you have trained, you have communicated with many successful people. So from this path if you would like to share with viewers 3 characteristics of people who really succeed, what would they be?
– (NM) The one – perhaps the most basic for me – is patience and perseverance, that whatever the other persists and persists and persists. This is one, the second is action, because you know, they say that information is wealth. Information is nothing if you do not implement it. So knowledge in application is action, so the second I would say is action. And the third is for me to know what they want. To see something that can change on the way so that this goal can be mutated, but still there is, there is always a beacon that leads us and you say I want to go over there: I want to have this, I want to be like that. These are the three I would say.
– (AS) To ask, what happens to this nama and this race, it has become a disaster…
– (Ν.Μ) Αγαπώ nama! I started in the first pandemic and I said that because I suddenly felt lonely, because I suddenly lost my turnover from all the corporate and live parts we did and so on so I found myself in the miserable place where too many people were, I went out and I promised the world that I would do a live every day. Obviously I thought the lockdown would last a week, I had not seen it go for so long. It started because we talked every day and because it lasted so long and because I asked people to tell me where they are, how they are, and I saw, and suddenly I know people – I have not seen them, I have not met them – but I know that there are Maria who is in Larissa, George who is in Austria and does this, John who is in Canada and does the other. Suddenly this became a great company and when we started to get involved in this and the business part, our jobs, to talk about them, to talk, I did a live. I have adopted it now, we do it twice a year, it is the "Best done in your business" and it is 10 days free to build businesses and help people. And suddenly this was more than a one-way communication. It became a company and it became this race. I really liked it, I said we are made the same wherever we are, in any part of the world, we want the same things, we have this energy to claim and it came to me at some point and I say look, we are a whole race over here. And the race started, the race, the race, and at some point I say guys tell me how to say this race and someone wrote me a letter. So the nama started like this, with the intention of being Nancy Malerou. Then my partner is called Malou, so she became Nancy – Malou, and she is in Health Coaching. All this thing grew, Malou's friends and my friends came in. I also love nama very much. As you know I like to speak English, I speak English to my child, so I was looking to find out what nama means in English. And the Greek mother says to me: "My child, have you opened a Greek dictionary in your life? The nama is very nice, it means the water that gushes from a spring ". And that came and sat us with Malou in our hearts and we say look and see, this is how things are, this whole race, to flow, the water to come out so clean, to go to new places. And this is the nama.
– (Α.Σ) Wonderful, very nice placement but also the story behind this nama. Nancy, tell us a little about this new calendar "Better done 2022". Who is it for, where can it help and what does it contain.
– (NM) You see me doing this because I decided in 2021 to travel and because in 2020 I could not and I had booked to go to Africa, so it was all African motif. So now, because this year does not seem to me to be very easy, that is, in 2022 I do not anticipate it to be a picnic, I decided that on the one hand I would like to inspire people and on the other hand to start, to travel in their minds. What I can tell you about what this diary will be like is that it starts and I have thought about it on one of my dad's favorite songs, which is a song by Kostas Hatzis: from the plane when you look down it looks like the earth with painting – I do not know if you know, you are younger, for that – but it is a fantastic song. I started from there and said that really if we all nama, and not only nama can, go up and take a step behind our problems and see the big picture, see what is good or see a perspective wider that can give us solutions, that is what I would like to do. And this is done in a way because it is all summer I have to say, because this year we have had a difficult year and the next one will be difficult. Summer, we will look at it and say wow, but we will look at it from above. The idea is to motivate people with all the material they have inside to see things from a little further away, to take distance and put the good things they have in their lives and to see them and find others. solutions.
– (I.N) So Nancy, let me add, what prompted you to write a diary instead of a book? Maybe this immediacy that I see you want to have with the world.
– (NM) Sure, you are very right. I love books, my new book will be out in 2022, but calendars are something you have in front of you, you flip through them. You will take the book, read it, put it on its shelf or leave it to read the rest afterwards. But life happens every day. The diary is that this phrase that you will see at that moment can say "Yes, oh, somehow I can take it differently. "Today, one day a day, one day a day." I like this very much in the diary and that is why I have been publishing it for so many years now. It is also what you say, that it is the effect you have in so many homes, in so many offices which is like Instagram for me, you know, you put a phrase on Instagram and they say to me "Wow I needed to hear that today "," Wow, as if you read my mind ", which obviously I have not done any of these. But it comes and gets stuck in some human emotion. The same goes for the diary. I want someone to see it and say "Ah yes oh, he wrote this for me today".
– (Α.Σ) Very beautiful. Nancy, one last question before we close. Surely in your life, as in all of us, there would have been a point where there were some great difficulties and through them you were able to slowly reach this "Better done". So in closing would you like to share a message with the whole world so that it can reach this "Better done"?
– (NM) Yes, I will start with a correction, I did not pass a turning point, I have passed many turning points and the game for me is this, that this is life. It 's up and it' s down and "Better done" is not a limitation that you reach and say "I've arrived nicely and I'll sit down to rest now, bring me a pina colada". No, it's the way you take it every day and the intention is to wake up and say "It's getting better". And if it does not suit you, you will say at night "It does not matter, it will pass, it gets better". So the message for me is always "keep going". Life is big, it fits a lot of things inside and nothing lasts forever, so let's inflate the good moments, keep them taking up space and let's fight bravely, Greek, with our feet down whatever bad comes our way.
– (Α.Σ) Perfect. So thank you very much Nancy, we were glad you were close.
– (I.N) Thank you very much.
– (NM) Thank you very much, be well.
– (Ι.Ν) Well, we can find Nancy Malerou's diary "Better gets 2022" from Pedio publications in all bookstores.
– (AS) Ioanna thank you, thank you very much and all of you who were with us, we will see you next week in a next Book for thought. Until then, be well and remember that "Better done".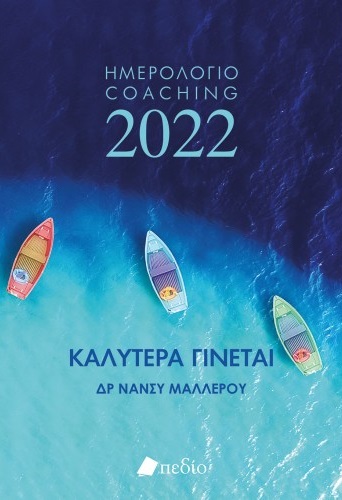 ---
Source: Εναλλακτική Δράση by enallaktikidrasi.com.

*The article has been translated based on the content of Εναλλακτική Δράση by enallaktikidrasi.com. If there is any problem regarding the content, copyright, please leave a report below the article. We will try to process as quickly as possible to protect the rights of the author. Thank you very much!

*We just want readers to access information more quickly and easily with other multilingual content, instead of information only available in a certain language.

*We always respect the copyright of the content of the author and always include the original link of the source article.If the author disagrees, just leave the report below the article, the article will be edited or deleted at the request of the author. Thanks very much! Best regards!
---