"Conversations about failure", "Emotions and Feelings" or "How well we know each other in the family" are three of the games that Alex Zamfir he created them and put them in a virtual store, under the umbrella of a brand created in a pandemic. It is said that not only the challenges appear in the crisis, but also the best beginnings, and THE FUNNY BRAND is an online start-up just right to confirm this word of spirit.
We know Alex best from social media, where he is The Best Father and has been writing with humor and meaning for many years, it was somewhat natural for a new direction in entrepreneurship to be necessarily linked to words, joy and personal branding. But the games he produced are also the best excuses to start interesting discussions with family or friends.
As a target, I addressed mainly the commercial one, ie 20-50, with medium and high incomes. I interact with them the most, you can find them the easiest online, so it seemed normal for me to address them, whether they are parents or not.
We talk more about THE FUNNY BRAND and about online with Alex Zamfir.
Bio in short
After graduating from ASE, I got into advertising, where I worked for about 16 years, first as an employee at Tempo and Leo Burnett and then as an associate in AdVenture, which later became Funvertising.
In 2014 I started writing on the celmaibuntata.ro blog about my parenting adventures, and then in 2017, I became a "professional" blogger / vlogger, in the sense that this became the main income-generating occupation.
I had a radio show on Itsy Bitsy, I put out a book – "Best Dad" -, I did a podcast – "15 minutes of failure" – and in the summer of 2020 I started working on THE FUNNY BRAND, for which we created some really cool games (sorry for lack of modesty) to play with family, friends, games that we launched in the fall of 2020 on thefunnybrand.com
Lessons from the path of entrepreneurship
That no one will ever be able to believe in you and your ideas as you can. NO ONE.
That it is very important to think a lot about a project, whatever it may be, and only then to launch it. The Japanese say that a project is 90% preparation and 10% implementation. I found this to be very true.
That when you do something very, very cool, chances are that people like it, but they may not like it either. But when you do something that you know is "so and so", people will certainly not like it.
That it is very important to ask for help and it is just as important to know how to receive help. And that often people don't help you because they don't think you need their help.
That performance without work is called "bulan" and that you can have it, sure, but not always.
That you have to stop from time to time and enjoy what you have achieved.
Skills, competencies of a successful entrepreneur
Courage, madness, stubbornness, the ability (maaaaare of everything) to tolerate failure, the capacity (maaaaare of everything) not to take things personally, the ability (maaaareare of everything) to listen to others, self-confidence next to madness, self-irony , the ability to recognize when others are better or have done better. And all of the above, in different proportions, at different times.
The strategy of mixing the personal brand with the business one
Well, when I started thinking about THE FUNNY BRAND, I thought from the beginning about creating an extension of my personal brand. I mean, word for word (roughly) I said, "What can I do to convince people who are looking for the Best Father to come (and possibly buy) on thefunnybrand.com.
Best Dad is already a mature brand, I am known for him and I identify with him. The big job now is to develop THE FUNNY BRAND and create it as an independent brand that doesn't necessarily have to do with me.
Topics you approach on social media
I really like to laugh. About me, in particular, about the situations in my life and the lives of others in general. Careful! That it is very important also in connection with what I said above, regarding not taking things personally: the fact that I laugh at you in a situation, does not mean that I laugh at you, but at the situation. Because that situation probably happened to me, and to many others. Unfortunately, however, people, everywhere in this world, take things very personally and then, many times, it is difficult to have a dialogue with them, because they feel offended and I think you have something with them.
So I talk about my life with humor (I believe and hope) and the people who follow me can relate to something like that. I laugh at myself in this situation, they laugh at me in this situation and it's here (I think) a very cool community comes out.
And there's another advantage when you're always making jokes: that when you write or say something serious, people are more careful, because they're not used to it and it's a change that makes them want to know "why the man started the one who always makes fun of being serious now? "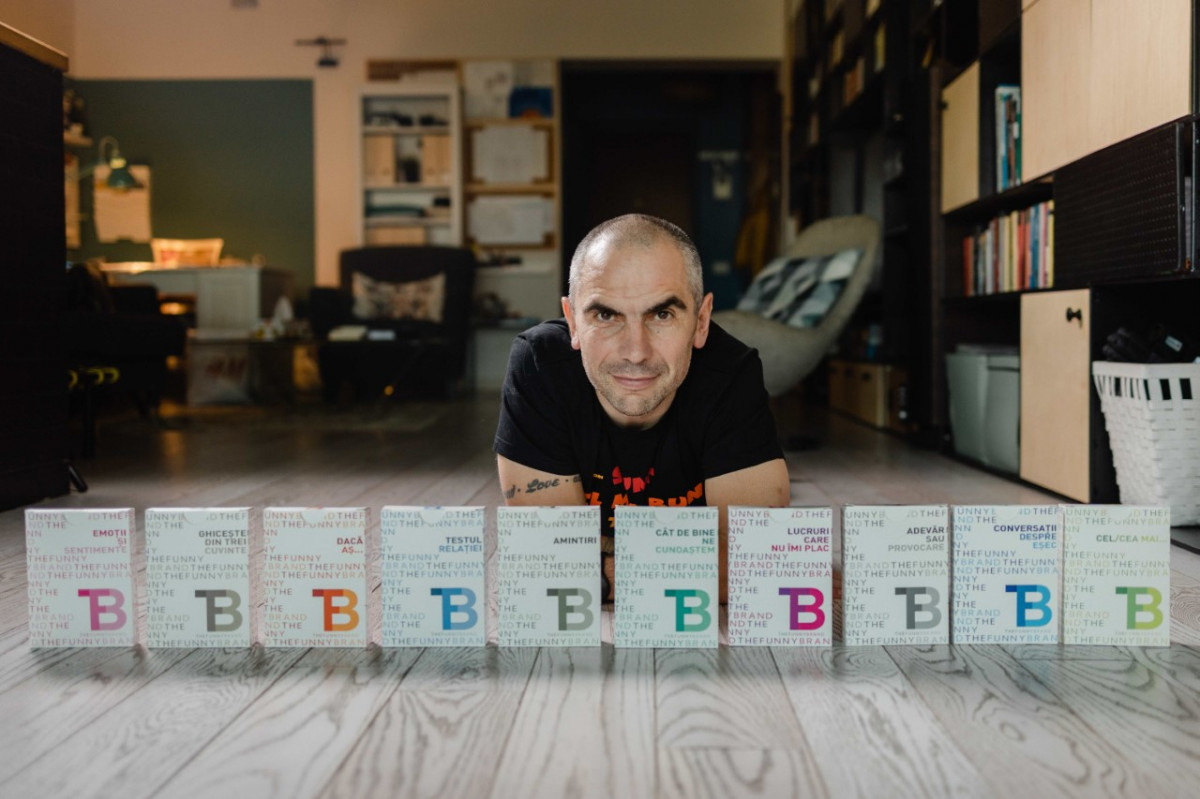 Povestea THE FUNNY BRAND
THE FUNNY BRAND started from a desire and a need. Out of the desire to try something else, feeling that I can come up with something new on the market. And out of the need to do something else to generate an income, because blogging (in my case, at least) and all the other projects generated much less money in the year of the pandemic.
The starting budget
I left with zero lei on the road, literally. I lie, I went for less, because I made some investments / I received credit for the development of the brand, for the production of games and some other expenses. Ok, I had money to buy a domain and pay for an email address, but that's about it.
In other words, everything I've built over the years as a human relationship has taken its toll now, because many people have been willing to credit me with confidence and believe that my madness will work.
That's why I said above that you have to be crazy, and believe very strongly in your idea, because no one else can do it and only you, through what you do and what you transmit, you can mobilize others to come with you.
Online promotion strategy
THE FUNNY BRAND games give you a very cool experience when you play them with family or friends. At the same time it is very difficult to tell someone who has not seen them and does not know what it is about.
So in these 2 months I discovered that people's endorsement works best, whether they are assumed influencers or just people who know other people, off or online. Once people started talking about what it was like when they played, others wanted to have something like that, so they went to the site and bought it. That is why the promotion strategy was and will be this year to work with brand endorsers / ambassadors.
The customers you target
From the beginning I had in mind that these games cost 59.9 lei, because I wanted people who could buy them, not to buy them for any other reason, apart from the price. I strongly believe in them and in their power to connect people, so I wanted them to be accessible to everyone interested.
As a target, I addressed mainly to the commercial one, ie 20-50, with medium and high incomes. I interact with them the most, you can find them the easiest online, so it seemed normal for me to address them, whether they are parents or not.
I hope that the customer's retention will be given by his experience with games. And I already had people who in two months bought the second, and the third, and the fourth and even the fifth time games on the site.
Games and their rules
I created 10 games:
"Truth or Challenge" – is for adults and you have to choose from the card either to tell a truth or to make a challenge. Classical.
"Memories" – The cards carry you through the most important memories in a person's life: from my most beautiful memory with grandparents to, I don't know, the most embarrassing memory from adolescence.
"How well we know each other in the family" – very fun to play at home or in the car, on the road, with questions about family members that will cause a lot of laughter.
"The Best…" – "The best childhood friend", "The coolest winter vacation" and so on, each card gives you the opportunity to talk about different superlatives in your life.
"Conversations about failure" – Yes, I think it's important to talk about failure, especially since we all have it. In particular, I think it's good to play this game with the kids.
"If I were…" – each card puts you in front of a hypothetical situation that you may not have thought of until now: "If I met Hitler on a deserted street, I would…", "If I had to give up on the phone or laptop for a month, I would give up… "and so on.
"Emotions and Feelings" – a game that, I think, should exist in all homes with children, schools and kindergartens in Romania. 50 cards with different feelings that children, especially, can learn and talk about with their parents and friends.
"Guess in three words" – a game for teenagers and adults in which you have to describe in three words what is written on a card, and the teammate to guess. How would you describe "Fuego" or "Ion Iliescu" in three words?
"Things I DON'T LIKE" – wow, here I had a lot of feedback from parents, who discovered a lot of things that their children don't like, because they could do that in a game. From "What family member do you dislike" to "What do you dislike?"
"Relationship Test" – very fun to play in pairs or in several couples, as written on the instruction board, it is not recommended to play it if you are arguing 🙂
In each game, the rules are simple, in the sense that those who play can all choose to answer a question or each to a card. And, in fact, what's cool and you'll discover as you play is that these cards / questions are just a pretext to start some interesting discussions on various topics. I strongly believe that people need to tell their story and feel listened to, but many do this only when we feel safe, and these games do just that: they create this "ecosystem" in which you feel safe to you tell things without fear of being judged.
Reactions of the players
The coolest reaction is that people told me that they bought the games without too many expectations, but that they had a lot of fun with them, they discovered things about their children and friends, but also about them.
And as I said, the fact that many bought several times, either to take the ones they didn't have or to give as gifts to friends, seems to me the most beautiful and best feedback I could hope for. .
2021 for you and the brand
For THE FUNNY BRAND – to go out with him in other markets, outside Romania.
For me – to be able to continue to make money from the things I like and bring joy. I think that's so important!
---
Source: IQads by www.iqads.ro.
*The article has been translated based on the content of IQads by www.iqads.ro. If there is any problem regarding the content, copyright, please leave a report below the article. We will try to process as quickly as possible to protect the rights of the author. Thank you very much!
*We just want readers to access information more quickly and easily with other multilingual content, instead of information only available in a certain language.
*We always respect the copyright of the content of the author and always include the original link of the source article.If the author disagrees, just leave the report below the article, the article will be edited or deleted at the request of the author. Thanks very much! Best regards!
---