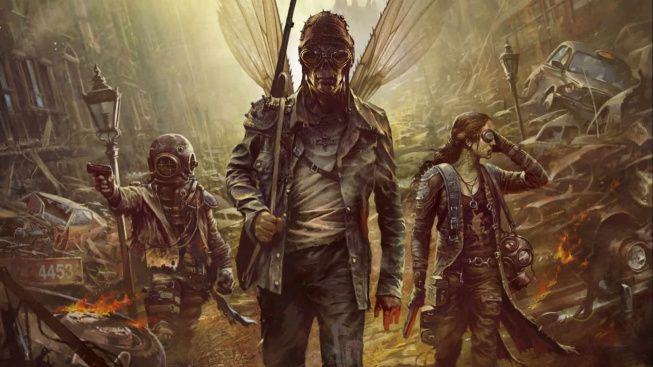 The name Mutant Year Zero will surely be familiar to many players thanks Road to Eden, XCOM's RPG, which was released on PC and console in 2018. And if you read Šárka's review, you may remember that this game didn't come out on a green field: It's an adaptation of the narrative RPG of the same name, which we'll take a closer look at today.
The Pen and paper series Mutant began publishing in 1984 and has since changed the creator, publisher and setting several times (one version was pure cyberpunk, the other even took place in space), but the video game Road to Eden is based on the last iteration released in 2014 She brought the game back to the orthodox apocalypse in its purest form.
True, unlike a video game, you won't see mutated ducks or pigs here (at least not in the base game). But even without them, Mutant Year Zero is an excellent choice if you want to play a good postapo with your friends.
Apocalypse in the classical way
I admit that Mutant Year Zero probably won't win you over with its originality. I don't want to insult the game in any way, I personally don't have the slightest problem with that, but the fact is that it will welcome you in the most classic version of the post-apocalyptic world you can imagine.
There are ruins from human civilization, rare relics from earlier everyday objects, mutated game runs through the wilderness, water is scarce, food is scarce, everything is scarce… In short, nothing you would not know from any part of the Fallout series or from Wasteland. If you like the classic approach, then don't worry, but if you want to compare Mutants with Degenesis, for example, they will come out a bit anemic (although it should be added that unlike Degenesis, you don't have to load over 1500 pages on Mutants just to understand the basic concept).
However, the traditional setting allows players to jump into the game very quickly. The characters they will play for have no idea about the world's past and the campaign can be seamlessly planted in any city that players choose. Would you like to sneak through devastated Prague, climb the half-destroyed Petrin Hill and explore the ruins of Prague Castle? Just do it! Or, if the Narrator wants to save work, he can download one from the Free League website pre-prepared metropolises.
In one respect, however, the Mutants are definitely original. While in other postapo games you are afraid of monsters, you will play for them here. Well, "monsters" may be a bit of a strong word, but as the name suggests, in Mutant Year Zero you play as, well, mutants. They may be similar to humans, but unlike them, they are short-lived, sterile, and above all endowed with all sorts of special abilities.
Some are pleasant, almost superhero dudes like telepathy or superhuman reflexes, while others come with mosquito wings, frog legs or shark jaws. Each mutation usually has several uses, usually both in and out of combat, and they are diverse and fun enough not to get bored. But if you think you can use them to build your dream supermutant, slow down. You don't choose the mutations yourself, but you throw them at random with a dice after you have the character ready.
As a result, mutations do not serve as a planned boost for a pre-prepared character, but as a curse and a blessing in one that you will inevitably have to learn to work with. Each character starts with one mutation and it is possible that in time it will come to the next, but even these will be chosen at random. You probably rarely fall into your lap, but that's what the Mutants' charm is all about: You have to make do with what you have.
The best version of Year Zero
Mutant play usually takes place in one of two realms: Either in your Home Ark, which provides you with refuge and relative security, or in the Zone, the enemy wasteland that awaits you outside. While in Arša the game usually turns to calmer playability, roleplay, building and possible politics, in Zóna you will experience the classic fight for life that you would expect from a post-apocalyptic game.
Mutants run the system on the aptly named Year Zero engine, which the Free League publisher uses for most of his games, usually with only a few cosmetic changes. One of them is, among other things, the Forbidden Countries, which I have already reviewed on Games.cz and I would probably save a lot of work if I simply copied the few paragraphs about the engine here as well. Rolling dice is extremely similar to Prohibitions in Mutants, so I simply can't avoid a direct comparison. But both games are nice proof that when two do the same thing, it's not the same.
First for the uninitiated: The Year Zero engine works on a system of dice pools. This means that when something needs to be judged by chance, you add up the number of points in the relevant property (Strength, Agility, Wits, Empathy) and the number of points in the relevant skill (which are fixed to one of the characteristics, for example Sneak k Agility, Manipulate k Empathy and so on). The resulting number will determine the number of hexagons you throw, and each six you hit is a success.
But the fun thing about the system is the mechanics Pushing the roll (or, according to the forbidden translation, Happiness testing). If you are not satisfied with the result of the throw, you can "push" it or flip it once. Maybe the six will really hit you on the second try! But if you risk it, all the fallen ones will be counted at the same time – and for each of them you will reduce the property you threw at by one point.
Because the properties are between 2 and 5 points, believe me, any such reduction will hurt you. In the Year Zero engine, the qualities replace lives, and your character commands the earth, whether it runs out of Power or Empathy. Once you have a lower Strength, you deal smaller blows; with lower Empathy, you just won't convince anyone. Each injury, whether from an opponent or from a failed bump, means less chance of surviving the next round.
To avoid despair, you will also credit one for each one you drop Mutation Pointfor which you can activate your abilities. And it all creates a great gameplay loop, in which every failure is good for something and every proper comeback you have to sweat properly first.
In the review of Prohibitions, I described the Year Zero engine as the best part of the whole game, and for Mutants this is doubly true. Thanks to it, the game keeps you on top, because no matter how well you prepare, you can never be sure that the dice will not betray you at the last minute. Sometimes it can lead to frustration when you don't get a single success on even eight dice, just when you need it the most. But you can also get out of the seemingly deadly situation thanks to luck.
All of this is true of both games, but it's important to point out that Mutants handle their engine a class better than Prohibitions, and the resulting experience is much more tuned and more fun overall. The reason why this is exactly the case consists of a lot of small design decisions and nuances, but I will try to pinpoint at least the most important.
First of all, there is simply more fun with mutations than with forbidden spells. They are not exclusive, they are ruled by all the characters, but they usually have only one and they have to figure out for themselves how to get the most out of it. It also helps that, unlike a dozen fantasy spells, most mutations are imaginative and applicable in a variety of scenarios. The same is true of talents, which were relatively lifeless in Zapovězenky and often only negated some sanctions that you otherwise had to deal with from the beginning. Mutant talents, on the other hand, are more imaginative and open up more space for strategy.
Unlike the Forbidden, there are also so-called Stunty. If you make more than one hit on any roll, you can spend the extra six on additional bonuses, something that Forbidden Countries have incomprehensibly limited to higher combat damage. Here you can apply it to any throw, and help yourself to many benefits.
Overall, it simply drains much better. The travel system is lighter and much smoother, as mentioned above Stunty they replaced a plethora of combat maneuvers that no one bothered to use in Zapovedzen anyway, there is generally less counting of all kinds of penalties and bonuses and also less throwing dice (although you will still enjoy both, enough, Year Zero is simply a skeletal engine).
Finally, you can attack your opponents with all the qualities, not just the Force and the Will. Thanks to this, social conflicts finally make sense (if you have a good negotiator, you can use your opponent's dice to crush arguments instead of fists) and it adds depth to normal fights (for example, you can take away the Dexterity of enemy shooters to attack you). In short, it's all going better, and you don't have the impression that the authors have completely forgotten about several parts of the system.
In another aspect, the Mutants rise above their fantasy cousin, and that is building the Ark. The Prohibitors also had mechanics for building their own fortresses, but they worked somewhat in number. In Mutant Year Zero they make perfect sense.
By leading the construction of the Ark, you really determine the direction of your local microcivilization expressed by four statistics: Stocks, Culture, Technology, and Warfare. Will you spend money on the construction of a new library or a slave market? Will you establish a despotic tribunal or communist collectivism? Your decision will affect not only the mechanical aspects of the game, such as the prices of different types of goods, but also where you will actually return after a challenging mission. Will it be an impregnable fortress of a religious cult? A utopian republic of the people? The police state?
Game masteři, pohov!
Of course, the books contain a Narrator section with lots of tips, advice and procedures on how to lead the game. The prepared events in the Ark and the dangerous phenomena in the Zone keep pace with the rest of the book, but what is really nice about the Mutants is how little preparation they actually require from the Narrator.
Of course, if the Narrator wants to drag his players through a pre-prepared story, there is nothing stopping him. But the whole game is designed so that the master of the game does not have to think about it much in advance. They are mainly players who, with the help of game systems, decide what will happen, where they will go and for what. The narrator's job is to make the journey interesting for them.
Here, too, I cannot avoid comparisons with Prohibitions, which pushed players to take a similar approach, but ran into one major problem: Wandering through a post-apocalyptic landscape is much easier to improvise than wandering a fantastic world with half a dozen races and cultures, nations, and factions. coherently together. In Mutants, this really works with a minimum of preparation, and if the players are in the same mood and are ready to write their own story, the game works great.
The processing of books as such also deserves a warm pat on the back – hardcover, large text, clear layout of pages and chapters and lots of stylish, colorful illustrations. It's not the most top-notch graphic design I've ever seen (City of Mist and Symbaroum are still arguing about that position), but it's definitely not a disgrace.
The basic corebook should be enough for a solid campaign, but if you like the world of Mutants, you might want one of the expansions. The Free League has published a total of three other books that can be used either as stand-alone games or as additions to a basic guide. None of them are the subject of this review, but let's keep them in order: You can get the above-mentioned mutated animals into the game using Genlab Alpha, Mechatron in turn lets you play for (or fight with) robots and final Elysium tells the story of the last refuge of the original People. In each of the books you will find new rules, new playable characters and, of course, a story campaign.
Up to the end of the world
Mutant Year Zero is probably not the most original TTRPG postapo on the market, but it's hard for me to find anything else I could blame him for. Maybe it's postapo classic, but undoubtedly high quality. It is rough but fun, it can punish and reward players, it is written with ease and without unnecessary cotton wool, it can create exciting scenarios at the table without the Narrator having to spend the previous evening with his nose buried in the manuals.
In fact, I can't imagine what more I could want from a postapo RPG. If you want to start colonizing the world with your friends after the end of the world, I will recommend Mutants to you.
---
Source: Games by games.tiscali.cz.

*The article has been translated based on the content of Games by games.tiscali.cz. If there is any problem regarding the content, copyright, please leave a report below the article. We will try to process as quickly as possible to protect the rights of the author. Thank you very much!

*We just want readers to access information more quickly and easily with other multilingual content, instead of information only available in a certain language.

*We always respect the copyright of the content of the author and always include the original link of the source article.If the author disagrees, just leave the report below the article, the article will be edited or deleted at the request of the author. Thanks very much! Best regards!
---