Suppose you wake up in the hospital after an operation with headphones on. The first thing you hear are the familiar sounds of your favorite singer-songwriter or perhaps a classical piece on the piano. That sounds a lot nicer than the beeping of a monitor. "Most patients appear to have less pain, anxiety and stress around an operation with music in their ears," says investigating doctor Ellaha Kakar of the Music as a Medicine Fund (MAM), a research group of the Erasmus MC. Not only is listening to music in the hospital pleasant for the patients, they also appear to have less need for painkillers after a procedure. And that's great, because unlike traditional pain medication, music has no nasty side effects and listening to it isn't addictive.
Looking for proof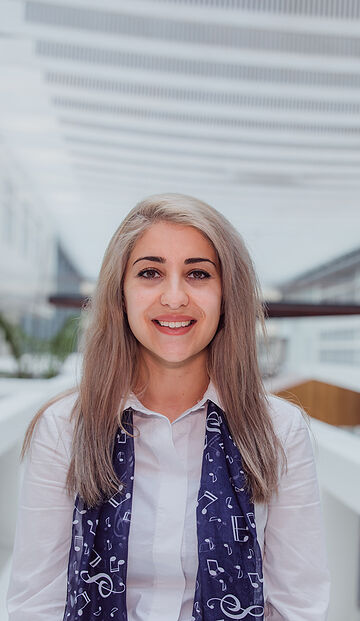 "Most patients appear to have less pain, fear and stress around an operation with music in their ears," says doctor-doctoral candidate Ellaha Kakar of the Music As Medicine Fund (MAM) of Erasmus MC.
A cheap effective treatment for pain that only requires headphones and some music. That almost sounds too good to be true. Why isn't music available in all hospitals yet? Strong scientific evidence is needed for a new treatment method to become part of standard care. That is why the Music as a Medicine Fund initially compared the results of various randomized controlled studies. Some of the patients were always allowed to hear music during their operation, while others were not. What seems? The thousands of patients who did listen to music generally felt less anxious and reported experiencing less pain. An encouraging outcome.
Several studies are currently underway at Erasmus MC that focus on common complaints after different types of operations. This mainly concerns anxiety, stress, pain, sleep disturbance and delirium, an acute state of confusion. "We call that the big five from the hospital," says Kakar. To properly map these five problems, she had patients fill out a questionnaire about how they felt before and after surgery. She also looked at data from their medical records, such as heart rate and blood pressure. Five hundred patients have now participated in the study. Now that all the data is in, Kakar is working on her publication. So far, everything indicates that music can contribute to recovery after surgery. The MAM team wants to make the evidence even harder and meanwhile is working on writing protocols for the use of music in healthcare.
Music does 'something' to us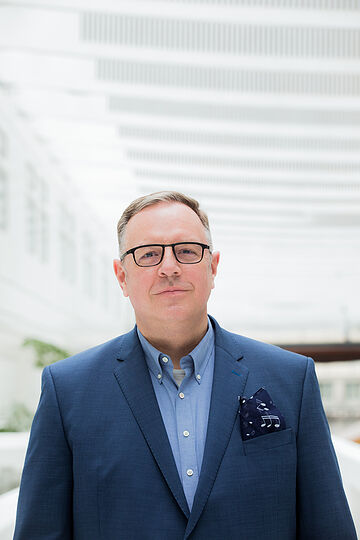 Neuroanaesthesiologist Markus Klimek is the research coordinator of the Music as a Medicine Fund (MAM) of Erasmus MC.
But how is it possible that music has such a big effect on us? "We have known for some time that music is linked to certain emotions," says neuroanaesthesiologist Markus Klimek, MAM's research coordinator. Music can therefore have a positive effect on your mood and that is important for your recovery. Kakar: "The more anxiety and stress a patient has before the operation, the more burden and pain he will experience after the procedure." It is therefore desirable to go on the operating table in a relaxed manner. But music does more than just improve the experience surrounding the operation. When listening to music, all kinds of things happen in our brain, as neuropsychologist Erik Scherder previously explained for NEMO Kennislink, but it also sets certain chemical processes in your body in motion.
"We think that the vagus nervus, a cranial nerve that sends signals to the organs in your abdomen and chest plays a central role in this," says Kakar. For example, patients who listen to calm melodic music often have a lower heart rate and blood pressure. The number of stress hormones decreases and the number of happiness hormones increases. The hormone endorphins is especially important, because this is a natural pain reliever. Thanks to music you can actually endure more pain. To provide additional supporting evidence for this, researcher Pablo Kappen of the MAM conducted a special experiment: he had healthy volunteers give themselves increasingly violent shocks with electrodes. For example, he tested whether volunteers who listen to music can indeed tolerate more painful stimuli.
A playlist on prescription
Should we all listen to music en masse when we have a headache, are stressed, or can't sleep? You can, but not all music works equally well. "Heavy metal, for example, can have the opposite effect in a hospital setting, because it is more stimulating for many people," explains Klimek. To feel better, it is important that you choose music without large volume and tempo changes. The number may also beats per minute not exceed a hundred. Instrumental music may also be better than music with singing. Kakar: "We try to give a clear definition of which music works for which situation on the basis of these criteria. We hope to be able to offer multiple playlists for different complaints in the future." The treatment works best if the patient likes the music himself, so the researchers also take different music genres into account.
What exactly will a treatment with music look like in the future? In the hospital, patients are then instructed to listen to music for half an hour twice a day for a few days before and after their operation. During the operation itself, they wear headphones and play music continuously. The patients themselves are not aware of this, because they are under anesthesia during the procedure. "Yet they are generally in better shape than people who were not allowed to hear music during a procedure," says Klimek. So subconsciously you pick up something from the music.
Operation in, music on
At the moment, music during surgery is not common for patients, but it is for doctors. Neurosurgeon Wilco Peul of the academic hospital LUMC, for example, is convinced that he performs better during surgery when he listens to music. "If I have to be very precise and patient, I listen to soothing music. For the more coarse interventions, I prefer to use something firmer, such as Guns N' Roses," he says. In the LUMC, which is not involved in the Erasmus MC MAM research, patients sometimes still ask for music. Peul: "It doesn't happen very often, but if patients would like to listen to music during their procedure, that is usually possible. They are then given headphones and can choose the music themselves." He is convinced that the LUMC will be open to music as a new standard treatment method in the future. Peul: "There is really no reason not to do it."
This article contains three songs that may have a positive effect on patients: 'Pathetique 2nd movement' by Beethoven (category: classical), 'Brabant' by Guus Meeuwis (category: Dutch) and 'Dreams' by Fleetwood Mac (category: 70's and 80's). Which number works best varies from person to person; it depends on your music taste.
Healing environment: influence of the environment
Whether you're on the bus, in the office or walking through the supermarket, we are unconsciously influenced by our environment all day long. Your physical environment therefore has a lot of effect on your mood and even your behavior. That is why more and more attention is paid to healing environments in healthcare institutions. The idea is that spaces are designed on the basis of scientific research to improve the well-being of patients, family members and employees. Because if patients feel comfortable somewhere, they heal faster and need less addictive painkillers. When furnishing, not only the layout of the room is important, the atmosphere, temperature, view and the amount of light also play an important role. In addition, sounds, such as background music, contribute to a healing environment . Spaces that feel natural work best to reduce stress and heal faster. And does it not help? Then it won't hurt.
---
Source: Kennislink by www.nemokennislink.nl.

*The article has been translated based on the content of Kennislink by www.nemokennislink.nl. If there is any problem regarding the content, copyright, please leave a report below the article. We will try to process as quickly as possible to protect the rights of the author. Thank you very much!

*We just want readers to access information more quickly and easily with other multilingual content, instead of information only available in a certain language.

*We always respect the copyright of the content of the author and always include the original link of the source article.If the author disagrees, just leave the report below the article, the article will be edited or deleted at the request of the author. Thanks very much! Best regards!
---