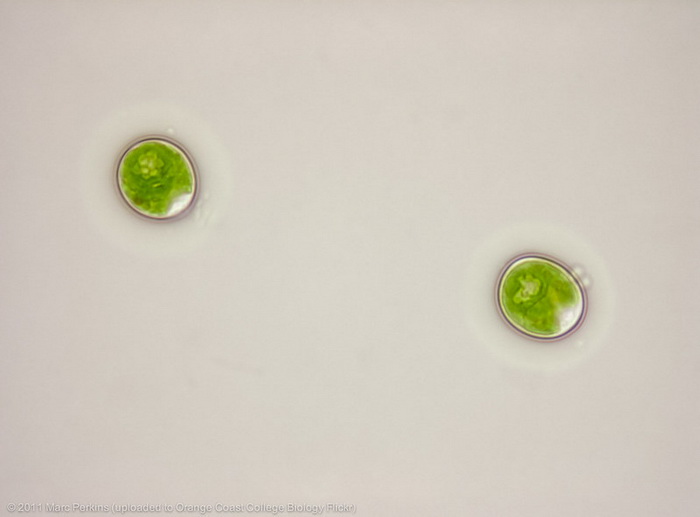 One of the biggest mysteries in the history of life on Earth is the emergence of multicellular organisms. On the one hand, you can imagine how everything happened: some unicellular organism divided to form two daughter cells, and then it turned out that the daughter cells do not scatter to the sides, but remain together – so after several generations a colony of genetically identical cells is formed. But for this to happen, the cells must be more profitable to stay together than to be alone. There must be some factor due to which single cells multiply poorly and quickly die, and colonies with an application for multicellularity, on the contrary, thrive.
All this may be easy to come up with, but difficult to verify. However, employees University of Constance Together with colleagues from the Max Planck Institute for Evolutionary Biology, it was possible to experimentally show that such a scenario is quite possible. Moreover, by evolutionary standards, as we used to imagine them, it takes very little time.

Researchers performed experiments with a unicellular Chlamydomonas reinhardtii, a green alga from the Chlamydomonad order. Among them there are both unicellular and multicellular forms. However, they cannot be truly multicellular – those Chlamydomonas that seem multicellular live in colonies or clusters, which are called coenobia: they do not form a single system, they do not have intercellular connections, and even less differentiation of cells by function. Nevertheless, something made them move to a collective life, and Chlamydomonas reinhardtii they chose for experiments because she has such "multicellular" relatives and she can certainly be somehow persuaded to the same way of life.
Chlamydomonas were grown in the laboratory along with rotifers, tiny animals that fed on algae. Single-celled algae could not oppose anything to rotifers. But those chlamydomonas, which after reproduction did not scatter and remained in the form of a stuck together multicellular colony, could no longer worry – they simply did not crawl into the throats of rotifers.
Accordingly, rotifers turned out to be the factor that tilted algae to multicellularity: with each generation they developed mutations, due to which Chlamydomonas remained stuck together after division. If there were no rotifers around the algae, then colonies did not appear among them too often, and they did not have any advantage over unicellular algae. With rotifers, algae began to form colonies more and more often – simply because those who knew how to do it had a better chance of surviving.

It took algae only 500 generations and half a year to learn multicellularity. Moreover, in this case, evolution followed the same path: in different lines of Chlamydomonas, which lived separately from each other, approximately the same "colonial" mutations arose. Let us repeat that this is not yet true multicellularity: Chlamydomonas in the colony have no division of labor and the connections between them are rather weak. But if living together is still beneficial for them, they will begin to improve it – and now mutations will begin to appear in different colonies that help cells to specialize and thereby better survive. Research results published in Nature Communications.
Another way of forming a multicellular organism can be imagined: for example, when a colony is formed by foreign cells gathered together under certain environmental conditions. This is done, for example, by the famous amoeba-like slime molds. Dictyostelium discoideumthat live in the soil and feed on soil bacteria. When there is a lot of food, slime molds live separately, but when it becomes scarce, they slide together, becoming like a small slug (hence the name).

In this form, the colony begins to move towards warmth and light, and, finding a suitable place, forms a fruit body. In this case, some of the cells turn into a stalk, a support, at the top of which the remaining cells form spores – the wind will transfer them to where living conditions can be better. That is, those who are lucky enough to get into disputes survive at the expense of those who have formed the stem of the fruiting body.

But here there are difficulties associated with the fact that a complex differentiated colony is formed by cells that are genetically more or less heterogeneous, they are not the descendants of one common ancestor. And from a biological point of view, different genes mean different interests, and therefore real crooks can appear in the colony trying to provide for their offspring at the expense of others.
---
Source: Автономная некоммерческая организация "Редакция журнала «Наука и жизнь»" by www.nkj.ru.

*The article has been translated based on the content of Автономная некоммерческая организация "Редакция журнала «Наука и жизнь»" by www.nkj.ru. If there is any problem regarding the content, copyright, please leave a report below the article. We will try to process as quickly as possible to protect the rights of the author. Thank you very much!

*We just want readers to access information more quickly and easily with other multilingual content, instead of information only available in a certain language.

*We always respect the copyright of the content of the author and always include the original link of the source article.If the author disagrees, just leave the report below the article, the article will be edited or deleted at the request of the author. Thanks very much! Best regards!
---