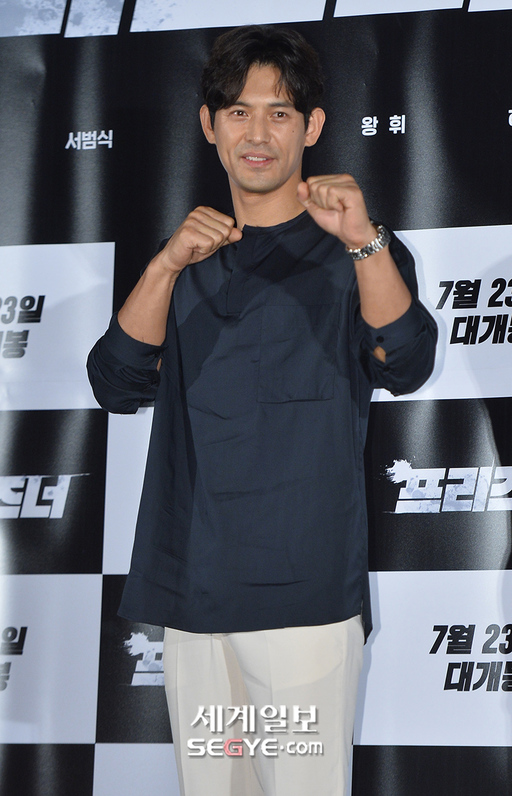 Actor Oh Ji-ho (44) said, "The action film was prepared very hard after six years."
On the afternoon of the 16th, CGV Yongsan iPark Mall in Yongsan-gu, Seoul, held the press conference for the movie'Frisner'.
Actors Oh Ji-ho, Jo Woon, Jang Young-jin, Seo Bum-sik, Seo In-girl, Wang Hui, Ha Je-yong, and Julien Kang attended the press conference held together with the director Yang Gil-young.
Oh Ji-ho played the role of former police officer Shin Se-do who committed murder attempts. Shin Se-do was sentenced to 5 years in prison for imprisonment and murder, and was imprisoned in Seoul prison, and voluntarily participated in the fighting league.
"The action movie was only six years old," said Oh Ji-ho. "It was difficult to prepare for my 40s." He said, "Weight was 82 ㎏, but now 78 ㎏." He said, "I have survived 5 months with chicken breast, and I have eaten 3 chicken breasts a day so far."
The movie'Frisner' is released on the 23rd with the story that a detective who went to prison after chasing the killer who killed his beloved wife participates in a ruthless prison murder fighting game to catch the real criminal.
Myung-il Kim Online News Reporter [email protected]
[ⓒ 세계일보 & Segye.com, 무단전재 및 재배포 금지]