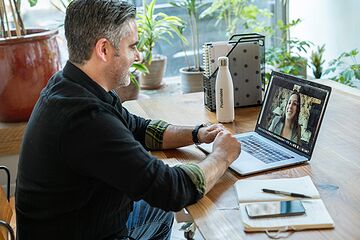 Now that people are working from home on a large scale due to the corona crisis, the gossip has decreased.
"Did you know that Henk is the new project leader? By the way, Eva was again bragging during the meeting. Oh, and Hamid has finally been promoted, well deserved!" It could just be a conversation at the coffee machine between two colleagues. We like to share rumors and news about the people in our social network with others.
Now that people are working from home on a large scale due to the corona crisis, gossip has decreased, preliminary results from professor of organizational behavior Bianca Beersma and her colleagues from VU University Amsterdam show. It's not like we have nothing left to talk about. Corona simply denies us access to the gossip circuit: fewer coffee moments, joint lunch breaks and trips with the elevator. Precisely those occasions that are so suitable for smudging.
A blessing for the atmosphere in the workplace? No, not necessarily. Rather a loss. Gossip is not a bad habit, say social psychologists, although it has a bad reputation in our society. You don't do that behind someone's back, do you? Yes. Gossiping isn't always nice, but it's a useful social skill that improves cooperation between people.
Misunderstood Behavior
You don't have to speak negatively about someone else to be a gossip. Gossip refers to any information that is shared about someone who is not present during the conversation. Positive, negative, but also neutral information. If one colleague says to another: 'Rob is on vacation', it is gossip. This gossip initially has no meaning, although you can attach a moral judgment to it. How you interpret the information just depends on how many times Rob was on vacation this year.
Everyone gossips, several times a day. You too. It's almost impossible to have a conversation with your colleagues, family, sports buddies or friends without bringing up someone who isn't there. You would only talk about trivial things like pets or the decor of your home. And those are not the topics that people often talk about. Our conversations are mainly about other people from our social network.
Living in groups
As soon as people started living in large groups, it became important to be able to share information about other group members, say evolutionary psychologists. Suppose you went on a mammoth hunt, not a harmless undertaking. You had to know who to rely on and who would get away with it. Also useful to know: who has sex with whom, and who has powerful friends? Without knowledge of those around you, you were at a disadvantage in finding a partner or allies.
Without gossip, human society as we know it would not exist, thinks Beersma, who studies cooperation within groups of people. "The groups in which we function are too large to directly observe the behavior of others. We rely on gossip to find out who you are going to invest in, who are the reliable people who work well together. In short: who is friend and who is enemy."
"About 20,000 years ago, before the time of agriculture, gossip was already an important aspect of our social interaction," says Daniel Balliet, professor of human cooperation at the Free University. Now, in modern society, gossip has even greater benefits than in prehistoric times, he thinks. "Nowadays, our networks are so broad and scattered. The number of people with whom we can interact is infinitely greater, partly due to the internet."
In the 1990s, English anthropologist and evolutionary biologist Robin Dunbar made the bold claim that language evolved for gossip because of our need to share news about others with friends and family. Gossip as the main function of human language. In his 1996 book Fleas, Gossip and the Development of Language, he proposed this new way of looking at the evolution of language. Ridiculous, Balliet thinks. "Language solves a lot of social problems, not just how we can share information about each other." It could very well be that gossip coincided quite naturally with the emergence of language, he thinks. That people, when they started talking for some reason, also over started talking to each other.
Building reputations
Balliet's lab recently completed a study into gossip in everyday life, in collaboration with Beersma. They confirmed that people use gossip to get a picture of someone's reputation. 309 participants received a text message four times a day for ten days, asking them to complete a diary. Had they received information from a friend about someone else since the last text message, or had they disseminated that information themselves? If so, what was it about? Was the information positive or negative? Did the person the gossip about get off well or not? Did the information make her want to hang out with that person or not?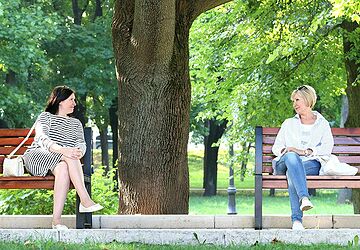 We use gossip to spread who is secretly throwing house parties and not keeping their distance, so that others know which people pose a risk.
The researchers collected and analyzed five thousand gossip. "Subjects that have to do with the cooperativity of others come to the fore most strongly," says Beersma. "That's the first thing we want to know: can I build on this person or not?" What also became clear is that participants adapt their behavior to the content of the gossip. Did they hear anything negative about someone? Then they indicated that they wanted to avoid that person. Positive sounds tended to help the person the gossip was about. Incidentally, they were not very critical of the content: most of the gossip was accepted as true.
Coronaroddels
The same principle is also reflected at a more specific level in the corona crisis, according to a second recent study by Beersma and colleagues. More than eight hundred participants were presented with scenarios in which they received gossip about the character Robin. In one scenario Robin was infected with corona, in the other not. Another difference was whether Robin adhered to the basic measures or not. What picture did the participants have of Robin's infection status? And how did they react to that? Beersma: "Here too, people did not question the information they received. They went with it. If they were told that the character was not following the rules, they wanted to avoid or even punish Robin."
In theory, gossiping can help prevent the virus from spreading. Through gossip we spread the message who is secretly throwing house parties and not keeping their distance, so that others know which people pose a risk.
Then the information in a gossip must of course be correct. It happens that people deliberately spread false information to improve their own position. If you and your co-worker are both applying for the same position, it's in your interest to gossip about how incompetent the other person is. "Such behavior gives gossip a bad name," said Balliet. "Actually, I suspect the majority of all the gossip is true, because it can cost you dearly if others find out you've been lying." Nobody wants to work with you anymore.
Zoom no replacement
Gossiping via Zoom is not as easy as face to face.
Back to the coffee machine. In the Amsterdam diary study, 68 percent of the gossip went face-to-face, in the time when there was no corona crisis yet. The rest of the chatter went through technology, such as telephone or WhatsApp. And now that people work from home so much? Do we compensate for the missed moments at the office by making extra excuses via Zoom, WhatsApp or telephone? It doesn't look like it, according to Beersma. She is currently analyzing the new data with her colleagues. "The gossip has been greatly reduced."
Somehow you expect that technology will not fill the gap. It is precisely these informal settings, in the elevator, at the coffee machine, that call for small talk about the social world around us. According to Balliet, it makes perfect sense. "Zoom meetings are goal-oriented. You discuss what needs to be discussed and then it's done. You can't take a break to have a conversation with one person without everyone hearing you."
Yes, it is a loss, he thinks. Gossip is an easy way to get information about others. If that information is not there, the chance of bad choices increases. "Suppose someone in your workplace shifts his work onto others and claims credits that do not belong to him. Normally something like this would be discussed at the coffee machine. If that information is not available, you may start a project with that person."
For someone who is cutting corners, less gossip might be useful; he doesn't build up a bad reputation so easily. Less gossip also means less positive information going around, which helps people build a good reputation. Beersma has yet to find out exactly what the effects are. "A lot of gossip is positive", concludes Balliet. We must not forget that. "The people around us are doing a lot of good things that we should talk about more."
Tips from the researchers for responsible gossip:
Do not spread negative gossip indiscriminately. As a recipient of gossip, think critically about what you hear. What is someone actually telling me and why? Should I take that seriously?
When gossiping about someone, try to include context. That helps people to interpret what happened. 'Rob canceled again for the meeting' takes on a different meaning when you mention that he has a sick child at home.
Do you see a colleague behaving badly and treating others badly? Spread that. Tell the facts: What did you see someone do? You can also say what you thought of that behaviour.
Gossiping to promote your own interests, by spreading false information about someone, can be a strategic move. But be careful. If you are discovered, it will cost you dearly.
Do you miss the gossip when you work from home?
---
Source: Kennislink by www.nemokennislink.nl.

*The article has been translated based on the content of Kennislink by www.nemokennislink.nl. If there is any problem regarding the content, copyright, please leave a report below the article. We will try to process as quickly as possible to protect the rights of the author. Thank you very much!

*We just want readers to access information more quickly and easily with other multilingual content, instead of information only available in a certain language.

*We always respect the copyright of the content of the author and always include the original link of the source article.If the author disagrees, just leave the report below the article, the article will be edited or deleted at the request of the author. Thanks very much! Best regards!
---