–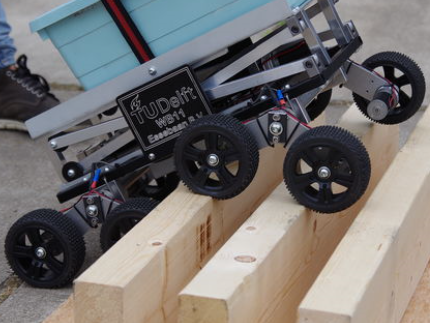 A steerable six-wheel cart with lift legs that can load and unload a package weighing at least 10 pounds and move over various obstacles. Ideal for parcel deliverers who, partly due to the corona crisis, have to deliver more and heavier parcels to people's homes. The package dog De Scarabee has won the Design Competition 2020 of TU Delft.
The competition concluded a major first-year design profession. Analyzing and simulating played a bigger role than ever this year. The assignment was to design a 'package dog' in competition with each other, only now in the form of a digital simulation. The students were no longer allowed to enter the workplace because of all the corona measures.
The winning design has as few drives as possible and largely mechanical and geometric solutions. This keeps the package stable due to two undriven side wheels on the center wheel and a small slope in the plane on which the package rests. Two legs can be lifted simultaneously using a simple hinge system.