TV presenter Mario Galunič says that "Happy December with commanded joy" is not very close to him, but he likes holidays when he can spend more time with family and friends.
"On Christmas Eve, I traditionally meet people who are close to my heart, and tonight it will be the same. Every year is different, once at home in Maribor, the second time with friends. Today it's the turn of friendly company, I know I'm waiting for a great dinner and a relaxed chat where I'll be just one member of the table, not Mario from television. That's what I like best. "
We like to say "Happy December". How happy is he for you?
This happy December, when good will is, so to speak, commanded, is not exactly close to me. It's been a long time. Maybe because I prefer to avoid mass joy and because December is no happier than any other month. The best thing, of course, are the holidays, more time with family, long evenings when a person is lazy without a guilty conscience. Otherwise, now that we are in the middle of an epidemic, I don't party at all, I more or less avoid people and realize how nice it is to be at home, as far away as possible from mulled wine and shopping malls. This is an image of December joy for me.
Do you have any customs for Christmas and New Year's Eve? Is there a Christmas tree in your apartment?
Yes, I have a Christmas tree, more for visits than for myself. Well, it's nice when those lights blink, it's kind of a special atmosphere. The only custom I stick to as much as I do is Christmas dinner, and I leave everything else to chance. For New Year's Eve, I usually run away, this year I will go to a nearby country by car. Wherever possible. Just to change the environment, even if nothing happens.
Do you also smell like cookies?
Opportunities for home baking are, of course, plentiful, the mood a little less, but I'm not entirely without them. I don't tackle cookies because I feel like I won't make better ones than I get as a gift from great cooks I know. The last time I discovered a cake in Trieste was called kranz. Supposedly it has Austrian roots, I looked online how it is made, and maybe I'm tackling it, it didn't seem exactly difficult to me. Two types of dough, jam, raisins, candied fruit, excellent.
When it comes to food – do you ever notice yourself with an apron behind the stove?
I'm not a culinary type of person, you can probably see that. In life, however, I am lucky to always have someone close to me who cooks very well or loves it. That's why I don't compete with the better ones. Of course, mom has a special place in this, her cuisine is exceptional; I don't know where she learned to cook so well, she's experimenting with new dishes all the time, whenever I come, there's some new pastries on the table. I don't have an apron at all, which says something. I'm even better at some pasta and salads, but I wouldn't brag about that.
What gifts do you usually give? Will it be the same for your puppy Rudi?
I give presents for Christmas and for the New Year, as he puts it, or differently to different people. These are the little things, more or less practical things lately: good pasta, panetones with candied fruit, an apron for cooks, the best package of roasted coffee for coffee lovers, homemade brandy for social people, as well as honey, bath bombs. Such words. Rudi has too much of everything, too many toys, too many goodies. It will be his greatest gift to be with me as much as possible.
How has Rudi changed you, what has he brought into your life?
Rudi was the best decision of recent years, he brought a lot of joy, pure joy, life energy into my life. It makes me more sociable, more in nature, more playful. I can't even imagine that he is not in the apartment, because without him everything is quiet and peaceful. I hope we will be best friends for a long time to come, and I am most happy to recommend dog company to anyone who has enough time. I have to say this: the dog is a huge responsibility and we often have to sleep through the night before we decide to take this step.
You have no children. Has Rudi filled this "void" in your life?
I didn't get a dog because I would feel some emptiness or because I would miss the hustle and bustle or because I wanted to take care of someone. But only because I saw that there is enough space in my life for another living being to be nice to me. Of course, I didn't expect this "love" to be so strong and thorough, but I really never regretted choosing it. I'm sorry before that I didn't think of a dog much earlier.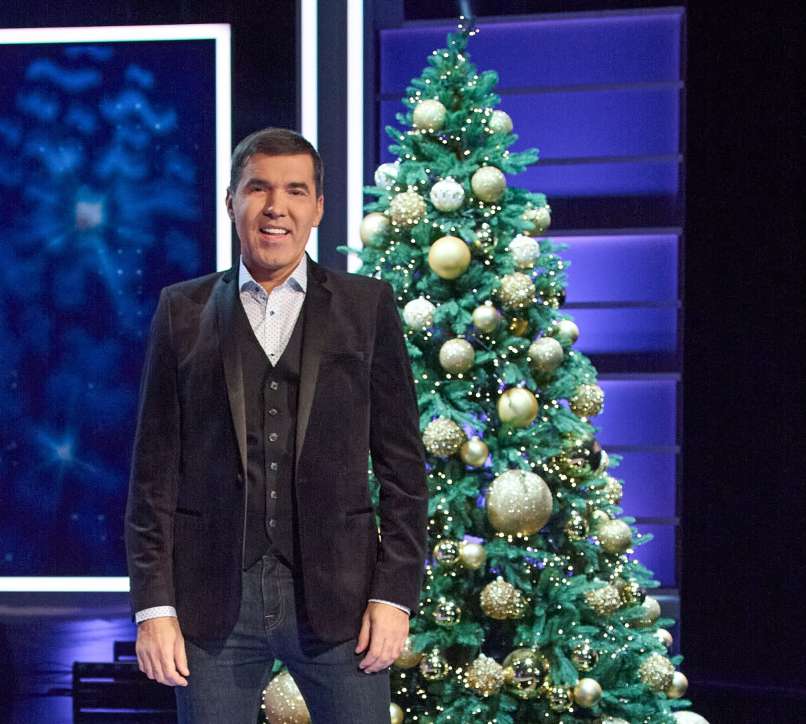 Jan Pintar / TV Slovenia
Mario Galunič thinks that this year was marked by waiting to be the way it was again.
In December, we humans are also more charitable. You too?
I have been very active in charity for about two decades in my career, we were the first to introduce a phone number on Zoom, where we didn't have to report data and wait for a payment slip, but the money was withdrawn from the account, now it seems self-evident. We have helped hundreds of families, we have been really successful, I am very proud of that. I don't do that in my shows right now because there are more than enough others, and that's great. Otherwise, every year I choose someone or something to whom I give some money, but it doesn't have to be December. I also watch who I give that share of income tax to.
On New Year's Eve, we usually make a "settlement" with the previous year. What will you remember about the year 2021?
Another year of waiting for it to be the way it was again. As if idling is all together, things are somehow flowing, but without real energy. I'm waiting for a trip, I'm waiting for shows with an audience, I'm waiting for a concert without masks. And so it was this year. I do not complain excessively, because I know that it is no different, I am very patient and I know that we are in the middle of a severe crisis. I probably won't even remember this year, maybe the year to come will be worth my memory.
Do you have any wishes that you want to fulfill in 2022?
I would like to go on a long journey, it has always kept me upright. I have to make that happen. That's almost the only wish I have. I would also like to go to work. This is important because I go there every day. I don't care how I feel in the office, in the studio, in the hallways. I'm not going to talk too much about these things, but I would like 2022 to be better.
Do you ever find yourself thinking about passing at the turn of the year?
Wow, like reading my mind. Maybe it's not just the end of the year, there have been a lot of turning points lately. Fifty years first, then eye death, then an epidemic. There is no doubt that more than ever I am aware of how quickly the best years of life pass, how important it is not to waste time and live in harmony. Every day I remember whether it is worth worrying about, whether I will throw the day away or take advantage of it, whether I will dedicate my time, kind words, compassion to someone. All of this seems terribly important to me, especially during the holidays.
For RTV, this year was quite a turbulent year. How do all changes in leadership, resignations, transfers, discredits, threats affect the work…?
Yeah, quite upset, you said it nicely. I work in an entertainment program so this choppy sea doesn't feel as much as maybe somewhere else in the house. We have nothing to do with politics and other interests, so we can more or less observe. Of course, this does not mean that what is happening in our house does not concern or touch us, we just do not have a major role. I do my job, the best I can, and that's all I'm interested in right now.
Maybe you were thinking of going to another TV station or doing something else?
A smart man always thinks about it. But that doesn't mean anything, you have to be brave in life to take such big steps. But I don't have that kind of courage at the moment. Or needs, desires. Anyway, I'm currently enjoying my show and that means the most to me.
Wouldn't it be time for a new show? What would you like – conversational, again quizzes, shows, maybe even reality shows?
Yeah, I'm already toying with ideas of what I'd like to do after the Joker. Of course, it's not all up to me, but a lot nonetheless. The hardest part is just having an open conversation with yourself. What would you like to do? What would you enjoy? If I enjoy it, there will probably be viewers too, I have to believe in the shows I create, I'm not an automaton to sit in front of the cameras, but it will be what it will be. Some can do it, but I can't. I'm not going to host a reality show because we don't do them on TVS at all, we're also quite conservative and we produce more or less studio shows. And to be honest, the studio is my second home, I live in it the most, so I want to create another big studio show. But the secret is always in the content, it must be something special, it must have content and the opportunity to say something smart in it. Traparij is too much all around. So I'm looking for something like that; when I find it, I say.
How else do you deal with stress and burnout?
I have been living with stress since working on television, it seems like an almost natural state of my body. Sometimes I feel it more, sometimes less, I take care of myself, I take care of a healthy mind. That means I have my own refuge where this stress doesn't touch me. Family, travel, sometimes it is enough to close for four walls or go for a long walk. I'm pretty good at dealing with any pressure. But what burnout is, I don't even know exactly; it seems to me that this unfortunate burnout has been pretty much abused lately and often serves as an excuse. I would leave the burnout to those who really burn from morning to night, who take care of large families, have a difficult profession, give away all around. I do not belong to them.
---
Source: Svet24.si by novice.svet24.si.

*The article has been translated based on the content of Svet24.si by novice.svet24.si. If there is any problem regarding the content, copyright, please leave a report below the article. We will try to process as quickly as possible to protect the rights of the author. Thank you very much!

*We just want readers to access information more quickly and easily with other multilingual content, instead of information only available in a certain language.

*We always respect the copyright of the content of the author and always include the original link of the source article.If the author disagrees, just leave the report below the article, the article will be edited or deleted at the request of the author. Thanks very much! Best regards!
---