Apple seems to be continuing to experiment with its keyboard for MacBook laptops. A network patent was discovered by a network source that indicates that Apple is proposing to replace the plastic keyboard keys with glass ones.
The document was completed by the U.S. Patent and Trademark Office (USPTO) last year. It describes a way to make the keyboard keys of your MacBook laptops more durable.
Using glass keys instead of plastic ones will allow them to retain their presentable appearance for longer, the company said. The letters on the keys above disappear over time. Apple's new approach will avoid this. The document contains a schematic representation of a key on which the letter "A" is applied to the inside of the key, and not to the outside, as it is now.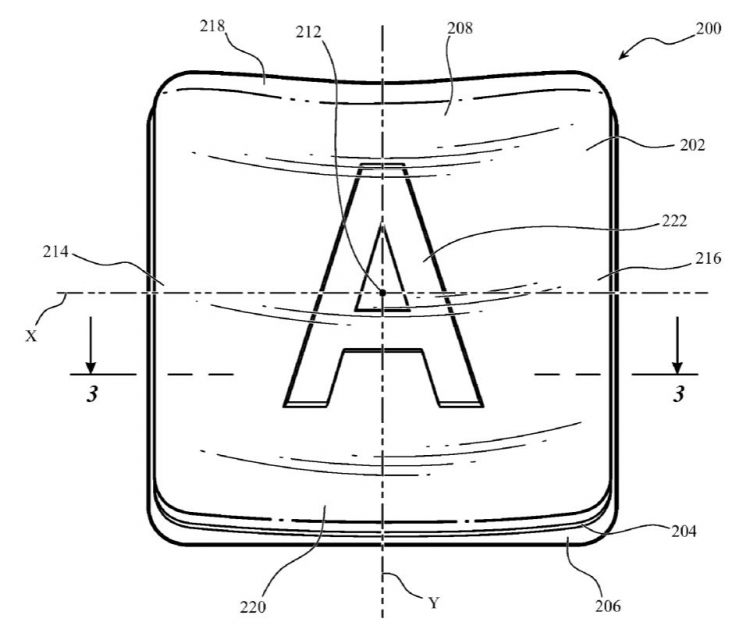 An interesting approach is also suggested for using backlighting. The document explains that the light-blocking material used in the keys will make it possible to read the labels and letters on such keys without problems. Even the backlight, the LEDs of which are proposed to be placed directly under the keys, will not prevent this. It is noteworthy here that Apple proposes to use a new backlight technology, which will illuminate the keys and the letters themselves on them separately.
Like any tech giant, Apple has many different patents, but this does not mean that all the technologies or ideas presented in them will appear in its devices sooner or later. In any case, the development of the same announced backlight technology will take years. Although no one excludes the possibility that the company has been developing it for several years. In any case, waiting for her to appear on 2020 MacBook laptops will be premature. But no one forbids even hoping for "one more thing …"
If you notice an error, select it with the mouse and press CTRL + ENTER.