What seemed like an unlikely scenario turned into reality and 2020 became a collective experiment. Some try to forget it, others hope that, in a miraculous way, the convention of time and a new year will save us from the pandemic. We continue to talk about 2020, with all its experiences and stories. We are not afraid of him. On the contrary, we believe that it is necessary to exorcise him in this way, telling him. Camelia Cavadia, Managing Partner at the PR Factory, he still perfectly remembers the feeling of unreality he experienced at the beginning of the pandemic, for the first time in his life.
I will never forget the silence that had settled over the boulevard like a kind of invisible snow, meant to muffle any noise that might have come from the depths of the earth.
We talk to Camelia below about her pandemic experience, what she misses most about the old normalcy and what she hopes for in 2021.
What was the hardest, what was easy, what was good, what was ugly
The heaviest were the first days of the state of emergency. I remember perfectly the feeling of unreality that I experienced then for the first time in my life at those dimensions. The desolation of the streets, either night or day, gave me the impression of another dimension of time and space. I will never forget the silence that had settled over the boulevard like a kind of invisible snow, meant to muffle any noise that might have come from the depths of the earth. The silence that lay between earth and sky, like a fluffy duvet, as invisible, but this time dense, as something impenetrable. Nor the peace of heaven, which seemed permissive to us, but from which descended only a kind of loneliness in which we had to retire each of us. For a few days I had a keen sense of apocalypse, like a loss of something we will never recover, and that something was humanity itself. In addition, the sharp sound of rescue sirens cut into the flesh and accentuated my sense of uneasiness. Like many other people, I had the impression that everything is a movie script in which we are all actors without our will. And the messages sent to the megaphones in the police cars, the only ones that dared to cross the deserted streets, almost gave truth to the SF movie in which it seemed to me that our life had been transformed.
Ugly it was the fact that the disease killed so many people, including acquaintances, even close ones. It was an ugly feeling that the noose was tightening and that sooner or later the disease would reach us, our loved ones.
Nothing was easy, although I remember that there was a time when I was simply (no longer) afraid of illness, for no particular reason. I had the feeling that even if I got sick, it would be fine. But, in general, the periods alternated with each other: those in which I feared others in which I thought that if we protect ourselves, we have no way to get sick.
What was good – the fact that I was able to stay with my daughter, my mother, my family, more than I have done together in recent years. Even though I had less free time than ever, I spent it in the company of people I usually only do sporadically. It was good, in my opinion, that we stopped from the carousel we were all in and thought, each one of his own. I think it helped (we hope to see this in the long run) that we stopped in unison and thought not only about our personal problems, but also at the macro level, the problems of all mankind. We understood how fragile we are, how much harm we have done to the planet, how irresponsible we have been and are. Lately, the feeling that we are probably living the best period in human history, but that it is about to end, is more and more present. With all the progress it will make, the world will not get better, on the contrary, and beautiful things will turn into history. We will think of them with nostalgia, as a lost paradise – which we could have continued to live if we had taken more care of ourselves, of our souls and aspirations, of the planet. Unfortunately, sometimes I get the impression that people are moving forward, but without paying attention to all the things they lose and that they might have kept, if they had fought for it.
What helped the most
The fact that I spent more time with my family, at home, that I had work, that I felt that things were moving forward.
Seriale & Film
2020 I think is the year I saw the fewest movies and series. Not to be seen, not so much. It is, however, the year in which I worked the most. I was looking at Facecook, on Instagram and I saw people complaining that they were bored and didn't know how to fill their time or, on the contrary, people who had time for new passions and occupations, writer friends who had time to create in peace, to experiment, finish books and start others. Only I didn't. And that created a sharp sense of frustration for me.
book
Reading was my only treat during this time. It was practically the only activity I could do at the end of exhausting, seemingly endless days. However, I couldn't read as much as I wanted to and I couldn't keep up with the books I bought. I dreamed of recovering now, in the holidays, when all I wanted was to read, sleep and write (if I could), but I did not excel this time in any of the chapters.
If I were to stop at one book of the 2020 readings, I would call José Luís Peixoto's "Autobiography" a real literary gem, in my opinion, that made me (as probably many others who read it) I'm rereading Saramago. It seemed to me the perfect moment for Saramago's "Essay on Blindness," which I now "felt" differently from on first reading. I'm going to read Peixoto's other two books, but I'm still in the bags I haven't been able to unpack after the renovation. And yes, I can say that for me José Luís Peixoto was the revelation of the end of the year.
How much you hugged online
Work moved almost exclusively online has multiple advantages: from a better use of time, an optimization of it, to the use of resources and energy consumed otherwise in traffic in actual work, in projects. I discovered the benefits of working from home and I really think that the specifics of our activity allow us to work from wherever we like and do us good. So, if I were to name an advantage of this period, then this is certainly the remote thing, which has suited us and suits us very well.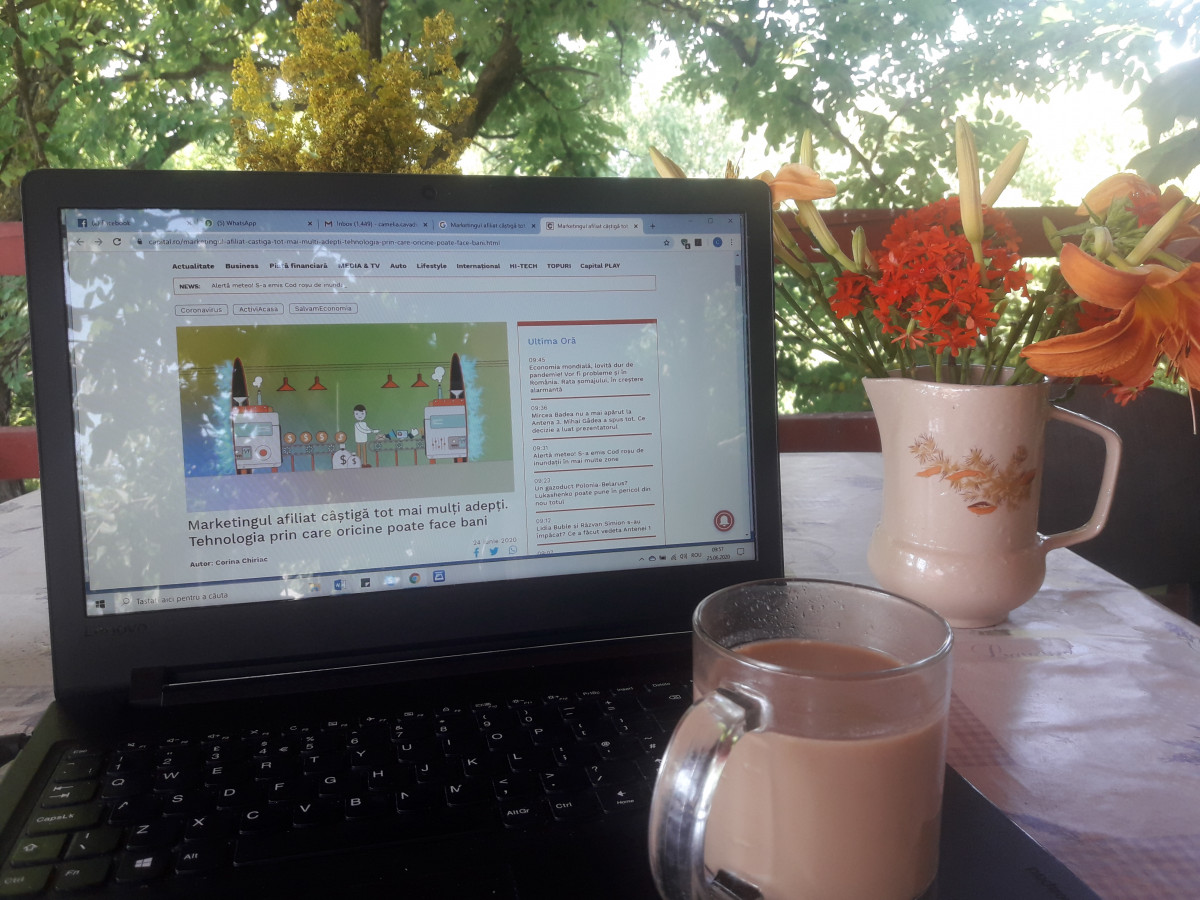 But I couldn't live long online just online. I need meetings with friends, hugs, simple or thrilling discussions among colliding glasses, appetizing food, smells, smiles, jokes, discussions arising ad-hoc from the very joy of meeting, seeing you again. I need to see nature, enjoy it right in the middle of it, drink coffee in a fairytale place, walk the streets without restrictions, go to book launches or various events to meet people and I enjoy them, the emotions that are born between people, the touches of the hands, of the eyes. I need to know that the current situation is temporary and that when we get rid of the pandemic we will know how to appreciate more what we were used to getting ready.
Shopping
Elefant.ro, libris.ro, vivre.ro. Books, books, books and household items.
I don't think I bought anything useless. I bought much less than in previous years and realized the futility of many purchases I used to make in vain.
I didn't spend money on clothes, shoes, bags (I realized that everything I have in my closets is enough for three lives, not one and that I can live without many of the things I used to give money without thinking too much).
My only pleasures are books (where I'm not going to give a discount) and holidays (which, this year, were practically non-existent).
Cooking, renovated and other passions
Asian food (for a while I stayed with my daughter, who together with her husband often cooked Thai food, adapted to my tastes (I don't eat spicy at all). Otherwise… nothing new, I do well in the kitchen, I really like it I cook a lot, so if I like to eat something, I can do it without any problems.
To be renovated, yes! I had been planning to make changes to the apartment we live in for a long time, and this year it was very suitable, because I adapted my room so that it would include an office from which I could do my job quietly. I also have countless shelves for books that already can't find their place and other wardrobes.
Otherwise, I have the same old passions: reading, writing.
From the job
From the first days of the pandemic, we got involved in two volunteer projects with which we resonated a lot. Is about platform ajutorspitale.ro, launched at the beginning of the crisis caused by the new coronavirus, which worked day and night to process requests from hospitals across the country and to attract business partners to provide solutions to these needs. Smaller or larger companies responded promptly to the call #hospital helpers, the first platform for connecting companies and the medical system, launched in March, and this feeling of solidarity moved me a lot.
The second project in which we got involved with the PR Factory was the communication of actions Narada, a community of entrepreneurs, managers, action people whose goal was and is to provide efficient and fast solutions for modernizing education. Shortly after the outbreak of the pandemic, Narada launched together with the Ministry of Education and Research, with the support of Cora Romania, the initiative "Reaction to education", A digital platform designed to facilitate access to distance education for teachers and students. Since then, Narada has provided support to thousands of students and teachers and continues to attract more and more people from the business community to help find and implement the most efficient and fastest ways to modernize education. Narada representatives believe that a single educational project will not change education, but the strength of thousands of such projects, YES.
Thanks to these two volunteer projects, we have met extraordinary people, with a big heart, with inexhaustible resources and energy when it comes to helping and supporting the community, which has been and continues to be a great gain for us.
Inspirational end
I think I will be able to say these things only after we return to normal or after we move away from this period and we will be able to really see what lessons we have learned, what we have managed to carry on with us. Now I am quite emotionally charged and I move from one opinion to another quite easily. I believe that the effects of what we have experienced will not be seen until later.
I read on Facebook the balance sheets for 2020 and the plans for 2021 of many people and although most say that he learned a lot in 2020, that he (re) discovered himself, that he had time to listen and listen to the world around him, that he had real revelations – I'm curious how many of us will manage not to forget and really change what we found to be wrong with the way we saw things, how we spent our lives, what we would really be able to do.
What you missed, what you want for 2021
I missed the meetings with my friends the most. And the hardest I endured was the unpredictable.
I would like to be able to better delimit the time allocated to the leisure service in 2021, to make my holiday plans without fear, to regain our freedom to make plans, in general, to be able to see myself at any time with dear ones, let me be happier, let me have time to write.
---
Source: IQads by www.iqads.ro.
*The article has been translated based on the content of IQads by www.iqads.ro. If there is any problem regarding the content, copyright, please leave a report below the article. We will try to process as quickly as possible to protect the rights of the author. Thank you very much!
*We just want readers to access information more quickly and easily with other multilingual content, instead of information only available in a certain language.
*We always respect the copyright of the content of the author and always include the original link of the source article.If the author disagrees, just leave the report below the article, the article will be edited or deleted at the request of the author. Thanks very much! Best regards!
---