In as little as a decade, complete industries and large corporations could be in complete decline, while entirely new areas are created from almost zero. A trivial example is the smartphone, or areas directly or indirectly related to it, the whole of which has exploded into an industry of many hundreds of billions of dollars in almost 15 years in almost nothing.
Serving such a huge market requires huge human resources in many different areas. No wonder the digital sector has been struggling with persistent labor shortages for years, which could just be a boon for career changers. Of course, there may be simpler, prosaic reasons for changing careers, such as achieving higher wages.
Unfortunately, the spark of change can also be triggered by burnout syndrome, which is also characteristic of our age. If we do not find new challenges in our work day by day, week by week, and the resulting experiences of success, we can burn out quickly and easily. The background can be both constant stress due to excessive responsibility or compliance, or even a decrease in previous responsibilities and tasks that become routine.
IT security crash test for cars is no longer a utopia (x)
Automotive players also need to meet serious IT security expectations as the segment becomes an increasingly attractive target.
IT security crash test for cars is no longer a utopia (x) Automotive players also need to meet serious IT security expectations as the segment becomes an increasingly attractive target.
Over the years, we have learned the framework of our work, which was a pleasant challenge and excitement at the beginning, after many years of repetition, it can become drowning, no longer a source of joy. Motivation, cognitive performance, and creativity and energy decline.
Remember Darwin: "It is not the strongest species that survive, but the ones that are most capable of adapting."
Where to next?
So while dozens of jobs have become obsolete along with entire industries over the past two decades, new, interesting opportunities have opened up with dozens on the other side. 15-20 years ago, mobile developers were still a curiosity, as were scrum masters, DevOps, or even data scientists.
Key question: Where should a journalist go who, although at home in some areas of informatics, has sharp work experience in none of them?
One of the basic conditions for a successful career change is self-knowledge. DevOps is nice and good, with good potential in the medium and long term, but in the author's private opinion, enterprise IT doesn't hold enough excitement, and creative creativity can't necessarily be put to good use in any case. We need an area closer to people.
Then there's the other trendy track these days, the data scientist, also with great potential. In recent years, dozens of exciting projects have been built on machine learning technologies, also known collectively as AI, from perhaps the best-known self-guided solutions, to cancer and drug research to image or speech recognition running on our smartphones. However, a successful data analyst can not only move at home in a dense forest of mathematical functions, but can also program, for example, in Python. And don't want to be a data scientist and coder who, even on C64, could only write a program from a book (or even from it).
Journalist UX?
Eventually, this is how digital product design, or better known as UX design, came into the picture. A variety of digital products are now used by pretty much everyone, just think of certain applications and services installed on our smartphone. Unfortunately, there are still an incredible number of these, which can be due to both the poor user interface and the incorrect assessment or even ignoring of the needs of the users, ie in the end the bad planning process.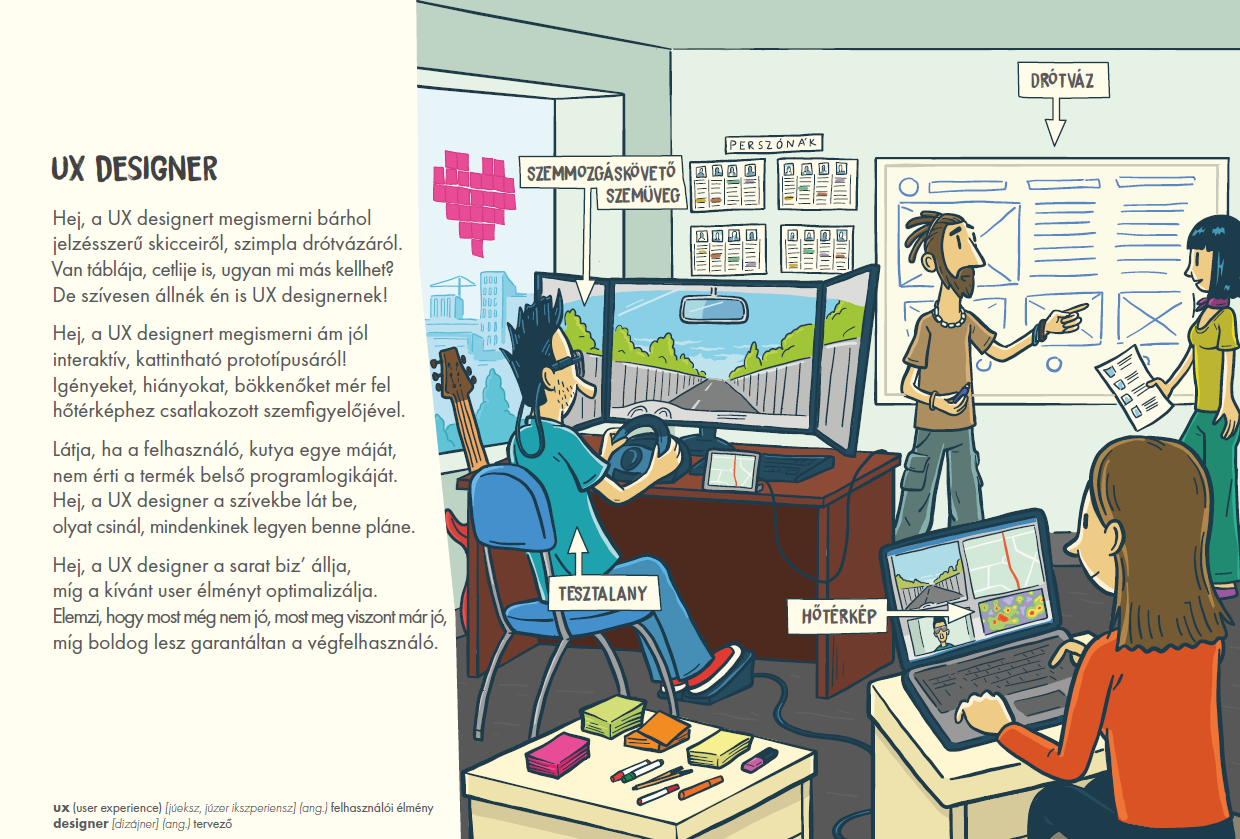 However, a product can only be successful if it is really useful to its users, solves problems well, or satisfies cardinal needs. The job of UX is therefore to design significantly more than beautiful and easy-to-use surfaces, because if the product ultimately doesn't prove useful enough, it doesn't create value, it won't be used. The work of UX and the journalist starts along similar questions: who, when, how and why? And from the idea to the product, there is a wide range of different creative tasks and development phases. Even your language is exciting: mapping, research, interpretation, definition, brainstorming, prototyping, testing, iteration.
Which training?
There are roughly two paths to gaining relevant UX knowledge in Hungary: the 6-semester MOME Design Graphics BA course, or a significantly shorter digital product designer course. For years, various short-term IT trainings (better known as bootcamps) have been operating in Hungary, which we have already dealt with several times here at HWSW.
In general, opinions about bootcamps are divided by school and training area. Last year, IVSZ audited the better-known programming courses, according to which the vast majority of graduates were able to find employment after the training. In the experience of some employers, the results of those coming from the bootcamp are typically not worse than those coming from the university. Thus, short-term courses optimally offer relevant knowledge and, in some cases, employment in a fraction of the time compared to higher education.
Nevertheless, there are a good number of negative experiences. Others say the knowledge gained on bootcamps is not in-depth enough, so the knowledge that can be learned on the fast track is no longer enough for higher positions. And from other sources, it's straight to hear that programmers who come out of short-term training are just some kind of code monkey, which, let's face it, aren't very flattering from a professional standpoint.
There is less experience with UX trainings, one of the reasons being that there are significantly fewer people starting in this direction, if only because of the relatively lower market demand for professionals. This is partly why we thought of participating in a product designer bootcamp. As a journalist, we can only gain a credible experience up close if we are present at the training from start to finish, so we sit back at the desk.
At our HWSW product development conferences and meetups, the vast majority of the Hungarian UX scene has already turned up as a speaker, so we had an insight into what kind of professionals it would be worth learning from. This is one of the reasons why we chose xLabs, which is one of the few schools in Hungary that specializes in various UX / UI-related education and training, with highly recognized professionals and mentors.
XLabs offers three modules for career changers, of which UX Bootcamp is the first station. It's a 6-week live online course, meaning you can take it from anywhere, which means a 90-minute weekday evening lecture a week and a 4-hour weekend practice. With its bootcamp, xLabs promises thatthat participants can be introduced to the basics of UX design, such as design thinking, the basics of surface design, or just the most necessary research methodologies. By the end of the 6-week course, participants will be able to more easily decide if they want to immerse themselves more deeply in the world of UX, whether the area is fit-for-mind.
And what good and enough is the xLabs Bootcamp and subsequent modules? The answer will be covered in the following sections of our series.
Key Question # 2: Will the career change finally come together?
---
Source: HWSW Informatikai Hírmagazin by www.hwsw.hu.

*The article has been translated based on the content of HWSW Informatikai Hírmagazin by www.hwsw.hu. If there is any problem regarding the content, copyright, please leave a report below the article. We will try to process as quickly as possible to protect the rights of the author. Thank you very much!

*We just want readers to access information more quickly and easily with other multilingual content, instead of information only available in a certain language.

*We always respect the copyright of the content of the author and always include the original link of the source article.If the author disagrees, just leave the report below the article, the article will be edited or deleted at the request of the author. Thanks very much! Best regards!
---