This year marks seven summers since István Téglás started working with the young people at Ideo Ideis. He was first a trainer, now he is a mentor, and from the first workshop he was amazed by the way the teenagers threw themselves into the exercises he proposed. Curious, free, giving themselves totally to the process.
The fragility and diversity of the learners are always visible. István says that one of the cool things about That's why Ideis is that sometimes mentors don't immediately differentiate between young people who want to become actors and those who are just there for the educational experience of the festival.
"Many times, those from whom you would expect to become actors, do not want a job in the artistic area. Although the talent, the inclination, the enthusiasm are obvious, they are not always tempted to go further. Instead they will let those who are more unsure of themselves become actors. It's simply a matter of need".
After each edition of Ideo Ideis István Téglás remains with the same thoughts about human frailty and the beginnings of the adult period, about the whirlwinds that life brings and overcoming them while keeping the meaning of an experience like the one lived at this festival.
How did your story with Ideo Ideis begin?
The first time I came with my ex-partner, who was invited to the festival many years ago, and I sat through all the shows, meetings, etc., thinking how much I love the area where things are moving here. For as long as I can remember I have been part of groups of children, later teenagers, who did theatre/dance with certain searches that you don't find in the system, and here I thought I found them. And fortunately, shortly after this thought I received the invitation to be part of the festival, in the first years as a trainer and later as a mentor. This is the 7th edition in which I am participating.
First meetings with young people
The meeting happened directly at the first workshop, where I had super emotions, even though I was very prepared. That is until I shook hands with them and realized that nothing I proposed would work. The climax, only then did I relax and start to be fully there. I remember everything seemed so alive; they threw themselves into the exercises I proposed with a certain quality of freedom, and this gave birth to moments that remained on my retina. Total dedication on their part, that's what I remember.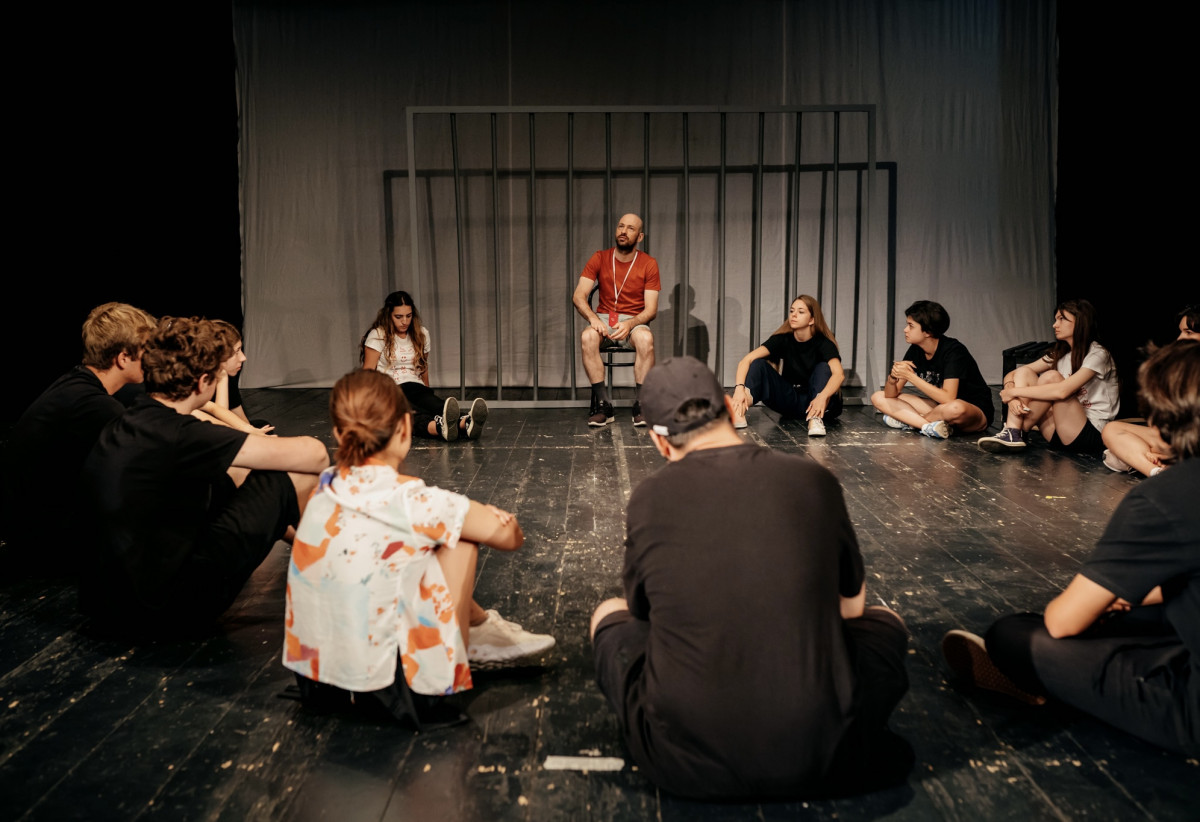 Photo credit: Alexandra Iftime
What do you do with them?
That moment from the first workshop as a trainer, I will never forget it even as a mentor. So it is very important to me who I deal with. I have a series of exercises, but I always improvise and make a cocktail of moments according to the needs or lacks that I feel they have. Obviously, it also matters what questions come up, that's why I choose to spend as much time as possible with them, which is essential. So I stay outside the program as well. In fact, sometimes it's much easier to get the gist of things from the outside, and get to know each person that way. I don't set strict goals, the fact that we share experiences related to important topics, in itself, is a big thing. After all, the time I manage to spend with them is much more limited than when I was a trainer, so I can't have the same expectations. What I've noticed over the years between being a trainer and a mentor, is that in the first option you reach young people much faster, and that's normal. As a mentor I always try to catch up with the trainers I have in that band.
What are the young people who come to Ideo Ideis like?
They are very diverse and I like that a lot. Even those who apparently do not have a standout personality, they are all there because something attracted them. It unites his attraction to something I don't yet understand, but intuit. Some have clearer visions of what they are looking for, others don't know what to call them, and there are still those who seem to be running from something. They are the most fragile, but also the strongest.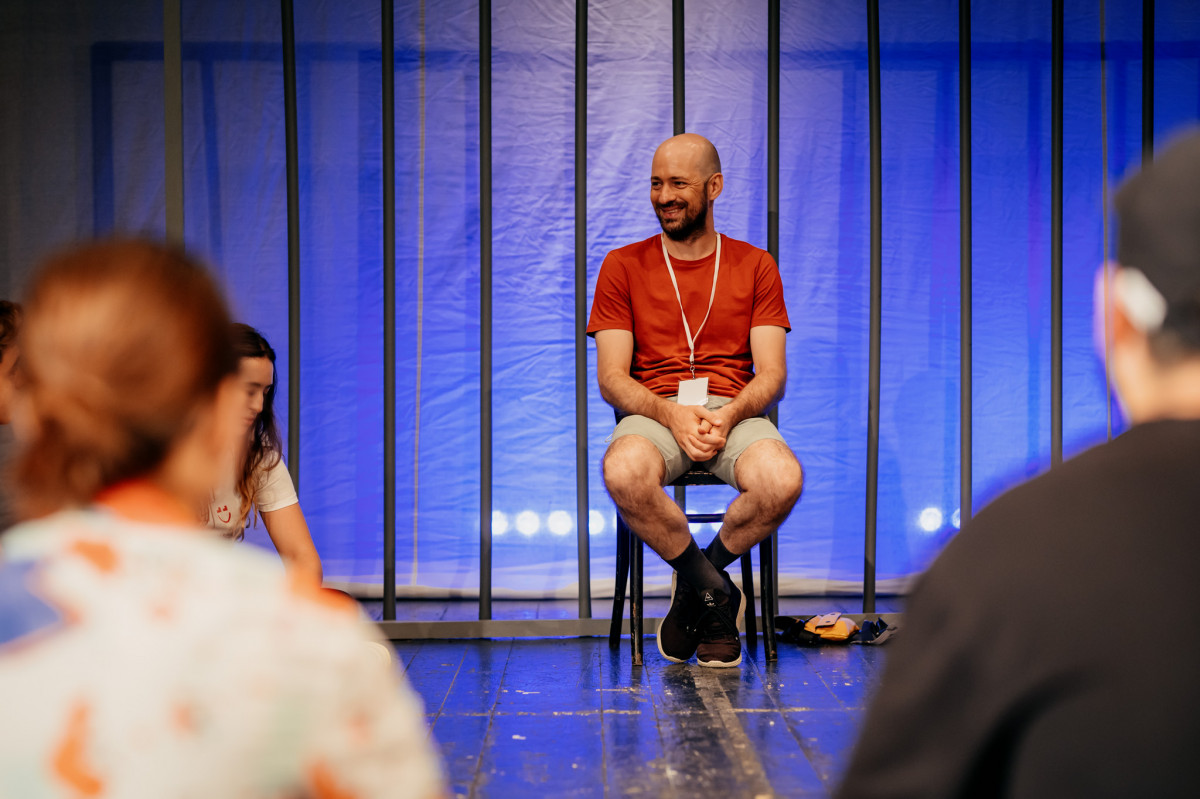 Photo credit: Alexandra Iftime
What do you tell them they need, beyond technique, to be good actors?
what was i saying Fragility is strength, but this cannot be taught, it must rather be instilled, because it is difficult to understand this on your own. But I'm not just talking about those who want to become actors. At Ideo, it's very cool that sometimes you don't differentiate between those who want to become actors and those who don't. Many times those from whom you would expect, at first impression, that they will become actors, do not want a job in the artistic area. Although the talent, the inclination, the enthusiasm are obvious, they are not always tempted to go further, and that seems very cool to me. Instead, those who are more insecure about themselves want to become actors. It's simply a need.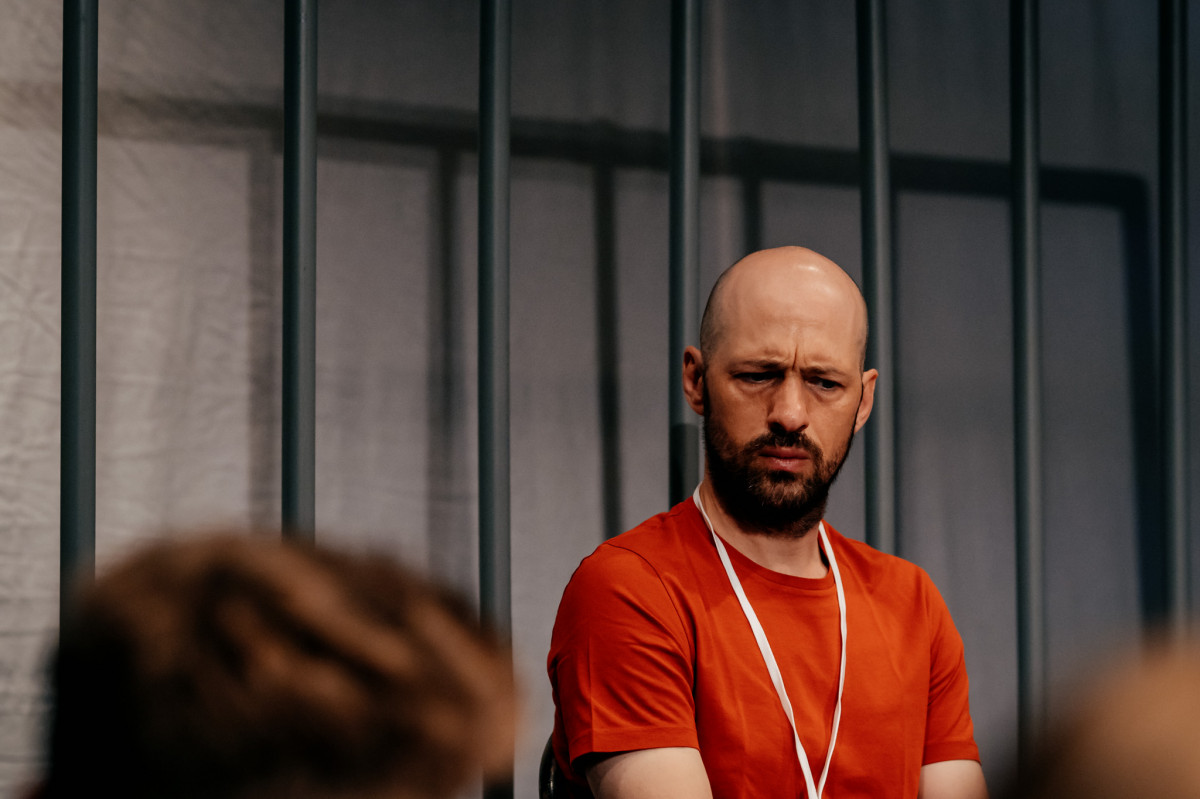 Photo credit: Alexandra Iftime
The revelations you walk away with every time
With the same Thoughts on human frailty and the beginnings of adulthood; about how life later throws us into a whirlwind, and how we can survive by keeping a shred of meaning from everything we've gleaned from a place like this.
The energy of the young theater
It's a must. The fact that it happens once a year, although it seems small, is a big deal. It seems to me that the festival has kept the same freshness, it has the same meaning – and that is very important. We are there for young people with all the resources, and they in turn open up to us and give us hope for future generations.
How do you think this festival has evolved over time?
Every year the organizers manage to maintain a quality and add new objectives to the program. At the same time, the awkwardness has its charm, because it gives a youthful air to the festival – which I would not like to turn into something rigid, but to remain about and for young people. It can be wrong, it's allowed.
The benefits of theater for youth communities
I was talking above about the fact that most of the time those you wouldn't necessarily guess choose this path, and not by chance. Theater, first of all, helps you develop on several levels. Those who have this need – they intuit it, and choose the path of theater, because on a personal level it produces great changes. And communities are made up of individuals. I noticed, especially at the Ideo Ideis festival, how much there is a need to be together and not anyway, but in the context where everyone is focused on the same things.
The support of theater techniques in the development of an adolescent
Theater techniques, and some of the related arts, are designed to develop you. At least the ones I use as a trainer. As a mentor, I rather draw attention to the way of life. The conversations we have all lead in the same direction, namely how much we know who we are and how much we manage to assume towards ourselves and others. In a way I'm sorry that I don't train with them anymore because I'm no longer part of their 'technical' process – where it's about testing and awareness of limits, about developing imagination based on each person's personality, etc. I say this because , in my opinion, there should be no more rift between the artist and the man in the generations of artists that follow.
Memorable moments experienced at the festival
There are many and I don't know how ethical or moral it is to share them publicly. The idea is that we had some confessions, I would say, based on some exercises that we did in the group and that marked all of us present in the room for life. There were no programmed things, the purpose of these exercises is not to exorcise one's soul. But openness and attention to self and others, in favorable contexts, can produce such revelations. We all learned from those moments. And they united us.
As you see further Ideo Ideis
I don't know what the needs of the younger generations will be in the future, but I can hope that launching pads, like this festival currently, will continue to exist. I can't give my opinion on the organization because I'm not part of it and it's beyond me. But I'll be wherever I'm needed.
---
Source: IQads by www.iqads.ro.

*The article has been translated based on the content of IQads by www.iqads.ro. If there is any problem regarding the content, copyright, please leave a report below the article. We will try to process as quickly as possible to protect the rights of the author. Thank you very much!

*We just want readers to access information more quickly and easily with other multilingual content, instead of information only available in a certain language.

*We always respect the copyright of the content of the author and always include the original link of the source article.If the author disagrees, just leave the report below the article, the article will be edited or deleted at the request of the author. Thanks very much! Best regards!
---