At just 18 years old, he began his career in the series Afterclass giving life to Santiago, an adolescent in search of his sexual identity who in his own right made him a mirror of many young people who attended, bewildered, that recurring mania on television of approaching homosexuality from a sometimes insulting comedy. A role that opened the doors to an industry in which television was frowned upon because, as they said, "good actors make movies." Today, the energy and empathy of Alejo Sauras (Palma, 1979) are two qualities that well define his way of being and working. Proud of his career and the characters he has played, science fiction stars in a new stage in his life, in which he has discovered "the magic of things that appear suddenly". I am alive is the TVE series in which the Mallorcan actor plays Iago (or El Enlace), a character who lives between the world of humans and the Beyond, helping the protagonist Andrés Vargas, played by Javier Gutiérrez, to understand the events that They occur after his return to life after dying chasing a serial killer.
No preference for acting in front of a film or television camera or on the stage of a theater, Alejo Sauras understands the profession as a continuous learning through all the formats that interpretation offers. Your character in I am alive, which premiered its fourth season at the beginning of the year (La 1, Wednesday at 10:10 p.m.), seems to have chosen him, since he confesses a loyal consumer of science fiction, a genre with which he constructs his own form of therapy and avoidance of the real world, and in which you choose the eternal Matrix (even after having seen it almost 30 times) e Interstellar among your favorite titles. Much of his time is spent trying to understand other people's lives, both on and off the set., shelling real or fictitious personalities and then interpreting them through empathy and the internalization of the character.
What do you stand out from the fourth season compared to the rest?
First, the focus. Although we continue to work with all the genres that we had until now (action, suspense, science fiction, drama …), in this season the plot is approached from a comedy point of view, that is, the characters accept the things that happen to them as part of daily life, which allows them to trivialize certain situations and allow the viewer to empathize with them.
In this fourth season there are both, but which one do you prefer, science fiction or humor?
If I had to choose cold, as if we were to say take one envelope or take the other, at this moment I would choose science fiction; not because I don't like comedy, which I really enjoy, but because I've already done a lot, and science fiction is my first project. For me it is being like starting something from scratch. For example, I have discovered how special effects are made. At this stage in my life, I would choose it simply for novelty.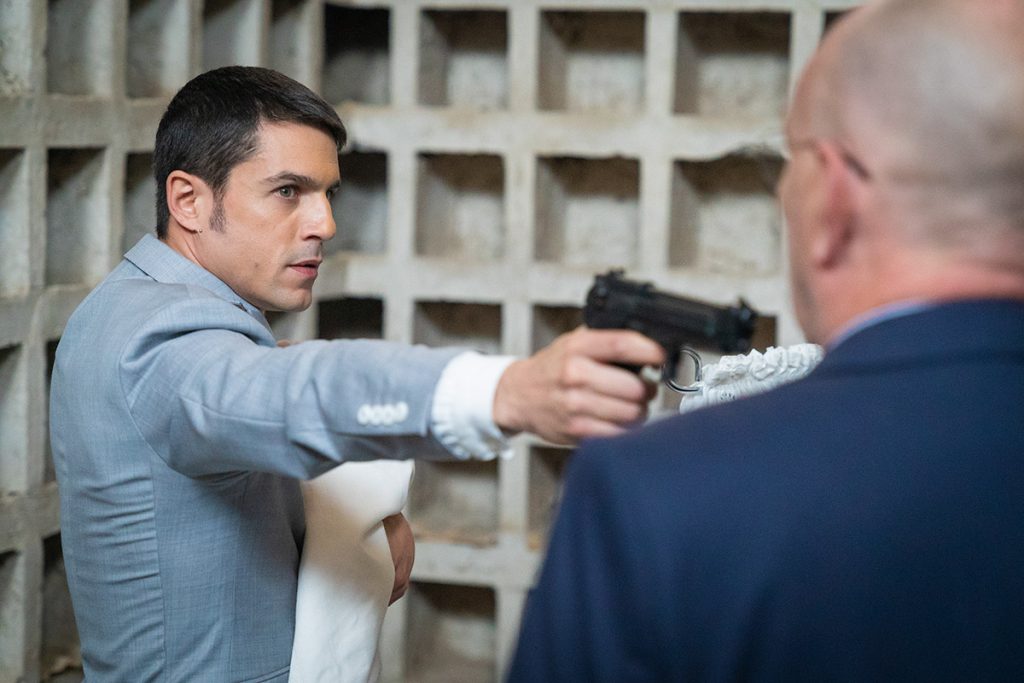 Do you analyze your characters?
Much, I go crazy. As I always say, on one side is the paper and on the other the head. I read the scripts ad nauseam, trying to extract information about his personality from each word of the character. I think of him as a friend of mine that I try to help. During the weeks leading up to filming, I try to face everything that happens to me in life from the point of view of my character. I go out for walks alone, and I think, "How would my character take a walk?" What the people around me don't know is that I am walking as if I were someone else.
The idea of ​​'getaway' has become popular in certain parts of society. Do you think there is a niche in science fiction that helps this idea?
Yes, I am a heavy science fiction consumer. I like to sit and enjoy a good premiere. The thrillers, for example, they help me escape from everything that burdens me. Seeing a ship leave for another planet where things happen that do not happen on Earth, is my way of escaping. Even movies or series that are not so good have something.
Has management ever called you?
Yes, many times. In some project it has happened that the director has not been able to be or that he did not get to understand with a specific actor and he has asked me for help. I'm good at talking to people and understanding the lives of characters that don't exist, so the moment they do exist, I empathize a lot with other people's problems. I usually help colleagues to prepare castings and vice versa. The actors help each other a lot, but directing is much more than that, because we are only a small department within the great conglomerate that is a movie or a series.
What is your first memory on a film set?
The first time I acted in a series, starring the great Fary, about 25 years ago. When I went on set for the first time everything seemed to me done on a large scale and I kept wondering how they did this and how they did that. I have a very nice memory of my beginnings on television.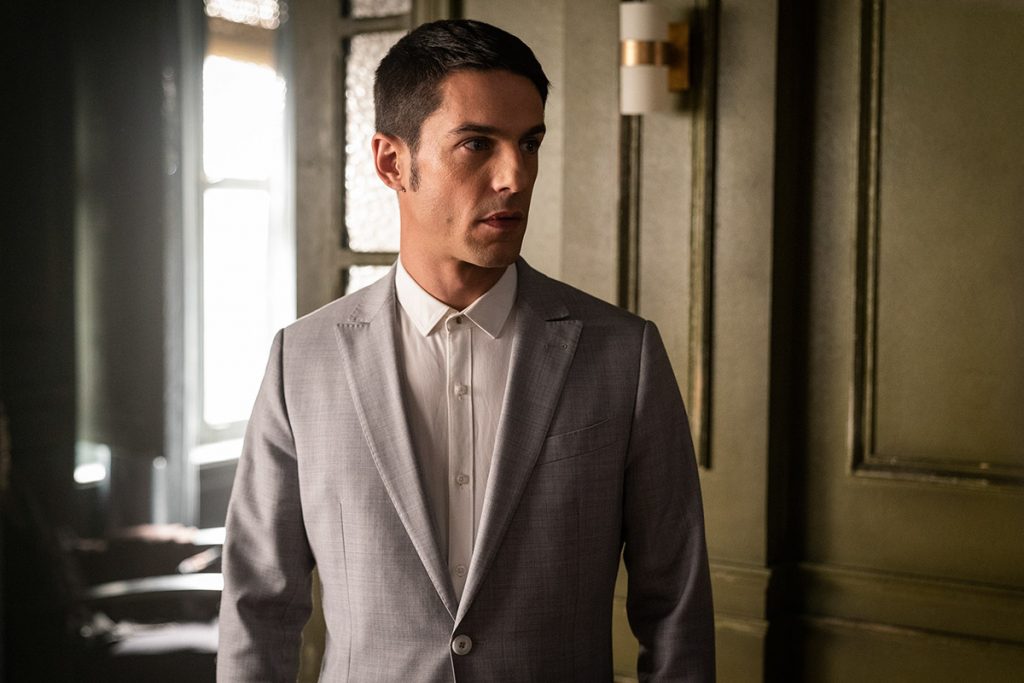 Many years have passed since those series, like Afterclass, that launched so many young actors. How do you remember that time? Without that series, Alejo Sauras wouldn't be where he is now?
I remember her as one of the best in my life. It brought together all the good things that any 18-year-old actor looks for: a job on a long-term series, a cast of wonderful teammates, and it was shot close to my house. I still keep the letters in which the viewers thanked me for having helped them face and assume certain situations in their life, especially those related to the personal sphere. I prefer not to think where I would be without that popularity; I am proud to have been part of something so significant for the young people of that time.
Your co-star, Javier Gutiérrez, told how complicated this profession is sometimes, from the point of view of stability or even economically. Do you see it like this?
Yes, it is quite unstable. The entertainment industry makes a lot of money and a project usually lasts six months at best. If we did not get paid to support ourselves for the next six months, it would be impossible to survive in this profession. A friend of mine said that in Spain the glamor It consists of picking up your Goya and going to dinner at Vips. In other words, the fact that you find a role that you like a lot does not guarantee that there will be many others behind it. The quiet actor is the one with a cushion to deal with those possible months of inactivity.
Do you believe in the supernatural? Is there something after death?
There are days when I do believe and days when I don't. Everything that we do not see depends on our state of mind and our desire to believe in things. I want to think that when everything is over there will be another party and we will live it in a different way. I believe that people have faith simply because it benefits them.
Without going too far, do you have any other projects underway?
Finished I am alive recently, and I am trying to fit other projects, while I wait to see if there will be another chapter. If not, I have a theater performance and a movie that I would like to do, but we are working on it.
---
Source: Vozpópuli by www.vozpopuli.com.

*The article has been translated based on the content of Vozpópuli by www.vozpopuli.com. If there is any problem regarding the content, copyright, please leave a report below the article. We will try to process as quickly as possible to protect the rights of the author. Thank you very much!

*We just want readers to access information more quickly and easily with other multilingual content, instead of information only available in a certain language.

*We always respect the copyright of the content of the author and always include the original link of the source article.If the author disagrees, just leave the report below the article, the article will be edited or deleted at the request of the author. Thanks very much! Best regards!
---