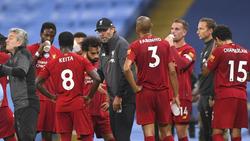 Coach Jürgen Klopp of the English football champions FC Liverpool does not want to spare his top stars after winning the title in the six outstanding games of the Premier League season.
"We want to win games and to win we have to send the best players on the field," said the 53-year-old. "We don't distribute Premier League games as Christmas presents. We can't do that."
The Liverpool coach therefore does not want to use any young players for the time being. "We are champions now," he said, "where people say we should bring the young players, give them a chance. Then we lose games and everyone criticizes us:" You are no longer focused, you are not doing this anymore, you don't do that anymore. "
The time for the youngsters will come, said Klopp confidently. "If the young guys are (at some point) among the best players, they will be on the pitch. They are close, they are really good, and they are our future," said the coach. "But they won't play just because I want to see them in a Premier League game."
Since last week, Liverpool is back as champions for the first time in 30 years. The Reds lost the first game after the triumph on Thursday with 0: 4 (0: 3) in second place in the table Manchester City.
The lead of the Klopp-Elf, who can still set some records this season, is still a remarkable 20 points six game days before the end of the season.