Hello.
The beginning of the year brought new worries. The riots in Kazakhstan quickly spread and escalated into a very high level of violence, accompanied by looting of shops. What is a revolution without the expropriation of consumer goods? On the other hand, America set the tone in this – looting has become a way of existence for many, and robberies have become an ordinary event. The riots are over, but the boutiques of fashion houses continue to plunder the old fashioned way, a pack of young guys flies in and in a matter of minutes they grab everything that comes to hand. With electronics, however, this trick does not work, there is no point in stealing the same iPhone or Android smartphones, they are locked, it is quite easy to find thieves. In short, continuous problems and almost no income.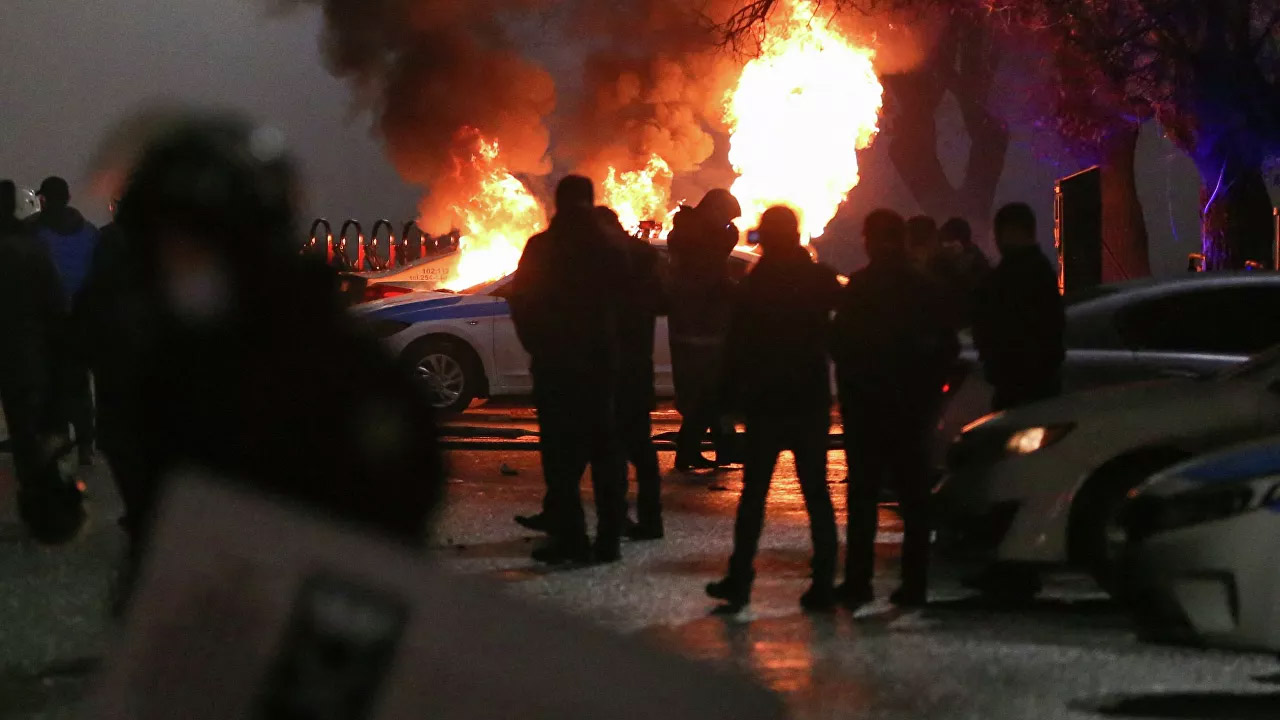 On the first day of the riots, Kazakh operators followed the government's order, restricting access to the Internet, both mobile and wired.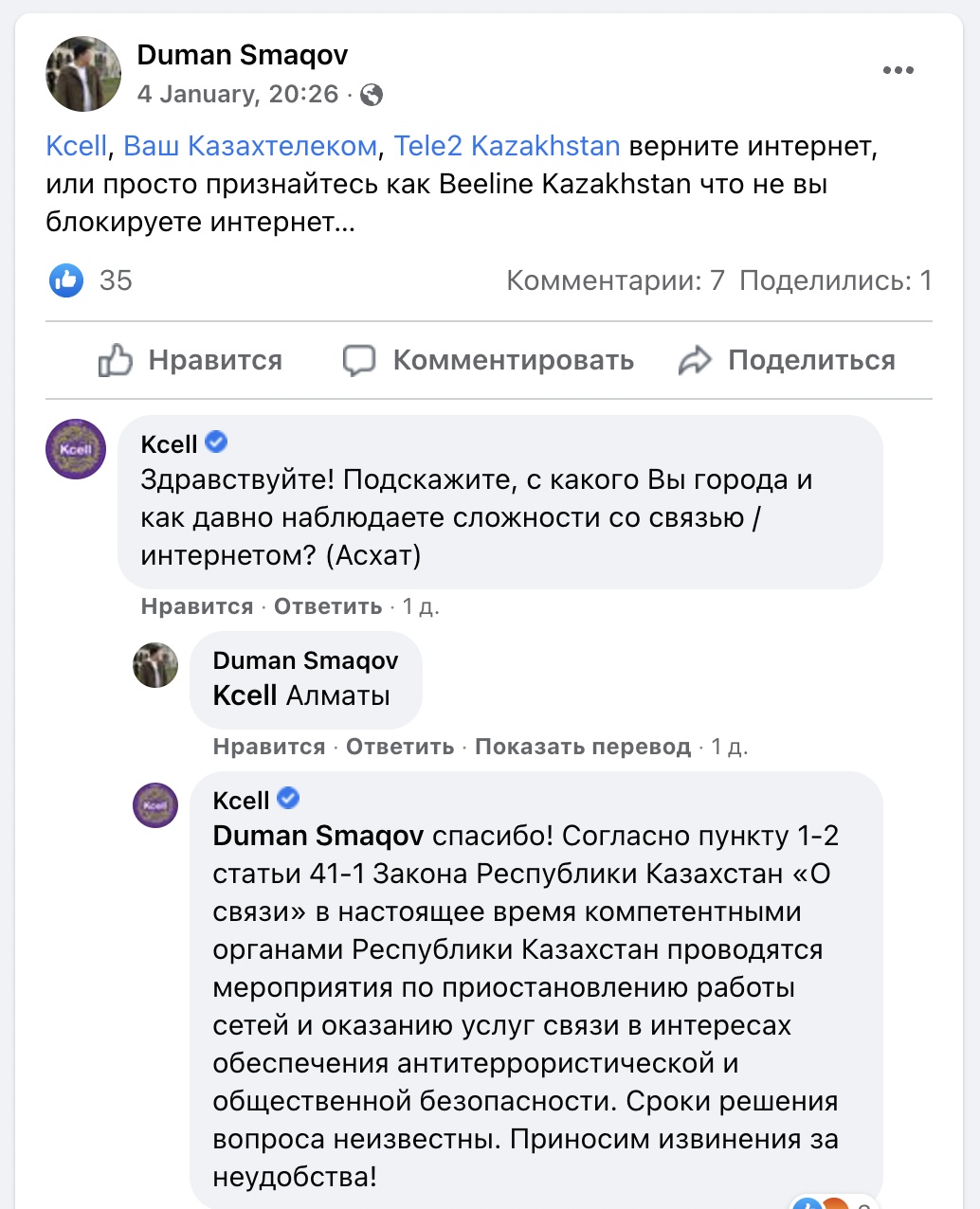 In fact, a country with a population of about 20 million people was cut off from the outside world, and inside the country all means of communication evaporated overnight. Why this was done, there is no point in guessing, the Internet is a cheap connection, the ability to coordinate actions plus pumping people up with this or that information. From the point of view of control of mobile operators, Kazakhstan is rather weak, the country has a switch, but there are no means to regulate traffic in real time, cut off certain resources. As a result, the only way out was to use television and turn off the Internet at a time when the situation was unstable. At the same time, the army's communications have not disappeared anywhere, which put the rebels in an unenviable position.
The example of Kazakhstan is interesting in that the impossibility of analyzing calls, SMS and traffic in real time made the state helpless at the moment. It is clear that the analysis of this data will be carried out after the fact, will become one of the evidentiary parts in the accusations against those who robbed shops, participated in the riots. As well as all the posts that local residents post on social networks. The search for people by them will be easy, something tells me that Kazakhstan will be looking for suppliers of software for face recognition in the coming days.
In Russia, the situation is quite different in practice. In large cities, systems have already been deployed that allow real-time tracking of specific people and their actions. This information can be coupled with the movements of mobile phones, and it does not matter what they are, push-button, smartphones, with or without encryption, it does not play any role. The next stage is not just the interception and analysis of data in real time, but the possibility of replacing the data with those that are needed by the state. For example, when you access a certain group in Telegram, you will see a message stating that the information posted there violates certain laws, and you will be notified of responsibility for this. The evolution of such systems will lead to the fact that the conventional Ivan Ivanovich will see a message on the screen of a computer or telephone, in which he will be asked to come to the investigating authorities to testify on such and such a date. Automation is rapidly spreading into all areas of our life, and it will be difficult to get rid of it even in such areas.
The beaten cliche says that Orwell's prophecy about Big Brother is coming true before our eyes. Formally, this is the case. But let's look at the situation from a different angle, whether such systems can be useful and why all states are investing huge amounts of money in them. Usually, the discussion is solely around political issues, freedom of expression, and the like. But like any dual-use system, such technological sophistication can be used both for good and for harm. For example, in Moscow the number of burglaries has been decreasing for the last ten years. You need to be a very narrow-minded person to rob someone under cameras.
Is this a positive example? Undoubtedly. It is difficult to find people who approve of stealing or robbery, of course, if this is not their way of finding food for themselves. Let's take a look at examples of people search, when both video surveillance systems and data from cellular operators are used for this. The quality of search has increased, more and more people are literally saving, the situation is gradually changing. Of course, we always want it to be different, yesterday, but this does not happen. Technologies appear in real life in spots, first in large cities, then in smaller ones, and so on. Somewhere in our country there are still 90s, somewhere they ended long ago, and this is normal.
Pay attention to what the Ministry of Internal Affairs does with the help of such systems. High-profile crimes are disclosed in hot pursuit, the criminals are found the next day and videos with their confessions, sometimes repentance, are immediately distributed on social networks. Even the most die-hard and frostbitten people begin to understand that punishment is inevitable and they will be quickly found. Far from everyone in the regions has this understanding, but even there it appears.
It is interesting that for the first time we got a conventional time machine. Many crimes are queued up for analysis, since there is not enough computer power to analyze them. There is an array of data for processing, priorities are set, and then, when the queue comes up, they can be opened. The perception of even employees of the internal affairs bodies lags far behind reality: "We will never be replaced by computers." Nobody even talks about replacing living people with computers, the task looks like a decrease in the number of crimes, better work with those that remain. De facto, we get a decrease in the overall level of crime, since the inevitability of punishment in many cases becomes real. It is totally impossible to eradicate crime, and there is no such utopian task, you need to reduce its level. And we are on the way to this, as well as in China there are already certain changes in society. For example, the introduction of fines for fighting in a public place has led to the fact that in large cities they have disappeared. As well as fines for smoking in public places, smokers literally hide. And this is just the beginning of reformatting society through the system of punishments. One can complain for a long time that everything was different before, but the reality is that such things are starting to work in full growth in different countries of the world. For example, Moscow's experience with traffic camera fines is gradually spreading throughout the country, which causes unconditional protests. But in the end, everyone will pay and try not to violate, there is simply no other way. Someone will lead a doomed battle with cameras, which they will eventually lose.
Let us now return to the political issues that cannot be ignored in terms of such systems. For some reason, by default, they are considered to restrict freedom of speech. Which, of course, is not at all the case, and this is the main deception around the discussion of such systems. They restrict the freedom of anonymous speech when people invariably call for things that are directly forbidden, for example, a coup d'état or other similar "little things". This is what causes such irritation among many opposition politicians, who are used to manipulation when they refer to the opinions of people, but in fact these are messages that were created by their own employees or even bots. Such moments are becoming more and more difficult to implement, the transparency of information systems is growing, as well as the imaginary anonymity begins to disappear. You may still be unknown to your interlocutors on this or that forum, in this or that social network. But for the state, you will be transparent. Privacy is becoming the lot of the elite and a very expensive commodity, and huge sums of money will have to be spent to maintain it. The privacy from the state will become a commodity, literally accessible to units.
There is probably nothing wrong with the lack of privacy. Exactly the same as in ordinary life, we saw a decrease in the number of crimes, and the degree of many discussions on the Internet will decrease, since it will be possible to face very real consequences for insulting another person or threatening him. Not to mention the various punishments provided by the Criminal Code for those who violate it so unrestrainedly today.
The substitution of concepts in our country occurs constantly, since many for some reason believe that freedom of speech means freedom to insult and humiliate anyone. Which, of course, is not the case. You can, as before, conduct discussions, express your point of view, and the example of Russia clearly shows that a huge number of oppositionists preach on social networks, publish in magazines, and flash on television. At the same time, some are trying to create an image of fighters against power, but it still does not prohibit or restrict them. It always amuses me how such people complain somewhere on YouTube, say that they are walking along the edge and will come for them from day to day.
Freedom, which was used by many before, is ending. Words will need to be chosen correctly, and a discussion in which there are calls to kill someone cannot remain unanswered. What I personally think is absolutely normal, for such things you need to beat on the hands.
One of the questions that constantly pops up in connection with the riots in different countries can be roughly called "they are children." A small segment of society, if not insignificant, advocates that no punishment can be applied to those who have committed criminal offenses because of the lofty ideals of the search for a new life. Throwing bottles and stones at law enforcement officials? Caught in the act? You need to have the courage to be responsible for your actions, and even better to find out before committing them what responsibility is provided for by law. And understand exactly what will happen to you.
Let's get back to the issue of Kazakhstan. I have a theory that the authorities' inaction was deliberate, no matter how cynical it may sound. The volume of materials that was received during the first night of the riots allows us to accurately identify the majority of those who participated in the protests, as well as their role in them. This is not a quick job in the absence of modern control systems, but the fact that Kazakhstan will start buying and installing them in large cities is now beyond doubt. The country has received a clear example of how such systems can avoid problems like the one that happened during the unrest.
Big Brother's technologies are usually demonized, often around them there is a substitution of concepts. In the wrong hands, they can do a lot of harm, which is beyond doubt. In Russia, the work with personal data is systematically and in practice changing, access is closed for many people who previously had it and used it to harm. It is an ongoing process and it does not stop.
In my opinion, there is a civil society in Russia (also an unpopular point of view, but this is so by all indications), and within its framework we need transparent rules of the game, when we understand what the state is doing to protect personal data, how exactly it monitors us and what it can and cannot do. Sooner or later we will come to such external restrictions, and they are necessary. But in order for them to appear, we all need to shift the discussion from the plane "I hate the bloody regime, die" into the discussion of why monitoring systems for the Internet and mobile networks are needed, how they work and what tasks they perform. Through understanding, the absence of fear also arises (remember the hysteria about QR codes, because they turned us into a digital concentration camp and now everyone can be tracked!).
I am well aware that many perceive the Internet as a free psychoanalyst and pour out their emotions into it. And there is nothing wrong with that. But if you want to change something in real life, then you need to understand how certain systems work, and conduct a dialogue with everyone, including the state, ask questions and bring them up for public discussion. This is the only way to change our life. And those who want to burn everything down, to put it mildly, are wrong. And they could never create anything constructive, they only know how to destroy.
What do you think of Big Brother systems can be noted in our survey.
Unfortunately, during such events as in Kazakhstan, people suffer. Take care of yourself and your loved ones. To believe those who are trying to radicalize people, take them to the streets, while they remain anonymous and sit in warmth and safety, is probably stupid in itself. This does not mean that there should be no protests in society, they should be, but that they should be peaceful and without murder, robbery, and humiliation of people. Or do you think that only through humiliation of those who live next to you, you can achieve justice for everyone?
---
Source: Mobile-review.com — Все о мобильной технике и технологиях by mobile-review.com.

*The article has been translated based on the content of Mobile-review.com — Все о мобильной технике и технологиях by mobile-review.com. If there is any problem regarding the content, copyright, please leave a report below the article. We will try to process as quickly as possible to protect the rights of the author. Thank you very much!

*We just want readers to access information more quickly and easily with other multilingual content, instead of information only available in a certain language.

*We always respect the copyright of the content of the author and always include the original link of the source article.If the author disagrees, just leave the report below the article, the article will be edited or deleted at the request of the author. Thanks very much! Best regards!
---