According to the case file, K.Pielikis, who was born in Šilutė district and obtained secondary education, is accused of killing his son AP on February 20 at about 12 noon in a house in Jurbarkas district, in the kitchen, under the influence of alcohol.
In a conflict with his son, he deliberately grabbed him by the neck and, pressing with his elbow, collapsed along with the offspring on the pavement. Then, lying on his body and continuing to press hard on his neck, K. Pielikis, according to the indictment, struck at least 5 blows to the head.
After squeezing his neck, AP died on the spot.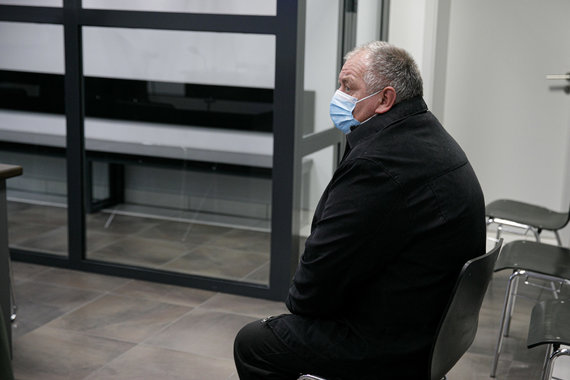 Eriko Ovcharenko / 15min nuotr./Teisiamasis
Always the same scenario
On October 11, the first hearing of this murder case was held in Kaunas Regional Court. During it, the details of the family drama began to become clear.
"Yes, I am guilty," admitted K. Pielikis, who agreed to give evidence, stating that he was "once convicted", but did not reveal what he was for.
He is awaiting the verdict of the court in freedom – he is not arrested.
According to the accused, the relationship with the 32-year-old son was normal until the spring of last year, when the offspring's family life began to slip – he divorced his second half.
As K. Pielikis told the panel of judges, the son lived with his friend in England for some time, he had a son – the only grandson he had. The couple returned to live in Lithuania and everything began to fall apart.
"The son was driving a car carrier – he left for two months, returning after the divorce and living with us with his wife. Started drinking a lot. Absolutely everything fell apart. I lost my job, my rights, I broke my car. He has recently been registered with the labor exchange.
The fights between us began last year before Father's Day. Came to him. Always the same scenario. When I got back from work, I found him intoxicated. There were no conflicts, but when I drank (about 3 prom.), Talked to my mom, it gave me over my head. If I couldn't escape from it, I grabbed my neck and rolled both on the meadow. We lay down. He was tired, so it ended, "K. Pielikis revealed his mutual relations with his son while giving evidence.
After such alleged attacks by his son, he could not go to work for several days – "throwing" to the sides, "taking away" his legs. The wife was tired of reporting her son's violence to the police, who thought he would be back on track and what the neighbors would say.
According to the accused, the day before the fateful event, the son was also violent against him – he hit the head several times. He always hit just in the head.
"Then, that Friday, I managed to escape, to close my room. Blood ran from his nose, the whole cover was soaked. It beat me ", K.Pielikis recalled.
The struggle ended in death
But the next day, when he woke up on Saturday, he returned to the drinking table again – he had been drinking at the family home for a few days. The reason is that two of his friends visited his son.
"The son was angry with his mother again. She was drunk, and her son began to shout at her, rebuking her to "finish the balls." We were five, we celebrated. We drank vodka. The son first struck one of the guests – his friend. I thought, and I would run away again. He rushed to chase me, hitting the doorway. I grabbed him in my arms once again and we both fell painfully. Tried me a few blows disconnectto run. I wasn't going to run …
Later, I understood why everything happened so strictly on that Saturday (February 20, 2021). Were his friends, did not want to admit that the old man was pressed by someone, did not release, could not escape. The son was ashamed of his friends, apparently so uneasy. Everything lasted maybe 5-7 minutes, no one tried to divorce us, strange because of that, "K. Pielikis described the deadly struggle, assuring that he had not heard that his son would ask to be released.
When he got up, the accused admitted that he had "fumbled" his son once in the face because he did not want him to attack him again – he wanted to "divert the son's attention, disconnectto stand up. "
When he got up, the accused admitted that he had "fried" his son in the face.
When he felt his son calm down (he thought he was tired), he stood up. Then, catching his breath, the accused went to the kitchen and drank maybe 5-7 glasses of vodka – his head hurt a lot. Only after a while – maybe half an hour, thinking to check if everything is fine for the son. Then, realizing that this – does not breathe. K.Pielikis himself called the spec. services.
"It simply came to our notice then that it would be possible to strangle a person in this way. After all, we used to fight like that. The principle was the same between us: strangulation, falling to the ground, lying down. 3-4 times before. If you choke, it has a purpose to choke, right? I just kept.
"I'm done, I'm not going crazy," my son slapped me. That's how our struggle ended. I fired, stopped attacking. This time everything went the same way. I had no purpose to kill, just to curb. It was ordinary for me to be restrained here, "the accused testified.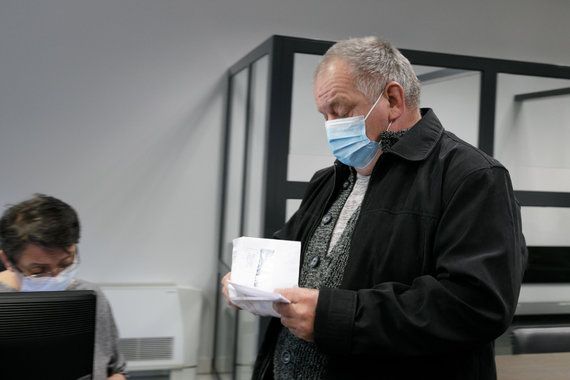 Eriko Ovcharenko / 15min nuotr./Teisiamasis
Who beat what?
One of the judges asked the accused, who had given evidence, why the investigators, if he only tickled once, found injuries to the AP's head – even the eye socket was broken. The indictment also states that the accused not only strangled but also took at least 5 blows.
"It simply came to our notice then. There was something like one blow because I had to get up. I did not delve into the injuries listed in the indictment because I did not do them.
The day before, on Friday, when I ran away, the son and friends stayed in the kitchen. One of the guests gave her son some psychotropic pill. Didn't work. He drank the second – it worked, he remembered little. In the morning the son showed a bloody wrist, the stairs were bloody, I heard how the night fell from them. The shelves were knocked out in the room, the broken mugs were – horror ", – K. Pielikis guessed from where injuries could have occurred to the son.
He said that his son had beaten him – hit him in the back of his head, and he was defending himself with one remaining free hand, which caused injuries to him.
"But there were no injuries in your head, only on your arm," the judge assured.
Asked why the witnesses claim to have seen K. Pielikis hit his son more than once, he stated that they could have confused his and his son's hands – after all, the fight took place on the floor.
The accused doubted whether his wife, the victim's mother, remembered this horrible event. Today, according to K. Pielikis, she accuses herself of not taking measures to stop the violence – she did not call the police.
It was not even thought that it would be possible to strangle a person by falling asleep in this way.
One of the panel judges could not understand why the accused, who had allegedly suffered violence from a drunken son, still consumed alcohol together, and why such a disastrous lifestyle was led in the family.
"It simply came to our notice then. It wasn't a constant thing. I kept thinking that everything would be fine that last time. Apparently there was no will, "the accused admitted, clearing his head.
There was no thought of suffocation
Asked by the prosecutor how he evaluates his actions today, K. Piielikis assured in court that until the son reached the age of 30, they had not even pushed each other, the sober son did not even touch him with his finger.
"It is terrible, I value my actions very badly, I lost my son. Had to run or let me finish? I don't know what to do. I really feel guilty. There was no thought he could suffocate. I thought he was fine. I didn't understand, I thought I was lying, "K. Pielikis exclaimed.
Immediately after his arrest, he was set at 2.76 prom. drunkenness. He assured him that he was not so drunk while the fight was going on – after all, he had fallen asleep, everything was going on for about 12 hours a day, he was drinking after all.
The prosecutor of the case praised the fact that at the scene the accused even denied the conflict with his son – who called 112 and said that he had only lost consciousness.
There are data in the case that K. Pielikis himself was aggressive and made noise after drinking. In response, the accused assured that it was only a rumor.
The accused was not rejected
At the hearing on 11 October, a former girlfriend of the deceased AP, who was raising the son of the murderer, was also recognized as the victim in the present case. The woman had a hard time collecting words, grieving. True, she still communicates with the accused – she comes to the guests, goes to the cemetery together.
"There is no empathy, but we communicate. The child loves his grandfather. He helps to grow it – he sends money, "the woman explained.
She revealed that a former friend of her heart has said that when she drank her father, she sometimes had to be reassured – when she saw that she was worried, slap gave.
"They told me (AP – aut. past.) that "when my father started shouting, making noise, attacking my mother, I slapped him and calmed him down". They used to say so reassuring. True, he never told me that his father had suffocated him before, "the victim testified.
According to her, AP's relationship with his father was warm, but they were also angry.
"He really loved Dad. Dad (K.Pielikis – aut. Past.) Supported him financially, he hid the mistakes while living in England together. There was still some friction between them. Kest once beat his mother. The teenager has defended his mother, surrendered to his father.
But the connection was between them – they wanted to go home, visit. I have seen K.Pielikis himself aggressively drinking twice. I have even threatened to call the police if you do not calm down. To raise my hand, to fight, I have not seen it – it was just fever, swearing was raining, "the victim recalled.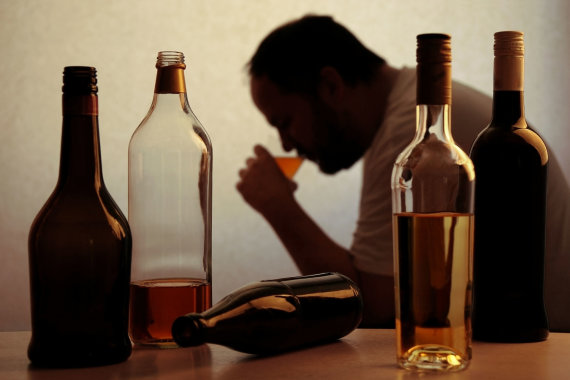 123RF.com nuotr./Alkoholis
He wanted to leave his parents' house
When asked what her own relationship with K.Pielikis was like before, she replied that it was normal – she kept in touch "not angry", K.Pielikis had even come to England to them, earned money there.
"We have lived together for 10 years with AP. For the last 1.5 years we have felt friction. We decided to go both different paths. He lived with me for a while – until he found a place to go, until the financial situation improved. We maintained relationships, communicated. AP's relationship with his son was close.
True, AP has recently become closed-minded, avoiding sharing emotions. I saw that something is not right, was scared, even squinted. Yes, divorce was one of the reasons for his drinking.
There were no multi-days while we were together. The AP who drank to me was not aggressive, and when he went out with his friends, it happened that he was pushed, "the witness answered the question whether he was aggressive after drinking AP or could beat his father.
She admitted that a few days before the murder, she corresponded with AP.
"I was happy, I thought that the person would get together, maybe we would start family life again. He needed to stand on his own two feet, get a stimulus. Said parents drink very often. He got tired of that image. He received no support from anyone. But how to support such a person when he does not tell? "- the woman remembered the last conversation with the child's father.
I thought the man would get together, maybe we would start a family life again.
At the funeral, she did not recognize her ex-boyfriend, according to the victim – the AP looked terrible. He and his son did not know him, he thought that his uncle was not lying in the coffin, but his uncle.
"I had a friend who died in a car accident, the skull was broken. It seemed to AP as well, "the witness revealed that the victim had been severely beaten.
She decided not to bring a civil action in the case.
Asked by the judge how to punish K.Pielikis, the victim replied, not knowing what to say.
"It simply came to our notice then. Only a person has to understand what happened, "the woman assured.
---
Source: 15min.lt – suprasti akimirksniu | RSS by www.15min.lt.

*The article has been translated based on the content of 15min.lt – suprasti akimirksniu | RSS by www.15min.lt. If there is any problem regarding the content, copyright, please leave a report below the article. We will try to process as quickly as possible to protect the rights of the author. Thank you very much!

*We just want readers to access information more quickly and easily with other multilingual content, instead of information only available in a certain language.

*We always respect the copyright of the content of the author and always include the original link of the source article.If the author disagrees, just leave the report below the article, the article will be edited or deleted at the request of the author. Thanks very much! Best regards!
---