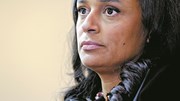 The Angolan Attorney General (PGR) affirmed today that the civil process that is taking place against the couple Isabel dos Santos and Sindika Dokolo is underway and that for there to be negotiations, the illegality of the acts must be recognized. Helder Pitta Grós rejected any negotiations taking place at this time in the scope of the civil lawsuit in which accounts and social participations of businesswoman Isabel dos Santos, daughter of ex-President José Eduardo dos Santos, and in which the Angolan State complains about 2 billion (1.7 billion euros).
"The civil process is ongoing and so far there is nothing that would make us give up the action," said Pitta Grós, stressing that in order for negotiations to take place, one of the parties must acknowledge that they have committed an illegal act ", which has not happened so far , according to the attorney general.
"If she wants to negotiate, she must say that illicit acts she committed in order to make an assessment", which could lead the Angolan State to stop having an interest in letting the civil action come to an end, he added.
Helder Pitta Grós reinforced: "If you don't want the process to proceed, if you understand that you want to negotiate, you have to say what you want to negotiate and how."
On the allegations of Isabel dos Santos, who accuses Angolan courts of denying her justice and forging evidence, claiming to be the victim of political persecution, the PGR stressed that "concrete facts" are at stake.
Helder Pitta Grós said that the Public Prosecutor's Office "has done its part" and stressed that Isabel dos Santos' lawyers must present the alleged "illegalities" before the courts, as others in the ongoing civil cases have done.
"Still this week there were hearings of other Portuguese citizens, to whom the assets were seized and who appealed that decision. I believe that you may want a more urgent response, but the courts have their principles and will respond", stressed the PGR.
Pitta Grós also guaranteed that Angolan justice is not acting selectively, indicating that "there are several processes" underway and that it cannot be done all at the same time.
In December 2019, the Luanda Provincial Court ordered the preventive seizure of the assets of Isabel dos Santos, Sindika Dokolo, her husband, and the manager Mário Filipe Moreira Leite da Silva, then chairman of the board of directors of Banco Fomento de Angola (BFA).
Nine companies in which the businesswoman owns stakes were also targeted, including the brewer Sodiba, Condis, owner of the hypermarket chain Candando, the television operator Zap Media and the cement company Cimangola.
In January, the International Investigative Journalism Consortium also revealed more than 715 thousand files, under the name 'Luanda Leaks', detailing alleged financial schemes by Isabel dos Santos and her husband, which will have allowed them to withdraw money from the Angolan public purse. through tax havens.