A family business, where the parents and three daughters sit on the management team is a reason for a fascinating interview, all the more so when it comes to a family business that has existed for 152 years and has been "inherited" for generations. Such is the Luzzatto Group, which is currently managed by Etty and Kfir Luzzatto and their daughters Tamar, Michal and Lilach.
But just before we understand in depth what it's like to sit at the Shabbat table with your executives and business partners, a little explanation of the extensive Luzzatto Group, whose clients include international pharmaceutical companies, Sony, Mitsubishi, Volkswagen, defense industries and universities, alongside small entrepreneurs, artists and start-ups .
You have probably heard their name in the context of the famous patent law firm, Luzzatto and Luzzatto, but beyond the recognized firm, the group has a legal division that includes a law firm that deals with intellectual property; A business division in which a business development company, through which Luzzatto conducts business and invests in companies and venture capital funds; A consulting firm in specific areas of applied mathematics and communication; And software house.
The group has recently undergone a rebranding, in order to draw attention to the other bodies in the group as well, and not just to the Patent Office. And that is why we gathered for a full-fledged conversation between the two offices, in Tel Aviv and Omer.
This is the moment to take a historic zoom out. In 1869 the office was established by Ricardo Luzzatto in Milan, after participating as a soldier in Garibaldi's army liberating Italy.
He specialized in intellectual property, a field that began to develop at that time. His son, Enrico, a lawyer and aircraft builder, joined the firm in 1914 and even published a book on the foundations of intellectual property, which is still considered a milestone in the field. In 1976, Ricardo's grandson, Dr. Edgar Luzzatto, founded the Israeli branch of the firm and founded a young and innovative firm here that would later develop into the extensive Luzzatto group.
Kfir, his son, nurtures the fifth generation girls, who have already set up successful departments and offices in the group. And there is also one son named Jonathan. He's still a student, and the family promises he's no pressure to join their ranks.
"The original office was closed for a time during World War II, when Jews were not allowed to do business," says Dr. Kfir Luzzatto. "My father emigrated to the United States, passed patent exams and then volunteered for the U.S. military. After World War II he returned to Italy and continued to run the firm with his brother, who was also a lawyer. In 1971, my father decided to come to Israel, and we have been here ever since. "
female power
Kfir and Esther (Etty) knew each other at Ben-Gurion University when she was studying chemistry. "I did not think I would take part in this family story," she says.
"But over time I was drawn to the business and we took it together hand in hand." Esther, a native of Be'er Sheva, is currently a patent attorney herself and also a social activist. On Independence Day 2006, she was able to light a beacon in light of an appreciation for her social-volunteer activities, which focus mainly on the Negev.
Recently, Esther ran for the fifth time in a row in the Omer local elections on the Omer Batnufa list, and she is serving in her position as a council member for the 25th year.
"My life has always been conducted on two main levels of career and social activity," she says. "I was born in the D neighborhood in Be'er Sheva, this is my home, and every corner of the city reminds me of something. The activity in the south is very significant for me."
Lilach is a patent attorney and mechanical engineer who entered the firm about a decade ago and became a partner about seven years ago. "I worked in the office as a high school student and also in university, even though I studied mechanical engineering, the work in the office combined a realistic and creative field, and that was exactly what I was looking for. At first I was still not sure it would be my career, but I was sucked and fell in love. You love, versatility creativity, different fields, diverse professionals, you understand that this is the place for you. "
"When I graduated from the military, I did not think of joining the business," Michal admits. "I studied film in the United States and got full support from family. For a moment I did not feel it was wrong. While studying I realized that film is a hobby for me, more than a profession. When I returned to Israel, it took me a while to understand that law is the thing. "Joining the firm happened naturally. I reopened the original firm that deals with intellectual property, and focuses, among other things, on protecting applications and the world of copyright, an issue that is close to me as a creator. In my role, I am responsible for professional and administrative staff and commercial law and intellectual property law."
"I really wanted to be a doctor," Tamar adds. "In the end I did an internship as a lawyer in a litigation department in a large firm. In my master's degree, in an internship in commercial law, I realized I was more in the business direction. In the family office I found a lot of support to look for where I bring maximum value to the group. "In fact, when I opened the business development, marketing and innovation department, I realized this was the place for me. The advantage is that the group has a lot of options, because it is an endless platform."
Kfir: "Generational change is not an immediate process, it is a long process, but it should have started. I believe the group should get input from the vision of the younger ones and still enjoy what we, the 'old ones', know. It was important to start the process at this time."
I guess you only find benefits in family work, and yet where are the challenges?
Michal: "The benefits, of course, are first and foremost in the level of commitment to the business. This is different than when it comes to several unrelated people who have decided to become partners. In this case it is easier to get up and break the package. On the personal side it is not easy to work with family, but it requires "The downside is that it's easy to bring work home. I always tell my mom that after ten at night they don't talk about work."
Tamar: "We are in the same mind. Although we had to make an agreement about holding a management meeting once a week and dividing responsibilities, but we know when to switch to jeans on Friday and when we are in a management meeting. I have a love for business like another family member, so sometimes it's hard to finish The day is early. "
Esther: "Not to mention that the bond between us is more alive, and we are together all the time."
Michal: "I get to travel quite a bit to conferences with my dad, so we have quality time. It's something that not many of my friends have with their parents."
Tamar: "A day without six phone calls with everyone is considered a weak day."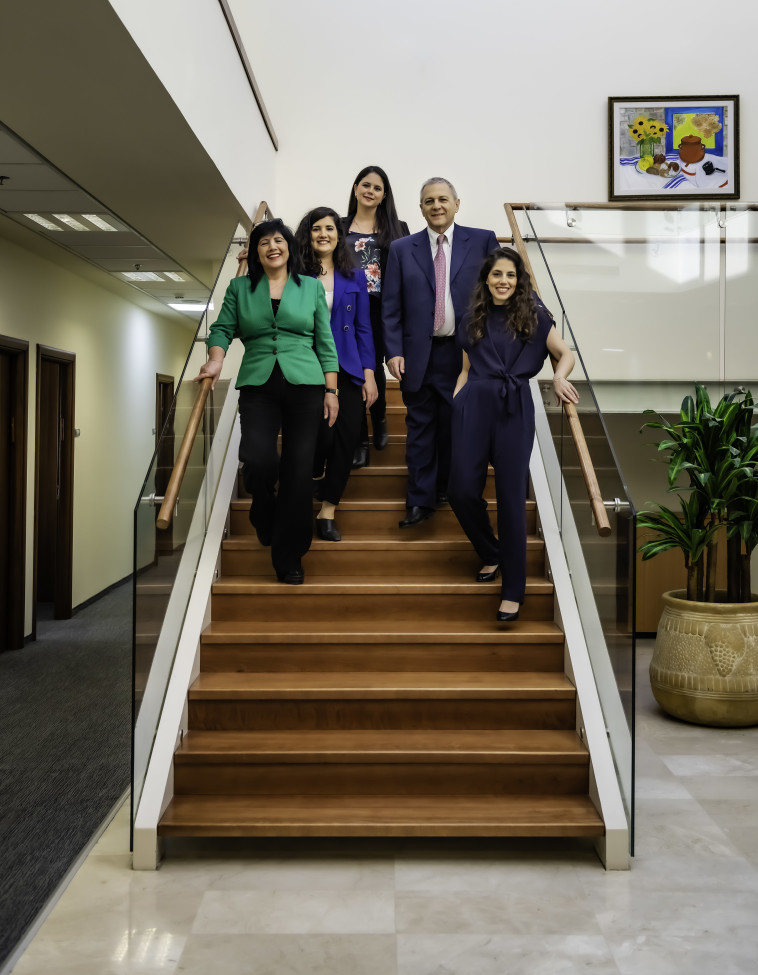 One has to put things on the table and happily say that most of the group management is female.
Tamar: "We have 80% women in management, and this is in a technology group, a figure that does not exist in Israel. Previous generations were men, we are the first generation to pass from father to daughter. In the end there are differences between men and women in management and in general, and we have a lot to bring to the table." .
Michal: "Growing up with a mother who is also a career woman, social activist and manager is growing up knowing that the sky is not the limit. Even in the relationship between the parents they are equal partners, so a female majority in management is natural for me."
Lilach: "We grew up in an egalitarian home and were educated that there is nothing a man can do and a woman can not. When I chose the profession, I was asked why I choose a men's profession. I replied that a profession is chosen out of interest. We were 170 people in the department then, about ten women. In the department, and it's fun to see the change. "
Etty: "Each of the girls is different in her personality, and it's good that way. Each of them is in a place that suits her. We educated them with the feeling that there is no limit that can prevent them from going far."
Everyone's success
Recently, family members have been working on a rebranding process. "After setting up the business development and marketing department, I realized that the way we look does not represent us in terms of innovation and pioneering," says Tamar.
"Our firm has been a pioneer in intellectual property, and we engage in innovation on a daily basis. Two years ago we set out, rewrote our content, and made a brand new architecture that refines our engagement with innovation in all arms of the group."
Michal: "We thought about it at the group's 150th anniversary celebrations. We felt that beyond the new logo and visual branding, an in-depth process was required, both in work processes and in the materials we produce for ourselves. It was very exciting and challenging. The process made us ask ourselves a lot of business questions. "Like how we want it to look. We laughed it was like family therapy."
Where was the challenge?
Michal: "We have always been technologists, whether in the software house in the group or in the approach. We have smart systems, but once the body grows organically and is not always planned, we have to make a transition and see that everything fits our goals."
Esther: "There was dynamism and expansion in the group's activities. The business part began to take on an important aspect, and we realized that nothing nourished anything, that everything was in synergy and that the group's broader activities had to be reflected. We wanted to put the spotlight on other important activities."
Give me an example of successful synergy.
Tamar: "Our divisions talk to each other when needed, which is a big advantage. As business-oriented people who provide legal services, we see our clients in those eyes as well. Even when we design an intellectual property strategy for them, it is done with a broad business perspective."
As an example, she cites Falls & Moore, which was recently issued on the Israeli Stock Exchange. Lilach and Kfir led the team of patent attorneys who handled the company, and the entire extended Luzzatto group was a partner in the business side, and accompanied it from day one. "This is a great example that shows the holism of our work in the group. Technology and business as well as intellectual property – always go hand in hand."
Michal: "It is very convenient that the legal team knows the patent attorneys, who can understand things from the first stage. One of our advantages is that the professional team accompanies the client from day one, and it helps us build a legal strategy. After all, intellectual property is a scientific and legal practice. ".
Kfir: "Each of the entities has its own boundaries within which it operates, but we have a good ability to receive services and help and feedback from each other and thus also facilitate the client, who does not have to mediate himself among all the professionals."
Michal: "We like to be involved in both companies and projects that have added value. It is a privilege we have in our profession, that we really help people fulfill dreams that ultimately bring benefit."
Esther: "Fortunately, we are at the forefront of technology, seeing the things that will be on the shelf in a decade. This dynamic is a very great privilege. You are constantly learning and are at the forefront of doing."
Tamar: "Israel in the end is a small country and Israeli high-tech is even smaller. We are lucky that we maintain relationships and partners with many bodies, funds, accelerators and greenhouses. One of the things that is important to us is to share knowledge, help, connect and give as many tools as possible." That is our mission. " 
---
Source: Maariv.co.il – כלכלה בארץ by www.maariv.co.il.

*The article has been translated based on the content of Maariv.co.il – כלכלה בארץ by www.maariv.co.il. If there is any problem regarding the content, copyright, please leave a report below the article. We will try to process as quickly as possible to protect the rights of the author. Thank you very much!

*We just want readers to access information more quickly and easily with other multilingual content, instead of information only available in a certain language.

*We always respect the copyright of the content of the author and always include the original link of the source article.If the author disagrees, just leave the report below the article, the article will be edited or deleted at the request of the author. Thanks very much! Best regards!
---