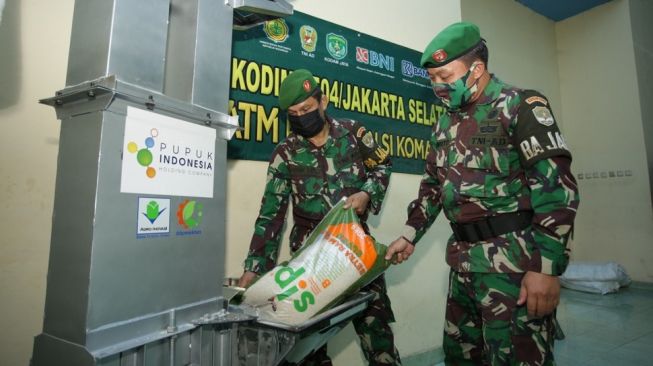 Suara.com – PT Pupuk Indonesia (Persero) recorded the realization of the distribution of rice aid to the affected communities of Covid-19 through the Sikomandan Agriculture ATM program of 483 tons during the period 15 May to 24 June 2020.
The program, which was initiated by the Ministry of Agriculture, and supported by the Indonesian Army for its distribution, aims to help Covid-19 affected communities meet their basic needs, namely rice.
"As of June 24, we have distributed 483 tons of premium rice to succeed the Sikomandan Agriculture ATM program, which is spread across the 10 Military District Command (Kodim) of the Indonesian Army," said the Head of Indonesian Fertilizer Corporate Communication, Wijaya Laksana in his statement on Friday (3/7) / 2020).
He said the 10 Kodim units referred to were Kodim 0501, Central Jakarta, Kodim 0505 East Jakarta, Kodim 0502 North Jakarta Kodim 0503 West Jakarta, Kodim 0504 South Jakarta, Kodim 0606 Bogor City, Kodim 0621 Bogor Regency, Kodim 0507 Bekasi, Kodim 0506 Tangerang and Kodim 0508 Depok.
Every day each Kodim distributes to 1000 people who have been recorded as recipients with a quota of 1.5 kg of rice per person.
"Our hope is that through this program, we can help the community in facilitating food needs in the midst of a pandemic. Including contributing together with the Ministry of Agriculture and the Army to reduce social upheaval and food prices," said Wijaya.
Wijaya added, the premium rice that had been distributed had good quality so it was suitable for consumption by the community, as mandated by the Ministry of Agriculture.
"We are committed to supporting the program with a supply of good quality premium rice produced by Pupuk Indonesia's subsidiary, PT Pupuk Indonesia Food (PIP)," he explained.
The rice ATM machine was fully designed and produced by the Ministry of Agriculture through the Indonesian Center for Agricultural Mechanization.
The criteria for the recipient community are determined by the Ministry of Agriculture, then the Kodim which will list and confirm to the local kelurahan and kecamatan.
In addition to Pupuk Indonesia, the supply of rice assistance for the April-May period has also been supported by Bank BNI and Bank BRI.