Until he reaches the department and works with children from disadvantaged backgrounds, Cristina Dumitru he taught differently: sometimes in the field, sometimes in the woods. She graduated from the Land Forces Academy in Sibiu and was a platoon commander for a long time, in a military unit in Brasov. In this profession she trained as a pedagogue and leader, and when the time came to make a change in her life, she chose to be a teacher.
With her new profession, she discovered that not only missions in the Afghanistan Theater of Operations can push her to push her limits, but life in the department also comes with such challenges.
Cristina Dumitru she is a teacher at the school in Săcele, Brașov County, where one of Romania's vulnerable communities is located. It is difficult for the children there to come to school, either because of the lack of all kinds, or because they have to take care of the younger siblings, or because they are very far from school. When they are in class, they enjoy even the slightest success, and when someone stumbles into "I can't, I don't know, I can't" Cristina's encouragement and motivation help him to succeed.
The day I first wrote the word "mother," I asked her who was the most important being to them. They all answered in chorus: "mother", then, they looked at me and continued in chorus: "and the lady, and the lady" and jumped to hug me. It was one of those days that I will definitely never forget. "
In the following, we talk about Cristina's experience in the Teach for Romania program, who, during this period, are looking for new teachers and teachers eager to bring quality education to rural schools.
From bio, in short
First of all, I am the mother of two wonderful girls aged 8 and 5 and a half. I graduated from the Academy of Land Forces in Sibiu. From the school benches I arrived in Brașov and worked for a long time at a military unit as a platoon research commander. It was a period in my life that I loved very much, having the opportunity to train as a person, as a teacher and last but not least as a leader, to ground some values ​​that I try to carry out every day. in class.
I participated in two missions in the Afghanistan Theater of Operations, during which I repeatedly felt what it means to reach or even exceed your limits. I can say that even after living these experiences, life at the department in a disadvantaged environment seems to me a real challenge, something that makes me experience new things every day and challenges me to always be in touch to find the best good solutions.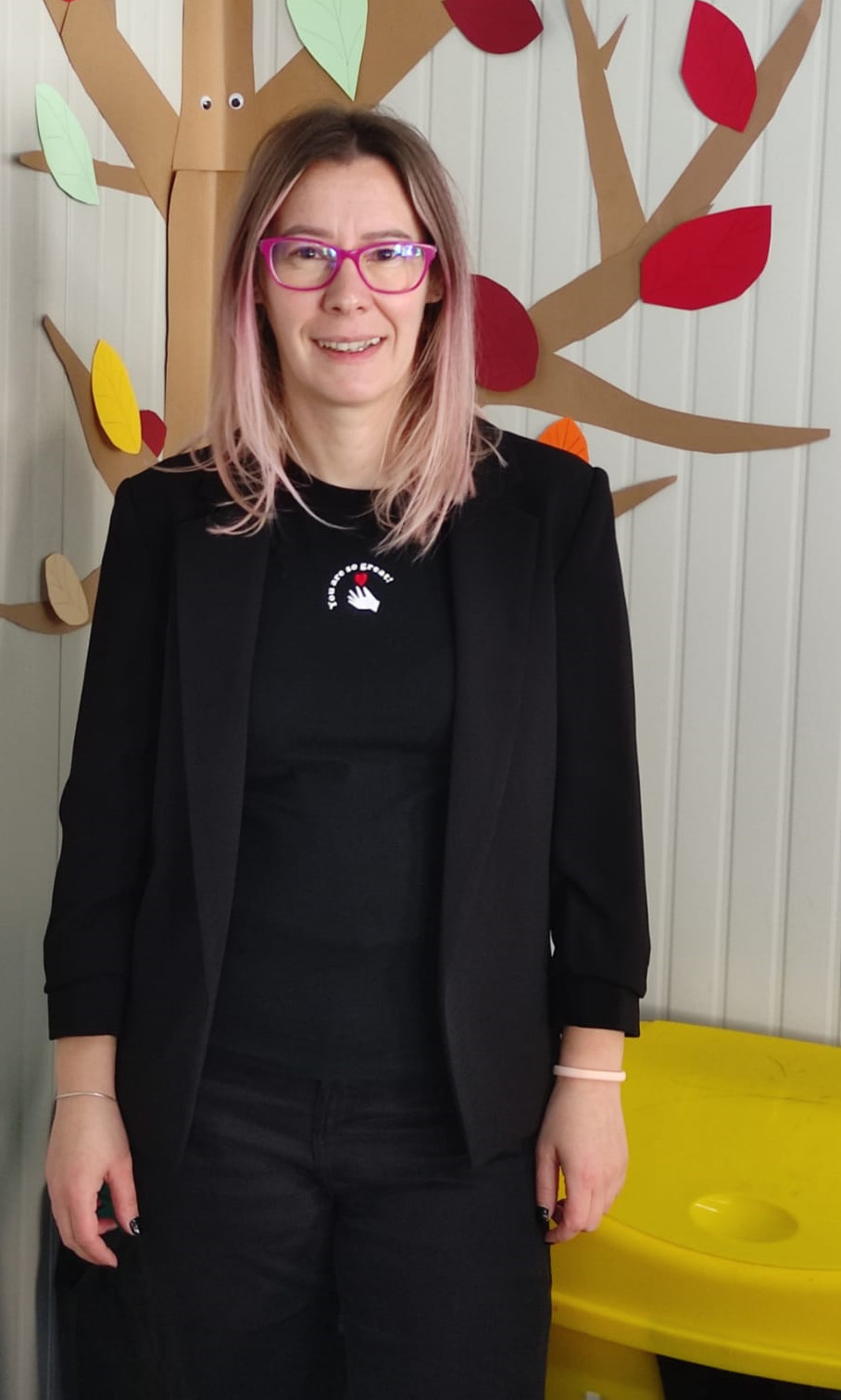 Memories of school years
I was a child who loved school from day one. I still remember the first day of school and the gentle face of my teacher whom I adored. Looking back now, I realize how much the chair model matters to a child. I was in love with stories, I read everything that fell into my hands about fairies and beautiful girls and I loved the world of fairy tales. This is what I try to convey in class to my children a fairytale world in which the letters and numbers each tell their story.
The decision to become a teacher in Romania
I think I've enjoyed teaching all my life and I've done it all my life, only not from the department but most of the time in a field or in the woods. When the context did not allow me to do so and I ended up working in the office without being able to do what I liked the most, I wanted a change that would fulfill me. And then I decided to combine the desire I always had to train, with what I love most: children.
What involved changing the field of work
Changing the field of work meant a great commitment for me: to prepare myself continuously, to improve myself and to do everything I can for those curious eyes that look at me every day of school waiting to help them. to discover the world. This change came with a huge challenge, but also with a great fulfillment. It is not at all easy to start all over again, after you have prepared for something else for a lifetime, and the challenge and the care at the same time are all the greater as the mission for which I am committed is to "shape minds of children ".
Enrollment in Teach for Romania
Teach for Romania appeared in my life exactly when I really wanted a change, something that would give me a real meaning. We found out about the program from a friend, we applied together, we went through the selection stages together, through the Academy, and now we are colleagues at school.
The school you teach at
I teach at a school in Săcele, Brașov County, where one of the most difficult and challenging communities in vulnerable environments is probably found. Even if we face many shortcomings, the school is welcoming and full of warmth, thanks to the wonderful leadership and team that I was happy to join and which is struggling every day to bring a change in the lives of these children through education.
Students face difficulties, both in everyday life and at school in terms of learning. For most of them, coming to school is a difficult thing: either because of the distance and the fact that they have no one to bring them, or they stay at home to take care of younger siblings, or they have nothing to wear or shoes. when the weather is bad. When they are at school, they are happy, and each success, no matter how small, makes their eyes shine with fulfillment. They are loving, sensitive children, eager for appreciation, encouragement and warm words, especially since most of them are part of very large families.
What do you remember from the first day at the department
My first day as a teacher was one I will never forget. I was very eager to meet my children and overwhelmed with emotions. I found myself surrounded by curious and excited eyes.
Expectations and fears at the beginning of the road
When I made the decision to enter education, I heard many voices around me telling me not to go into this field, because it will be very difficult. I didn't expect it to be easy for a moment, and it's not. I say that I entered education with realistic expectations and the desire to make a positive contribution to education. I have high expectations of myself and because of this I try to stay with "big eyes" and "pricked ears" around the experienced ones, because we all know that this is a job that is "stolen". I can't say that I had any surprises, but I discover new things every day.
What is difficult, what is easy
I am at the beginning now and like any beginning it is difficult, especially since I do not have the necessary experience. What I can say so far is that I feel that I am in the right place, even after the first days I felt at school as if I had done this for a lifetime.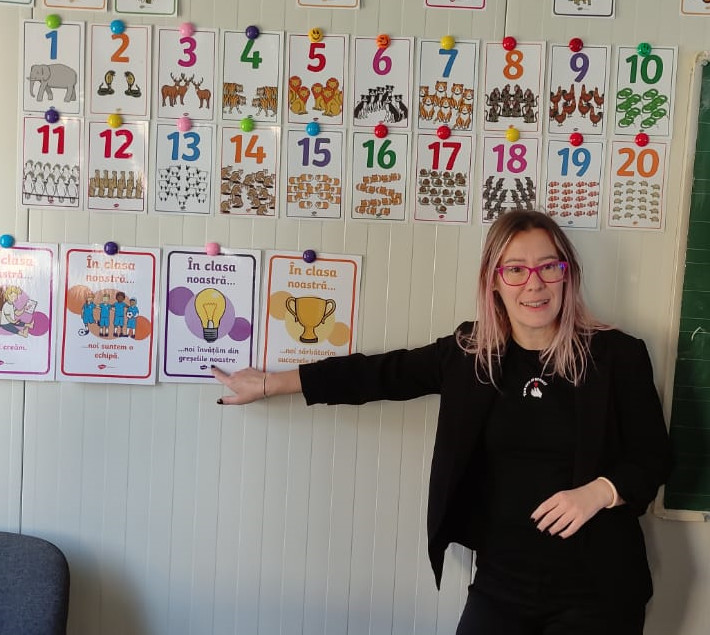 Teach experience, so far
The Teach for Romania experience was the most beautiful I have ever had. After two missions in the theater of operations I can say that the period of the Leadership and Pedagogy Academy that I went through was with the most intense experiences, a period in which I took my limits to the extreme, in a word, a period with all: smiles, joys, strong emotions, tears or fear sometimes, but most importantly, friendship. Here I never felt alone, I received guidance, I learned a lot and I was supported whenever I needed to. In Teach I became the best version of myself. I learned that when we can't, we can't, we learned how important the community is and how important it is to be a team.
The importance of this program for teachers in Romania
Teach for Romania prepares teachers to teach in vulnerable environments. He supports the right to a quality education for every child, regardless of the area in which he was born, or how unfavorable fate was for him. All children can, but not at the same time and not in the same way. Teach teachers do their best to make the most of each child's potential. The six-week intense period in the Academy prepares you for success in class, after which, participating in trainings and permanent support from tutors helps you find the resources you need to succeed, and when things go well, when you manage to pass them on. children what you want, fulfillment can not be described.
Your teaching style
First of all, when I'm at the department, I feel like I'm exactly where I need to be. I try every day to be balanced, a combination of being playful, but also very firm. I always look for a story for what I teach and very importantly I do my best to pay attention to the needs that children have, I put a lot of value on the emotions they feel.
Daily class routine
Every day we remember our vision and the rules of the class, the fact that we are a team, we support each other and everything we learn is magical. I appreciate their slightest success, I rejoice with them like a child, we applaud them and congratulate each one of them. I am very proud of them that they have learned to support each other and to enjoy each other's success.
Your Superpower
I think my superpower is that I do everything with great pleasure. And when you act with all the dedication you have, you find the resources to make things work. I try to adapt to their needs, to look at each as an individual with its specificity, but also the whole class as a unitary whole. I validate them a lot, I always tell them that everyone can and more than once it happened to me that after many "I can't, I don't know, I can't" succeed with the help of encouragement and positive motivation.
How your students see you
I always wanted to be a model in front of the students and I like to think that's how they see me. The day I first wrote the word "mother," I asked her what was the most important being to them. They all answered in chorus: "mother", then, they looked at me and continued in chorus: "and the lady, and the lady" and jumped to hug me. It was one of those days that I will definitely never forget.
And colleagues
Ever since the Academy, my colleagues have been telling me that I am always a story. Now, I am told quite often to take it easy, to calm down and give myself time. I admit, the desire to do everything as well as possible, to learn as much as possible and especially to teach the children as much as possible, that feeling when sometimes things don't go exactly as I planned, all these make me seem – a continuous race against the clock.
A look at the Romanian school
I have been in this field for a short time, but I can say that it is getting better and at every step I have met dedicated teachers who work side by side to make education in Romania work at high levels.
Pandemic changes
In disadvantaged environments we cannot talk about online school. They have no devices, no signal to connect, and the little ones have no one to turn to for help. The effects of the pandemic are unfortunately felt everywhere, but even more so among children in these environments, the lack of school face to face has consequences for the little ones, who will be quite difficult to fix in time.
Thoughts for next year
I want to participate with the greatest dedication in the Teach mission, to learn as much as I can, to improve and most importantly to be a role model for children, to be able to guide the little ones so that they become more be receptive and take another step towards the responsible adult of tomorrow.
---
Source: IQads by www.iqads.ro.

*The article has been translated based on the content of IQads by www.iqads.ro. If there is any problem regarding the content, copyright, please leave a report below the article. We will try to process as quickly as possible to protect the rights of the author. Thank you very much!

*We just want readers to access information more quickly and easily with other multilingual content, instead of information only available in a certain language.

*We always respect the copyright of the content of the author and always include the original link of the source article.If the author disagrees, just leave the report below the article, the article will be edited or deleted at the request of the author. Thanks very much! Best regards!
---