It all started with a magazine about Moldova, designed by an Italian named Luigi. This happened in 2013, when Anatol Ursu he changed Photoshop to InDesign, this transition being one of the most important decisions he has ever made in his career as a graphic designer, he says. However, the runway from which it took flight to large projects was the platform freelancer.com. That's where he built his portfolio. Now one can boast of the media report prepared for the Australian Open, the 2019 edition, two PowerPoint sliders for the US State Department or the atlas for the Arizona Peace Trial (a route through the deserts of Central America).
In addition, he moderated a show of political and social dialogues on a unionist TV station in Moldova. Because this is how he manifests his civic activism and this is how he occupies his free time, which is and which is not.
The road to design
I think they are one of the classic examples in which the job chooses the man and not the other way around. I never thought I could design, although my mother used to tell me that when I was little I drew pretty well… I started working for the first time with an enthusiastic Italian, who was preparing a magazine about Moldova.
It was around 2013. Luigi had someone on his team who worked a lot in the Italian press, and I was going to be a kind of technical executor. I had "beginer user" knowledge in Photoshop and just executed commands: put the title here, put a dividing line here, align the text there, etc. That's how I laid out 3 magazine issues then, in photoshop. I was going to the printing house with a 32 gb stick, each page was a separate file, until someone from the printing house asked me why I don't use Adobe InDesign, or this is the basic software for print design. I came home, uninstalled Photoshop, installed InDesign and made a pact with myself that I was layouting the next issue of the magazine using InDesing.
Now, looking back, I think it's one of the most important "professional" decisions I've made and respected.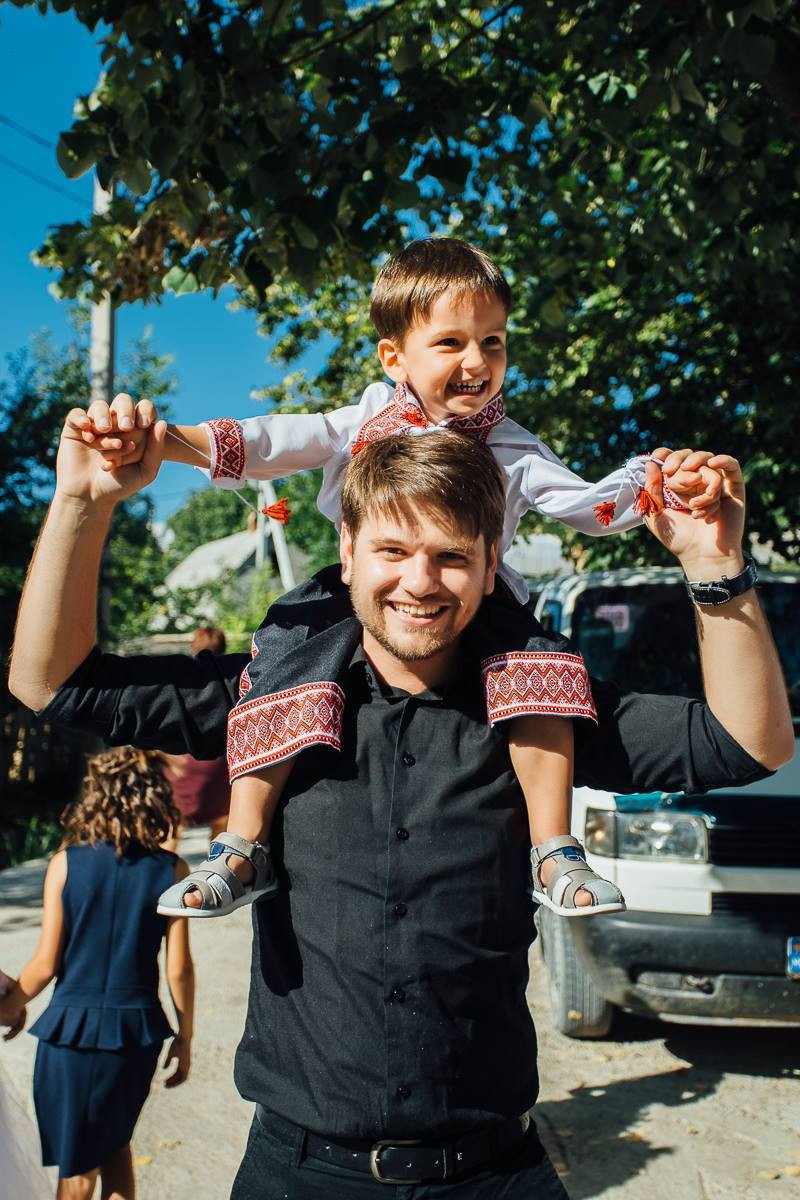 Expectations or not
Like, I didn't choose this path, but it was more of a happy event for me, I didn't have any expectations, I was a student, after the faculty benches, who chose to enthusiastically believe in someone's dream to create a magazine. I was really pleased that he invested me so confidently and I tried to progress from day to day.
After almost a year that meant more walking the streets and making great plans in cafes, than design, I registered on freelancer.com. Here we had the first surprises in the field and good luck. I was hired very quickly after the registration by a person from Canada, he needed some brochures about his Real Estate business. My luck was that I was looking for cheap solutions, and I was offering prices for nothing. Back then, $ 50 for a 12-page booklet seemed like an astronomical sum. I worked, in total, on about 4 brochures for that client, I received for each separate project good reviews and a rating of 5 *. And from there, slowly but surely, I started to build a strong profile on the freelancer, and with it, what I can call today my career in design.
jobs
After I ended my collaboration with Luigi and started working as a freelancer, I no longer had or felt the need for a design job in the Republic of Moldova. By 2014-2015, the freelancer market was very good, few good designers offering quite high prices, which allowed me based on the low prices I offered to catch project after project.
I moderated a political and social dialogue show on a TV station, it has nothing to do with my activity as a designer, but it has a lot to do with my quality as a volunteer and civic activist that I had since 2010.
studies
After high school I attended the Faculty of History and International Relations. Then I started a master's degree in Psychopedagogy. I say I started, because after a year and a half of conscientious study, I abandoned my master's degree without writing my master's thesis. I was in a very favorable period from the point of view of work, but also a very active period within the organization of the Youth of Moldova.
I do not want to throw myself into statements like I would have done college or master's degree in vain, on the contrary, I think that both college and master's degree have taught me a lot about interacting with people, working with clients, etc. The fact that in college I learned intercultural dialogue, and in the happy future I will be an ambassador, and today I implement these skills to "charm" my clients and get new projects, can only emphasize once again that all what we learn can be used brilliantly in many more situations than the field in which you study.
First project
Was the first issue of the magazine Moldova in Progress. It is my first design work. I think the most memorable is the fact that it took about half a year to develop this issue, because we went together to look for materials, partnerships, customers, advertising, etc. I remember very well how angry I was with him for the texts that came to the magazine. They are horrible. In fact, the original texts were written in Italian and then translated by someone. You can browse through this first issue to understand what I'm talking about. The mistakes are obvious. I didn't have a sense of alignment, font size, and font spacing.
Also, a mistake that I assume all beginners make is the fear of white space. When I first started working, I had the impression that the page should be as full as possible, so I "slammed" on it wanted and unwanted, just to fill the page. Today, I prefer the so-called clean design, airy, with a lot of white, minimalist.
Any job teaches you a lot in time, but probably the most important lesson you can take from design is the confirmation of the popular saying: "It's not beautiful what is beautiful, it's beautiful what I like". When you have a client who knows exactly what he wants, you can't help but prove to him that what he wants is ugly and that you know better what his file should look like. Respectively, in time, you learn to appreciate what is not exactly to your liking.
portfolio
I never have time to deal with it to bring it to its fullness in the world, but it is my great pride today. Among the clients and projects I am always proud of, it is, first of all, the Australian Open. Yes Yes. I worked on the media report for the Australian Open, 2019 edition. I don't think I can describe the enthusiasm with which I worked on this project or the joy I felt when I was selected, but it's far from my business card, then when I recommend myself to new customers. The funny part about AO is that the delivered design is not at all in my favorite style, the ratio being very crowded, but that's exactly what I said above, in design you have to learn to deliver quality, including in the types of design that are not characteristic .
I also developed 2 PowerPoint sliders for the US State Department, another gold bar in my portfolio. And, to conclude a top 3, I can mention the atlas for the Arizona Peace Trial. APT is a route through the deserts of Central America. I worked on an atlas with 34 sections of the route, each with a map, all kinds of points of interest, legend, etc.
Customers
In the almost 7 years of working as a freelancer, I have worked with clients and businesses in a lot of fields: law, real estate, energy, textbooks, all kinds of small niche businesses, etc. I had and still have clients from Germany, France, Italy, Spain, Great Britain, Australia, Japan, USA, Canada, Brazil, etc.
Routine & taboos
I wake up at what time I want (usually), I go to bed very late. I'm never busy, but I never have free time. I think freelancing as a lifestyle is very lucky for me.
I listen to a lot of trance, I had the happy opportunity to go to some big festivals. Good coffee. For those who read this interview, look for a place where Julius Meinl (other than Andy's Pizza) is served and you will understand what I am saying. And the Union is food for the soul. I believe in the unity of the Romanian people or, simply put – I am a Unionist.
Good design
Every designer has their own "tricks" for a quality design. Someone plays nicely with the fonts, someone else with the shapes, someone prefers white, others work only on color background. I am certainly not the one to define what a "good design" means or what it consists of, but show me 3 works and I will easily choose the best one according to my taste and appreciation. As for my design, I always try to avoid congestion on the page. When customers send me the content and say that out of 6 pages of text they want to receive 8 pages of brochure, I propose to pay me for 8, but to make them 12 pages, just so I can deliver something really beautiful.
Looking for inspiration
Car rides are the solution to blockages and lack of inspiration. I love my car. It's not the newest, nor "the coolest in the parking lot", I don't parade with it, but I love it and I love to drive it. A "night ride", a good coffee and the lack of inspiration disappear immediately.
Changes vs. expectations
For me, design is more of a lifestyle than a job. I feel it. It's hard to put into words, but very nice to live with. I generally never have expectations, so I don't expect anything in terms of design either. I am always willing to learn, to improve.
Out of isolation
Insulation was a very productive period for me, the global design market did not suffer much, on the contrary, I have customers who were very busy until now, and the isolation gave them time to realize that they need updates. to all kinds of corporate materials. Respectively, for me, the crisis does not exist, unfortunately I can not have an opinion about designers working only on the local market.