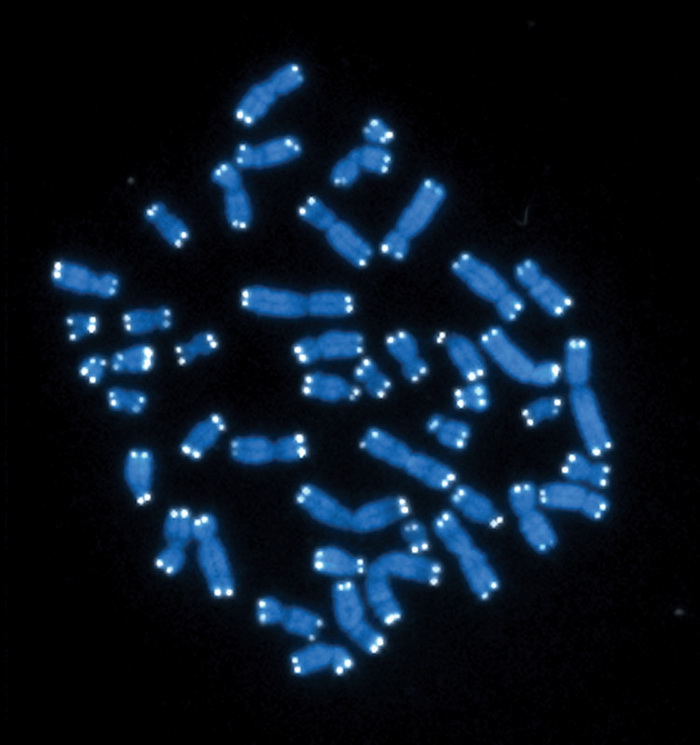 All cells age over time, including immune cells. Having grown old, they cease to respond adequately to infections, cease to destroy malignant cells in a timely manner, etc. At the same time, it is precisely because of infections that immune cells should age faster. It's not that the infections themselves somehow have a bad effect on them, it's just that when it comes time to fight a virus or a bacterium, immune cells begin to actively divide. And we know that any normal cells (with the exception of stem cells) have a division limit, which is determined by telomeres. This is the name given to the ends of chromosomes that do not code for anything, but protect the coding DNA from damage.
The fact is that the DNA-copying machine cannot copy the chromosome to the very end – some piece will be lost. If there were important genetic sequences on the chromosome all the way to its edges, with each cell division, that is, with each copying of DNA, defects would appear in these important sequences. And so they are covered by telomeres, which can shorten without any harm. But telomeres are not infinite, and there comes a moment when the cell realizes that it cannot divide. Then it either dies, turning on the program of self-destruction, or remains to grow old and decrepit (and such aging cells present a special problem for the body).
Stem cells are able to lengthen telomeres with the help of the enzyme telomerase, which is why they are able to divide for a very, very long time. When a cell ceases to be a stem cell and acquires some kind of specialization, the telomerase gene stops working for it. The cell may well divide, but now it has a division limit.

Immune cells, as we said again, actively divide when an infection occurs. And some time ago it was possible to find out that, for example, T-lymphocytes are able to activate their own telomerase. But they still share too much and often. Telomerase alone would not be enough for them to maintain the chromosomes in a normal healthy form.
Employees of University College London, together with colleagues from other research centers in the UK and Italy, discovered another trick in this regard in T-lymphocytes: it turns out that they use other people's telomeres. In order for a T-lymphocyte to become activated, to begin dividing and launch its anti-infection mechanisms, it must communicate with a so-called antigen-presenting cell. An antigen is anything that the immune system can respond to – a viral protein or its fragment, a piece of a bacterial cell wall, etc. Antigen-presenting cells grab everything suspicious from the environment, process it inside themselves and demonstrate (present) it to T-lymphocytes. T-lymphocytes themselves can feel the presence of something dangerous, but only after contact with antigen-presenting cells do they understand that suspicions are not in vain and that they need to fight against what they have just been shown.
The researchers observed the behavior of human T-cells and antigen-presenting cells, to which pieces of different viruses were added. The cells felt the presence of the virus and began to interact, as in a real immune response. And then it turned out that in T-lymphocytes that interacted with antigen-presenting cells, telomeres suddenly increase, while in antigen-presenting cells they decrease. Moreover, the telomeres of T-lymphocytes become thirty times longer than telomerase could do.
Further experiments showed that in antigen-presenting cells that are ready for contact with T-cells, membrane vesicles with pieces of telomeres emerge from the nucleus. Bubbles go where the cells come into contact, pass into lymphocytes, and lymphocytes sew other people's telomeres to their chromosomes. The researchers just took telomere vesicles and added them to lymphocytes, and the effect was the same. Alien telomeres stimulated the division of T-cells and reduced the proportion of those in which signs of old age appeared. We can say that T-lymphocytes lived someone else's life, postponing their own aging.
Moreover, after receiving telomeres, many T-cells appeared among T-cells, which are called stem-like memory T-cells – they are similar to stem cells in that they can live and divide for a relatively long time, remembering previous infections and, if necessary, activating an inflammatory response and attacking pathogen. (The question remains how antigen-presenting cells, which donate part of their telomeres, live. But this is probably not so critical for them, they are not required to divide quickly and often, and they can afford to share telomeres.)
In an article in Nature Cell Biology it is also said that foreign telomeres improve immunity at the scale of the body – this was shown in experiments with mice that were infected with the flu. The mice were injected with T-lymphocytes tuned to fight the flu. But some animals were injected with T-lymphocytes that did not receive additional telomeres, while others were injected with T-lymphocytes with completed telomeres. Both mice withstood the first attack of infection, but when they were again infected with influenza two weeks later, only those that had previously received T-cells with completed telomeres remained alive. That is, these T cells, thanks to elongated telomeres, were able to survive until the second infection and protect mice from influenza.
From a practical point of view, perhaps this new data will help improve vaccines – one can imagine how a vaccine will bring immune cells not only a sample of a pathogen with which they will need to fight, but also an additional supply of life in the form of artificially synthesized fragments of telomeres.
---
Source: Автономная некоммерческая организация "Редакция журнала «Наука и жизнь»" by www.nkj.ru.

*The article has been translated based on the content of Автономная некоммерческая организация "Редакция журнала «Наука и жизнь»" by www.nkj.ru. If there is any problem regarding the content, copyright, please leave a report below the article. We will try to process as quickly as possible to protect the rights of the author. Thank you very much!

*We just want readers to access information more quickly and easily with other multilingual content, instead of information only available in a certain language.

*We always respect the copyright of the content of the author and always include the original link of the source article.If the author disagrees, just leave the report below the article, the article will be edited or deleted at the request of the author. Thanks very much! Best regards!
---