Discovery, achievement, imagination. This is how the chapters in his artistic development could be called Raynor the Great aka Coloray. Raynor has experimented with many types of music and stage formulas, but the most important thing in his creative process is the emotion from which it all starts. Even if art is increasingly influenced by social networks, followers, likes and hearts, and times seem increasingly dark, the purpose of creators is the same, believes the Dutch artist. To make people stop for a few moments and feel "something else".
"Recently, I've been exploring new ways of looking at music, new ways of feeling 'healed' or taken to a different space within music. It's a chapter that's still very new, but I'd like to continue to explore this path, hopefully in the future to create a sound and a space that I and other people can turn to to feel warmth and love," says Raynor.
Coloray will have a show in Bucharest on May 26, within Alternative Culture. We talk with him in the lines below about how his relationship with music began and evolved, about the themes that concern him and the creative process, but also about the importance of the image and how Social Media is changing the art industry.
Defining moments
I think there is a separation between what we were doing before the pandemic and what we did after. I was part of a duo called Tunnelvisions, and between 2016-2020 I toured a lot and produced with Emiel. Those years were very formative because it was about having fun, discovering and seeing how much I could learn.
I started releasing music under the name Coloray in 2019 and immediately knew the path would be different. The fact that I don't work in a duo or a group makes everything different. Suddenly, what really matters is your voice as an individual artist, not the collective idea of ​​the artistic act. So far I have discovered this, starting with being active as a vocalist and producer, and now as a live artist. I have now realized where my strengths lie and what I want to do in the future, which is to dive deeper into the art of making music and continue to discover new avenues both in the studio and live on stage .
If I were to name these chapters, they would be: discovery, realization, imagination.
The relationship with music
I started composing music at a young age, mostly because my mother used to play a lot around the house. I also started singing and developed a passion for it. A friend showed me fruityloops and my parents got me a guitar and that was it, I started working. In the early years, I was more of a beginner who wasn't doing anything of value, but once I started going out and discovered dance music, I realized it was something I could do.
My music became more professional, but over time I learned that it wasn't about that, it was about the emotion I put into it. There were many times when I could have followed a path that I knew would have allowed me to have greater "success", but my heart told me I needed to go a different way. What hasn't changed is that I'm still that kid who plays with a computer and his voice, and the only thing that's different is that more and more people are discovering that I'm doing it, and I have more and more confidence in my qualities as an artist. I feel very blessed and happy to do so.
The inspiration
There's a big cloud hanging over artists right now – and that's the changing of what it means to be an artist in the age of social media. I am very concerned that the dynamics of gathering followers on social networks, at any cost, has influenced the process of music creation. Slowly, it feels that the influence of the online world has become so strong that artists are now unpaid employees of social platforms. I am totally against this. I feel like artists have a lot to share, and the goal is to make the audience feel something within them, a certain resonance that needs to happen. It's what got me into making music in the first place, that feeling of being connected to something bigger, and it's what I'll keep trying to do!
Recently, I've been exploring new ways of looking at music, new ways of feeling "healed" or taken to a different space within music. It's a chapter that's still very new, but I'd love to continue exploring this path, hopefully in the future to create a sound and a space that I and other people can turn to to feel warmth and love.
Your mark in music
My fingerprint, haha, that's good! It's hard to say sometimes, because as I continue to change as a human being, my music will change with it. I feel like there's always been something in my music that's psychedelic, but also straight. The combination of using my voice to draw the audience in, but also using synths to create a spacious carpet that my voice can carry is something I'd like to continue to do. A central message of what I am trying to say is that we are here, at a moment in time, experiencing something greater than ourselves.
This can be something bigger on a "spiritual" level, but also something bigger regarding society itself, what's happening in the world, or what our place is in the universe. It's all very self-reflexive.
The creative process
I aim to compose music every day, and more and more I use the composition as a journal for myself. I have folders with months, and each month contains around 30-50 drafts. They are all just very simple 1-2 minute ideas that have some memory or emotional value attached to them. I'm always trying to do something new, use a synth I've never used before, use my voice in a new way or find a different way to generate sound. I feel like having a routine like this forces me out of my perfectionist mindset and just feel and do, something I really need. Over time, I collect a few unfinished pieces when I feel like: hey, this is cool! It stuck in my mind and I want to go back to it. Those are the ones I'm trying to finish. Some I fail at, but the best tracks just seem to flow, so I release them.
Public relations
I like people to come to my concerts. I always feel so blessed to be able to have this experience. If I could tell a 14-year-old kid that he was going to do this at some point, he just wouldn't believe it. On stage, however, I try to be present in my own skin, to take into account the audience, but above all to feel the energy that is in the room. If I feel the energy is high, I might be bolder and funnier. If the energy is lower, I will also be more reserved. For me, what I've learned is to always be at the audience's level. Do your job and feel with the audience.
How the atmosphere of the events has changed
I feel that in addition to me getting older, people's attention spans have also changed. Whatever the reason is, it's beyond me, but social media may have contributed to it. People are always super friendly and warm when I have a set, but sometimes I see more phones than I expected. But that's okay, I'm happy to give people a moment they want to capture! I imagine, though, that some evenings you might want to put your phone away and engage in the moment as much as possible.
How important is the image for an artist
These questions are great haha. After all, we are all actors, playing a role, a certain character that we present to the outside world. I started with a very well-defined idea of ​​what I wanted Coloray to be, what I wanted to portray and play in that role.
Image was important in that – how I used the photos and how I dressed on and off stage. Over time this has become more of a subconscious thing and I try to get as close as possible to who I am in my image. The main reason is that my performances in the studio and on stage really benefit from it. I become more honest and real. It's scary at first, but when you feel like the audience accepts you, it's great to be who you really are. After all, I still love clothes and design! So anyway I'll dress nice or pose for an interesting tour poster haha.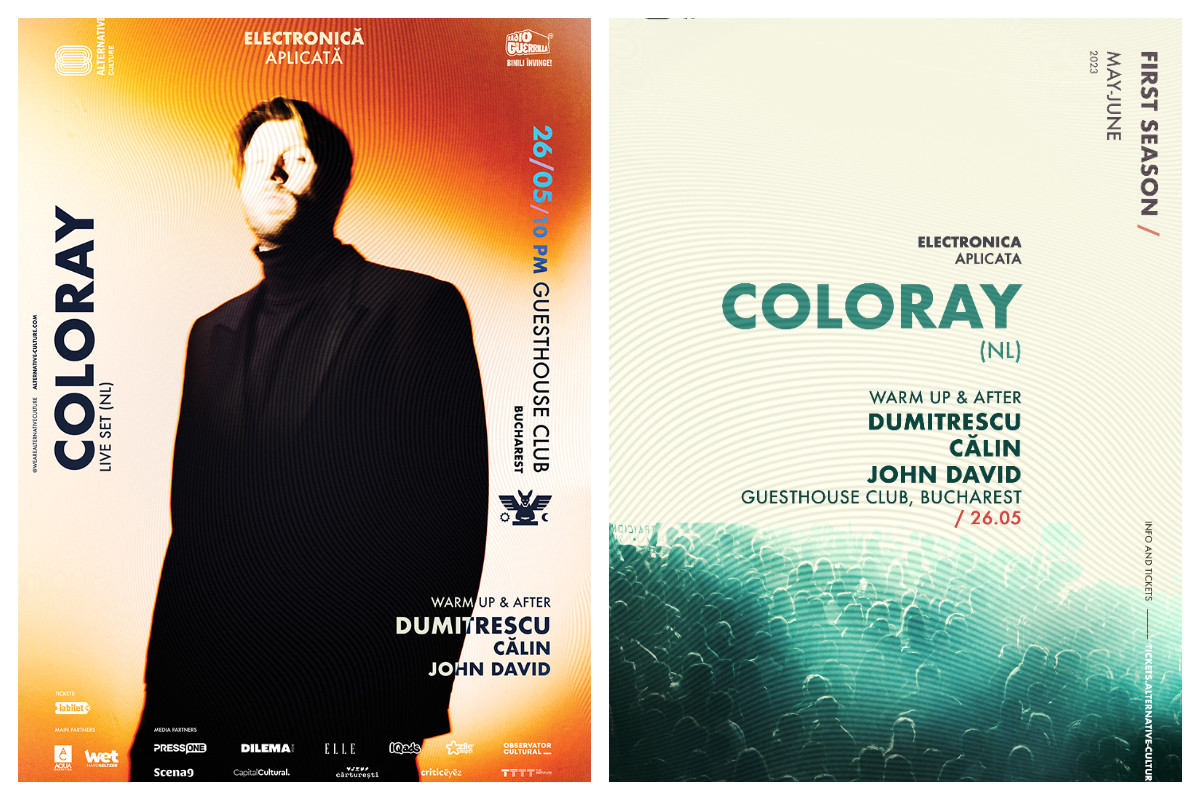 The biggest challenges in 2023, from a creator's perspective
In my group of friends we say that dark times lead to happy music and vice versa. I don't know if it's true, but what would you like to give people the most during this time? As I get older, I realize that it becomes harder and harder for an artist, and for people in general, to disconnect from all the information we are bombarded with.
I'd like to offer people a glimmer of hope in addition to acknowledging that we're not always at our best in our human timeline. The hardest part for the creator is to find that mission, to find what they want to do – besides making "content" that goes viral or a piece that leads to a career – to find intrinsic values ​​to use on his way and say: this makes me who I am.
The super power of your art
To make people reflect for a moment, think about good and bad things and momentarily say "wow".
---
Source: IQads by www.iqads.ro.

*The article has been translated based on the content of IQads by www.iqads.ro. If there is any problem regarding the content, copyright, please leave a report below the article. We will try to process as quickly as possible to protect the rights of the author. Thank you very much!

*We just want readers to access information more quickly and easily with other multilingual content, instead of information only available in a certain language.

*We always respect the copyright of the content of the author and always include the original link of the source article.If the author disagrees, just leave the report below the article, the article will be edited or deleted at the request of the author. Thanks very much! Best regards!
---