Paradise and algorithms, rescue and mathematics, life, Miorita, cells and the possibility of restart, living as an on and off between suffering and upliftment. Many legends are intertwined in this garden, each step abounds in references from the creation of the world, but the most important here is man. The man expelled, triumphant, ashamed, acquitted of any guilt, vengeful, guilty, why not ?, maybe even happy. That's what I understood, at least, when I went through the Garden of Eden, his most recent exhibition Stefan Ungureanu. And the artist says it's ok: you are allowed to make any kind of interpretations, no matter how extravagant, they also have their purpose in what becomes a work after it has been finished by its creator.
Classic, you would say there are two options: be smart or be sensitive. To touch people's work, or to make them think. I'm one of those people who tries to make them smart, although that has started to subside, says Stefan
Stefan Ungureanu He was born in 1984, graduated from the National University of Arts in Bucharest and completed a master's degree here, and his works have reached exhibitions around the world in Bucharest, in Cologne, New York, Vienna, Madrid, Paris, Lisbon and Moscow. His creations can be found in collections in Romania and abroad, in the permanent exhibition at MARe (Museum of Recent Art) and in the MNAC collection (National Museum of Contemporary Art).
At the exhibition Garden of Eden worked two years. It started from a metaphor inspired by Game of Life, a computer model whose cells can have a finite number of states, such as on (living cell) and off (dead cell). And he turned Paradise into an algorithm that learns to develop "systems that seem alive, real." That's what he says. It's best to get an idea of ​​the mathematics of Heaven yourself, if you stop by the H'Art Gallery until September 16th.
There is no other answer to "I love you" in the here and now than "me too", and not "you told me before" or "I know", in the sense that a resonance immediately demands its echo. With this, I would like the public to remain, with a moment in which they were here and now with my works, that is, in that state that you access when you allow an exchange and that presupposes your presence and resonance.
Until the meeting with Stefan Ungureanu's works, here is a sample of his sensitivity:
When your relationship with art began
I had read in an article by an art historian with advice for artists not to say that they drew in childhood and not to treat this as something special. Everyone draws in childhood, some just keep doing it at an age that others have long since given up. So rather the question is why graphomania is prolonged from 4-5 years to adulthood.
I remember what I wanted copii from Larousse, the zoological and botanical atlas, after animals, armor and I was stressing my father with this, dissatisfied, I ended up making them myself. What I drew continuously as a child were real things, from animals, armor, dinosaurs, robots. I made my proximal things inaccessible otherwise, like toys. Later, in high school, my father asked me if I didn't want to continue drawing, it seemed the only thing that interested me besides basketball. That meant a year of training and six exams, some differences between a normal high school and a vocational one, so I could move to Tonitza. You'd say you're going to Tonitza to become an artist. Give UNarte to continue to become an artist. After that, you go to the master's degree so that you don't become an artist anyway, but to stay in an institution that protects you, to stay in potential. Art student is something functional, in which I had started to perform, but artist was something that seemed unfeasible to me as life, anyway.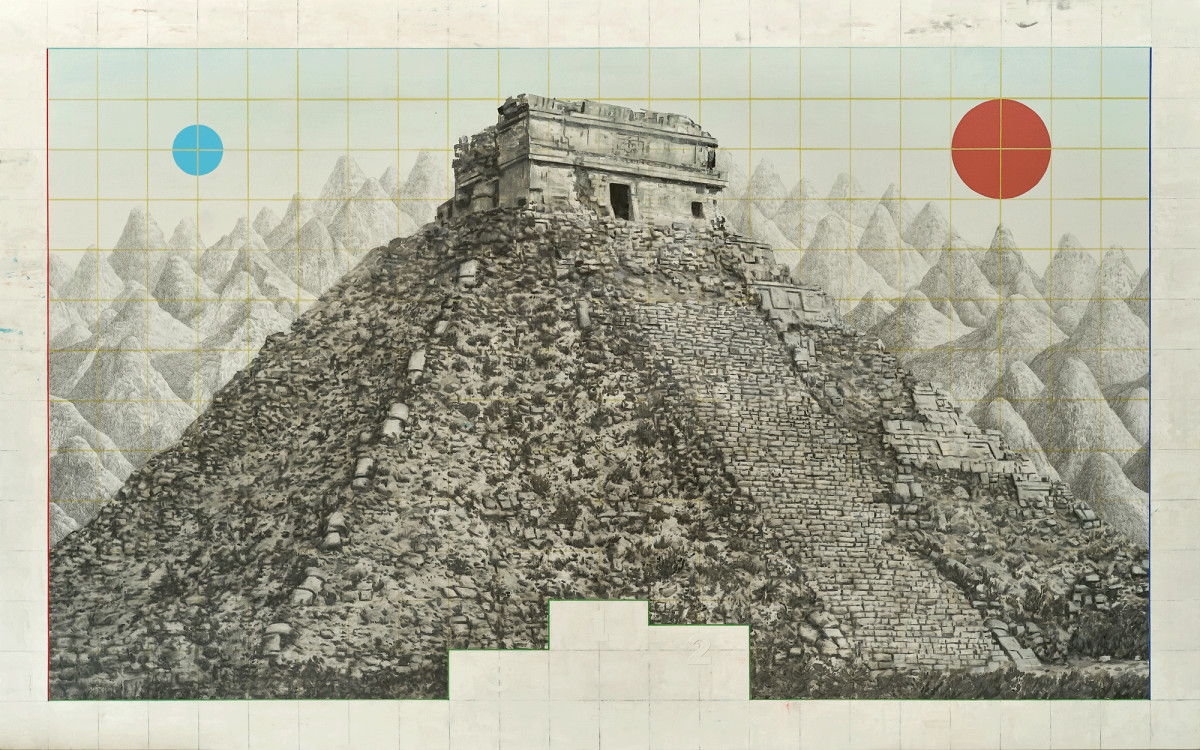 Hierarchies, 2021
I discovered in a description of the difficulty of defining anthropology something useful about art: anthropology is a lense field, that is, the fact that it focuses attention on a subject made the magnifying glass through which you look difficult to define. Anything that catches my attention intensifies and is stored in what I do in art, let's say that today I am interested in archeology, to practice it competently I have to do college and master's degree and to slowly participate in a world of it, that artist I continue to focus on her and integrate her into what I do. Art has proven to me to be a winner of any competition with any concern, from this quality of integrating everything into it like an amoeba.
How you looked at art in the beginning, how you see it now
We mythologize it with the distance of misunderstanding, we consider it more sacred than it is, on the vital line of the artist's experience, which seemed … the mystery of a respectable cult. Something slow and deep, old, was probably coming from the atmosphere of museums. I am talking about the state of the art, which I saw in ancient art, while in contemporary art I was struck by the lack of the sacred, of this state of art. But slowly, you start to see other people having this condition in the works that you have done, and then you understand that it is not something separate from life and it is not related to a state that you have to hunt after that. to inspire her to work. You become professional. Like anything you've been doing for a long time, it naturalizes and demystifies you, the producer. As a student, you always feel like a witness to art, after which you see that some are witnesses to what you do. For people, the state of art is contemplation, passivity, for artists it is activity.
Chassis workshop
Between creating and working
I make figurative art, large paintings. Which means that I was inspired once, after which I made some sketches, I kept optimizing and building on an idea and an image of it until I finally got to execute it. All this time, which can take weeks or more, I have no inspiration, I am my own assistant. I am present and creative, but I no longer make an act of creation, I am inside it and I carry to the end something that I have already validated as good. From the middle onwards, the work becomes what it is, which is very far from what I had planned, it begins to ask me to be different.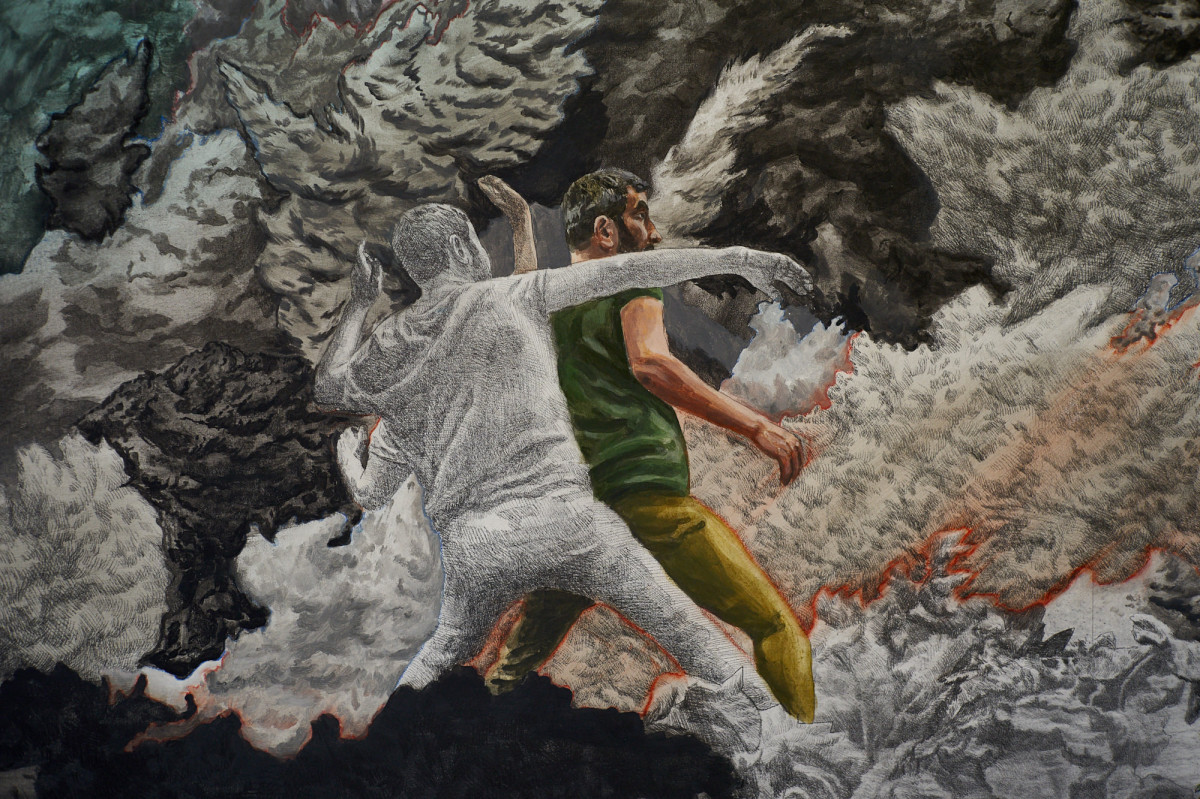 Classic, you would say there are two options: be smart or be sensitive. To touch people's work, or to make them think. I'm one of those people who tries to make them smart, even though it's starting to fade. But it is clear that when people ask what a work means to them, they will respond with something they want to identify with – so they will be smart too – or with something emotional, no matter how austere the work may be.
If you talk to people who have little to do with art in general, they feel the need to have a position on art, if they are like an artist at the table. You can divide them into two categories: those who say they don't understand contemporary art and those who say they don't like it. The former assume that art is an intellectual construct to which they have no access, and the latter that it is an aesthetic or sensory meaning that does not touch them. So it doesn't really matter what you intend, people operate with the tools they use to digest art, intellect or emotion.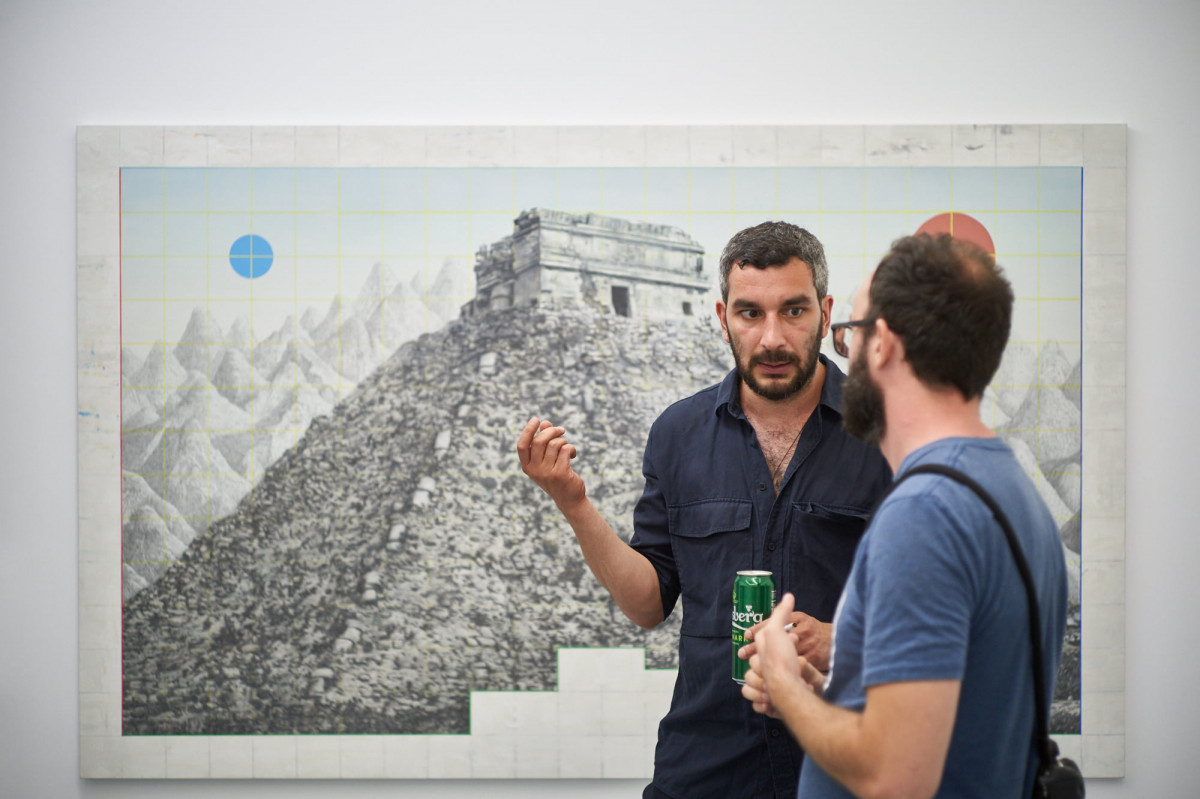 Garden of Eden Exhibition. Photo: Adi Bulboaca
The story of the Garden of Eden
My gallery owner Dan Popescu says that an artist has something new to say in about two years, from his observations. During this time he could generate more personalities, but for something new, in an evolution from the previous one, something must happen to him in his life and he must work long enough to metabolize it. A new staff does not only mean that it does different works, but that someone else does different works, because it transforms and becomes as it works.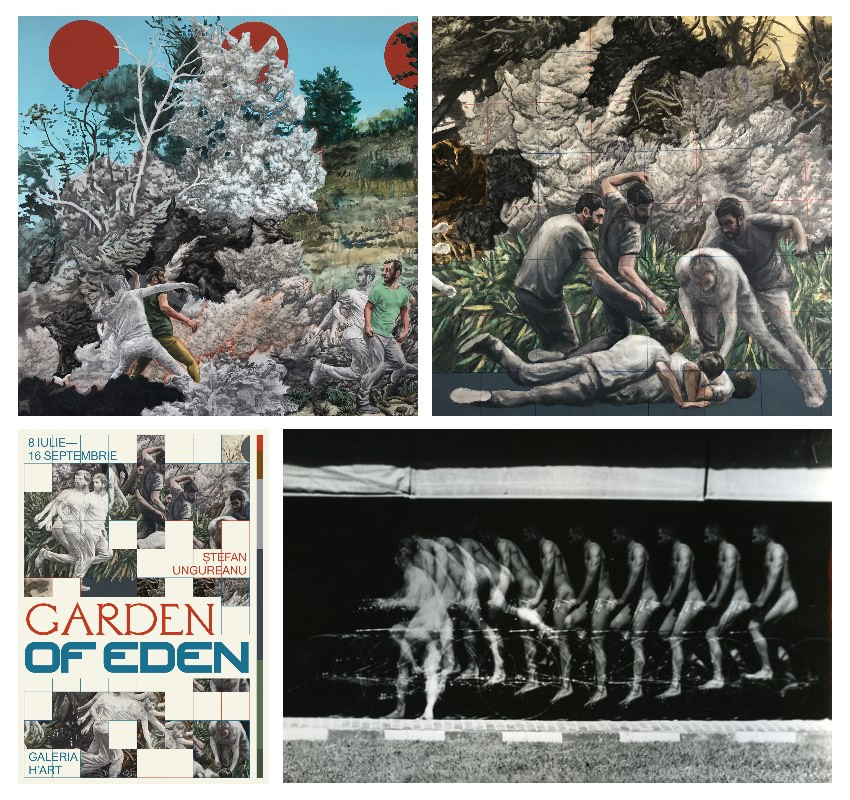 I was still planning to make an end of Miorita, the part we don't hear / see, the fact that two people attack one and don't give the other one a chance, makes me aware of this situation and its universality. Starting from this, I started to be interested in a certain type of image, which always seems to exist and contains a kind of universal truth: I call them vanitas, meaning the literary equivalent of memento mori. In the hall of a museum you see 40 vanitas, but I'm not bored, they have something to say that always touches me, because it's valid every second. I wanted to make these kinds of images, about myself or about people, that come out of time. I worked on this exhibition for two years, but I took it all the time, at a much slower pace than usual, because, in the pandemic, the works suffered from the inability to be exposed, so I was in no hurry anywhere.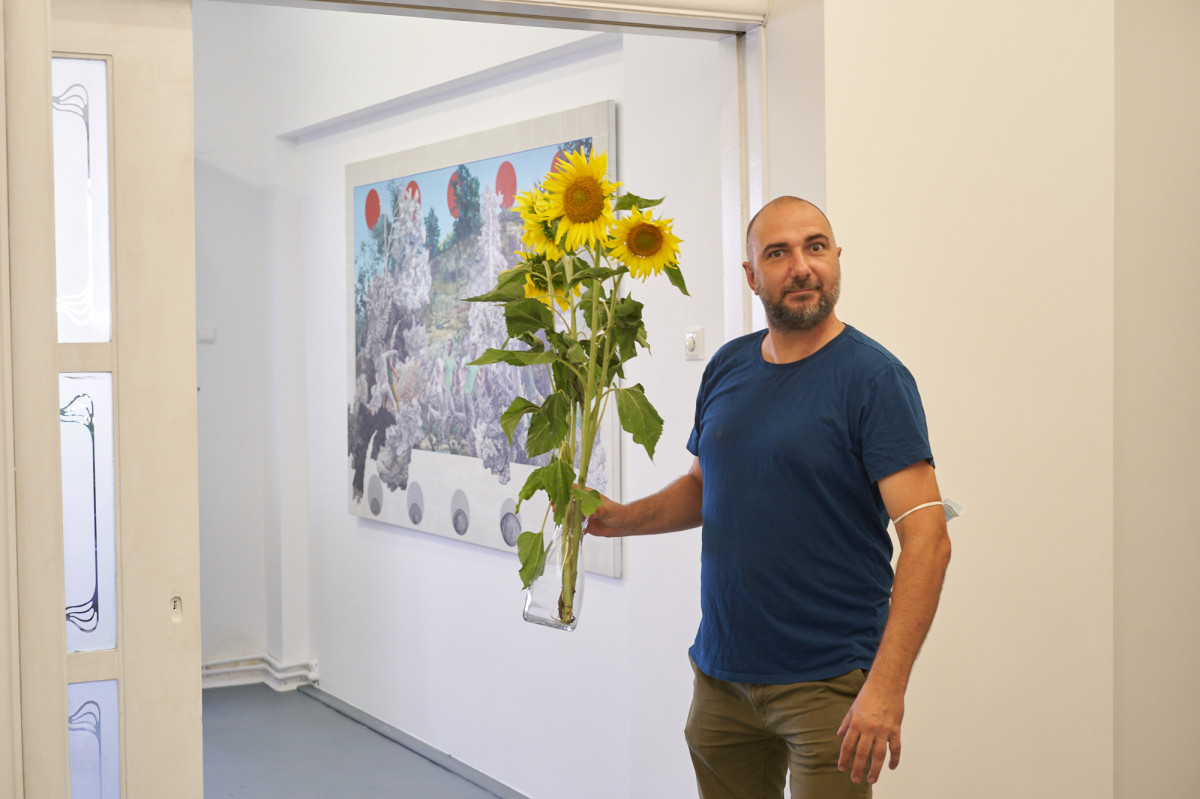 Dan Popescu at the H'art Gallery. Photo: Adi Bulboaca
What do you hope people stay with after they see it
With an act of presence, as Bruno Latour says in the essay How to be iconophilic in art, science and religion. Being in the here and now with the works, that is, a feeling and a communication in the present, which he considers reminiscent in a single situation in the contemporary world, namely the communication between lovers.
There is no other answer to "I love you" in the here and now than "me too", and not "you told me before" or "I know", in the sense that a resonance immediately demands its echo. With this, I would like the public to remain, with a moment in which they were here and now with my works, that is, in that state that you access when you allow an exchange and that presupposes your presence and resonance.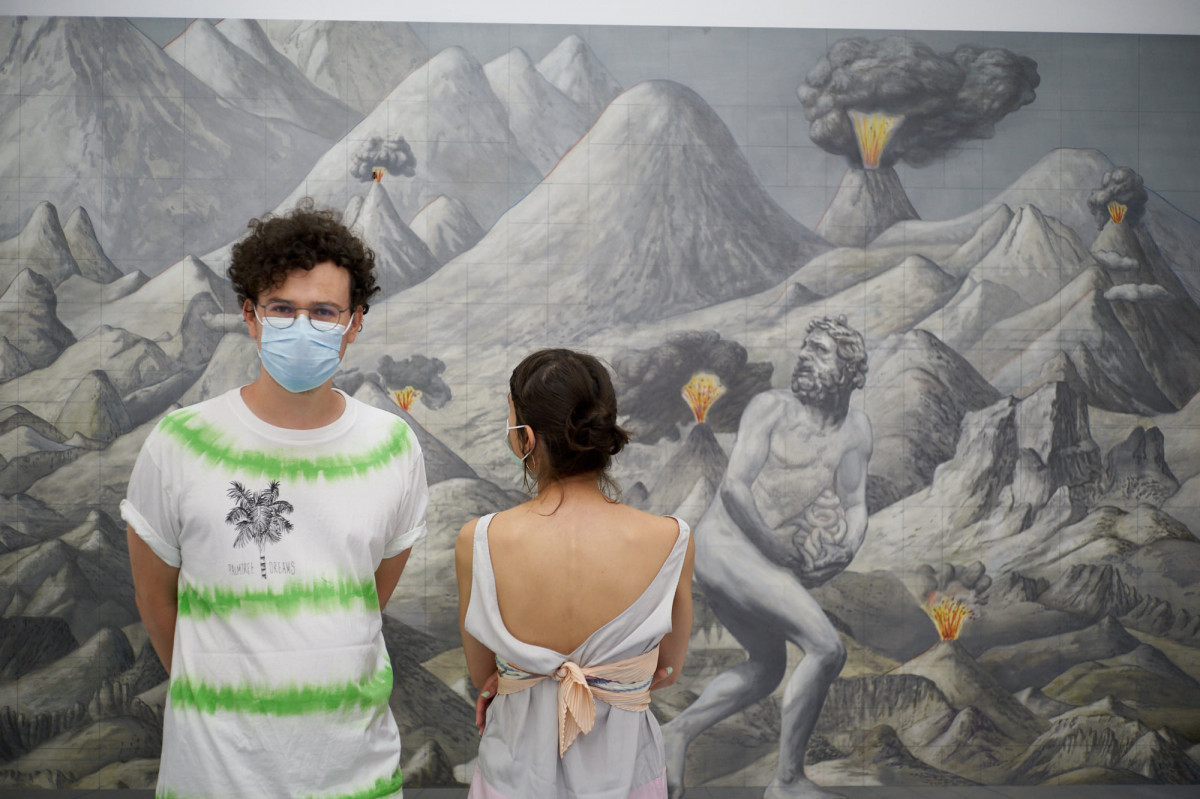 Garden of Eden Exhibition. Photo: Adi Bulboaca
How do you feel when you finish work at an exhibition
It takes me a while to capitalize on an exhibition, I don't start working again the next day. And not that I don't have any more work to do, but I ended up talking in a way. And if I start from the premise that I don't want to talk the same way anymore, that I don't want to repeat myself anymore, some more life must be interposed so that the works become something past. An exhibition is still something alive and present.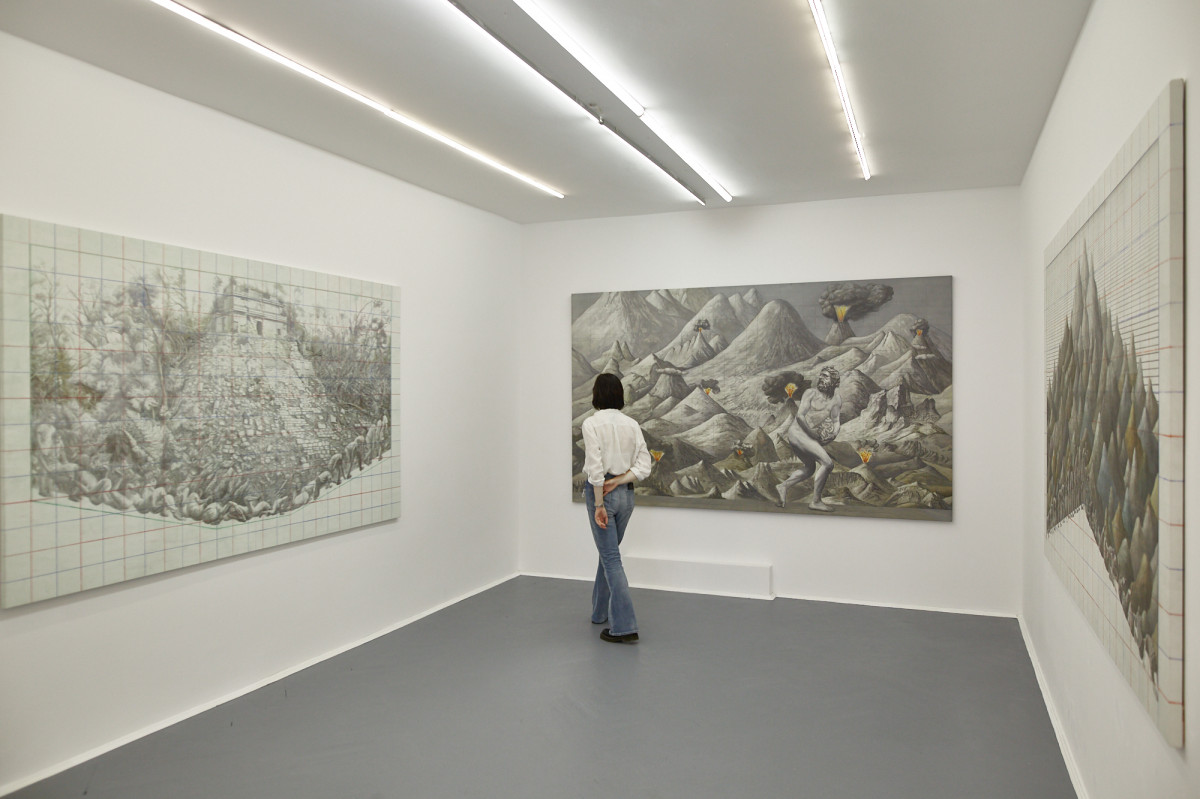 Garden of Eden Exhibition. Photo: Adi Bulboaca
How and when you work
My workshop is near Cismigiu, on a street with cafes, which is why I spend most of my mornings socializing at cafes with the people I meet or friends who come to visit. They always love the moment of social breakdown and in a kind of life that working in the workshop implies.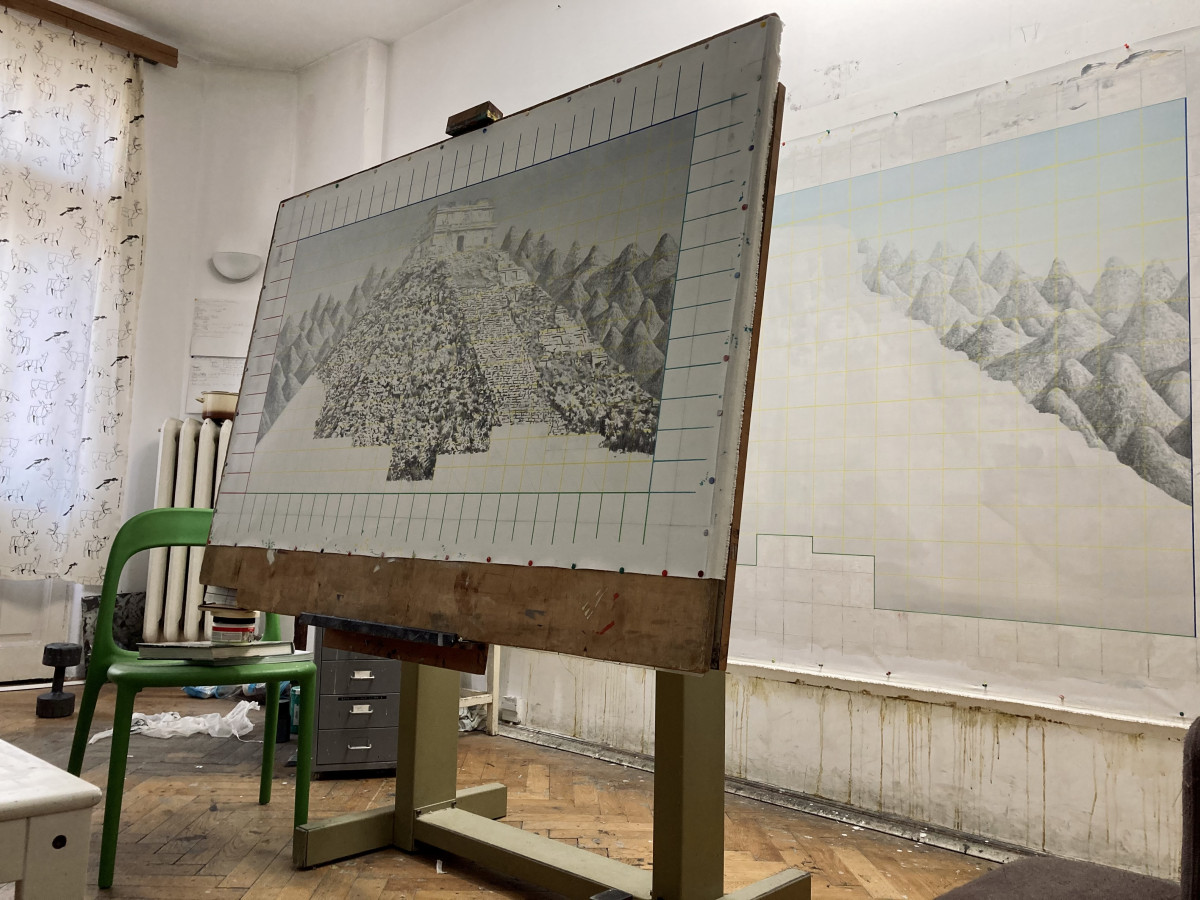 In the workshop with the two variants of Hierarchies
But even once I get to the workshop, there are gradations of how much support I have to be taken out of the world and locked in a temporary work loop. I listen to courses that I already know, podcasts that I have listened to before, that give me a feeling of time flow, have a certain tone and energy, separated from the information that is repeated, it is a social simulation that helps me to I do not feel absent from the rhythm of life. Like when in high school I did my homework in the living room with my family watching news and series.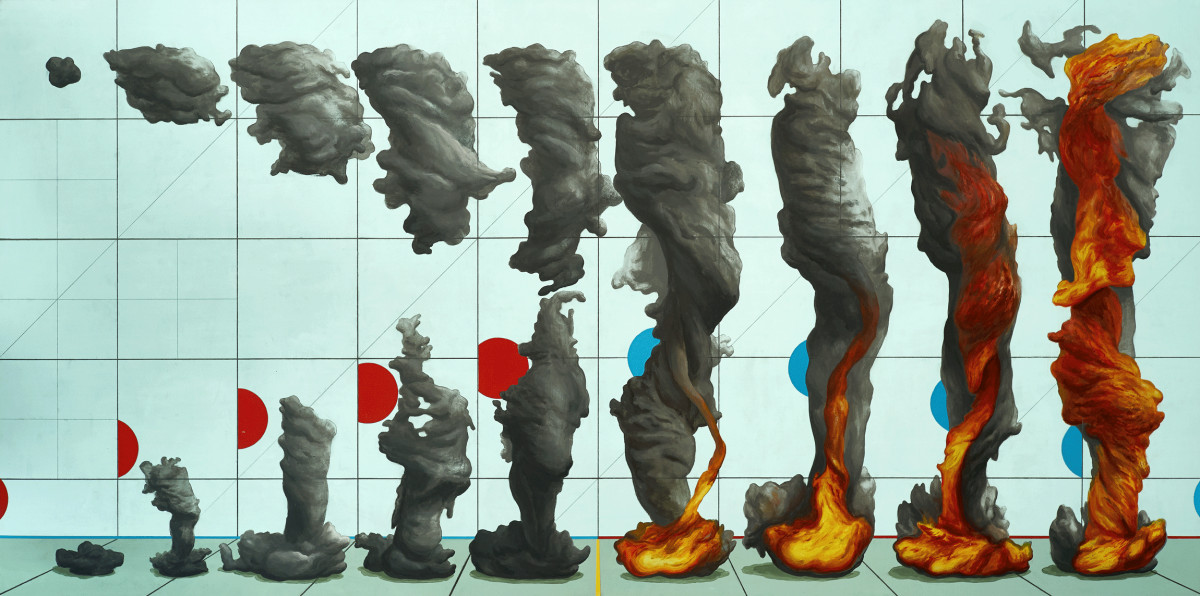 Storm Catching Fire
How the creative process has changed over time
At the beginning, I was doing the works in one go, for 4-6-8 hours each, I had the impression that the work condition would become inaccessible to me when I tried to resume it. But as the works grew in size and complexity, it was clear that they could no longer be done in a single session and that they were becoming a project rather than an impetus.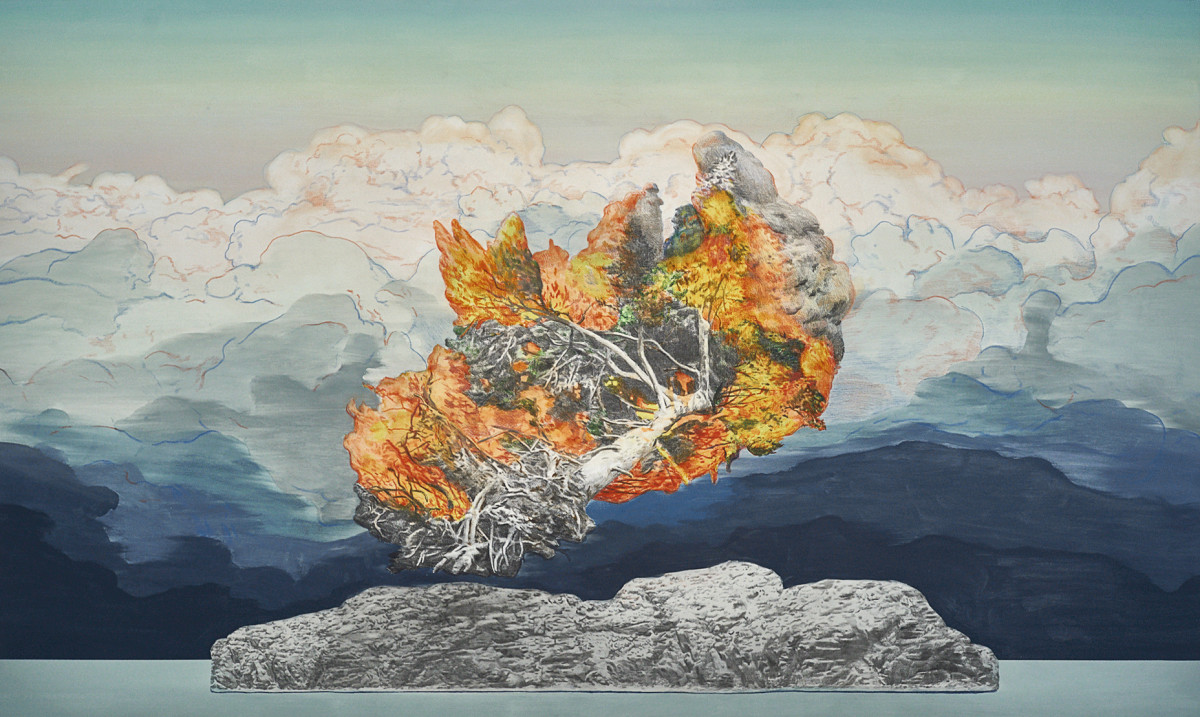 The Burning Tree
What did the artist mean?
It seems to me more and more valid the idea that artists or their work are a symptom of the world and of the moment they live, they access something collectively. What is specific to them, however, is how long they can stay focused on a thought or a sensation. I once read that it is deeply atypical for human neurology to look at a chair for half an hour, as someone does when he draws it, that chair will exceed its category – an inanimate object of a certain material and with a certain function – and a to begin to transform and charge meaningfully into the nonspecifically long attention it receives.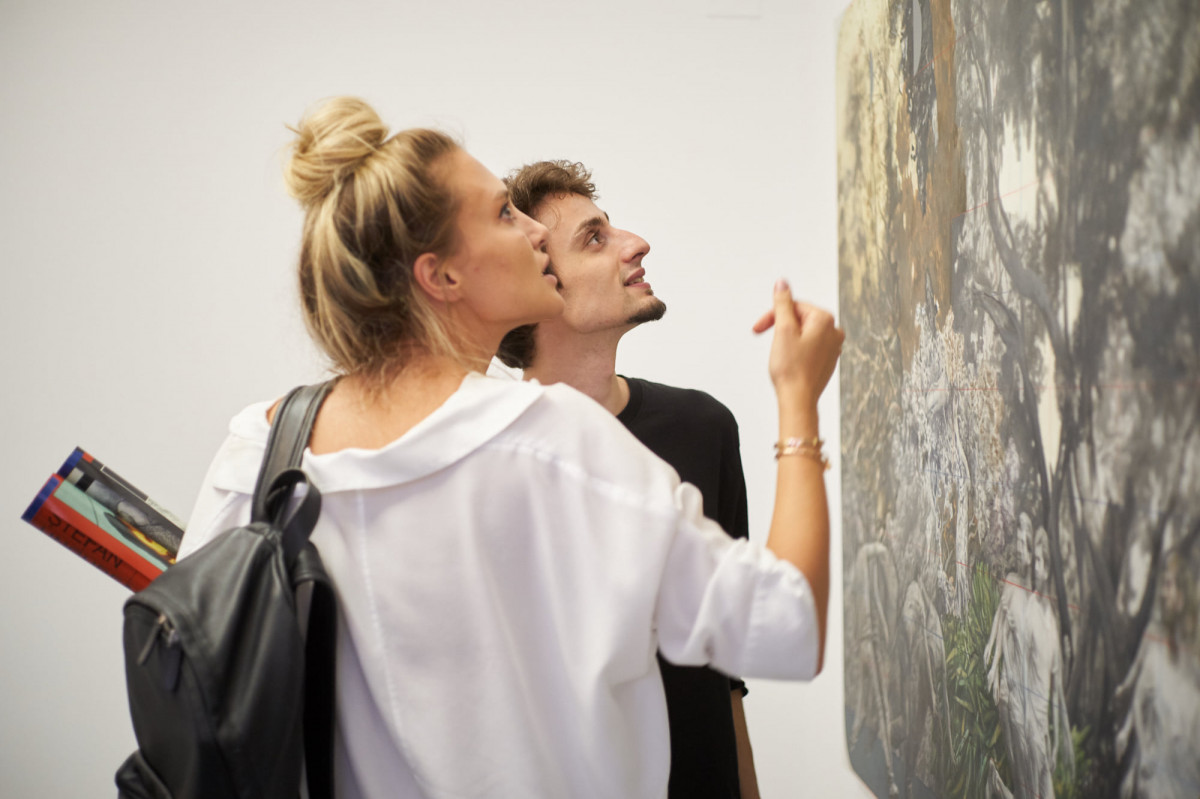 Garden of Eden Exhibition. Photo: Adi Bulboaca
If you have the perception of a work that it is at some level a kind of secret that you share, it is certainly important what the artist meant. However, this idea is very useful while doing the work, it is a type of energy that can be capitalized in the workshop, because not only do you work, you also do something important, "secret". I would not put an equal between the artist's intentions and what a work communicates, in fact I think it is a little disappointing to find in a painting what you intended, it is ideal that they surpass you and become a whole, over any claustrophobia of thoughts you initially found essential to communicate.
---
Source: IQads by www.iqads.ro.

*The article has been translated based on the content of IQads by www.iqads.ro. If there is any problem regarding the content, copyright, please leave a report below the article. We will try to process as quickly as possible to protect the rights of the author. Thank you very much!

*We just want readers to access information more quickly and easily with other multilingual content, instead of information only available in a certain language.

*We always respect the copyright of the content of the author and always include the original link of the source article.If the author disagrees, just leave the report below the article, the article will be edited or deleted at the request of the author. Thanks very much! Best regards!
---